Last week gave us one of the biggest upsets of the 2021 season, as the Iowa Hawkeyes fell to the Purdue Boilermakers at home. Along with that, there were several other telling performances from highly-regarded programs that potentially showed their true colors — both good and bad.
---
Click here for more PFF tools:
Rankings & Projections | WR/CB Matchup Chart | NFL & NCAA Betting Dashboards | NFL Player Props tool | NFL & NCAA Power Rankings
---
Below is how I'd order the top 25 teams after Week 7. Please note that this top 25 is not the same as PFF's Power Rankings.
1. GEORGIA BULLDOGS (RECORD: 7-0, ATS: 5-2, RANK CHANGE: -)
Georgia's historic defense has been the talk of the town — and rightfully so — but lost in its dominance has been the growth the passing offense has shown as of late under quarterback Stetson Bennett. Offensive coordinator Todd Monken has raised his offense's play-action pass rate 16% year-over-year to a top-10 rate in the Power Five (41.2%) while also playing with a far higher rate of heavy personnel packages. This has helped open up throws downfield on play-action passes, and Bennett has excelled., as he owns a 90.4 passing grade with play-action. Georgia has the most efficient offense in the Power Five on play-action passes.
UGA's dominance on D has everyone overlooking the success they've had on O as of late.

Todd Monken calling a lot of downfield play-action passes out of heavy personnel & Stetson Bennett is hitting.

Bennett on 10+ yd PA throws: 16/21, 506 yds, 5 TD ⬇️ pic.twitter.com/JtS0uLTVdq

— Anthony Treash (@PFF_Anthony) October 18, 2021
This Bennett-led pass offense isn't much of a concern anymore. That's a scary thought for the rest of college football.
2. ALABAMA CRIMSON TIDE (RECORD: 6-1, ATS: 4-3, RANK CHANGE: -)
Alabama bounced back from its upset loss to Texas A&M by thrashing Mississippi State. Quarterback Bryce Young posted his third elite-graded game of the season (90.3) despite being pressured on 44% of his dropbacks. His ability to withstand the heat and make plays when knocked off rhythm while not making poor decisions is special for someone of his age and experience level, but it's not necessarily a sustainable way to win, especially when the Tide (likely) faces the Bulldogs in the SEC Championship game. Alabama is currently allowing the third-worst rate of pressure in the SEC, which falls on not just a few of their offensive lineman but also the coaching staff. That has to improve in the coming weeks.
3. OKLAHOMA SOONERS (RECORD: 7-0, ATS: 4-3, RANK CHANGE: -)
New starting quarterback Caleb Williams has revived Oklahoma's national title aspirations. The true freshman earned an elite PFF grade in his debut start last Saturday and led the Sooners to their most efficient offense since Week 6 of the 2019 season.
4. CINCINNATI BEARCATS (RECORD: 6-0, ATS: 5-1, RANK CHANGE: -)
UCF was no match for Cincinnati on Saturday. Led by running back Jerome Ford, the Bearcats ran right over the Knights and finished with an FBS-leading 66.7% successful run rate in Week 7. Defensively, the Bearcats did their part, allowing -0.38 EPA per pass play. Outside corners Ahmad Gardner and Coby Bryant put the clamps on UCF's offense with zero first downs allowed on seven targets. One of those targets actually ended in a Bryant pick-six.
5.

OHIO STATE BUCKEYES (RECORD: 5-1, ATS: 3-3, RANK CHANGE: +1)
Ohio State's offense provides more open throws than any other team in college football thanks to the scheme and elite separators in the receiving room. Quarterback CJ Stroud was throwing a few too many inaccurate throws to open receivers to start the year, but that's all changed since he missed Week 4.
CJ Stroud in 2021
| | | |
| --- | --- | --- |
| Weeks 1-3 | | Weeks 5 and 6 |
| 81.3 | Passing Grade | 93.5 |
| 5 | Turnover-Worthy Plays | 1 |
| 19 | QB-Fault Incompletions | 2 |
| 0.16 | EPA per pass | 1.09 |
Stroud still had an insanely low rate of tight and closing window throws against Rutgers and Maryland in Weeks 5 and 6, but he wasn't missing open receivers downfield. He is delivering accurate passes while his mechanics surprisingly look a lot cleaner than the start of the season. It's uncommon to see a quarterback make tweaks to their mechanics midseason, but Stroud has displayed a noticeable difference with his core control.
6. MICHIGAN WOLVERINES (RECORD: 6-0, ATS: 5-1, RANK CHANGE: +1)
Michigan pulled out the victory over Nebraska prior to last week's bye thanks to a Brad Hawkins forced fumble late in the fourth quarter that shifted the entire outcome of the game. While the Wolverines left the road trip unscathed, their quarterback play was alarming. Quarterback Cade McNamara completed only eight passes over five yards downfield while tossing seven quarterback-fault incompletions on those same pass attempts. He had more than three times as many negatively graded throws as positively graded ones en route to a 55.2 passing grade.
QB2 J.J. McCarthy — a 2021 five-star — only received a few designed runs and zero dropbacks, but that could change in the future given what McNamara displayed against Nebraska. Michigan has the elite defense and running game necessary to win 10 games, and the quarterback position is seemingly the only big question mark moving forward.
7. OLE MISS REBELS (RECORD: 5-1, ATS: 4-2, RANK CHANGE: +1)
Ole Miss quarterback Matt Corral once again played well within the structure of Lane Kiffin's offense, earning an elite 90.2 passing grade from a clean pocket on first review in Saturday's chaotic win over Tennessee. Oh, and don't forget what he did to the Vols on the ground, as he busted off nine runs of 10-plus yards on 23 attempts (14 designed, nine scrambles). With him at the helm, Ole Miss undoubtedly has one of the top offenses in the country, which means it has one of the top-10 teams. Next weekend could be a concerning one for Ole Miss with Corral's status in doubt. Kiffin said Ole Miss wasn't sure if Corral would be able to go against LSU after he got dinged up in Knoxville.
Coastal has been on a warpath against its easy schedule this season and is fresh off producing the most efficient offense in a single game by an FBS team this season in its blowout win over Arkansas State. The Chanticleers are the most efficient offense among FBS teams this season, accumulating 0.43 EPA per play, which is 0.13 ahead of the next best. Fresh off a bye week, Coastal has its toughest test of the season, as it takes on Appalachian State Wednesday night to kick off Week 8.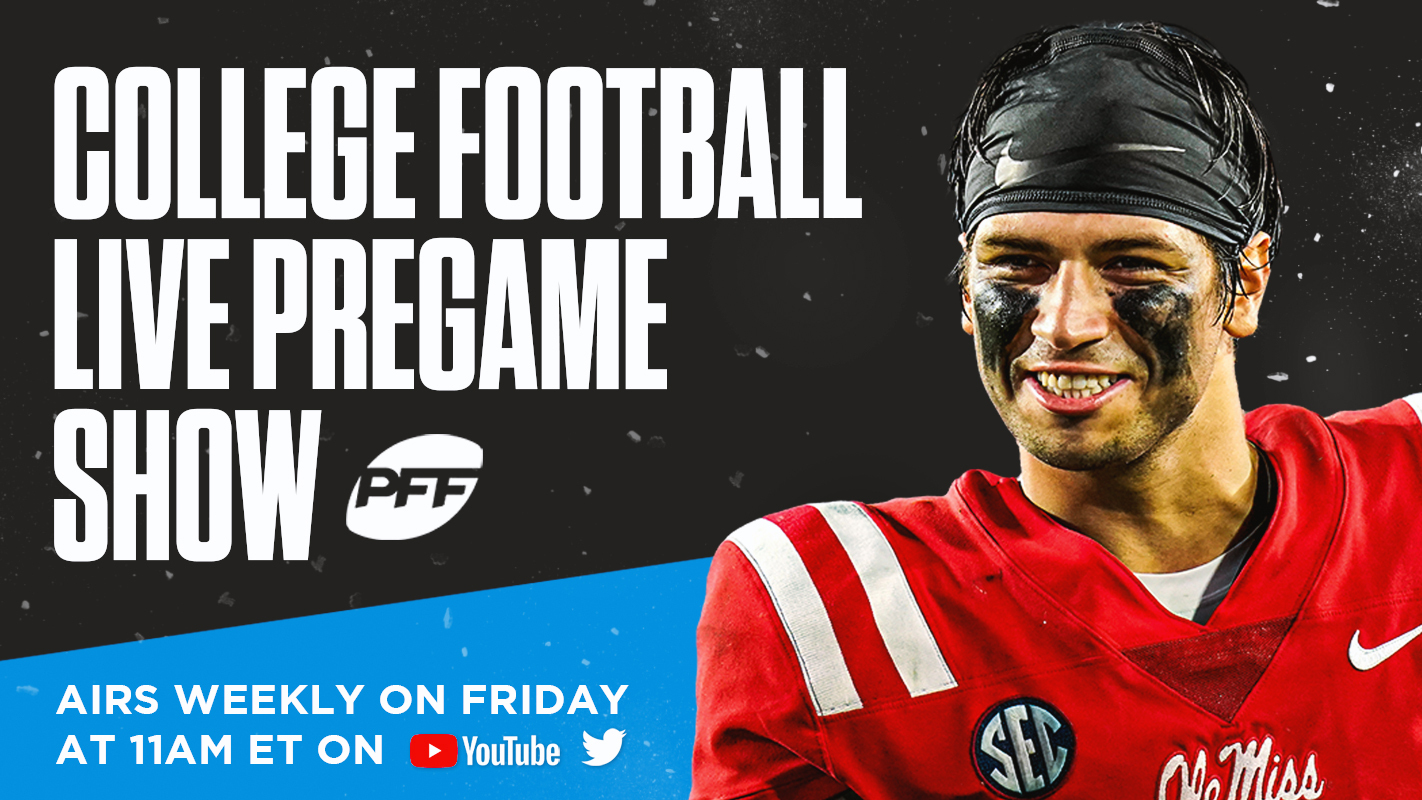 9. IOWA HAWKEYES (RECORD: 6-1, ATS: 5-2, RANK CHANGE: -4)
Iowa's offense performed poorly against Purdue. The Hawkeyes produced the fourth-least efficient passing offense in the Power Five last week. What was not expected by many across the country was how badly the defensive unit got shredded by the Boilermakers. Iowa entered the week second in the country in both coverage grade (94.1) and EPA per pass allowed (-0.35), but they ended up posting a 59.0 coverage grade and 0.52 EPA per pass allowed versus Purdue. Some of this had to do with Riley Moss' absence, but it was mostly because of Iowa's defense failing to adapt.
Purdue struggled on first down all game, as it reached the first-down marker on only four of its 32 first-down plays against Iowa and ranked 35th in the Power Five in first-down efficiency. Still, when the Boilermakers found themselves in a short-yardage situation, the Hawkeyes stuck to their standard off-zone coverage. So, of course, Purdue took what Iowa gave them, exploiting Iowa underneath and in the zone coverage holes downfield.
The Spartans survived a close call against Purdue this week. The offense generated negative EPA per play for just the second time in seven games and produced a season-low 33.3% success rate. Running back Kenneth Walker III was unable to break tackles and grind out yards after contact like his normal self, and Michigan State's play-action-centric passing attack fell flat. Luckily, the Spartans benefitted from Indiana starting its backup quarterback, who couldn't get the Hoosiers offense to do anything and gifted Sparty a pick-six. They'll be eyeing an offensive bounce-back after their bye week with a home game against in-state rival Michigan on Halloween weekend. And given the Wolverines' defense, it won't be easy.
11. TEXAS A&M AGGIES (RECORD: 5-2, ATS: 4-3, RANK CHANGE: +3)
Despite a big win over Missouri, quarterback Zach Calzada came back to reality in Week 7, earning a 68.8 passing grade overall for the game and a 59.4 mark when operating from a clean pocket. A&M put up points on Mizzou because of its rushing attack, which combined for an FBS-leading 13 explosive runs of 10-plus yards against the Tigers.
Quarterback Sam Hartman and the rest of the passing offense weren't the problems in this closer-than-expected outing against the Syracuse Orange prior to last week's bye. Hartman led the Demon Deacons to an efficient passing attack that is now tied for fourth in the Power Five in successful pass rate when he is on the field.
Wake's inefficient ground game and inconsistent run defense were the ones to point the finger at. The running backs didn't create after contact, as they combined for only one missed tackle and 2.3 yards after contact. The defense, meanwhile, gave up 16 explosive runs of 10-plus yards — the most of any FBS team for the week. That run defense is a bit of a concern heading into Week 8's matchup against the Army's triple-option attack.
13. KENTUCKY WILDCATS (RECORD: 6-1, ATS: 6-1, RANK CHANGE: -)
Kentucky's 54.8% successful run rate on running back carries entering Week 7 ranked first in the Power Five, but against Georgia in Athens, the Wildcats turned in a 17.6% successful run rate on running back carries. Georgia limited the opposition to 0.1 yards before contact per attempt — as they didn't allow a single explosive run of 10 or more yards — and five of their 16 running back runs resulted in no gain or a loss of yardage. Kentucky then found itself in a situation where it had to throw the ball over 80% of the time, and most of those throws were quick and around the line of scrimmage since this Georgia defense gives minimal time for the quarterback to throw the ball and rarely allows an open receiver downfield.
This performance was yet another example of how special Georgia's defense is. Kentucky has a good, well-rounded team, but it doesn't have the horses to hang with the Bulldogs.
Whether it was Sean Clifford or Ta'Quan Roberson, Penn State lost to Iowa prior to last week's bye because of poor quarterback play, as both passers posted sub 50.0 passing grades for the game. While Penn State was up with Clifford in the game, the results from the starter could have been a lot better. Clifford tossed a couple of turnover-worthy plays that Iowa picked off before he was knocked out with an injury. As for Roberson, he went 0-for-6 on his throws 10-plus yards downfield while recording three turnover-worthy plays. 
15. OREGON DUCKS (RECORD: 5-1, ATS: 1-5, RANK CHANGE: -)
Oregon quarterback Anthony Brown had his highest-graded game as an Oregon Duck in last week's narrow win over Cal. Why? The coaching staff brought back some of the RPOs and play-action passes, which made life easier for Brown. He earned a 90.5 passing grade with play-action in Week 6  — that grade fell to 62.6 without it. Those plays are the key to Oregon scraping by the Pac-12.
In Week 6, Notre Dame came back from two scores with minutes to play to knock off Virginia Tech. Up until those final moments, the Irish's passing offense was non-existent. Jack Coan opened up the game before being replaced by freshman Tyler Buchner, and those two led Notre Dame to a 37.1 passing grade and -0.27 EPA per pass until there were four minutes left to play. Coan then re-entered the game for the final two drives and performed admirably, recording a 77.3 passing grade over that timespan while going 6-of-8 for 82 yards and a score when free of pressure. The defensive side of the ball performed well, as it led Virginia Tech to the second-lowest successful play rate among Power-Five offenses in Week 6.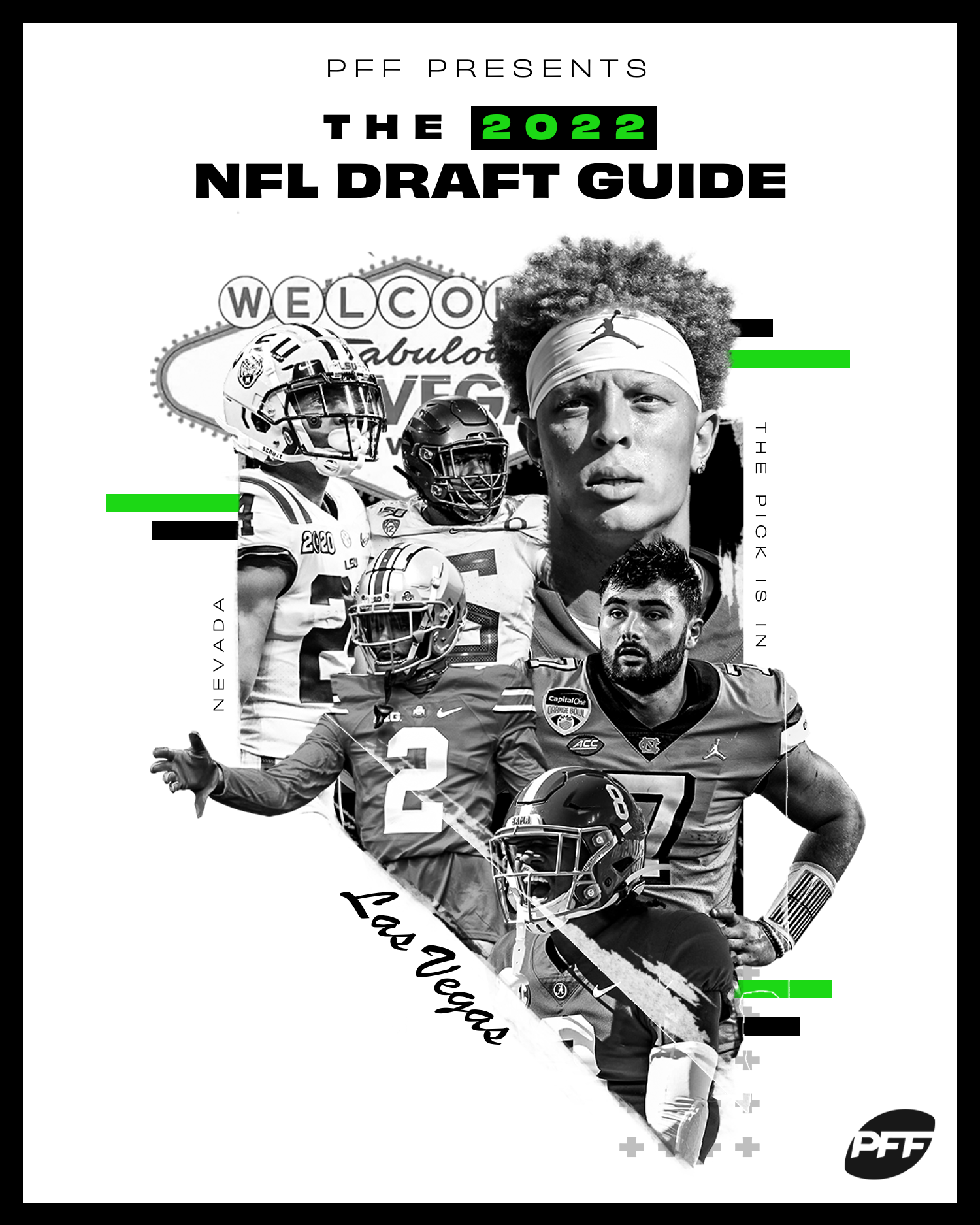 17. NC STATE WOLFPACK (RECORD: 5-1, ATS: 4-2, RANK CHANGE: +4)
NC State is coming off a blowout win over Boston College on the road, where it produced the second-most efficient passing offense in the Power Five for the week. Quarterback Devin Leary delivered accurate throws underneath in what was a conservative passing offense by design (5.2 average depth of target), and his receivers helped him out when taking a shot downfield. He completed two passes over 10 yards downfield — one of which was a 40-yard touchdown where the receiver reached behind to bobble an underthrown ball into his hands and another where the receiver ran 66 yards after the catch on a 13-yard throw for a score. 
18. AUBURN TIGERS (RECORD: 5-2, ATS: 4-3, RANK CHARGE: NR)
Arkansas went away from its normal drop-eight dime package and decided to play nickel against Auburn. The Razorbacks struggled to get pressure on Bo Nix even with one more rusher than normal, and their coverage was not up to snuff. Nix did take advantage of the clean pockets he had, but the game-changing plays came when he was under pressure from blitzes. He completed two deep balls under pressure for 111 yards and two touchdowns.
19. OKLAHOMA STATE COWBOYS (RECORD: 6-0, ATS: 4-2, RANK CHANGE: +3)
Oklahoma State had the fourth-least efficient Power Five offense of Week 7 in the first three quarters of the game and struggled to move the ball on early downs, which was no different from the team everyone had seen this season. In the fourth quarter, though, Texas surrendered against the run, and offensive coordinator Kasey Dunn got a little bit more creative. The Cowboys then jumped to the ninth-most efficient offense in the Power Five for the final quarter of play.
Texas let off the gas, and Oklahoma State finally stepped on it.
20. BAYLOR BEARS (RECORD: 6-1, ATS: 5-2, RANK CHANGE: +5)
Baylor offensive coordinator Jeff Grimes' wide zone offense helped the Bears beat BYU — where he ran the same exact offense in 2020 — in Week 7. Baylor has now generated a successful play on 52.2% of wide zone runs in 2021, the highest in the Power Five. Quarterback Gerry Bohanon has run play-action off a wide zone concept 57 times this season (most in the FBS) and has averaged 11.0 yards per attempt on such passes.
21. SMU MUSTANGS (RECORD: 6-0, ATS: 3-2-1, RANK CHANGE: -2)
SMU narrowly beat Navy in Week 6, and its defense was the main reason for the victory. SMU held the Midshipmen triple-option offense to 3.8 yards per play and a 25% success rate — both of which were among the five best in the FBS for the week. Though that's not to say the offensive unit has been struggling, as that couldn't be further from the case. Quarterback Tanner Mordecai has a 91.0 passing grade for the season and has led the Mustangs to the 14th-most efficient passing offense in the FBS.
22. PITTSBURGH PANTHERS (RECORD: 5-1, ATS: 5-1, RANK CHANGE: +1)
It's now Week 8 and Pittsburgh quarterback Kenny Pickett is still dealing. He is coming off an 80.9 passing grade against Virginia Tech, making it six straight games with a PFF grade above 75.0. Pickett's completion percentage and efficiency numbers weren't great for the game, but a lot of that has to do with the supporting cast around him (six dropped passes). Pickett now has a 92.8 passing grade for the 2021 season and will get his biggest test of the year this weekend against a Clemson defense that is No. 1 in the ACC in successful pass play rate allowed.
23. UTSA ROADRUNNERS (RECORD: 7-0, ATS: 6-1, RANK CHARGE: NR)
UTSA has been college football's Cinderella story in 2021 due to its perfect record entering the final stretch. The Roadrunners have produced one of the five most efficient passing offenses at the non-Power Five level and have been one of the top run defenses among that group, ranking third in EPA per rush allowed. As shown in Week 6 against Western Kentucky, their coverage unit is prone to falter against quality quarterbacks, but the good news for UTSA is that they don't have to face one in their final five games.
24. IOWA STATE CYCLONES (RECORD: 4-2, ATS: 3-3, RANK CHARGE: NR)
The Cyclones have started to find their footing over the last four games. Iowa State ranks second in the Power Five in successful pass play rate since Week 3. Quarterback Brock Purdy isn't doing a lot of heavy lifting in Iowa State's offense with just a 7.5-yard average depth of target from a clean pocket in that stretch. Purdy has always been an accurate and timely passer when in rhythm, which has continued this season. Since Week 3, Purdy has completed 66-of-78 clean pocket throws for 844 yards and seven touchdowns.
25. SAN DIEGO STATE AZTECS (RECORD: 6-0, ATS: 4-2, RANK CHARGE: NR)
San Diego State's defensive unit has carried them to an undefeated record midway through the season. The Aztecs are sixth in the FBS in team-defense grade for the season. Against the run, in particular, San Diego State has allowed an FBS-best -0.43 EPA per play. This week, that stout run-defense will come in handy against the Air Force option, but it won't be easy. The Falcons rank 20th in the FBS in rushing efficiency so far this season.