Wake Forest and Pitt unexpectedly lead the way in the ACC, Ohio State have turned into contenders after a rocky start, Illinois knocked off Penn State in the ninth overtime, Kansas gave Oklahoma a scare and star Oregon edge defender Kayvon Thibodeaux wrecked UCLA. Week 8 of the 2021 college football season certainly lived up to its billing.
Now that our first run of analysis is live on PFF Premium Stats, let's dive into the biggest storylines from Week 8 of the 2021 college football season.
Click here for more PFF tools:
Rankings & Projections | WR/CB Matchup Chart | NFL & NCAA Betting Dashboards | NFL Player Props tool | NFL & NCAA Power Rankings
---
"With the first pick in the 2022 NFL Draft, the _____ select Kayvon Thibodeaux, edge, Oregon"
A lot was expected of Thibodeaux when he first landed in Eugene. He was the No. 2 rated recruit of the 2019 cycle and among the 50 best-rated recruits of all time, according to 247Sports.
The Los Angeles, Calif., native was a raw but impactful pass-rusher as an underclassman, earning 77.9 and 72.9 pass-rush grades his first two years on campus. This season, the 6-foot-5, 258-pound edge defender has refined his skills. His hand placement and pass-rush plan have vastly improved, and he is now looking a lot like the slam-dunk No. 1 overall pick in 2022.
Oregon edge Kayvon Thibodeaux vs UCLA (per @PFF_College)

???? 91.2 pass-rush grade
???? 10 pressures (3 sacks)
???? 28% win rate

This was his 3rd "elite" pass-rush grade above 90.0 in 2021 despite it being just his 4th game w/ 10+ pass-rushes. Special player.pic.twitter.com/RuoEVHGrHU

— Anthony Treash (@PFF_Anthony) October 24, 2021
Thibodeaux recorded double-digit pressures for the second consecutive week and won 14 total reps against UCLA on Saturday. Three of his 10 pressures ended with the QB on the ground, with one of those being a strip-sack fumble. He finished the day with a 91.2 pass-rush grade, marking the third time in four games — with at least 10 pass-rushes — that he has recorded an elite mark above 90.0
Thibodeaux now owns a 92.9 pass-rush grade for the 2021 season. 
---
Related content you might like:
2022 NFL Mock Draft: Kayvon Thibodeaux goes No. 1 to Detroit Lions, Philadelphia Eagles stock up on offensive weapons via Trevor Sikkema
---
Ohio State's College Football Playoff hopes were on life support after an underwhelming start to the 2021 season where they escaped a Week 1 scare at Minnesota before losing at home to Oregon. 
Things were fine with the wide receiver room, backfield and offensive line, but new quarterback C.J. Stroud struggled to pull his weight. He was tossing inaccurate throws to wide-open receivers and giving the defense too many chances to make a play on the ball. 
That all changed after Stroud took a week off against Akron in Week 4. Since then, he's been accurate, hasn't produced a single turnover-worthy play and is now on a run of three straight elite-graded games after posting a 93.7 mark against Indiana in Week 8. 
Ohio State Passing Offense since Week 5 (with Power Five ranks)
| | | |
| --- | --- | --- |
| PFF passing grade | 92.8 | 1st |
| EPA per pass | 0.75 | 1st |
| YPA from a clean pocket | 10.5 | 5th |
| Pressure % | 17.4% | 6th |
| Explosive pass rate | 30.3% | 1st |
| Turnover-worthy plays | 0 | T-1st |
The Buckeyes quarterback is being helped by the abundance of clean pockets, the offense's design and his receivers' separation ability, but Stroud has played just as much of a part in the offensive turnaround. He's been a decidedly different quarterback, and he deserves credit.
Michigan, I am once again asking you to start J.J. McCarthy at quarterback
Michigan kept its perfect record intact with a blowout win over Northwestern, but that was no thanks to the performance from quarterback Cade McNamara.
McNamara earned a 57.8 passing grade and led the Wolverines to negative expected points added (EPA) per pass play. The Wolverines signal-caller earned a 37.9 passing grade on passes thrown 10-plus yards downfield, as he completed just 1-of-6 pass attempts for 12 yards. At this point, it is painfully obvious that McNamara will not be able to carry Michigan to victory when they need to win through the air.
Five-star true freshman J.J. McCarthy, on the other hand, has already shown a far higher ceiling. The dual-threat quarterback turned both of his designed runs into an explosive run of 10 or more yards and broke three total tackles in the process.
JJ McCarthy should be Michigan's QB1 #CFB pic.twitter.com/5gIOLuuX5T

— Anthony Treash (@PFF_Anthony) October 23, 2021
McCarthy did miss a couple of throws, but he has already shown his upside in the vertical passing game — he has thrown fewer than 25 passes this year but already has multiple big-time throws. Overall, McCarthy has earned a 90.5 PFF grade in his limited snaps this season.
I'm neither calling him a superstar nor guaranteeing that he will get Michigan over the hump, but he offers more upside for the Wolverines offense. The running game and defense can get the program to 10 wins, but they'll need a spark in the passing game to keep pace with Ohio State.
Caleb Williams' running ability will keep Oklahoma's offense alive, but their coverage unit needs to step up
Williams' first-half passing performance put the Sooners in a hole that was just shallow enough to climb out of. The true freshman quarterback earned a 53.6 passing grade in his first two quarters of play, leading Oklahoma to -0.28 EPA per pass.
Just as we saw in the Red River Showdown, Williams kept passing up open receivers in the flat or at the sticks in favor of risky downfield throws. It worked out for him virtually every time in that win against Texas, but he didn't get quite as lucky in Week 8.
why https://t.co/H9GwmtavF9 pic.twitter.com/bcErZmvnAp

— Anthony Treash (@PFF_Anthony) October 23, 2021
However, Oklahoma ended up pulling away because of his impact on the ground. The Sooners quarterback earned an 83.9 rushing grade for the night, featuring three explosive runs of 10-plus yards and three broken tackles on six attempts. All three of those big runs came in the last eight minutes of the game, including this one on a pivotal fourth down that ended in a 40-yard touchdown that bolstered Oklahoma's win probability by 13 percentage points.
CALEB WILLIAMS HOUSE CALL????#CFB

— PFF College (@PFF_College) October 23, 2021
Williams' presence in the running game changes the entire dynamic of the Sooners offense. He may have to work on his decision-making in the passing game, but the true freshman quarterback is performing at unprecedented levels, given his age and experience.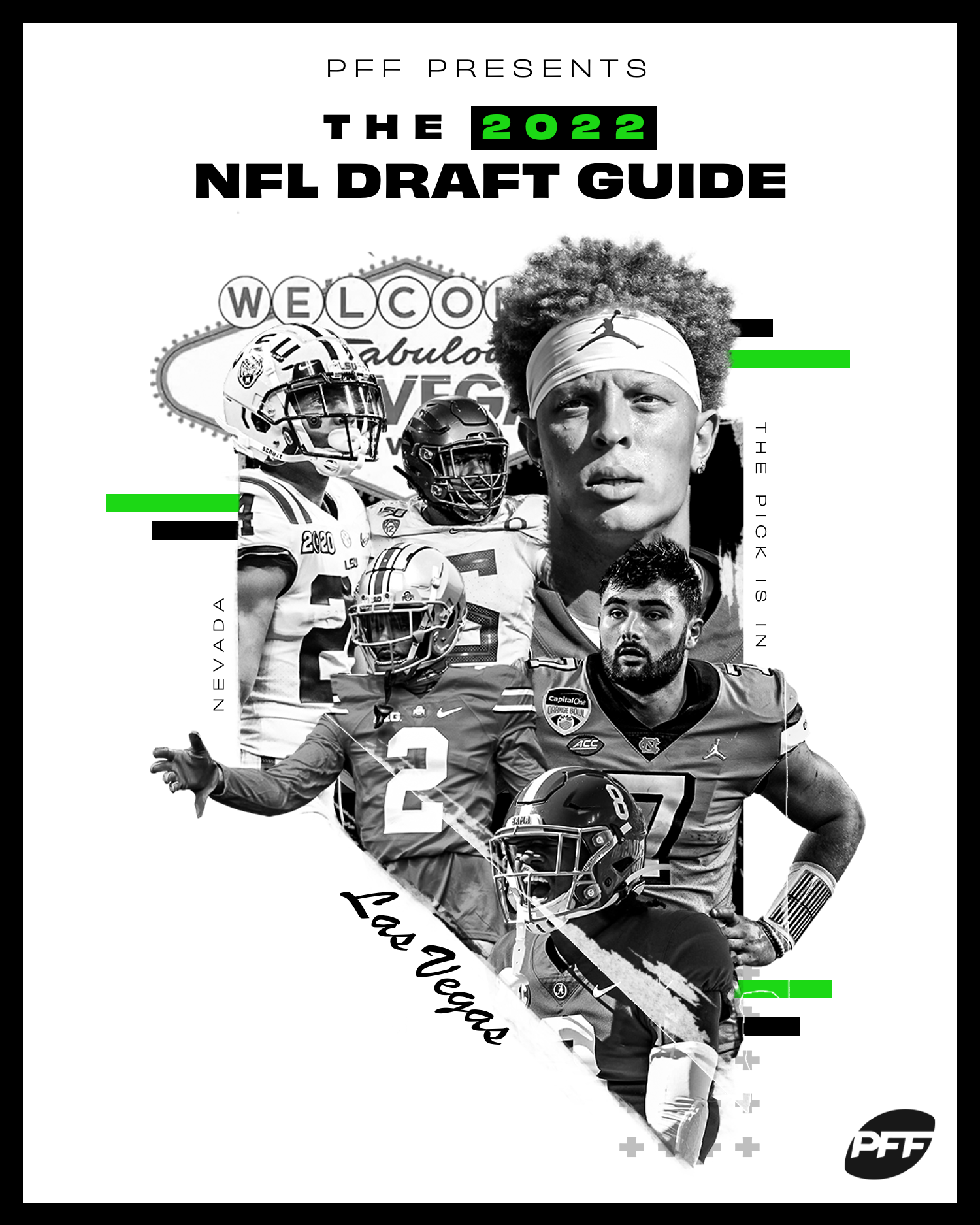 Ultimately, the biggest concern with this offense isn't Williams' inconsistency as a passer — it's the lackluster coverage unit. The Sooners allowed a Power Five-worst 32% explosive pass play rate to Kansas, who entered the week sixth-to-last among those 65 teams in successful pass rate on offense.
Oklahoma has always been a boom-and-bust team with a high-scoring offense and regularly exploited coverage unit. This year, the latter may be too much to overcome.
Not much was expected from Pitt quarterback Kenny Pickett in his fifth year, especially after posting PFF grades of 60.6, 75.0 and 69.8 his first three years as the starter. But Pickett silenced the doubters to open the year by posting a Power Five leading 92.9 passing grade over his first six starts.
The one question mark hovering over that hot streak was the fact that the opening slate was the third-easiest run in the Power Five, making Week 8's matchup against Clemson yet another chance to prove critics wrong.
Despite the team's struggles in 2021, Clemson still has one of the top defenses in the country. They entered the week ranked top-five in the Power Five in both explosive pass play rate and yards per play allowed. The Tigers have also been a defense Pickett has struggled with in the past. 
Pickett broke that trend on Saturday by recording a 77.0 passing grade in Pitt's win over Clemson.
Kenny Pickett vs. Clemson in his career
| | |
| --- | --- |
| Season | Single-Game Passing Grade |
| 2018 ACC Championship | 28.9 |
| 2020 Week 13 (Away) | 38.5 |
| 2021 Week 8 (Home) | 77.0 |
Not only was that Pickett's best against Clemson in his career, but it was by far the best by any quarterback against the Tigers in the 2021 season. 
This performance against a stout defense proved that Pickett's breakout is the real deal. As a result, the team is on for its first double-digit win season since their days in the Big East.
Clemson entered 2021 with national title aspirations, just as they have in every other season under Dabo Swinney. Unfortunately, those dreams were quickly crushed because of the offense's inability to move the ball.
Quarterback D.J. Uiagalelei has failed to match the flashes he showed in his 2020 true freshman campaign and has plagued the field with inaccurate throws and bad decisions. Pair that with a receiving unit that struggles to separate, a non-innovative scheme that is overly reliant on receivers making plays after the catch and middling offensive line, and the Clemson passing offense has been a full-blown liability.
They showed that against Pitt on Saturday when they generated -0.34 EPA per pass play. Uiagalelei earned his fourth single-game passing grade below 60.0 in 2021 and got benched after tossing a pick-six on a shovel pass that put the game out of reach.
annnnd Taisun Phommachanh is now in at QB for Clemson https://t.co/mJ10n93PmO

— Anthony Treash (@PFF_Anthony) October 23, 2021
Uiagalelei was later put back into the game after backup Taisun Phommachanh threw as many uncatchable passes as completions (three). Clemson, now 4-3 in the 2021 season, is on pace to produce PFF College-era lows in virtually every passing metric in the database.
Clemson's Passing Offense in the PFF College era
| | | | | |
| --- | --- | --- | --- | --- |
| Season | Passing Grade | EPA per pass | Success Rate | Yards per att |
| 2021 | 60.7 | -0.21 | 40.8% | 5.5 |
| 2020 | 88.2 | 0.20 | 47.3% | 8.5 |
| 2019 | 85.4 | 0.20 | 49.2% | 8.5 |
| 2018 | 88.1 | 0.19 | 47.4% | 8.3 |
| 2017 | 76.3 | 0.04 | 47.3% | 7.0 |
| 2016 | 89.0 | 0.19 | 53.4% | 7.9 |
| 2015 | 79.5 | 0.19 | 52.6% | 8.2 |
| 2014 | 65.4 | -0.01 | 44.7% | 7.5 |
Zion Tupuola-Fetui looked like a rising college football star in the Huskies' shortened 2020 season, recording a 91.8 pass-rush grade and 20 pressures in four games. Unfortunately, that spark of promise was quickly extinguished when he tore his Achilles, an injury that ended his season.
ZTF returned to the field on a limited basis in Week 7 and extended his snap count in Washington's Week 8 win at Arizona. Now, Tupuola-Fetui has rushed the passer just 23 times has recorded eight total pressures en route to a 79.0 pass-rush grade.
Washington edge Zion Tupuola-Fetui ruptured his Achilles 6 months ago and is already back on the field performing at a high level.

8 pressures on 23 reps en route to a 79.0 pass-rush grade in 2 games. So much power behind his hands. Brings it every snap. pic.twitter.com/XUs3dG1xI2

— Anthony Treash (@PFF_Anthony) October 24, 2021
He isn't just one of the most powerful edge defenders in the country, he's one of the nation's best at the position. ZTF's unbelievable comeback isn't getting enough recognition.