Each season, we often spend an inordinate amount of time discussing the possible playoff and top-10 teams. However, each year, some teams just have great seasons, even though they might not be in that top-10 discussion. As the weather finally starts to turn and we get into the games with major conference and playoff implications, let's take a look at four teams that, thus far, have exceeded expectations in the first half of 2019.

ARIZONA STATE
We all know Coach Herm Edwards plays to win the game, and that's what the Sun Devils have been doing thus far in 2019. While their overall grades aren't necessarily indicative of a 5-1 team, they are winning their close games. They've won three of the last four games by three, seven, and four points, respectively, with their lone loss a three-point defeat at the hands of Colorado. Defensively, they are led by senior cornerback Kobe Williams (81.8 grade) and sophomore defensive back Aashari Crosswell (77.9 grade). The two have combined to allow just 19 receptions on 38 targets for 180 yards, and each has four pass breakups so far.
On offense, true freshman quarterback Jayden Daniels (70.2 grade) has played well and distributed it to their two primary playmakers — wide receiver Brandon Aiyuk (78.1 grade) and running back Eno Benjamin (73.4 grade). Aiyuak has hauled in 31 receptions on 43 targets for 651 yards and five touchdowns for a 153.0 passer rating when targeted, good for ninth-best in the nation among receivers with at least 20 targets. Benjamin's 39 total missed tackles forced is tied for sixth-best nationally.
The Sun Devils get to show their true metal this weekend as they travel to face Zack Moss and Utah for pole position in the Pac-12 South.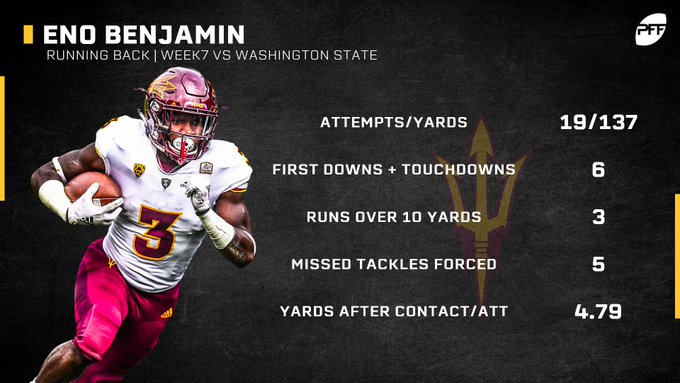 BAYLOR
Coach Matt Rhule has the Bears' rolling in Year 3, as they are 6-0 and currently No. 22 in the PFF Top 25. Though not quite at his 91.0-grade level from 2018, quarterback Charlie Brewer (77.9 grade and 76.3% adjusted completion percentage) is once again giving Baylor quality play at the game's most important position. Denzel Mims (79.6 grade) has provided big-time plays and catches on the outside while running backs John Lovett (80.1 grade) and JaMycal Hasty (70.9 grade) have combined for 34 first downs/touchdowns and 27 missed tackles forced. Defensively, the Bears get after the quarterback as good as anyone in the nation. They are led by edge defender James Lynch (84.4 grade), who leads the nation with 42 total pressures, including 10 sacks. In addition to Lynch, interior defender Bravvion Roy (88.4 grade) has 21 total pressures, and fellow edge defender James Lockhart (82.6 grade) has 26. Linebacker Clay Johnston (83.1 grade) also has 32 stops in the run game, good for sixth nationally among linebackers.
The Bears also take to the road this week as they travel to visit Chubba Hubbard and the Oklahoma State Cowboys.
MINNESOTA
After surviving its first four games with two seven-point and two three-point victories, the Golden Gophers have rolled the last two weeks of Big-10 play. The next two weeks set up well as they travel to Rutgers this weekend and come back home to face Maryland before a bye week. Getting through these next two weeks unscathed would set up an exciting finish to their schedule, as they play ranked opponents Penn State, Iowa and Wisconsin in three of their final four games.
Defensively, safety Antoine Winfield Jr. (89.6 grade) has been one of the best at his position in the nation and was recognized as such this past week after he earned a spot on PFF's Midseason All-American Team. Interior defender Sam Renner has excelled (87.6 grade), and senior edge defender Carter Coughlin (77.8 grade) is starting to round into his 2018 form (89.3 grade), with 15 total QB pressures in the last three games.
Offensively, quarterback Tanner Morgan (75.4 grade) gets it to his two playmakers, wide receivers Rashod Bateman (84.9 grade) and Tyler Johnson (82.4 grade), and lets them do work. The two have combined for 58 receptions, 991 yards, nine touchdowns, 40 first downs and 15 missed tackles forced in the passing game. Running back Rodney Smith (82.8 grade) has given them explosive plays on the ground as well, including 42 first downs/touchdowns and 14 carries over 10 yards.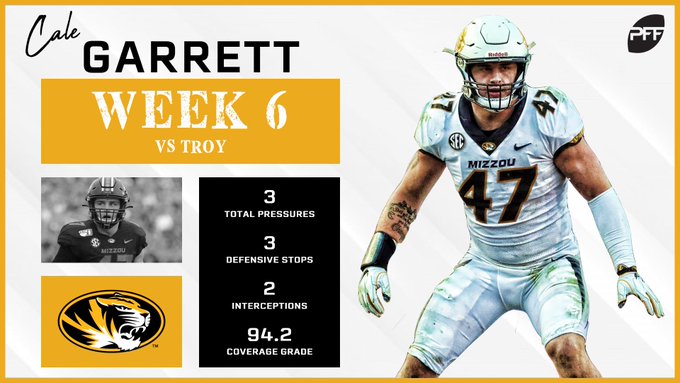 MISSOURI
After being upset in Week 1 against Wyoming, the Tigers have reeled off five wins in a row and are our 14th-best team this week. While they could still possibly be banned from postseason play, the Tigers currently find themselves in the thick of the SEC East race given Georgia's upset loss to South Carolina last weekend.
Overall, it's been the defensive side of the ball that has carried the Tigers since the opening weekend loss. While they will, unfortunately, be without senior all-everything linebacker Cale Garrett (89.0 grade) after his season is likely over with a pectoral injury, there is still plenty of talent to succeed. Interior defender Jordan Elliott (91.7 grade) is the third-highest-graded player at his position and named a second-team Midseason All-American earlier in the week. In addition, sophomore linebacker Nick Bolton has been elite both overall (90.1 grade) and in coverage (89.8 grade). Along with Elliott on the interior, Kobie Whiteside (81.2 grade) has provided a disruptive presence, as well. Whiteside has 11 total QB pressures thus far, including four sacks. Offensively, graduate transfer Kelly Bryant (75.6 grade) has been steady and tight end Albert Okwuegbunam (78.1 grade) has provided Bryant a big-play target in the middle. Okwuegbunam's 147.7 passer rating when targeted is eighth-best among FBS tight ends.