After a full slate of games on Saturday, we at PFF and our team of over 500 analysts have dissected and graded every player on every snap of every game to bring you the most detailed and valid set of picks you can find anywhere.
The Week 8 Eckrich Big Ten Team of the Week powered by PFF saw some impressive performances and, of course, the strength of opponent also factored into the overall selections as did the PFF player grades.


QUARTERBACK
Justin Fields, Ohio State
The Ohio State signal-caller didn't light up the field with big-time throws, but he did do a great job of making all the necessary plays to keep his offense ahead of schedule. He was surgical from a clean pocket, completing 14-of-18 attempts for 141 yards, three scores and a passer rating of 138.9, and he ended the game with a passing grade of 88.3, his sixth single-game passing grade north of 80.0 this season.
Second-Team QB: Sean Clifford, Penn State
RUNNING BACK
Rodney Smith, Minnesota
Smith carried the ball 19 times against Rutgers in Week 8, and he amassed 111 rushing yards and two touchdowns as Minnesota continued their impressive start to the season. He forced four missed tackles, secured four additional first-down conversions and averaged a very healthy 3.16 yards after contact per attempt on the day.
Second-Team RB: Jonathan Taylor, Wisconsin
RUNNING BACK
J.K. Dobbins, Ohio State
Dobbins ran tough throughout Ohio State's Week 8 matchup against Northwestern, racking up 120 total rushing yards with 90 of those yards coming after he was contacted by a defender. He forced two missed tackles, found the end zone once and picked up five total first downs.
Second-Team RB: Javon Leake, Maryland
WIDE RECEIVER
KJ Hamler, Penn State
The Penn State wideout was targeted seven times against Michigan in Week 8. He caught six passes for 108 yards, two touchdowns and two first downs, generating a perfect passer rating when targeted.
Second-Team WR: Chris Olave, Ohio State
WIDE RECEIVER
David Bell, Purdue
David Bell ended his Week 8 bout with a receiving grade of 83.3, the highest receiving grade of his year so far. Targeted a staggering 17 times in the game, he caught 13 passes for 197 receiving yards, one touchdown and 10 additional first downs, averaging an impressive 3.72 yards per route run.
Second-Team WR: Nick Westbrook, Indiana
WIDE RECEIVER
Tyler Johnson, Minnesota
Johnson topped the 100-yard receiving mark for the second game in a row by catching six of his nine targets for 130 yards and a score in his Week 8 game against Rutgers. He moved the chains on all six of his receptions, forced two missed tackles and generated a passer rating of 146.8.
Second-Team WR: Brandon Smith, Iowa
TIGHT END
Jake Ferguson, Wisconsin
The Wisconsin tight end made a significant impact in the receiving game this week, catching 5-of-6 targets for 77 yards and a touchdown. All five of his catches resulted in a conversion—either by of a touchdown or first down—and he averaged 2.41 yards per route run on the day.
Second-Team TE: Pat Freiermuth, Penn State
OFFENSIVE TACKLE
Alaric Jackson, Iowa
The Purdue left tackle bounced back from a disappointing Week 7 performance to earn a 79.8 overall grade in Week 8, the best single-game grade of his season to date. He allowed just one pressure on 37 pass-blocking snaps and paved the way with a 79.1 game grade as a run-blocker.
Second-Team OT: Branden Bowen, Ohio State
OFFENSIVE GUARD
Harry Crider, Indiana
Crider was a dominant force in pass protection for Indiana, not allowing a single quarterback pressure from 51 pass-blocking snaps. He's now gone four games and 169 pass-blocking snaps since he last allowed a pressure.
Second-Team OG: Michael Onwenu, Michigan
CENTER
Doug Kramer, Illinois
Kramer had a strong all-around showing in Week 8 against Wisconsin, but he stood out in pass protection by keeping a completely clean slate across his 30 pass-blocking snaps.
Second-Team C: Ellis McKennie, Maryland
OFFENSIVE GUARD
Steven Gonzalez, Penn State
The Penn State left guard produced a perfect 100.0 pass-blocking efficiency in Week 8 after he didn't allow a single pressure on any of his 32 pass-blocking snaps.
Second-Team OG: Alex Criddle, Purdue
OFFENSIVE TACKLE
Tristan Wirfs, Iowa
Wirfs put on another excellent all-around performance in Week 8 against Purdue, earning 70.0-plus grades as a pass-blocker (84.7) and as a run-blocker (77.3). He didn't allow a single pressure across his 37 snaps in pass protection on the day.
Second-Team OT: Alec Palczewski, Illinois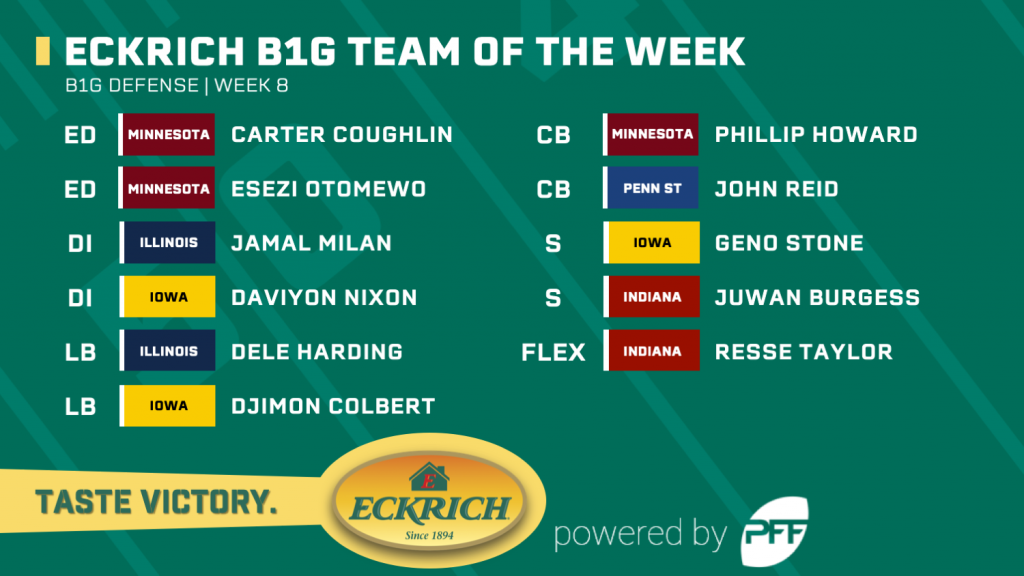 EDGE DEFENDER
Carter Coughlin, Minnesota
Coughlin was his usual, reliable self in the pass-rush for the Golden Gophers in Week 8, tallying a sack, a hit and two hurries on his 14 pass-rush snaps, but he truly shined when he dropped back into coverage, breaking up both of the passes that were sent his way.
Second-Team Edge: A.J. Epenesa, Iowa
EDGE DEFENDER
Esezi Otomewo, Minnesota
Along with his teammate, Otomewo found himself in the backfield relatively often in Week 8 and ended the game with a sack and two hurries from 20 pass-rush snaps.
Second-Team Edge: Aidan Hutchinson, Michigan
DEFENSIVE INTERIOR
Daviyon Nixon, Iowa
Nixon only rushed the passer 29 times in Week 8, but he sure made those opportunities count. He went on to generate seven total pressures in the game and left the field having earned a 76.0 pass-rush grade.
Second-Team DI: Jashon Cornell, Ohio State
DEFENSIVE INTERIOR
Jamal Milan, Illinois
Milian was very productive in his Week 8 game against Wisconsin, generating one quarterback pressure and two defensive stops against the run.
Second-Team DI: Jamal Woods, Illinois
LINEBACKER
Dele Harding, Illinois
Harding was tackling machine in his Week 8 clash with Wisconsin. He recorded 11 solo tackles on the day—with seven of those tackles resulting in a defensive stop—and he left the game fully deserving of a season-best 86.2 tackling grade.
Second-Team LB: Jack Sanborn, Wisconsin
LINEBACKER
Djimon Colbert, Iowa
The Iowa linebacker made an impact in all key facets of the game in Week 8, ending the week with 70.0-plus grades as a run defender (83.3), tackler (84.2) and as a coverage defender (79.3). He recorded two defensive stops in the game and broke up two of the nine passes that were thrown into his primary coverage.
Second-Team LB: Chris Orr, Wisconsin
CORNERBACK
Phillip Howard, Minnesota
Howard stepped up to the plate in a big way in what was only his second game of the 2019 college season. He was targeted just once in the game, and that pass resulted in an interception.
Second-Team CB: Coney Durr, Minnesota
CORNERBACK
John Reid, Penn State
Targeted three times in Week 8, Reid allowed just two completions for a grand total of four receiving yards, with his other target resulting in a pass breakup.
Second-Team CB: Shaun Wade, Ohio State
SAFETY
Geno Stone, Iowa
Stone was another who put on an all-around show in Week 8, ending the game with 70.0-plus grades in coverage (86.8), against the run (75.4) and as a tackler (84.1). He recorded two defensive stops on the day and forced an all-important fumble.
Second-Team S: Tony Adams, Illinois
SAFETY
Juwan Burgess, Indiana
Burgess ended Week 8 with an elite overall grade of 93.6 thanks to a great play made in coverage where he forced a fumble before recovering the ball himself.
Second-Team S: Jordan Howden, Minnesota
FLEX
Reese Taylor, Indiana
Taylor ended his Week 8 game with an interception, but he also added a quarterback hurry from a blitz and a defensive stop against the run.
Second-Team Flex: Antoine Brooks Jr., Maryland