• Previewing the biggest Week 4 games in college football: Clemson–Wake Forest, Florida–Tennessee, Arkansas–Texas A&M, Wisconsin–Ohio State and USC–Oregon State.
• Clemson, USC face tough tests: The two College Football Playoff hopefuls will be truly challenged for the first time this season.
• Ohio State vs. Wisconsin: The Buckeyes' juggernaut offense has its toughest matchup so far against the Badgers' defense.
Estimated Reading Time: 8 mins
---
Week 3 of the 2022 college football season was relatively tame, with only two games between ranked teams and no top-10 teams going down.
That should change this week. Usually, we preview the four biggest games of the week in this article. There were almost double that deserved consideration for Week 4, so we extended it to five. Here are the storylines to know, matchups to watch and predictions for the five biggest games in Week 4.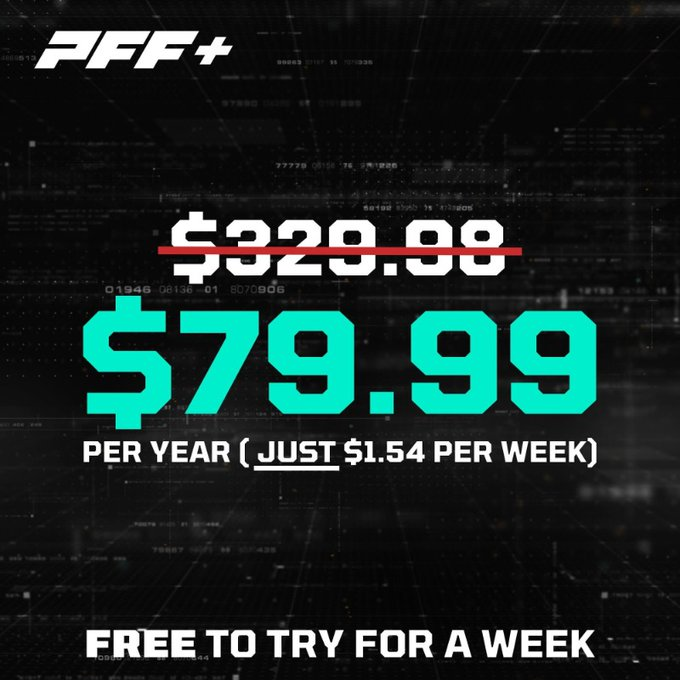 Storyline to know: Clemson's first test of the season
Clemson is ranked as a top-five team in the country, but the Tigers haven't really had to prove it yet. So far, they have faced Georgia Tech, Furman and Louisiana Tech. That makes for the 10th-easiest schedule in the country through Week 3, according to PFF's power rankings tool. 
A road game against No. 21 Wake Forest presents Clemson's first major test of the season. The Demon Deacons are unbeaten thus far and should provide a good indication as to whether Clemson is a legitimate contender or a pretender. 
Matchup to watch: Wake Forest's passing game vs. Clemson's defense
Wake Forest's offense has been completely one-dimensional this season. The Demon Deacons carry just a 66.3 rushing grade, fifth-lowest among Power Five schools. Last week, the team averaged just 0.8 yards per carry in a near-upset at the hands of Liberty. 
Fortunately for the Demon Deacons, their passing attack is deadly. Sam Hartman has a 91.6 grade since 2021, the fourth-highest among active Power Five quarterbacks. Wake Forest also has the second-best pass-blocking grade and 10th-best receiving grade among Power Five schools. 
Clemson's defense is littered with talent. Edge defender Myles Murphy and interior defensive lineman Bryan Bresee rank fifth and sixth, respectively, on PFF's 2023 Draft big board, while linebacker Trenton Simpson sits at 28th. Clemson's 86.4 coverage grade also ranks 17th among Power Five teams. The team's secondary is a bit banged up, though, as cornerback Nate Wiggins and safety Andrew Mukuba were out last week against Louisiana Tech while cornerback Sheridan Jones left the game in the first half.
Prediction: Clemson 30, Wake Forest 24
Clemson's defense will slow down Sam Hartman just enough to secure the Tigers' first major victory of the season.
---
Storyline to know: Tennessee is a historic favorite
Florida has dominated its rivalry with Tennessee. The Gators have won 16 of their past 17 meetings with the Volunteers, including each of the past five. 
This year looks like different. Not only is Tennessee favored for the first time since 2016, but it's favored by 10.5 points. That's the largest spread for the Volunteers as favorites in this series in at least 25 years, according to OddsShark. If Tennessee wins, it should crack the top 10 of the AP poll for the first time in six years.
Matchup to watch: Can Anthony Richardson get back on track?
In Week 1, Florida quarterback Anthony Richardson led the Gators to an upset win over then-No. 7 Utah. Many, including myself, bought into the hype and called him a dark-horse Heisman candidate. 
He's been anything but Heisman-worthy since. After an 80.0 grade against the Utes, he earned just a 37.6 mark over his following two games against Kentucky and USF, second-lowest among FBS quarterbacks in that span. He still doesn't have a big-time throw this season yet has made six turnover-worthy plays, tied for third-most among Power Five quarterbacks.
Since Tennessee has a high-powered offense of its own, Richardson will need to drastically improve if Florida is to pull off the upset.
Prediction: Tennessee 34, Florida 24
Ultimately, Tennessee's offense proves too much for Florida to handle, and the Volunteers secure their first victory over the Gators in six years.
---
Storyline to know: Can the Aggies exact revenge?
Texas A&M was ranked seventh in the country last year heading into its game against No. 16 Arkansas. The Aggies' playoff hopes were quickly dashed when the Razorbacks defeated them, 20-10, knocking them out of the top 10 for good.
This season, the roles are reversed. It's Arkansas who has hopes of making the College Football Playoff, as the Razorbacks are currently ranked 10th in the AP poll with a 3-0 record. Meanwhile, the Aggies will look to play spoiler and move up from No. 23 in the rankings. 
Matchup to watch: Arkansas' offensive line vs. Texas A&M's defensive line
The Razorbacks' strength is their offensive line, which is currently the second-highest-graded line in the Power Five. All five of Arkansas' offensive linemen grade out above 70.0 this season. Beaux Limmer leads them with an 85.7 mark that ranks second-highest among guards in the country.
Texas A&M's defensive line is inexperienced but has unbelievable potential. Four freshmen Aggie linemen were five-star recruits: Walter Nolen, Shemar Stewart, Lebbeus Overton and Gabriel Brownlow-Dindy. All were among the five highest-rated defensive line recruits out of high school. They haven't quite lived up to the hype yet, as the Aggies' 61.2 defensive line grade is tied for the fifth-lowest among Power Five schools. Texas A&M will need its defensive line talent to shine in this game. Otherwise, the Razorbacks will dominate them up front.
Prediction: Arkansas 27, Texas A&M 24
Led by quarterback KJ Jefferson and the ground game, Arkansas will bolster its playoff resume with another win over a top-25 opponent.
---
Storyline to know: Ohio State's offense faces its toughest test of the season so far
The Buckeyes have the top offense in the country, according to PFF's power rankings tool. Among Power Five schools, Ohio State sports the fifth-best passing grade, second-best receiving grade and second-best rushing grade this season. However, the Buckeyes scored only 21 points against Notre Dame, which fields a top-30 defense in PFF's power rankings. 
The Badgers have an even better defense than the Fighting Irish, as their unit currently ranks 11th in PFF's power rankings. Wisconsin's defense boasts a top-10 overall grade, pass-rush grade and coverage grade among Power Five schools. So far this season, the Badgers have allowed only eight points per game, 10th-fewest among FBS schools. 
If Ohio State really has the best offense in college football, it'll need to prove it against a stellar Wisconsin defense.
Matchup to watch: Wisconsin's run game vs. Ohio State's run defense
An upset would require the Badgers' defense to step things up, but Wisconsin's offense will try to play a bit of defense on its own in terms of keeping Ohio State off the field.
The Badgers have run the ball on 62.5% of their plays this season, tied for fifth-most among Power Five schools. That's led to Wisconsin controlling time of possession at the sixth-highest rate among Power Five teams. The Badgers will rely on their offensive line and star running back Braelon Allen to chew as much clock as possible and keep Ohio State quarterback C.J. Stroud and company off the field.
However, Ohio State's defense is no doormat. The Buckeyes have a 91.2 team run-defense grade this season, ninth-best among Power Five schools. The Buckeyes are also tied for fourth in the Power Five with 25 tackles for loss or no gain this season. 
The winner of the battle in the trenches will dictate a lot of how this game plays out.
Prediction: Ohio State 38, Wisconsin 20
Ohio State's offense will prove itself as the best in the country while the defense gets enough stops in the run game in a relatively easy victory.
---
Storyline to know: How legit is USC as a playoff contender?
The Trojans rank in the top 10 for the first time in five years thanks to one of the most exciting offenses in college football. Since 2021, Caleb Williams is the third-highest-graded active Power Five quarterback, while Jordan Addison is second among wide receivers. Under offensive mastermind Lincoln Riley, the Trojans are beating teams by an average of 31 points per game.
It's important to contextualize that with USC's opponent strength, though. So far this season, the Trojans have taken down Rice, Stanford and Fresno State. None of those schools currently rank inside the top 80 of PFF's power rankings. Oregon State, who sits at 29th, will present the Trojans with their first major test of the season. 
Matchup to watch: The Pac-12's two best quarterbacks square off
This game will likely be a shootout between the finest quarterbacks the Pac-12 has to offer. 
USC's Caleb Williams currently has the second-best odds to win the Heisman Trophy, according to DraftKings Sportsbook. Only Ohio State quarterback C.J. Stroud beats him out. Stroud is also the only Power Five quarterback with a higher passer rating than Williams' 135.9 mark this season.
Oregon State's Chance Nolan doesn't match Williams' star power, but he's been having an excellent season thus far. His 91.3 passing grade in 2022 is the fourth-highest in the Power Five, and his eight big-time throws ties for the most among Power Five quarterbacks this year.
Whichever quarterback has the better game will likely determine the winner of this game.
Prediction: USC 38, Oregon State 31
Nolan and Oregon State will put up a valiant fight, but USC's offense is going to be difficult to beat in a shootout.