PFF is here to provide everything you need to know ahead of the second full week of college football.
Below, you'll find the college football Week 3 schedule, game lines, a guide to PFF Greenline betting picks and a game preview for the most notable matchups. Please note that the lines are courtesy of our friends over at DraftKings Sportsbook and are subject to change up until kickoff.
---
Click here for more PFF tools:
Rankings & Projections | WR/CB Matchup Chart | NFL & NCAA Betting Dashboards | NFL Player Props tool | NFL & NCAA Power Rankings
---
Saturday, Sep. 18 | 12:00 P.M. EST | FOX
Spread: Oklahoma -22 (-115)
Total: 61.5
Moneyline: Oklahoma -1600, Nebraska +900
Oklahoma has to put the pedal to the metal against every opponent from here on out after barely scraping by Tulane in Week 1.
Quarterback Spencer Rattler and the Sooners did just that in Week 2, with their 76-0 routing of Western Carolina. Rattler played far better football, recording zero turnover-worthy plays en route to a 91.7 PFF grade.
Every position group looked as if they were out for blood last week, and they will be again this week against a Nebraska team that ranks in the bottom half of the Big Ten in PFF's power rankings and reportedly tried to cancel this game in the offseason.
Click here for PFF Greenline's cover probabilities for side, total and moneyline.
---
Saturday, Sep. 18 | 12:00 PM EST | ESPN
Spread: Cincinnati -3.5 (-105)
Total: 50.5
Moneyline: Cincinnati -170, Indiana +150
This is the first of two consecutive opportunities for Cincinnati to cement itself as worthy of College Football Playoff consideration.
Desmond Ridder looked like a new quarterback in his season opener against Miami of Ohio. He got the ball out quickly and accurately underneath, and he also connected on big plays downfield on the few opportunities there. He left the game with an 84.3 PFF grade. 
In Week 2 against Murray State, it was a tale of two halves. 
Desmond Ridder by half vs. Murray State in Week 2
| | | |
| --- | --- | --- |
| 1st Half | | 2nd Half |
| 54.1 | Passing Grade | 74.4 |
| -0.09 | EPA per pass | 0.75 |
| 4.2 | Yds per att | 15.8 |
| 7-7 | Score in half | 35-0 (Cincy) |
Indiana may not be at the level many expected them to be at entering this game, but Cincy simply can't afford to get off to a sluggish start through the air. 
On the other hand, the Bearcats defense has had no issue getting back to speed, as their defense as a whole is currently the second-highest-graded unit in the FBS. With a ferocious pass rush up front and strong coverage on the back end, the Bearcats have allowed a mere 4.5 yards per pass attempt. 
Hoosiers quarterback Michael Penix Jr. has proven to be capable of leading a big-play offense despite the horrendous opener against Iowa. After all, he led the Power Five in big-time throw rate in 2020 (10.3%) and earned a passing grade above 80.0 for the second consecutive season. The big question is, will he get by the Bearcats pass rush?
The Hoosiers offensive line is still in brutal shape, but Penix tends to get the ball out before the pass rush gets home — he has taken just 11 sacks on 158 pressured dropbacks in his career.
Click here for PFF Greenline's cover probabilities for side, total and moneyline.
Saturday, Sep. 18 | 12:00 PM EST | FS1
Spread: West Virginia -3 (-105)
Total: 50.5
Moneyline: West Virginia -145, Virginia Tech +125
West Virginia will get another crack at defeating a quality Power Five football team after losing their opener to Maryland. The Mountaineers struggled in virtually every facet that day: Quarterback Jarret Doege earned a 49.0 PFF grade, the backfield didn't have a single breakaway run of 15-plus yards and the coverage unit gave up two 60-plus yard passing touchdowns that swung the Terps' win probability by double-digits. 
It won't be easy for Doege and Co. to light the fireworks in the passing game against the outside cornerback duo of Jermaine Waller and Dorian Strong, who have given Virginia Tech the fifth-highest-graded outside corner room among Power Five programs through Week 2.
Virginia Tech's passing offense is a little concerning after Week 2. While they did get by Middle Tennessee comfortably, quarterback Braxton Burmeister didn't help much as a passer (53.8 passing grade). To add to that, they lost their top pass-catcher — tight end James Mitchell — for the rest of the season due to injury.
Click here for PFF Greenline's cover probabilities for side, total and moneyline.
---
Saturday, Sep. 18 | 2:30 PM EST | NBC
Spread: Notre Dame -7.5 (-115)
Total: 58.5 (-105)
Moneyline: Notre Dame -290, Purdue +230
This screams trap game for the Fighting Irish, who face a six-week span that includes games against Wisconsin, Cincinnati, Virginia Tech, USC and North Carolina after this showdown with the Boilermakers.
If Purdue can pull off the upset, it's going to be because of their passing offense. Quarterback Jack Plummer is among the most underrated passers in the country, and their receiving unit — led by David Bell — has plenty of talent, as well.
Plummer has earned a solid 77.3 PFF grade through two weeks of play. Bell has been his go-to pass-catcher as expected, and he has put up an 89.8 PFF grade in his two games, having broken eight tackles on 13 receptions.
Notre Dame will present an entirely different challenge for that Purdue offense, which has faced Oregon State and UConn so far. That said, the Irish haven't lived up to the hype on that side of the ball. They have given up a higher rate of big plays under new defensive coordinator Marcus Freeman than they did under Clark Lea. The Irish's scoring drive allowed rate has jumped 10 percentage points year over year to the ninth-worst in the Power Five.
The Notre Dame offense also has its fair share of concern. It took a touchdown within the final two minutes of play to get by Toledo. As impressive as it was that quarterback Jack Coan dislocated his finger the play before that, he had a subpar day overall, resulting in a 61.1 passing grade. The offense simply couldn't find its groove, failing to generate positive expected points added per play. It marked just the second time in the PFF College era where the Irish did so against a non-Power Five opponent.
It's do-or-die time for the Fighting Irish. 
Click here for PFF Greenline's cover probabilities for side, total and moneyline.
---
Saturday, Sep. 18 | 3:30 PM EST | CBS
Spread: Alabama -15.5 (-110)
Total: 58.5
Moneyline: Alabama -720, Florida +500
It's been two weeks of college football, and Alabama is still a juggernaut. They are first in PFF's Power Rankings by a wide margin and have a 39% chance of winning the national championship.
Quarterback Bryce Young has looked like a star in the making. He has no issue making plays when knocked off rhythm and avoids sacks at a rare level for someone his age. He has averaged 11.0 yards per attempt under pressure and has taken only two sacks on 29 pressured dropbacks.
Florida has gotten after the quarterback at a high level this season, ranking fifth in the Power Five in pass-rush grade, but the coverage unit will have to step up going up against a quarterback like Young. The Gators currently rank second-to-last in team coverage grade among Power Five programs.
On offense, the Gators will be hoping that the accuracy issue starting quarterback Emory Jones has suffered with through the first two weeks of play is just a fluke. Jones has been the rushing threat Florida expected him to be, and he is making the right reads in the passing game, but he has struggled to actually hit the receiver where he needs to. Over 41% of his passes beyond the line of scrimmage have been deemed uncatchable the last two weeks. For reference, Kyle Trask's rate in 2020 was nearly half that (22%).
And for those hoping to see exciting backup Anthony Richardson take over the offense, don't get your hopes up.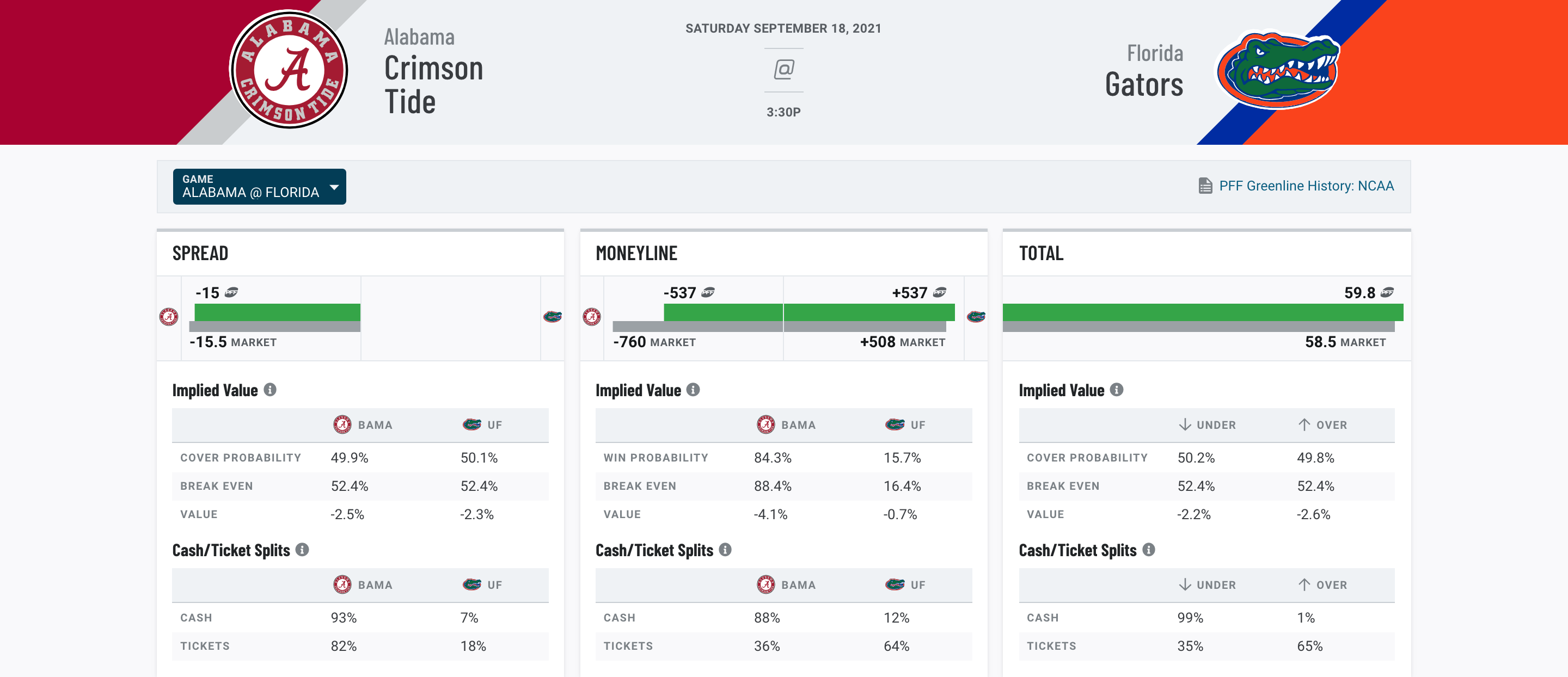 Click here for PFF Greenline's cover probabilities for side, total and moneyline.
---
Saturday, Sep. 18 | 3:30 PM EST | BTN
Spread: Iowa -22.5 (-115)
Total: 56.5
Moneyline: Iowa -2000, Kent State +1000
The college football world knows Iowa has an elite pass coverage unit. The Hawkeyes have two of the five highest-graded outside corners in college football with Matt Hankins and Riley Moss, and they rank eighth among the 130 FBS programs in coverage grade through Week 2. And they got there facing two ranked teams, Indiana and Iowa State.
This game against Kent State will be all about the passing offense trying to find its groove. Iowa ranks 121st in the FBS in successful pass play rate this season.
Quarterback Spencer Petras owns a 60.1 passing grade over the last two seasons. He won't turn the ball over often, but he's not going to connect for many explosive plays, either. Iowa needs the latter to make major noise in 2021.
Click here for PFF Greenline's cover probabilities for side, total and moneyline.
---
Saturday, Sep. 18 | 3:30 PM EST | ABC
Spread: Clemson -28.5 (-110)
Total: 52
Moneyline: Clemson -4500, Georgia Tech +1800
It may not seem like it, but this is a pivotal game for Clemson quarterback D.J. Uiagalelei, given his poor start to the 2021 season.
A pass can be given for a poor performance against a defense like Georgia's, but the same can't be said for his game against the FCS program South Carolina State.
Uiagalelei has opened up the year with a 54.6 passing grade through two games. He has more quarterback-fault incompletions (nine) than completions (seven) on throws of 10 or more yards downfield. The accuracy problem that he flashed in his two spot starts as a freshman looks like a big issue in 2021.
The Clemson quarterback has one of the strongest arms in the country, but he has yet to piece together the other intricacies of quarterback play, making the arm worthless until that changes. Georgia Tech is one of the best Power Five programs, but they do have a quality defensive front that can give a good fight against Clemson's offensive line and put the pressure on D.J.
Click here for PFF Greenline's cover probabilities for side, total and moneyline.
---
Saturday, Sep. 18 | 7:30 PM EST | ABC
Spread: Penn State -6 (-110)
Total: 53
Moneyline: Penn State -225, Auburn +185
After Auburn beat Akron and Alabama State to start the season, we still don't know all that much about the Tigers. It's clear that running back Tank Bigsby and their defensive unit as a whole are elite assets, but there are some questions to be answered with the passing game.
Quarterback Bo Nix has struggled against quality defenses in his career, and Penn State falls in that category this year. Nix has a career 66.4 passing grade against Power Five defenses. Throw in the fact that there isn't one wide receiver on the roster who served in a major role for Auburn before this season, and the questions continue to grow.
Penn State is fresh off a thrashing of Ball State, which saw Nittany Lions linebacker Jesse Luketa earn PFF Defensive Player of the Week honors. Between him, safety Jaquan Brisker and edge defender Arnold Ebiketie, this Penn State pass defense has been in tip-top shape through two weeks.
The defense is tied for third among FBS teams in coverage grade through Week 2. But shutting down the pass isn't really the worry; it's stopping Bigsby, who is the best running back in college football.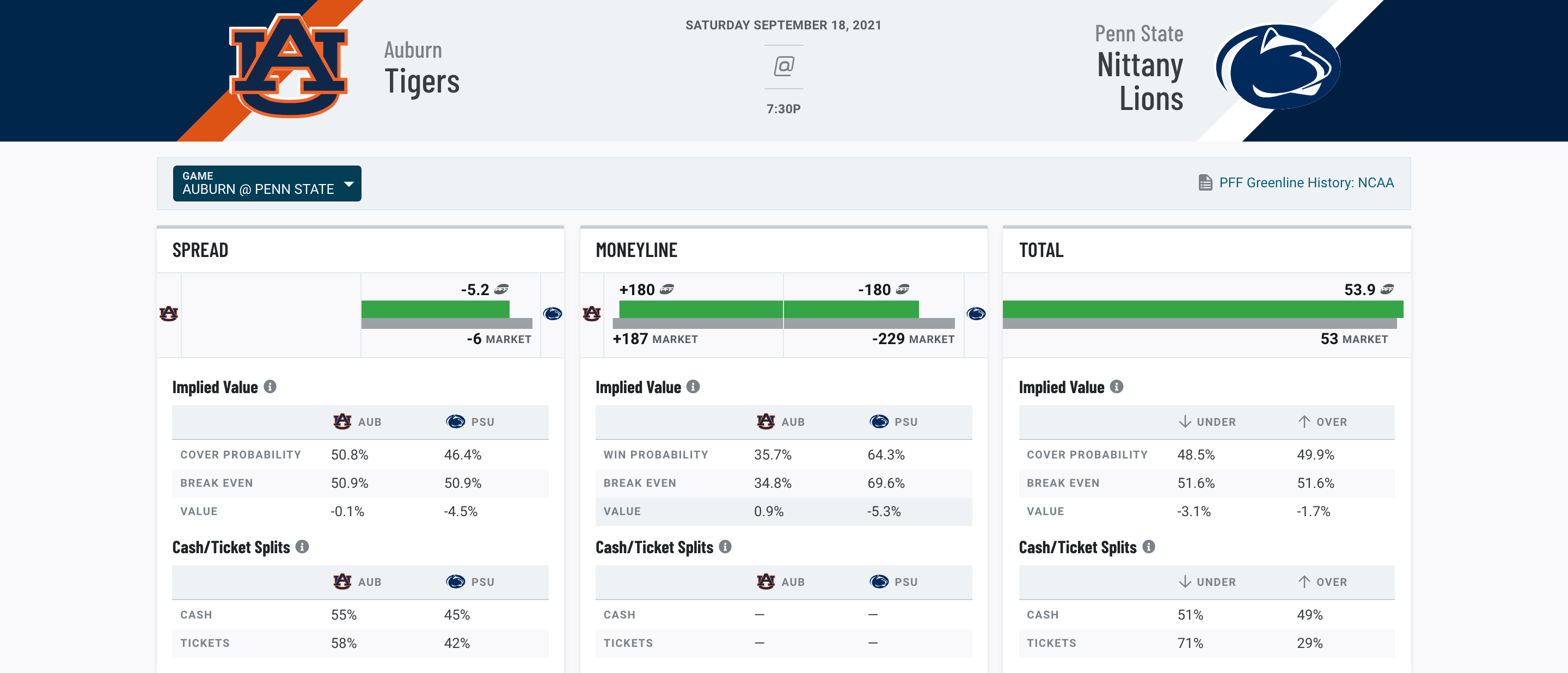 Click here for PFF Greenline's cover probabilities for side, total and moneyline.
---
Saturday, Sep. 18 | 7:30 PM EST | ACC Network
Spread: North Carolina -9 (-110)
Total: 67
Moneyline: North Carolina -350, Virginia +270
Brennan Armstrong has played as well as a quarterback can two weeks into the season. He leads college football with a 94.9 PFF grade and has been the biggest reason his program is second in the Power Five in explosive pass play rate (25.6%). 
On the other sideline is Sam Howell, who looked like the big-armed, elite passer many were expecting in Week 2 after a lackluster opener in Blacksburg that ended in an upset loss. Howell earned a 56.8 PFF grade against Virginia Tech and raised that to 94.0 against Georgia State in Week 2. The latter performance featured five big-time throws on deep balls, a metric he led the FBS in as an underclassman in 2019 and 2020 combined.
These two quarterbacks could give us a high-scoring affair to tune into on Saturday.
Click here for PFF Greenline's cover probabilities for side, total and moneyline.
---
Saturday, Sep. 18 | 10:15 PM EST | ESPN
Spread: Arizona State -3.5 (-110)
Total: 51.5
Moneyline: Arizona State -170, BYU +150
This week will tell us a lot about the Arizona State Sun Devils, who have only faced Southern Utah and UNLV this season.
Despite the lesser competition, quarterback Jayden Daniels has struggled to execute a downfield passing offense. He has yet to record a big-time throw and has earned a 67.7 passing grade on throws of 10-plus yards downfield.
That's not where Daniels wins, though. He wins with his athleticism on the ground. He has picked up eight runs of 10-plus yards on 16 carries this year, 13 of which were scrambles. This has been the story of his career.
Jayden Daniels in his collegiate career
| | |
| --- | --- |
| Play type | EPA per play generated |
| Passing (no scrambles) | 0.05 |
| Designed runs | -0.27 |
| Scramble runs | 0.49 |
BYU is more of a proven team after beating previously ranked Utah in the Holy War for the first time in over a decade. The passing offense has been rolling, generating 0.26 expected points added per pass through two games. That's not to say quarterback Jaren Hall can't improve some, as his PFF grade from a clean pocket is over 16 points lower than on pressured plays.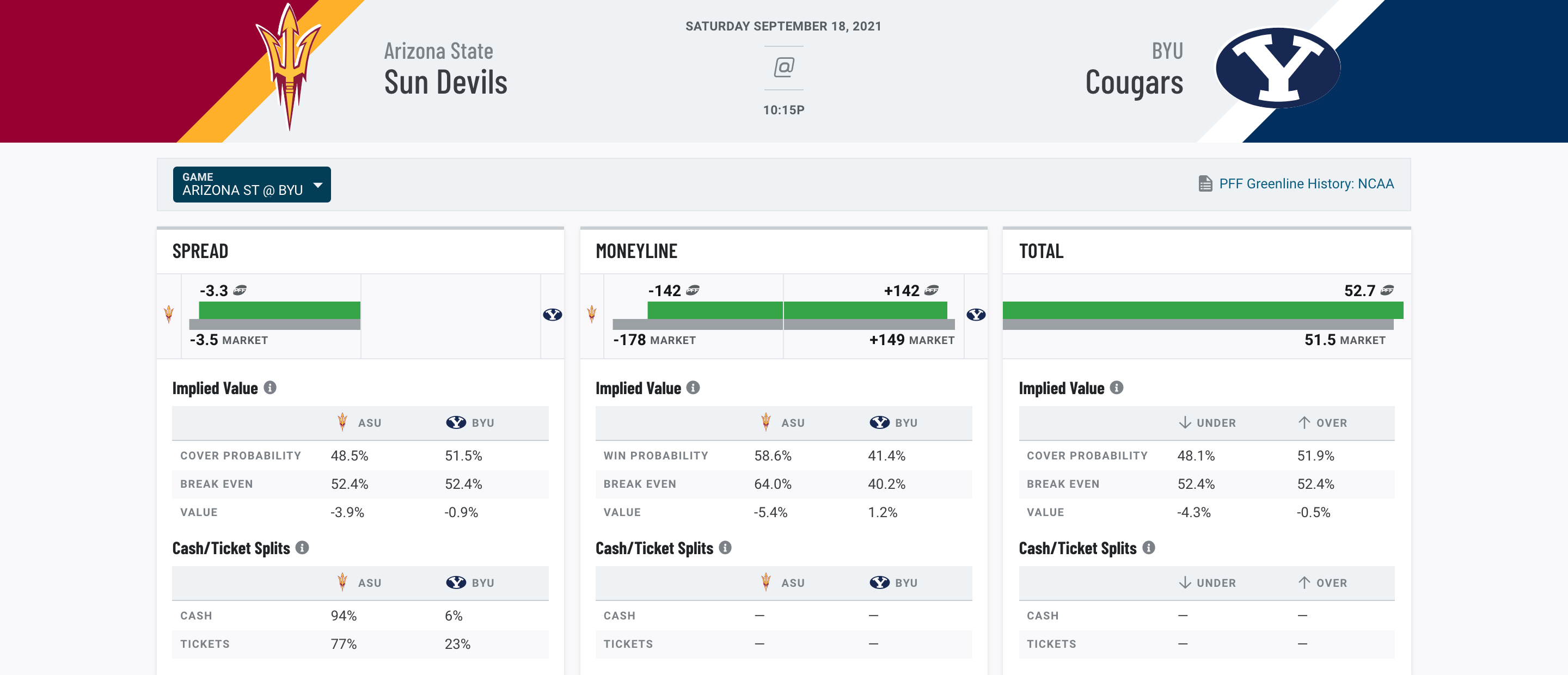 Click here for PFF Greenline's cover probabilities for side, total and moneyline.
---
THE REST OF THE FBS SLATE:
Thursday, Sep. 16 | 8:00 PM EST | ESPN
UCF at LOUISVILLE
Friday, Sep. 17 | 7:30 PM EST | ESPN
Friday, Sep. 17 | 9:00 PM EST | FS1
NEW MEXICO at NO. 7 TEXAS A&M
Saturday, Sep. 18 | 12:00 PM EST | SEC Network
NO. 16 COASTAL CAROLINA at BUFFALO
Saturday, Sep. 18 | 12:00 PM EST | ESPN2
MICHIGAN STATE at NO. 24 MIAMI (FL.)
Saturday, Sep. 18 | 12:00 PM EST | ABC
NORTHERN ILLINOIS at NO. 25 MICHIGAN
Saturday, Sep. 18 | 12:00 PM EST | Big Ten Network
Saturday, Sep. 18 | 12:00 PM EST | ESPN+/SEC Network+
Saturday, Sep. 18 | 12:00 PM EST | ESPN+/SEC Network+
Saturday, Sep. 18 | 12:00 PM EST | ESPN+/SEC Network+
Saturday, Sep. 18 | 12:00 PM EST | ESPN3
Saturday, Sep. 18 | 12:00 PM EST | ACC Network
Saturday, Sep. 18 | 12:00 PM EST | ESPNU
Saturday, Sep. 18 | 12:00 PM EST | CBS Sports Network
Saturday, Sep. 18 | 1:00 PM EST | Pac-12 Network
Saturday, Sep. 18 | 2:00 PM EST | Big-12 Network & ESPN+
TULSA at NO. 9 OHIO STATE
Saturday, Sep. 18 | 3:30 PM EST | FS1
Saturday, Sep. 18 | 3:30 PM EST | CBS Sports Network
Saturday, Sep. 18 | 3:30 PM EST | ESPN
Saturday, Sep. 18 | 3:30 PM EST | Big Ten Network
Saturday, Sep. 18 | 3:30 PM EST
Saturday, Sep. 18 | 3:30 PM EST | Big-12 Network & ESPN+
Saturday, Sep. 18 | 3:30 PM EST | ESPN+
Saturday, Sep. 18 | 3:30 PM EST | ESPN3
Saturday, Sep. 18 | 3:30 PM EST | ESPN+
Saturday, Sep. 18 | 3:30 PM EST
Saturday, Sep. 18 | 3:30 PM EST | FOX
GEORGIA SOUTHERN at NO. 20 ARKANSAS
Saturday, Sep. 18 | 4:00 PM EST | SEC Network
Saturday, Sep. 18 | 4:00 PM EST | ESPN2
NORTHWESTERN at DUKE
Saturday, Sep. 18 | 4:00 PM EST | ACC Network
Saturday, Sep. 18 | 4:00 PM EST
Saturday, Sep. 18 | 4:00 PM EST | ESPNU
SACRAMENTO at CAL
Saturday, Sep. 18 | 4:00 PM EST
Saturday, Sep. 18 | 4:15 PM EST | Pac-12 Network
Saturday, Sep. 18 | 5:00 PM EST | ESPN3
Saturday, Sep. 18 | 6:00 PM EST | ESPN+
Saturday, Sep. 18 | 6:00 PM EST | ESPN3
Saturday, Sep. 18 | 6:00 PM EST
Saturday, Sep. 18 | 6:00 PM EST | ESPN3
SOUTH CAROLINA at NO. 2 GEORGIA
Saturday, Sep. 18 | 7:00 PM EST | ESPN
Saturday, Sep. 18 | 7:00 PM EST | ESPN+
FIU at TEXAS TECH
Saturday, Sep. 18 | 7:00 PM EST | Big-12 Network & ESPN+
Saturday, Sep. 18 | 7:00 PM EST | ESPN+
Saturday, Sep. 18 | 7:00 PM EST | ESPN+
FLORIDA A&M at USF
Saturday, Sep. 18 | 7:00 PM EST | ESPN+
Saturday, Sep. 18 | 7:00 PM EST | ESPN3
Saturday, Sep. 18 | 7:00 PM EST | CBS Sports Network
STONY BROOK at NO. 4 OREGON
Saturday, Sep. 18 | 7:30 PM EST | Pac-12 Network
Saturday, Sep. 18 | 7:30 PM EST | SEC Network
UAB at NORTH TEXAS
Saturday, Sep. 18 | 7:30 PM EST
Saturday, Sep. 18 | 7:30 PM EST | ESPN3
Saturday, Sep. 18 | 7:30 PM EST | FS2
Saturday, Sep. 18 | 8:00 PM EST | ESPN2
Saturday, Sep. 18 | 8:00 PM EST | ESPNU
Saturday, Sep. 18 | 8:00 PM EST | Longhorn Network
Saturday, Sep. 18 | 8:00 PM EST | ESPN3
Saturday, Sep. 18 | 8:00 PM EST | ESPN3
SOUTH CAROLINA STATE at NEW MEXICO STATE
Saturday, Sep. 18 | 8:00 PM EST
Saturday, Sep. 18 | 9:00 PM EST | FS1
Saturday, Sep. 18 | 10:00 PM EST | Pac-12 Network
NO. 14 IOWA STATE at UNLV
Saturday, Sep. 18 | 10:30 PM EST | CBS Sports Network
FRESNO STATE at NO. 13 UCLA
Saturday, Sep. 18 | 10:45 PM EST | Pac-12 Network
Sunday, Sep. 18 | 12:30 AM EST | FS1