The Week 2 Eckrich Big 12 Team of the Week powered by PFF saw some impressive performances, and after our team of over 500 analysts graded every single player on every single play of every game, we give you the top players from the weekend.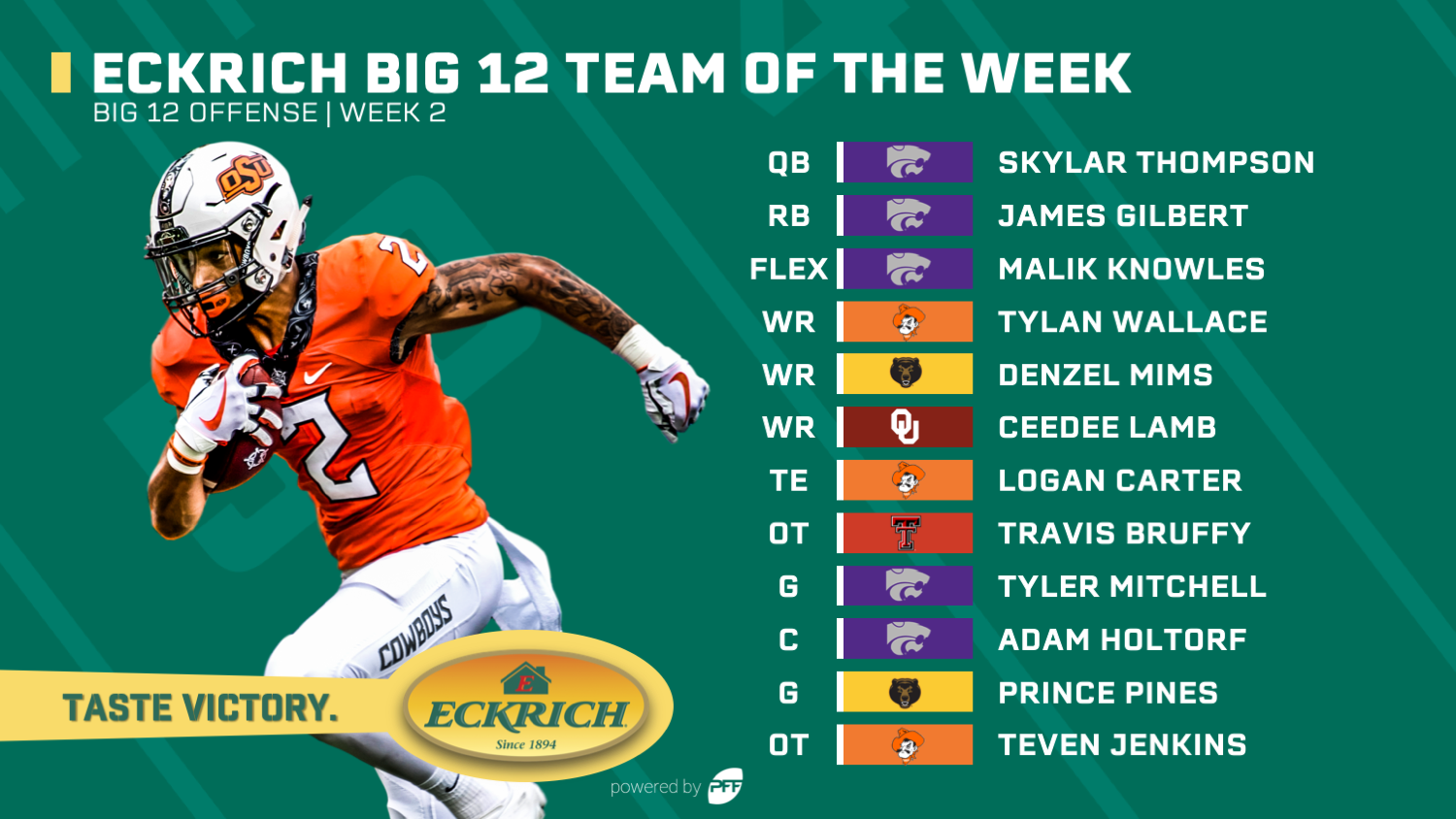 Quarterback
Skylar Thompson, Kansas State
He needed just 13 pass attempts against Bowling Green to throw for 151 yards, two touchdowns and a 154.2 passer rating. What makes Thompson's performance so special was the fact that of his three incompletions, one was dropped and he consistently put the ball in places where only his receivers could make the play. He is now off to an incredibly hot start this season and could make waves in the Big 12.
Second-Team QB: Jalen Hurts, Oklahoma
Running Back
James Gilbert, Kansas State
The Ball State transfer now has back-to-back 100-yard performances for the Wildcats, needing just eight carries to total 103 yards and two scores. Of his 103 yards, 82 came after contact and he broke three tackles. He averages 8.3 yards per carry this season and is set to carry the load for KSU through Big 12 play.
Second-Team RB: Rhamondre Stevenson, Oklahoma
Flex
Malik Knowles, Kansas State
With running backs taking a backseat in the conference this weekend, Knowles grabs the aptly-named flex spot as he made multiple ridiculous grabs for Kansas State against Bowling Green. His two touchdowns were something but his extension on an out route and subsequent ability to keep that ball off the turf was outrageous and a mere microcosm of how impressive he was all afternoon.
Second-Team Flex:  T.J. Vasher, Texas Tech
Wide Receiver
Tylan Wallace, Oklahoma State
Wallace led the conference with his 180 receiving yards, doing so on just five receptions and gaining 137 yards after the catch. He secured three touchdowns and has truly jumped out to rightfully contend for the Biletnikoff Award after two weeks.
Second-Team WR: Jadon Haselwood, Oklahoma
Wide Receiver
Denzel Mims, Baylor
Mims made multiple plays that a big-framed receiver like himself shouldn't be able to. His slick routes saw him force multiple mistakes from his coverage defender and he ended the afternoon with 101 yards on seven catches with three touchdowns and two additional first-down receptions.
Second-Team WR: Brennan Eagles, Texas
Wide Receiver
Ceedee Lamb, Oklahoma
There isn't much more that can be said about Lamb other than he may be the best all-around receiver in the country not named Jerry Jeudy. Lamb tore off a perfect six receptions on six targets for 144 yards and five receiving conversions on the day against an undermanned South Dakota team.
Second-Team WR: Devin Duvernay, Texas
Tight End
Logan Carter, Oklahoma State
Tight ends were targeted just 16 times in the conference this weekend and Carter saw just one reception for six yards. What makes the Big 12 Team of the Week here is Carter's effort in blocking for the run as he had plus grades in both pass protection and run-blocking.
Second-Team TE: Christoph Henle, Baylor
Offensive Tackle
Travis Bruffy, Texas Tech
Bruffy was selected to the National Team of the Week as he led all Big 12 tackles in both pass-blocking and run-blocking grades. He allowed just a single hurry on 50 pass-blocking snaps and had an elite grade in the run game.
Second-Team OT: Casey Phillips, Baylor
Offensive Guard
Tyler Mitchell, Kansas State
The Wildcats ran just that, wild, against Bowling Green and Mitchell paved the way for multiple large running lanes while also keeping a clean sheet in pass protection.
Second-Team OG: Marcus Keyes, Oklahoma State
Center
Adam Holtorf, Kansas State
Even with allowing two QB hurries on his 16 snaps in pass protection, Holtorf's effort in the run game was dominant. He finished with an elite run-blocking grade and had the conference's best spot by a clear 16.6 grade points.
Second-Team C: Dawson Deaton, Texas Tech
Offensive Guard
Prince Pines, Baylor
On his 25 pass-blocking snaps, Pines didn't allow a pressure while finishing with the conference's second-highest run-blocking grade among guards.
Second-Team OG: Weston Wright, Texas Tech
Offensive Tackle
Teven Jenkins, Oklahoma State
On 28 snaps in pass protection, Jenkins didn't allow a single pressure and had a big game in run-blocking. For the year, Jenkins has allowed just one QB hurry on 59 pass-blocking snaps.
Second-Team OT: Adrian Ealy, Oklahoma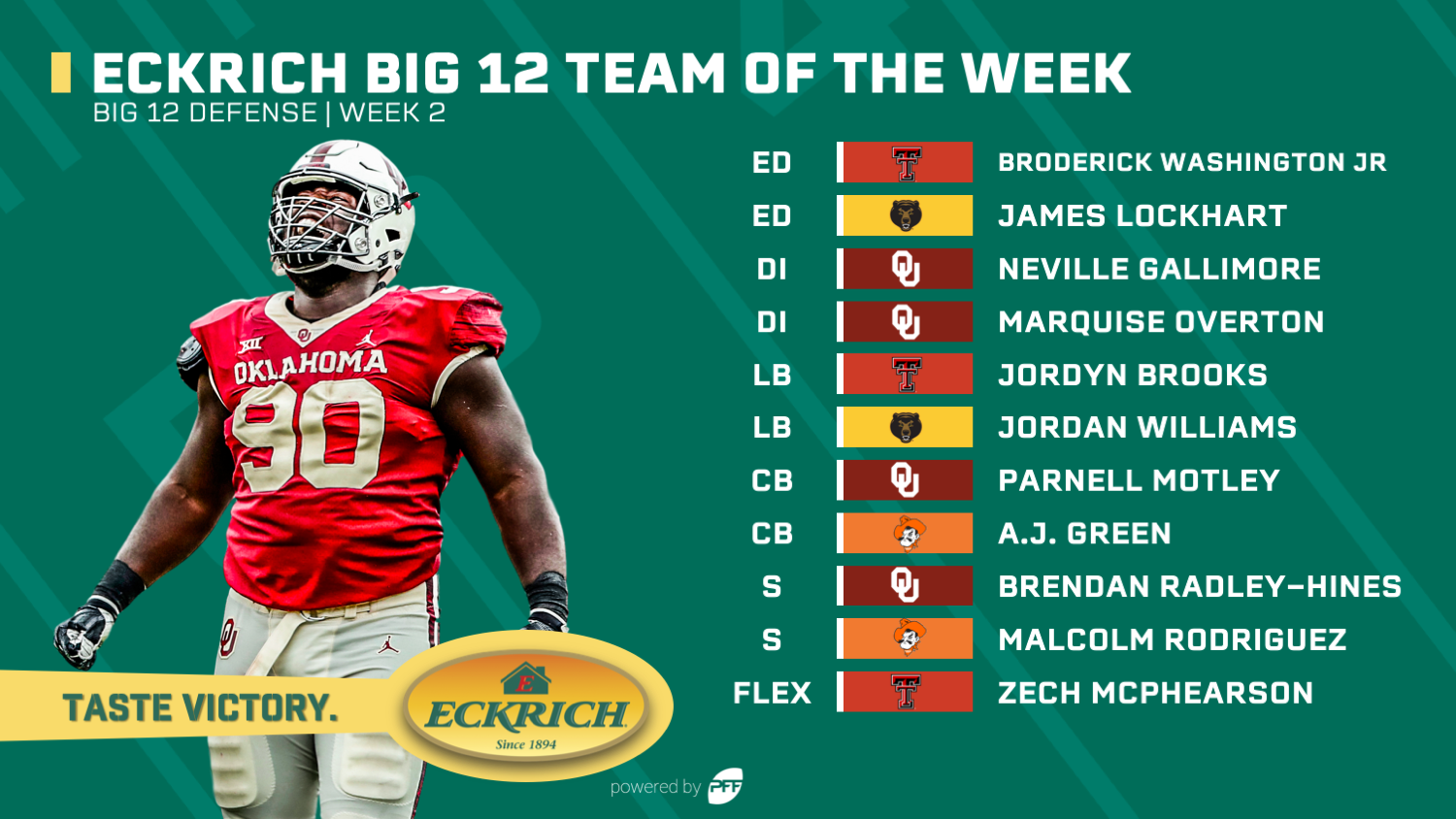 Edge Defender
Broderick Washington Jr., Texas Tech
Leading the conference with five total pressures, Washington recorded a sack, QB hit and three more hurries while also recording three defensive stops, two of which came against the run.
Second-Team Edge: Eli Howard, Texas Tech
Edge Defender
James Lockhart, Baylor
Yet another Baylor edge defender to find their way to the Big 12 Team of the Week in consecutive weeks, Lockhart needed just 31 total snaps to put forth a dominant outing. He made three defensive stops in the run game and two quick pressures off the edge.
Second-Team Edge: Malcolm Roach, Texas
Defensive Interior
Neville Gallimore, Oklahoma
The Sooner defensive tackle duo of Gallimore and Overton was a dominant force as Gallimore recorded two pressures and made two defensive stops. He forced a fumble and didn't miss a tackle on his 24 snaps.
Second-Team DI: Bravvion Roy, Baylor
Defensive Interior
Marquise Overton, Oklahoma
Overton got it done in the run game, making a defensive stop and had multiple wins on his 19 pass-rushes in a quick outing for this dominant duo.
Second-Team DI: Trey Dishon, Kansas State
Linebacker
Jordyn Brooks, Texas Tech
On his 47 snaps this weekend, Brooks recorded a whopping five defensive stops and eight total tackles without a single missed attempt. He wasn't targeted at all in coverage as he was impressive on 20 snaps in which he dropped back.
Second-Team LB: Terrel Bernard, Baylor
Linebacker
Jordan Williams, Baylor
Williams recorded two defensive stops against the run in the contest against UTSA while putting forth a dominant outing in coverage. He didn't allow a single reception on his 17 snaps in coverage and two targeted passes as the primary coverage defender.
Second-Team LB: 
Cornerback
Parnell Motley, Oklahoma
Motley was targeted six times against South Dakota and didn't allow a single reception. In a dominant game, he made two pass breakups and forced multiple incompletions with his tight coverage.
Second-Team CB: Raleigh Texada, Baylor
Cornerback
A.J. Green, Oklahoma State`
Green made his way to the National Team of the Week for his outing, finishing with elite grades overall and in coverage. Of his three targeted passes, he allowed a lone reception for five yards and made an impressive interception.
Second-Team CB: Ja'Marcus Ingram, Texas Tech
Safety
Brendan Radley-Hines, Oklahoma
Flying around the field, Radley-Hines recorded an interception and allowed just 17 total yards as the primary coverage defender and a defensive stop in the process.
Second-Team S: Tre Sterling, Oklahoma State
Safety
Malcolm Rodriguez, Oklahoma State
Of his 14 total tackles, Rodriguez didn't miss a single attempt, made seven defensive stops and even recorded a QB hurry on a blitz. It was an all-around strong performance for the junior.
Second-Team S: Douglas Coleman III, Texas Tech
Flex
Zech McPhearson, Texas Tech
In a strong showing, McPhearson logged 26 coverage snaps and allowed one reception, a reception in which he jumped the route and made an impressive play for a loss of two yards.
Second-Team Flex: Denzel Goolsby, Kansas State