• Previewing the biggest Week 13 games in college football: Tulane–Cincinnati, Michigan–Ohio State, South Carolina–Clemson, Oregon–Oregon State and Notre Dame–USC.
• Game of the year: Second-ranked Ohio State takes on No. 3 Michigan in a game with massive playoff implications.
• USC faces its toughest test yet: The sixth-ranked Trojans try to keep their playoff hopes alive against No. 15 Notre Dame, a top-five team in PFF's power rankings.
Estimated Reading Time: 8 mins
---
This Saturday marks the end of the 2022 college football regular season. While that thought may be upsetting, the feeling is at least bittersweet because there is a full slate of juicy matchups in rivalry week, including the biggest game of the year in No. 2 Ohio State versus No. 3 Michigan.
Here are the storylines to know, matchups to watch and predictions for the five biggest games of Week 13.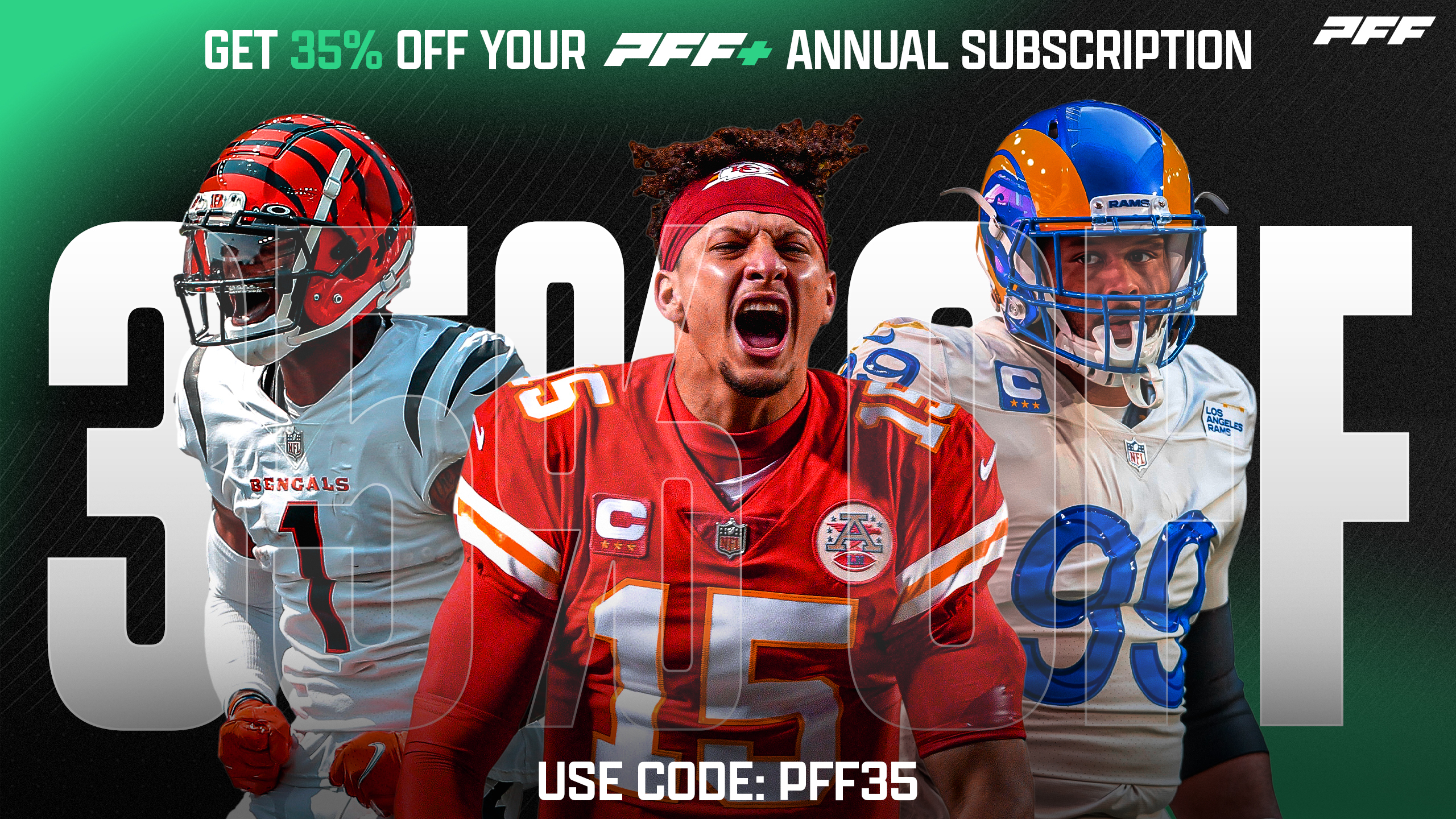 ---
How to watch: 12 p.m. ET on ABC (Friday)
Storyline to know: A New Year's Six bowl game could be on the line
The highest-ranked Group of Five champion is guaranteed a spot in one of the New Year's Six bowl games. As of now, the three ranked Group of Five schools all reside in the American Athletic Conference: No. 19 Tulane, No. 22 UCF and No. 24 Cincinnati. 
This game will determine who hosts the AAC title game. The loser won't be playing in the championship game at all, meaning a New Year's Six berth is out of the question.
Matchup to watch: Tulane's run game vs. Cincinnati's run defense
The Green Wave run the ball on over 57% of their plays, the second-highest rate in the AAC. On those attempts, Tulane has picked up a first down or a touchdown 31% of the time, the fourth-highest rate in the Group of Five. Tyjae Spears is the most valuable Group of Five running back this season, according to PFF's wins above average metric.
Meanwhile, Cincinnati has the third-most run-stops in the country this season (241). The leaders of that unit are interior defensive lineman Dontay Corleone and linebacker Ivan Pace Jr. Corleone's 94.8 run-defense grade is two points higher than any other defender in college football. Pace's 15 tackles for loss or no gain are the sixth-most among FBS linebackers.
Prediction: Cincinnati 27, Tulane 23
The Bearcats pull out the victory and inch closer to their third straight New Year's Six bowl game. 
---
How to watch: 12 p.m. ET on FOX
Storyline to know: Game of the year
Not only is Ohio State versus Michigan arguably the best rivalry in college football, but this year's game is also the biggest of the season.
The winner of this colossal showdown essentially locks up a spot in the College Football Playoff, making this matchup a pseudo-playoff game. The loser still has a shot at making the final four but will need some help in the form of a TCU loss and/or a USC loss.
Matchup to watch: Will Blake Corum suit up?
Blake Corum is Michigan's offense. The junior running back is the most valuable non-quarterback in the country this season, according to PFF's wins above average metric. His 96.1 grade tops all of college football, and it would also set the PFF College record for the highest-graded season by a Power Five player if it holds.
Highest-graded Seasons by a Power Five player in PFF College Era (Since 2014)
Corum might not be able to build upon his record-setting grade this weekend, though. During last week's win over Illinois, he suffered a right knee injury. He was able to come back for one carry before exiting for good.
If Corum isn't able to go, Michigan might not stand much of a chance.
Prediction: Ohio State 31, Michigan 24
Corum toughs it out, but he isn't 100%. Ohio State gets revenge for last year's loss and clinches a spot in the College Football Playoff, while Michigan must sit at home and root for chaos.
---
How to watch: 12 p.m. ET on ABC
Storyline to know: Can South Carolina eliminate two playoff contenders in a row?
Last week, South Carolina dismantled then-No. 5 Tennessee, 63-38. The Gamecocks averaged 0.486 expected points added per play, the most among any team in Week 12. With the loss, the Volunteers went from a legitimate playoff contender to one with no shot of getting in.
Clemson does need some help to make the playoff in a USC loss, a TCU loss and an LSU loss. That's a moot point, though, if South Carolina plays as well as it did last Saturday and takes down the Tigers.
Matchup to watch: Which version of Spencer Rattler shows up on Saturday?
Spencer Rattler, following his benching at Oklahoma last season, joined South Carolina for a fresh start. Through the first 11 weeks, it didn't look like much had changed. His 61.7 grade in that span ranked just 115th among FBS quarterbacks.
But something certainly clicked against Tennessee in Week 12.
Rattler's 92.9 passing grade was the highest among all FBS quarterbacks for the week. The redshirt junior tossed five big-time throws and no turnover-worthy plays in the upset. To be fair, the Volunteers have the Power Five's eighth-lowest-graded defense on passing plays this season. Clemson, meanwhile, is the eighth-best. 
If Rattler continues his elite play, the Gamecocks could pull off their second major upset in as many weeks.
Prediction: Clemson 31, South Carolina 17
Clemson's defense does a much better job of containing Rattler than Tennessee did, and the Tigers keep their playoff dreams alive.
---
How to watch: 3:30 p.m. ET on ABC
Storyline to know: Can Oregon lock up a spot in the Pac-12 championship game?
No. 6 USC will make up half of the Pac-12 championship game after its 48-45 victory over then-No. 16 UCLA last week. 
The other half is Oregon's to lose. If the Ducks take down No. 21 Oregon State, they'll clinch a trip to the Pac-12 championship game. A loss opens up the door for either No. 13 Washington or No. 14 Utah. 
However, Oregon isn't eliminated with a loss. The Ducks would also need No. 13 Washington to lose to rival Washington State on Saturday night in order for that to happen. 
Matchup to watch: Oregon's run game vs. Oregon State's run defense
Oregon running back Bucky Irving has forced a missed tackle on 44% of his attempts, which would be tied for third among FBS running backs in the PFF College era. 
Highest Forced Missed Tackle % in PFF College Era (Since 2014, min. 100 attempts)
*Subject to change
On the other side, Oregon State carries the highest run-defense grade in the Pac-12 by over seven points. James Rawls has eight tackles for loss or no gain, tied for the most among Pac-12 interior defensive linemen. 
Prediction: Oregon 31, Oregon State 28
The Ducks clinch a trip to the Pac-12 championship game with a close win over the Beavers.
---
How to watch: 7:30 p.m. ET on ABC
Storyline to know: Can USC survive its toughest test of the season?
Sixth-ranked USC is on the cusp of the program's first-ever playoff appearance. All the Trojans need to do is win their next two games, and they'll most likely be in.
That's easier said than done, though — especially this weekend. USC faces Notre Dame, a top-five team in PFF's power rankings. The Trojans are 2-1 against teams currently in the top 50, with all three contests decided by three points or fewer. This game should come down to the wire.
Matchup to watch: USC's offensive line vs. Notre Dame's pass rush
USC fields one of college football's best offensive lines, earning an 89.4 grade as a unit that ranks third-best in the nation. The Trojans have allowed a sack or a quarterback hit on only 1.3% of their pass-blocking snaps, the second-lowest rate in the country. Four of USC's five starting offensive linemen are among the 10 highest-graded at their position in the Power Five. With those consistently clean pockets, quarterback Caleb Williams has the highest average time to throw in the country (3.29 seconds).
Notre Dame boasts the seventh-best pass-rushing grade in the Power Five (85.2). The Fighting Irish pair that with the fifth-best pass-rush win rate (56.4%) in the Power Five. The stars of that unit are linebacker Jack Kiser and edge defender Isaiah Foskey. Kiser's 88.9 pass-rushing grade is the third-highest among Power Five linebackers, while Foskey is the No. 27 prospect on PFF's 2023 NFL Draft big board. 
For Notre Dame to upset USC, the Fighting Irish will need to consistently pressure Williams.
Prediction: Notre Dame 33, USC 30
USC has been playing with fire in a number of games this season. The Trojans get burned by the Fighting Irish, ending their playoff aspirations.