This is the biggest week of the season for the Big Ten, as the top two teams in both the West and East go toe-to-toe in what will likely decide who plays in the conference championship game in a month. In the East, No. 3 Ohio State enters Week 12 as a 20.5-point favorite over No. 9 Indiana. In the West, No. 10 Wisconsin are favored by 7.5 points over No. 19 Northwestern. And that's just one conference!
On top of that, the Cincinnati Bearcats get their biggest test of the season as they take on Dillon Gabriel and the UCF Knights. If the Bearcats smash them like they did Memphis and SMU, the College Football Playoff chatter will grow louder.
With the help of PFF grades and advanced statistics — which are now available to PFF's CFB Premium Stats+ Subscribers — we can give you everything you need to know ahead of this week's top college football matchups. Please note that any picks and predictions made here are not reflective of PFF Greenline or our expert betting analysts. For this week's college football betting advice, click here!
Editor's note:  PFF's CFB Premium Stats+ subscribers can view player grades, advanced statistics, positional snap counts and more. Subscribe today for access!
Saturday, Nov. 21 — 12:00 p.m. ET, FOX
The Ohio State Buckeyes hold the longest active win streak over a single opponent in college football. The opponent? That would be the Indiana Hoosiers. IU hasn't knocked off Ohio State since 1988, and the Hoosiers have beaten them just twice since 1952. However, they have a real opportunity to pull off the upset this year, despite being 20.5-point dogs, but they'll have to play flawlessly.
Indiana quarterback Michael Penix Jr. has made his way into the top 10 in our FBS quarterback rankings this season thanks to his strong play over his first four games. Over the last two seasons, Penix ranks sixth among active Power 5 quarterbacks in PFF passing grade.
Penix has thrown numerous darts downfield this season, helping him record the fourth-best big-time throw rate in the Power 5 (8.7%), though he has also produced five turnover-worthy plays in his last two games.
That can't happen against this Ohio State team because they will capitalize on those mistakes, unlike Michigan and Michigan State. Meanwhile, on the defensive side of the ball, Tom Allen's unit has taken advantage of the poor quarterback/offensive play they have faced, with 12 total turnovers in four games, three more than any other team in the FBS since the Big Ten began their season in Week 8. They won't be getting a poor quarterback or overall offense to take advantage of this week, though. In fact, they are facing arguably the best in the country.
Justin Fields has been playing near-perfect football at quarterback for the Buckeyes in 2020. In his three games played, Fields has earned an FBS-high 93.9 PFF grade while throwing only five uncatchable passes. For perspective, he has twice as many big-time throws with 10. That's as elite as it can get; it's a big reason why Ohio State ranks first in the FBS in successful pass play percentage (percentage of plays that generate positive expected points added) at 64.5% — nearly four percentage points higher than anyone else.
Treash's prediction: Ohio State. This will be closer than most think, but you just can't pick against Justin Fields with the way he is playing right now.
Seth's prediction: Ohio State. Indiana has been good, but they are also a little lucky to be undefeated. Ohio State is just great, but here's hoping for chaos.
For our PFF Greenline game preview that includes win and cover probability, click here.
---
Saturday, Nov. 21 — 12:00 p.m. ET, ABC
After a near-month hiatus due to Covid-19 and then a bye, Trevor Lawrence will finally be back on the field for Clemson this Saturday. The future No. 1 overall pick has thrown together a 91.3 PFF grade across six games this season, a mark that is on pace to be better than the one he put forth in his true freshman and sophomore seasons.
Lawrence let go of multiple turnover-worthy throws against both Miami and Syracuse, but I'd bank on him breaking that trend given that he did that just five times in his previous 33 games beforehand. And that's not to mention that he will be going up against a Florida State defense that ranks dead last in the ACC in EPA allowed per pass play.
The Seminoles have once again been a disappointment at every position group, with quarterback being the worst. Jordan Travis is expected to return to the field after missing Week 11 with an injury, and while he has generated a lot of value as a runner, the passing ability is just not quite there. His 51.3 passing grade ranks 108th among 122 qualifying FBS quarterbacks as we enter Week 12.
Treash's prediction: Clemson.
Seth's prediction: Clemson. Even if the FSU defense finally plays to its level and limits Clemson a bit, it still won't be enough.
For our PFF Greenline game preview that includes win and cover probability, click here.
---
Saturday, Nov. 21 — 12:00 p.m. ET, ESPN
This matchup contains the SEC's second-most-efficient passing attack against a coverage unit that ranks last in the SEC in EPA allowed per play. This ought to be a good one.
Kyle Trask is coming off two of the best games of his collegiate career — and it's not even close. Prior to Week 10, Trask had earned just one single-game passing grade above 85.0. He recorded single-game marks of 91.3 and 92.5 in Week 10 and Week 11, respectively.
There's no question that Dan Mullen and the supporting cast were propping up his numbers through the first month of the season, but things have changed over the last two weeks. Trask has made far more impressive throws and has displayed some of the best downfield ball placement I have seen this season. Because of his play of late, Trask has made his way into the fifth spot in our most recent FBS quarterback rankings.
However, the Florida defense has to improve if they want to go toe-to-toe with the Crimson Tide in the 2020 SEC Championship Game in a few weeks (assuming that's the matchup we see). The Gators rank 115th in the FBS in team coverage grade, and outside of Kaiir Elam, no defensive back has earned a coverage grade above 60.0 this season.
This week could be a bit of a morale-booster for the Florida defense, as they face a Vanderbilt passing attack that is still a work in progress. True freshman Ken Seals has had a rough go of it to start his collegiate career, tying for the most turnover-worthy plays in the SEC at 15. Though, it is worth noting that his lone great game this season came against Ole Miss, a defense that is not too dissimilar to the Gators', performance-wise.
Treash's prediction: Florida. I'm convinced that they could throw 80 on the scoreboard in this one if they really wanted to.
Seth's prediction: Florida. My favorite quarterback Kyle Trask is gonna kill them.
For our PFF Greenline game preview that includes win and cover probability, click here.
---
Saturday, Nov. 21 — 12:00 p.m. ET, ESPN2
These two teams aren't the flashiest on paper, but this is easily one of the best matchups of the week — we get to see the best passing offense in the Group of 5 against the second-best coverage unit in the Group of 5.
Quarterback Grayson McCall has led this unique Chanticleer offense to immense success this season, posting the fifth-best passing grade in the FBS in the process (92.0). When he has been on the field, Coastal Carolina has generated a successful play on 60.9% of their passing plays, second in the FBS behind only Ohio State.
That said, McCall has yet to face a coverage unit that is anything better than average — none of his previous opponents crack the top 50 in team coverage grade this season, and a handful of those teams are near the bottom of the FBS. This week, he gets the eighth-highest-graded coverage unit and the best outside corner duo in the Group of 5: Shemar Jean-Charles and Shuan Jolly.
Those two Mountaineers have made more plays on the ball (20) than the number of first downs or touchdowns allowed (16) this season on the outside. In total, App State has allowed a successful play on just 34.3% of pass plays faced, the sixth-best mark in the FBS, and the tandem of Jean-Charles and Jolly is a big reason why.
Treash's prediction: App State. I have come around on Coastal Carolina, but they just haven't faced a talented defense like this one this year.
Seth's prediction: CCU. I gotta stay on the bandwagon, but App State is damn good. Either outcome would surprise me.
For our PFF Greenline game preview that includes win and cover probability, click here.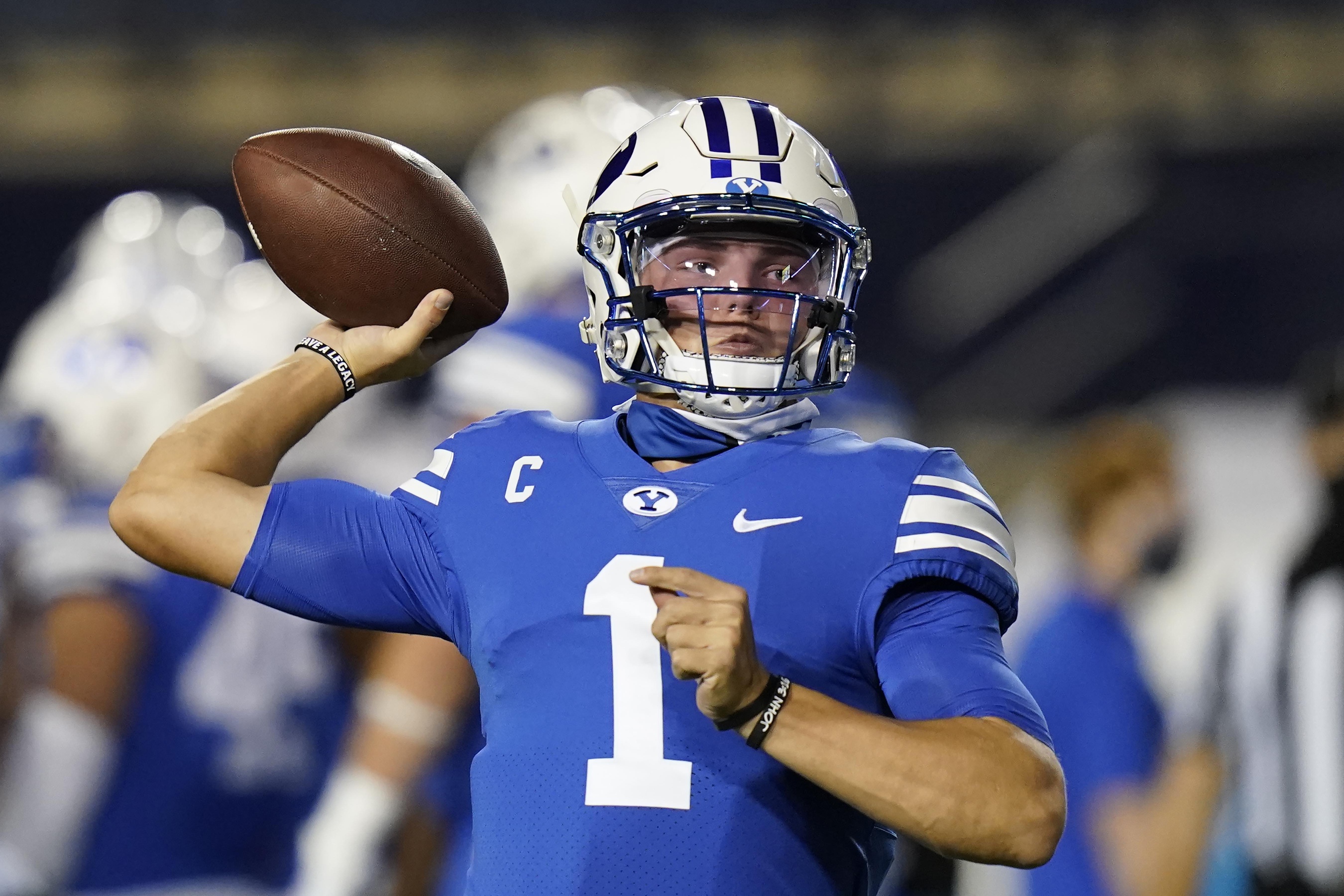 Saturday, Nov. 21 — 3:00 p.m. ET, ESPN3
If you just want to watch a quarterback smoke a defense this weekend, tune into this one — that's exactly what you'll see with BYU's Zach Wilson.
No player has experienced a bigger rise in college football this season. Last year, Wilson battled injuries throughout the season that ultimately hindered his success and led him to a 72.5 passing grade. This year, Wilson has raised that grade to 94.4 — the best in the FBS. The BYU signal-caller has made his way into the third spot in our most recent quarterback rankings, behind only Trevor Lawrence and Justin Fields, and he's also up to QB3 on our 2021 NFL Draft Board behind those same two passers.
Treash's prediction: BYU. Wilson tops his career-high PFF grade of 92.7.
Seth's prediction: BYU, lol.
For our PFF Greenline game preview that includes win and cover probability, click here.
---
Saturday, Nov. 21 — 3:30 p.m. ET, ESPN2
With Justin Herbert now in the NFL, Oregon has had to field a new starting quarterback this year. And while he hasn't gotten off to an overly impressive start, Tyler Shough does look like he has the potential to break out and become a premier player at the position with more reps under his belt.
Shough has earned a passing grade of 60.2 so far. He has made several bad decisions, which is typical for a first-year starter at the Power 5 level. He has three ugly turnover-worthy throws and a fumble so far but has also displayed legit arm talent that he has used to record four big-time throws in his two games.
UCLA, on the other hand, doesn't have too much hope at the quarterback position. Dorian Thompson-Robinson underwhelmed as a passer in his first two seasons at UCLA in 2018 and 2019, earning passing grades of just 54.2 and 61.1, and his 2020 has been no different. The junior's passing grades in each of his two starts this season have landed below 50.0; he's tied for the most turnover-worthy plays in the Pac-12 (five) and has thrown an uncatchable pass on nearly 48% of his passes targeted beyond the line of scrimmage.
Outside of the quarterbacks, keep an eye on edge rusher Kayvon Thibodeaux and cornerback Mykael Wright, two key players on the Oregon defense. These talented true sophomores haven't gotten off to the best of starts in 2020.  Thibodeaux, the highest-ranked recruit of the 2018 class, was the highest-graded returning pass-rusher in the conference, but he has stumbled to an 8% pressure rate in his two games this year. Meanwhile, Wright dazzled on a limited sample last year, allowing only eight catches on 23 targets (187 coverage snaps) for 85 yards, but he has already given up six catches for 115 yards and a touchdown on 12 targets (71 snaps) this year.
Treash's prediction: Oregon, and I think we see a Shough breakout game.
Seth's prediction: Oregon. Shough is good, but he has to stop throwing blindly over the middle of the field. I think he'll figure it out this week.
For our PFF Greenline game preview that includes win and cover probability, click here.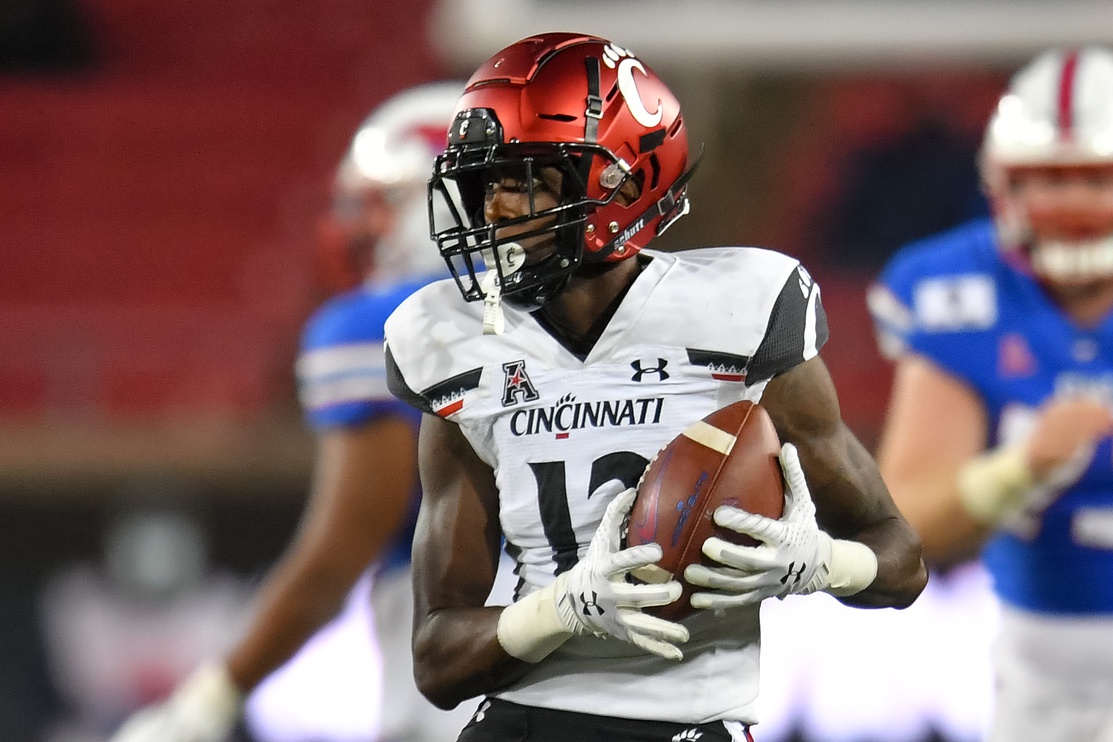 Saturday, Nov. 21 — 3:30 p.m. ET, ESPN
The time has finally come for the undefeated Cincinnati Bearcats to face their toughest test of the season — the potent deep passing attack of UCF.
To no surprise, Dillon Gabriel leads the FBS in deep (20-plus-yard throw) completions (27), yards (1,059) and touchdowns (11). The Knights rank 13th in the FBS in EPA per pass play generated, and the sole reason why is because of Gabriel's deep ball.
If there is any defense that can stop one of the top-scoring offenses in the FBS, it's Cincinnati's. The Bearcats play a great deal of single-high coverage and have the corners on the outside to shut down their opponent in man-to-man situations.
Cincinnati's Ahmad Gardner has been one of the best single-coverage cornerbacks in the FBS over the last two seasons. In that span, he ranks second in the country in coverage grade when in single coverage, allowing just 14 catches on 51 targets with five interceptions and 19 forced incompletions. Coby Bryant has also emerged opposite Gardner this season, ranking seventh in the FBS in coverage grade in single coverage on the outside.
Another big thing to watch in this one is whether or not the Cincinnati offense continues to roll as it has been in recent weeks. Since Week 8, the Bearcats rank ninth in the FBS in per-play efficiency.
Treash's prediction: Cincinnati. I think this defense will hold UCF to under 20 points and the Bearcats have control from start to finish.
Seth's prediction: Cincy. I'm too invested in what Cincy schemes up defensively to pick against them, but UCF is a top-five favorite offense of mine to watch. I'm sticking with the Bearcats.
For our PFF Greenline game preview that includes win and cover probability, click here.
---
Saturday, Nov. 21 — 3:30 p.m. ET, ABC
Northwestern has been the biggest surprise in the Big Ten this season. We loved the addition of Peyton Ramsey via transfer, but both the supporting cast at his disposal and the defense as a whole made it seem unlikely they'd squeak out a winning record this season. The Wildcats have proved us wrong through four games, as the passing offense and coverage unit have been among the best in the conference.
Ramsey has led the second-most-efficient passing offense in the Big Ten, even with the offensive deficiencies. And on defense, Northwestern has fielded the highest-graded coverage unit in the conference by a significant margin — they are forcing tight coverage at an extraordinary rate and are rarely getting beaten. On 39 targets in tight coverage, Northwestern has allowed just three catches with six interceptions and 10 forced incompletions.
Keep in mind that the Wildcats haven't really faced a "tough" Big Ten team. Their four wins have come against Maryland, Iowa, Nebraska and Purdue — three of which have been a one-score game.
That will change against the Badgers, who have a surprise performer of their own at the most important position on the field. Redshirt freshman Graham Mertz has hit the ground running in relief of the injured Jack Coan. He put together a 93.9 passing grade in his starting debut in Week 8, and while things weren't as great in his second start this past week against Michigan, he still earned a 74.2 passing grade despite what the box score may say.
Treash's prediction: I want Northwestern to win because, like Seth, I like chaos, but I think the Badgers will end up with the W.
Seth's prediction: Wisc. Peyton Ramsey has completely changed the fortunes of NW, but I just think the Badgers have more talent overall. Don't be surprised if Ramsey outplays Mertz, though.
For our PFF Greenline game preview that includes win and cover probability, click here.
---
Saturday, Nov. 21 — 4:00 p.m. ET, SECN
After a multiple-week break thanks to Covid-19 and a bye, we get to see college football's second-highest-graded quarterback and highest-graded wide receiver return to the field.
Alabama quarterback Mac Jones has been nothing short of exceptional in 2020 — he has earned a PFF grade above 82.0 in each of his six starts and has been pinpoint accurate. Just 13.6% of his throws beyond the line of scrimmage have been uncatchable this season, the third-best rate in the country behind only Fields and Wilson.
Wide receiver DeVonta Smith, a clear front-runner for the Biletnikoff Award, will also be taking the field. There isn't a better receiver in the country against press coverage, and it's not particularly close. Smith has put up a 91.2 receiving grade on such plays, nearly six grading points higher than any other wide receiver. From his ball skills to his release package, Smith does just about everything you could want at the position, and very few, if any, defensive backs in the country can stop him.
The Wildcats have had moments where they have looked like the top-tier coverage unit. Take their games against Mississippi State and Tennessee, for example, when they allowed -0.53 and -1.22 EPA per pass play, respectively. However, they have also put on performances where they look like one of the worst units in the SEC, such as when they played Ole Miss and recorded a team coverage grade of 42.2 and allowed a perfect passer rating of 158.3 on targets over 10 yards downfield.
This week, they get an offense more like Ole Miss than that of Mississippi State and Tennessee, so for that reason, I would be worried.
Treash's prediction: Crimson Tide. Alabama being favored by 30 points might seem like a lot, but I wouldn't be surprised if they won by 50.
Seth's prediction: Bama. I really like a lot of things about Kentucky, but this is too steep of a hill to climb.
For our PFF Greenline game preview that includes win and cover probability, click here.
---
Saturday, Nov. 21 — 4:00 p.m. ET, FOX
This one will likely boil down to whether Kansas State can capitalize on Brock Purdy's mistakes because he is bound to make a few. Purdy has posted multiple turnover-worthy plays in five of his seven starts this season — forming a season-long turnover-worthy play rate that ranks 103rd in the FBS.
Purdy is always trying to do too much, especially under pressure, which is where the bulk of his turnover-worthy plays have come from. He leads the FBS in total turnover-worthy plays when under pressure with 11. It's also worth noting that Purdy typically heaves one downfield when under pressure and has thrown an uncatchable ball on over 70% of his deep attempts, the worst rate in the FBS by over four percentage points.
In order to force the mistakes out of the Iowa State QB, Kansas State has to get pressure on him. Luckily enough, the Wildcats just so happen to rank seventh in the FBS in team pass-rush grade. On standard four-man rushes, they jump to first among Power 5 teams. Edge rusher Wyatt Hubert has been the leader of this unit, generating a 90.9 pass-rush grade, the third-best in the FBS.
Treash's prediction: Upset! Kansas State.
Seth's prediction: Iowa State. They're probably just better, but I would like to see a complete game from Purdy.
For our PFF Greenline game preview that includes win and cover probability, click here.
---
Saturday, Nov. 21 — 7:00 p.m. ET, ESPN
This one could be a bit ugly, given that this matchup will feature two of the most inaccurate passers in the SEC. Tennessee's Jarrett Guarantano ranks dead last in the SEC in uncatchable pass rate on throws beyond the line of scrimmage at 37%, while Auburn's Bo Nix ranks second-to-last at 33%.
On the bright side for Auburn, they do at least have a formidable ground attack thanks to the rushing prowess of Tank Bigsby. Since the true freshman's emergence in Week 6, Auburn ranks 10th in the FBS in EPA per rush generated at 0.18. They have even been more efficient running the ball than passing it since then.
That speaks volumes about both Bigsby and the current state of Auburn's passing offense. Remember, running backs matter a little bit more at the collegiate level than they do in the NFL. Considering Tennessee ranks 11th in the SEC in run-defense grade, they could have their hands full with Tank this week.
Treash's prediction: Had the refs made the proper call at the end of the Arkansas game, Auburn wouldn't be a ranked team right now. I'm taking Auburn, but I just had to throw that out there.
Seth's prediction: Auburn. I don't think Auburn is as good as their ranking, but Tennessee has been such a disappointment.
For our PFF Greenline game preview that includes win and cover probability, click here.
---
Saturday, Nov. 21 — 7:30 p.m. ET, SECN
With Stetson Bennett nursing an injury and D'Wan Mathis performing extremely poorly in his limited action, USC transfer JT Daniels will finally make his Georgia debut this Saturday.
As exciting as that might be, expectations need to be tempered for the former five-star recruit. First and foremost, he has yet to take a snap since he tore his ACL in Week 1 of the 2019 season, and what we saw from him as a true freshman in 2018 wasn't so promising. That year, he ranked 118th of the 130 FBS quarterbacks in PFF grade at 59.8; he was 127th in turnover-worthy play rate and 100th in clean-pocket passing grade. Simply put, he struggled in every single aspect of the position in 2018. It would be an anomaly to see Daniels go from the level he was at in 2018 to, say, the level Jake Fromm was at for the Bulldogs in 2019.
Regardless of how Daniels performs in his return, Georgia should at least field a better offense than Mississippi State. Since teams "figured out" how to stop Mike Leach's Air Raid offense following their upset win over LSU to open up the season, the Bulldogs' offensive numbers have been cringe-worthy. Only Kansas has posted a worse EPA per pass play mark in the Power 5 than Mississippi State since Week 5 (the game after they beat LSU).
Treash's prediction: Georgia. I would bet the farm Mississippi State doesn't win another game this year.
Seth's prediction: UGA. Ok, here comes JT Daniels to fix everything wrong with the Dawg offense.
For our PFF Greenline game preview that includes win and cover probability, click here.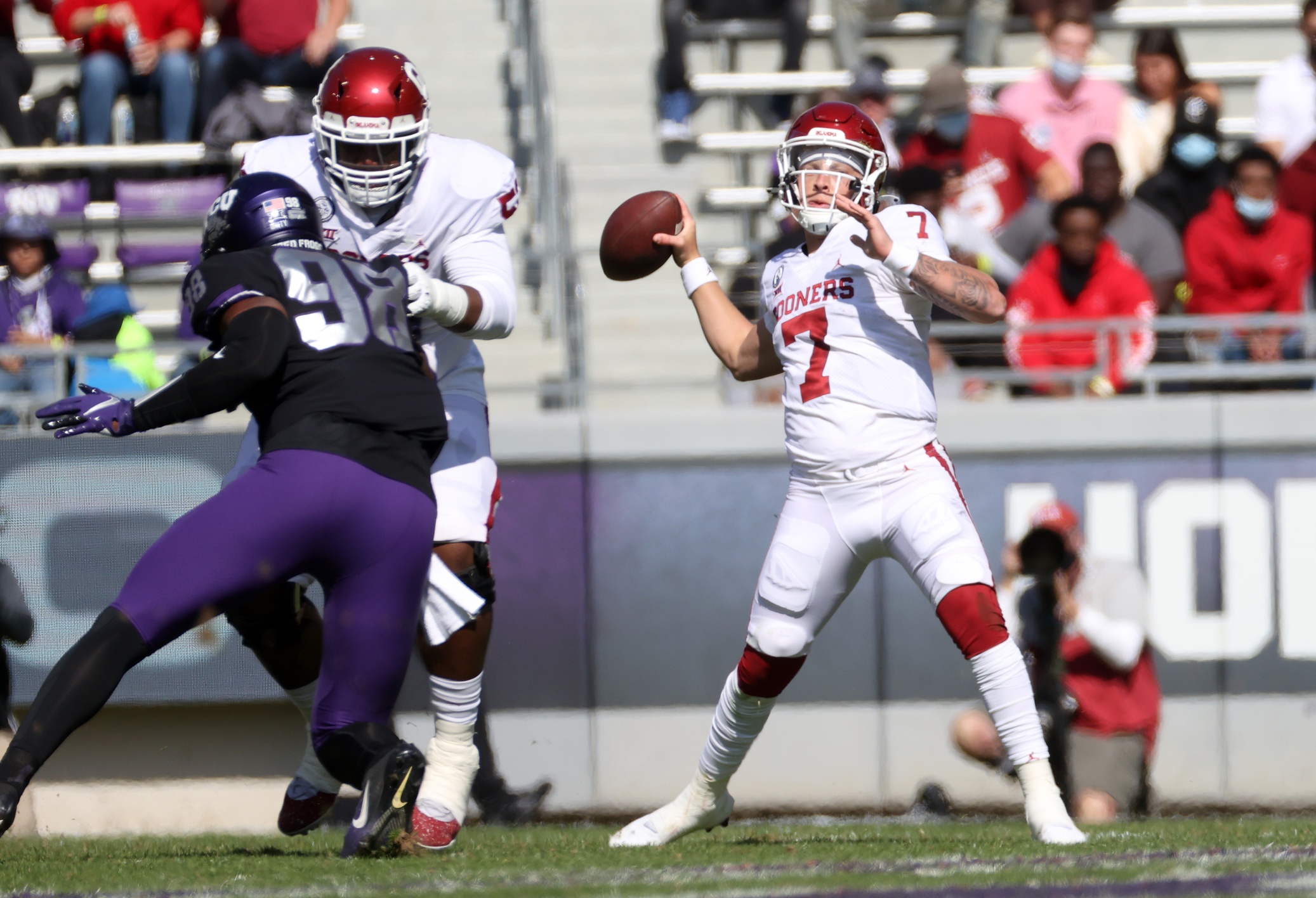 Saturday, Nov. 21 — 7:30 p.m. ET, ABC
Spencer Rattler against this Oklahoma State defense is a can't-miss matchup.
Just as every other Lincoln Riley quarterback has done in Norman, Rattler ranks as one of the five highest-graded passers in college football as we head into Week 12.
Rattler routinely makes unbelievable throws outside of the pocket on the run. His 94.0 passing grade out of the pocket is better than any quarterback in the country by a substantial margin — Fields is in second at 88.2 and Wilson in third at 81.7. This team may have lost to Iowa State earlier in the year, but Rattler made a couple of big-time throws on the run that should've been caught. Had they been, the Sooners likely would have won the game (both came on third down in ISU territory).
This Oklahoma State defense is unlike any the Sooners have faced this season. They currently rank third in the FBS in successful pass play rate allowed at 33.9% and have the second-highest-graded outside corner duo in college football with Rodarius Williams and Jarrick Bernard-Converse.
Treash's prediction: Oklahoma. As much as I love that OK State defense, I have to go with the better quarterback in this one.
Seth's prediction: Oklahoma State. I still think OU is the best team in the Big 12, but I'm hoping for … uhh … bedlam.
For our PFF Greenline game preview that includes win and cover probability, click here.
---
Saturday, Nov. 21 — 7:30 p.m. ET, ESPN3
The Liberty Flames and starting quarterback Malik Willis have been one of the biggest surprises of the 2020 season — they currently stand at a perfect 8-0 record and have a chance to take down their third Power 5 team of the campaign.
Willis, a former Auburn Tiger, currently is the 10th-highest-graded quarterback in the FBS and is a true dual-threat. No quarterback has earned a higher grade than Willis as a runner, and his 15 explosive runs of 10 or more yards on designed carries are the second-most at the position.
NC State has already faced two of the best rushing attacks in college football — Virginia Tech and North Carolina — and they got smoked in those two games, posting run-defense grades of 37.6 and 41.6 while giving up a combined 26 explosive runs of 10 or more yards.
Treash's prediction: FLAMES.
Seth's prediction: Liberty. I'm not gonna bet against Malik Willis right now, but NC State is a good team.
For our PFF Greenline game preview that includes win and cover probability, click here.
---
Saturday, Nov. 21 — 10:30 p.m. ET, ESPN
Utah is still yet to play a game this year and remains the most unknown team in the country. Of the Utes' 14 most valuable players from their 11-3 season in 2019, 12 are no longer with the team. Only LSU lost more value due to draft/graduation last year.
One player who isn't an unknown on the Utes is tight end Brant Kuithe. While his size isn't prototypical for a TE, Kuithe is incredibly athletic and has route-running chops most guys his size don't. He's a weapon in the slot (47% of such targets resulted in a 15-plus-yard play, first in FBS) and a big-time vertical threat.
The jury is still out on the USC Trojans. They might be 2-0 to start, but they have scraped through by the skin of their teeth in games they should have won handily.
Quarterback Kedon Slovis looks about the same as last season. He is pinpoint accurate and great on those long-developing plays, yet he will still force one or two ill-advised throws a game. When his time to throw eclipses 3.1 seconds, Slovis is the fifth-highest-graded quarterback in college football behind only Fields, Rattler, Wilson and Lawrence. The talent is there with Slovis to take that next step to elite status, but he hasn't hit that quite yet.
Treash's prediction: USC. I'm going to keep calling for a Slovis breakout each week until it happens … because it will … eventually.
Seth's prediction: USC. The Trojans have two games under their belt compared to Utah, and we just don't know anything about the Utes.
For our PFF Greenline game preview that includes win and cover probability, click here.