A few weeks ago, it seemed highly unlikely that we would see anyone challenge Alabama and Clemson for their respective conference title. Florida was just coming off a loss to Texas A&M and Notre Dame's offense looked lethargic, barely squeaking out a 12-7 win over Louisville. But Kyle Trask and Ian Book have been different players these last couple of weeks, showing that the Crimson Tide and Tigers are not foregone conclusions as conference champions this year.
On top of that, we saw a bunch of comeback Ws this week, from Miami over Virginia Tech to USC over Arizona to North Carolina over Wake Forest to Tulsa over SMU.
And now that the first run of our analysis is finalized and available in PFF's CFB Premium Stats+, we get to fill you in on everything you might have missed while providing further analysis on this week's games. Here, we present to you the PFF Team of the Week along with our big takeaways and player awards from Week 11 of the 2020 college football season.
Editor's note:  PFF's CFB Premium Stats+ subscribers can view player grades, advanced statistics, positional snap counts and more. Subscribe today for access!
PFF TEAM OF THE WEEK
Offense
QB: Kyle Trask, Florida
RB: Lew Nichols III, Central Michigan
RB: Chris Rodriguez Jr., Kentucky
WR: Elijah Moore, Ole Miss
WR: Ty Fryfogle, Indiana
WR: CT Thomas, Boise State
TE: Rivaldo Fairweather, FIU
LT: Kayode Awosika, Buffalo
LG: Aaron Dowdell, Georgia Southern
C: Mike Novitsky, Buffalo
RG: Jovaughn Gwyn, South Carolina
RT: Chris Paul, Tulsa
Defense
DI: Zi'Yon Hill, Louisiana
DI: Elijah Chatman, SMU
EDGE: Ali Fayad, Western Michigan
EDGE: Myjai Sanders, Cincinnati
LB: D'Marco Jackson, App State
LB: Eriq Gilyard, UCF
CB: Brian Edwards, Central Michigan
CB: Mekhi Garner, Louisiana
S: A.J. Finley, Ole Miss
S: Kenderick Duncan Jr., Georgia Southern
FLEX D: Tykee Smith, West Virginia
BIG TAKEAWAYS
This Notre Dame team is CFP worthy. The only question is, are they here to stay?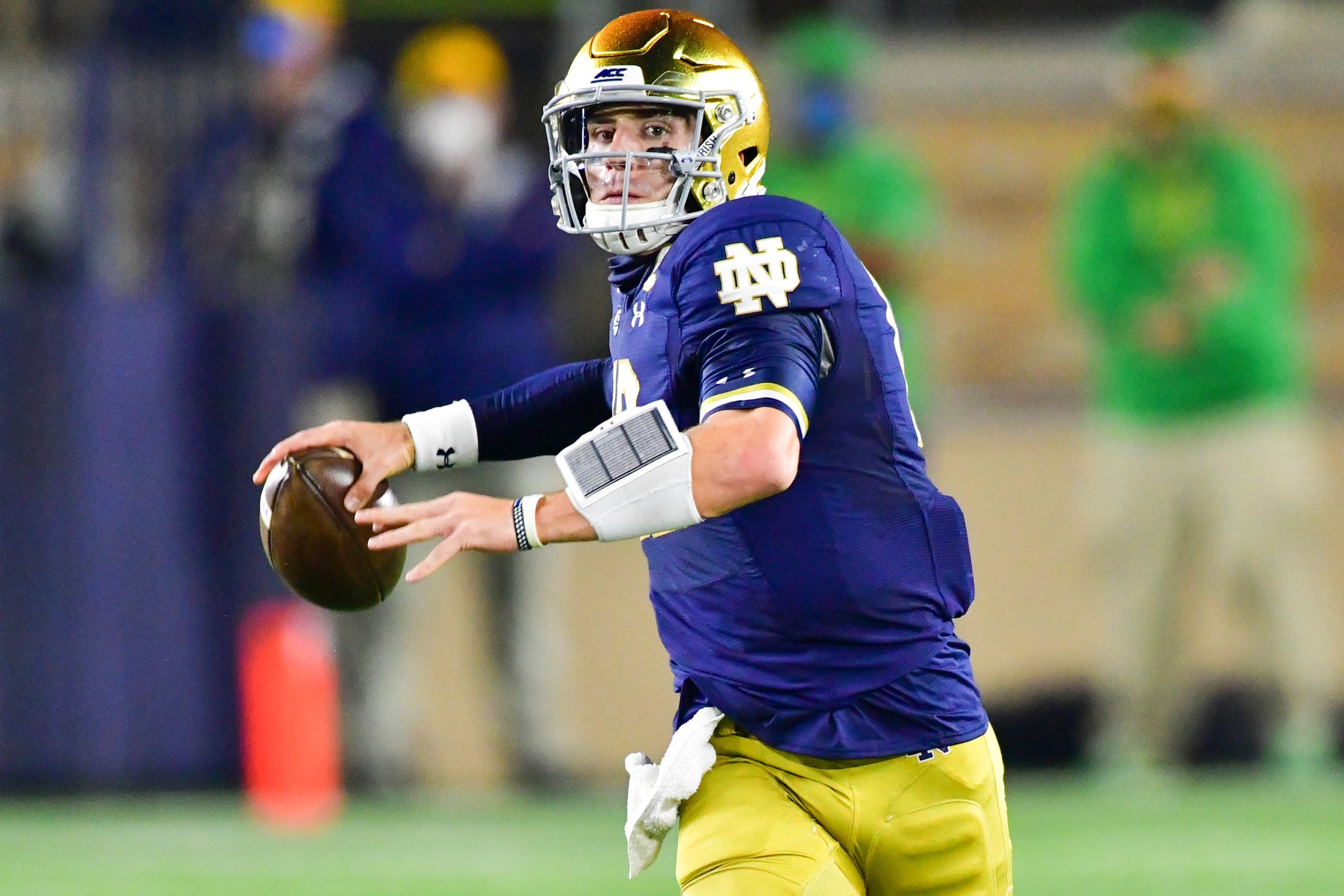 There were some massive concerns with Notre Dame's quarterback situation leading up to the program's game against Clemson, as Ian Book wasn't performing at a level that could get the Irish to CFP-contention status.
He put together just a 60.3 passing grade in his first six starts against middling defenses but balled out against the Tigers in Week 10 — his 90.7 passing grade that game was the highest of his career against a Power 5 school. He continued that caliber of play this week against Boston College, as Book came away with his second-best passing grade of the season and led the Irish to the third-most efficient passing offense in the Power 5.
His reluctance to throw the ball downfield has disappeared, and he has gotten his accuracy back to the level it was back in 2019. Book's negatively graded throw rate ranks first among the 39 qualifying Power 5 quarterbacks over the last two weeks.
If this Book is here to say, then Notre Dame is easily in the running for the 2020 National Title.
Kyle Trask has looked like a completely different player over the last couple of weeks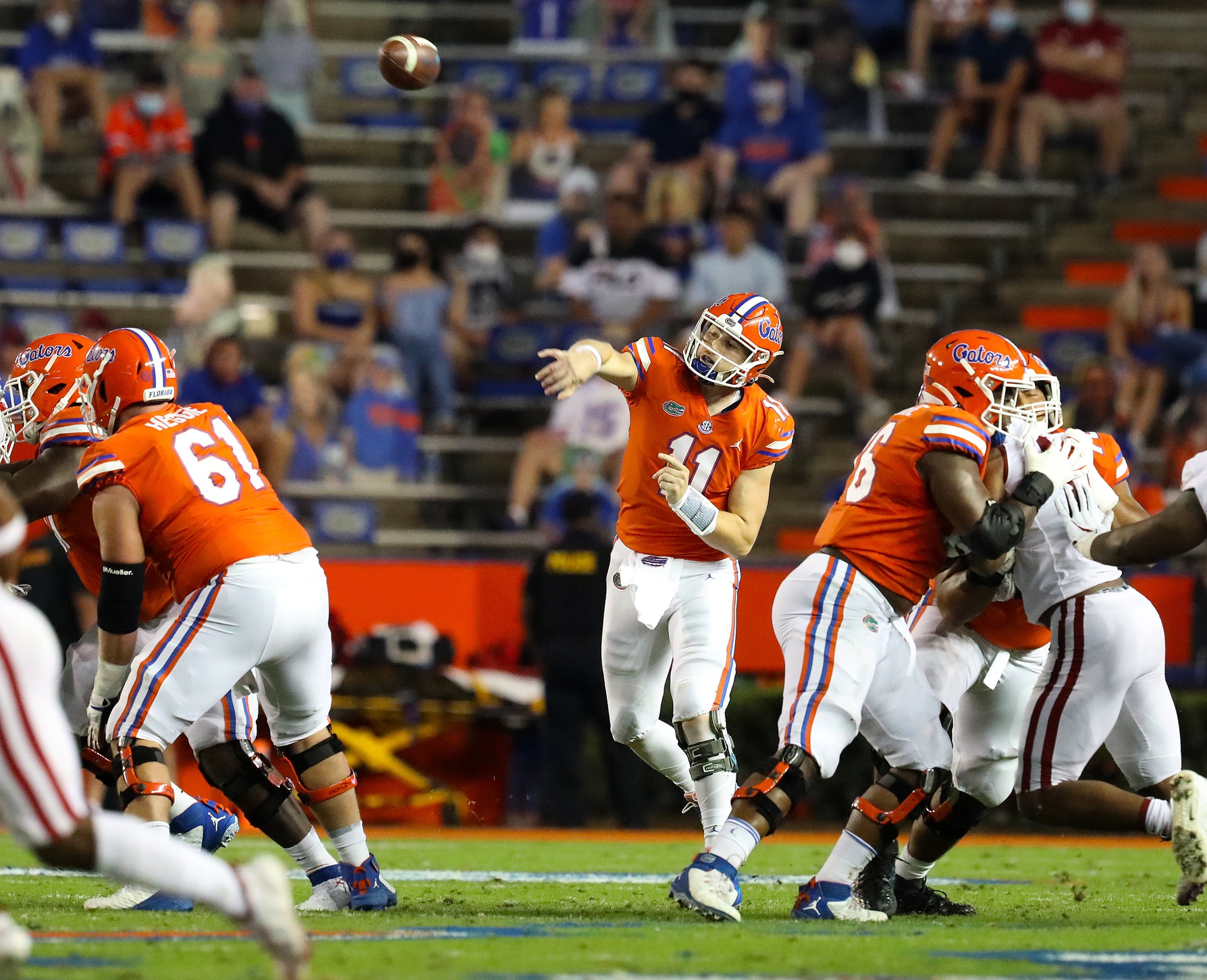 We certainly weren't as sold on Kyle Trask as the public was going into Florida's top-10 showdown with Georgia in Week 10. Trask had only one elite-graded game north of 90.0 in his career until that point, and that came against one of the worst defenses in the Power 5.
Florida fielded a juggernaut of an offense in those first four games of 2020, but a lot of the production was schemed and came courtesy of the supporting cast, playcalling and structure of the offense overall. Trask still didn't have to make difficult reads and throws over the middle of the field against Georgia, but the difficulty level within his throws was far higher. He had hands down the most impressive performance of his career, featuring five big-time throws, one turnover-worthy play and a career-high 91.3 passing grade.
Trask then managed to have an even better game against Arkansas on Saturday. He earned a new career-high passing grade at 92.8, with six big-time throws and only a couple of turnover-worthy throws on the night. His ball placement really could not have been better against the Razorbacks. He routinely took advantage of his receiver's leverage and put the ball right where it needed to be.
We stand by what we said about Trask before his Week 10 breakout game against Georgia. At the time, he hadn't quite shown to be that elite passer or Heisman candidate many named him to be. It wasn't indicative of his future play but rather what had actually happened on the field until that point in time. But, like everything else in the world, things change week to week, and our perception of Trask has shifted over the last few games.
Florida fans, we are now on the same page — Trask has proven to be that elite passer for the Gators in his last two outings against Georgia and Arkansas; he has deservingly placed himself in the Heisman conversation. If he keeps this outstanding play up, Bama should be getting nervous about that 2020 SEC Title Game.
Do not sleep on Sam Howell and this North Carolina team in the coming weeks as they face Notre Dame and Miami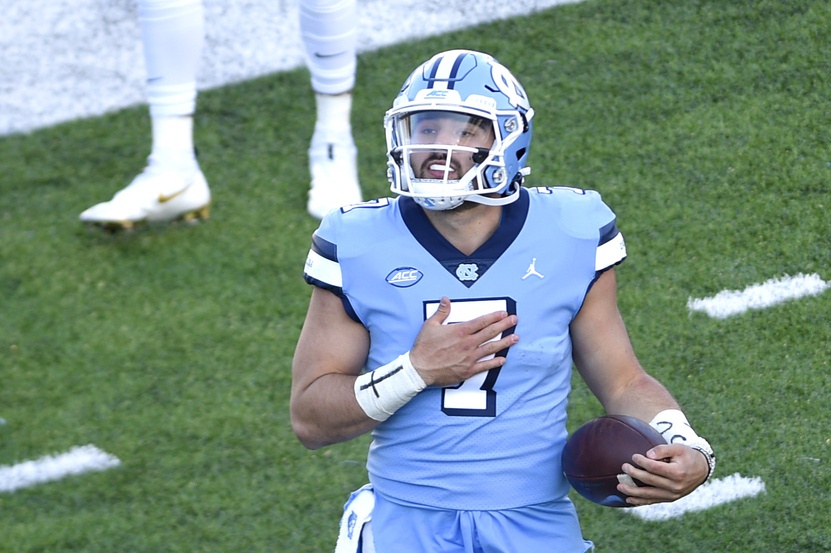 It was quite apparent that Howell was one of college football's best downfield passers following his 2019 true freshman season in which he ranked second in deep passing touchdowns. But the playcalling failed to take advantage of it to start, and the conservative nature of the offense led to an upset loss to Florida State in Week 7.
The Tar Heels have since taken advantage of Howell's arm — as they should have since the start — so don't count them out in their next two games against the Irish and Hurricanes. As long as they continue to give Howell the green light to throw the ball downfield, this offense can go toe-to-toe against the best in the country.
The Tar Heels are coming off a comeback 59-53 win against Wake Forest, and Howell was the reason why they emerged as the victors in this shootout. Solely from a downfield passing perspective, Howell had one of the best games I have seen this year. On passes thrown 10 or more yards downfield, the sophomore completed 14-of-20 attempts for 419 yards and six touchdowns. Since that second half of the Florida State game, when UNC was forced to take deep shots down multiple scores, Howell has racked up 1,355 passing yards on throws of 10 or more yards downfield — 500 more yards than anyone else in the Power 5. His 13.1-yard average depth of target since then leads that same group, and to no surprise, that has led the Tar Heels to the fourth-most efficient offense in the Power 5 in that span.
This offense can put up numbers with Howell. Notre Dame may be red hot, but do not be surprised if we witness an upset in Week 13.
OTHER NOTES/OBSERVATIONS
OFFENSIVE PLAYER OF THE WEEK
Not much more needs to be said about this one. Trask was an easy decision for PFF Offensive Player of the Week and is fresh off one of the best two-game swings we have seen by a quarterback this season. He's undoubtedly been the best passer in the country the last two weeks and has three more big-time throws than any other FBS quarterback in that span, with 11.
DEFENSIVE PLAYER OF THE WEEK
Jackson had himself a career night during the Mountaineers' 17-13 win over Georgia State, earning a PFF grade north of 91.0 — the best at any position on the defensive side of the ball of Week 11. He came up huge in run support with four tackles for loss or no gain and scooped up a fumble that was forced by safety Ryan Huff that helped set up App State for a field-goal drive. Then, in coverage, Jackson was targeted four times and allowed exactly zero of those to be caught, with two resulting in a pass breakup. The cherry on top of this stellar performance was that he also came away with three pressures on seven blitzes, one of which was a sack.
TRUE FRESHMAN OF THE WEEK
The expectations weren't high for Stewart, a 2020 three-star recruit, coming into his true freshman season. He didn't see any carries in Bowling Green's first game this year. However, he did see some game action in the fourth quarter of their blowout loss to Kent State in Week 11 and made some huge plays on the ground. Stewart was the recipient of 14 carries in that final quarter, and he turned six into an explosive run of 10 or more yards, with one going for a 69-yard score. He took advantage of every open hole he got. All of this production may have come in garbage time with backups on the field, but it's still an impressive feat for Stewart, given that it was his collegiate debut.
OFFENSIVE LINE OF THE WEEK
There were a lot of great contenders for Offensive Line of the Week this week, but Buffalo edges out teams like Notre Dame, Iowa and Western Michigan for the award. Their pass protection was almost flawless, with just one pressure allowed on 27 pass plays, but the real damage was done in the run game. The unit as a whole combined for a run-block grade that was nearly five grading points higher than any other offensive line this week.
Among all linemen of Week 11, the Bulls had the highest-graded tackle (Kayode Awosika), third-highest-graded guard (Jacob Gall) and highest-graded center (Mike Novitsky).
SECRET SUPERSTAR OF THE WEEK
Group of 5 offensive linemen hardly attract attention even if they deserve it, and Awosika is a prime example. He had been one of the best non-Power 5 tackles in college football over the last couple of seasons, putting up PFF grades of 82.2 and 81.7. And this past week against the Miami RedHawks, his second game of 2020, Awosika had a career night. It was the first time in his career that he earned a grade above 80.0 as both a pass- and run-blocker, resulting in an astounding 93.6 PFF grade for the game. He was not going to be out leveraged in the run game, and his second-most positively graded run blocks can attest to that.
PLAY OF THE WEEK
This game featuring two Big 12 teams with losing records, Baylor and Texas Tech, wasn't high on anyone's radar this week, but it did feature our play of the week. Up by eight points, Baylor had the chance to put this game out of reach late in the third quarter with the ball at Texas Tech's 6-yard line. After two unsuccessful run plays, the Bears dialed up a pass play on third-and-goal with 4 yards to gain. Charlie Brewer decided to take off and run. It looked like he had the touchdown, but linebacker Colin Schooler had other plans as he came in with the hit stick, stopping him short of the end zone.
"OH MY GOODNESS"

The announcer sums it up pretty well

— PFF College (@PFF_College) November 14, 2020
This stop by Schooler held Baylor to just a field goal on this drive, and Texas Tech ended up winning the game with a 25-yard field goal as time expired.
AN EARLY LOOK AHEAD TO WEEK 12…
Next week is a massive week for the Big Ten, as two matchups will likely decide who plays in this year's championship game. First, Northwestern, the leader in the Big Ten West, takes on Wisconsin. Then Indiana, the leader in the Big Ten East, takes on Ohio State. With a Wildcats or Hoosiers win, mass chaos is likely to ensue, as it'll lower the odds of a Badgers or Buckeyes Big Ten title game appearance by quite a bit.
While they haven't played the most difficult set of teams, Northwestern's 4-0 start is nothing short of impressive. We knew they landed a gem in the transfer portal with Peyton Ramsey, but the lack of playmakers surrounding him gave reason to worry about this offense. He and the Wildcats, however, have defied the odds and fielded one of the conference's most efficient passing offenses. Northwestern had the most efficient passing offense in the Big Ten this past week against Purdue and sit comfortably behind Ohio State in second throughout 2020. And don't sleep on that defense, either, as they rank third in the conference in EPA per play allowed.
As for Indiana, they'll have a bit of a tougher task in vying to knock off Justin Fields and the Buckeyes and will need to play near-flawless ball to give them their first win against the reigning Big Ten champs since 1988. Their defense has had two of the biggest shutdown games in the conference this season against Rutgers and Michigan State, leading them to the fifth-best unit in the FBS this year in terms of EPA per play allowed.
On the offensive side of the ball, quarterback Michael Penix Jr. has to eliminate the few bad throws he has had over the last couple of weeks. Over the last two games, Penix has put up five turnover-worthy plays, and if he continues that trend, the Buckeyes will capitalize on those mistakes better than Michigan and Michigan State. That being said, he has been exceptional on a throw-for-throw basis outside of those few bad plays, leading one of the best downfield passing attacks in the country. His 15 big-time throws since Week 8 lead all Power 5 quarterbacks.
Next week we will also get to see arguably the biggest test of the year for a CFP candidate, as the seventh-ranked Cincinnati Bearcats take on the UCF Knights. Cincy has effectively shut down every passing offense they have faced this season, and this time around, they'll have to eliminate UCF's potent deep passing attack that is led by the FBS leader in deep (20-plus-yard throws) passing yards.