Through 10 weeks of college football action, we have been treated with some stellar performances from top draft prospects, rising underclassmen and old faces in new places. Several transfers have already made significant impacts on their respective teams, whether they are coming from a small Group of 5 schools or changing Power 5 universities in order to land another opportunity to start. 
Editor's note:  PFF's CFB Premium Stats+ subscribers can view player grades, advanced statistics, positional snap counts and more. Subscribe today for access!
In no specific order, let's take a look at the most influential transfers of the 2020 season.
After spending an illustrious first four years of his career at Houston, King decided to transfer to Miami in an effort to boost his draft stock. In seven games with the Hurricanes, King has led his team to a 6-1 record, with their lone loss coming at the hands of the then-No. 1 Clemson Tigers. King is always a threat to pick up chunk gains on the ground, forcing 23 missed tackles and owning 20 carries that have gone for 10 or more yards, both of which are second among all QBs in the FBS. He is not just hitting open run lanes and going down when first hit, as 320 of his 492 yards have come after contact. 
King is far more than just a running quarterback, as he has earned a 90.4 passing grade, fifth-best in the Power 5 and just one spot behind Trevor Lawrence. He has 17 big-time throws — PFF's highest-graded passes — against just five turnover-worthy plays, completing elite tight window attempts downfield while also taking care of the football. He has done nearly all his damage from a clean pocket and on straight dropbacks, earning 92.3 and 90.2 PFF grades, respectively.  
King's passing numbers this season are eerily similar to those of his 2018 campaign when he attained a 90.3 passing grade, the sixth-highest that year. What makes the similarities so impressive is that he was dicing up Group of 5 competition in 2018 and is now doing the same to ACC defenses. King's transfer to Miami has taken the Canes, and his draft stock, to new heights. 
After flashing his passing ability with the Florida Gators in 2018, Franks suffered a dislocated ankle in Week 3 of last year, effectively ending his season. If it were not for Kyle Trask taking the reins of the offense and never looking back, Franks would most likely still be a Gator this season. However, that is not how things fell, and he decided to transfer to conference rival Arkansas in order to continue being a starting QB. 
Outside of receiver Treylon Burks, the Razorbacks do not have much talent surrounding Franks, yet he has been able to produce in their offense. He currently owns a 76.6 passing grade, which is the second-highest by an Arkansas quarterback since 2014. The highest was Brandon Allen in 2015 who had running back Alex Collins and tight end Hunter Henry at his disposal. Franks has been stellar when kept free of pressure, owning the third-best grade in the SEC, just one spot ahead of his former teammate Trask. 
There are two things this season that has held Franks back from obtaining a much higher PFF grade: fumbles and play under pressure. He is not a statue in the pocket, taking 35 rushing attempts for 238 yards, but he has struggled to hold onto the football with seven fumbles in just six games. Against pressure, he holds the lowest completion percentage in the SEC and has taken 20 sacks, many of which he could have avoided by dumping the ball off or throwing it away. If Franks can keep the ball out of harm's way and become more poised under pressure, he has a great chance at putting himself higher in draft conversations.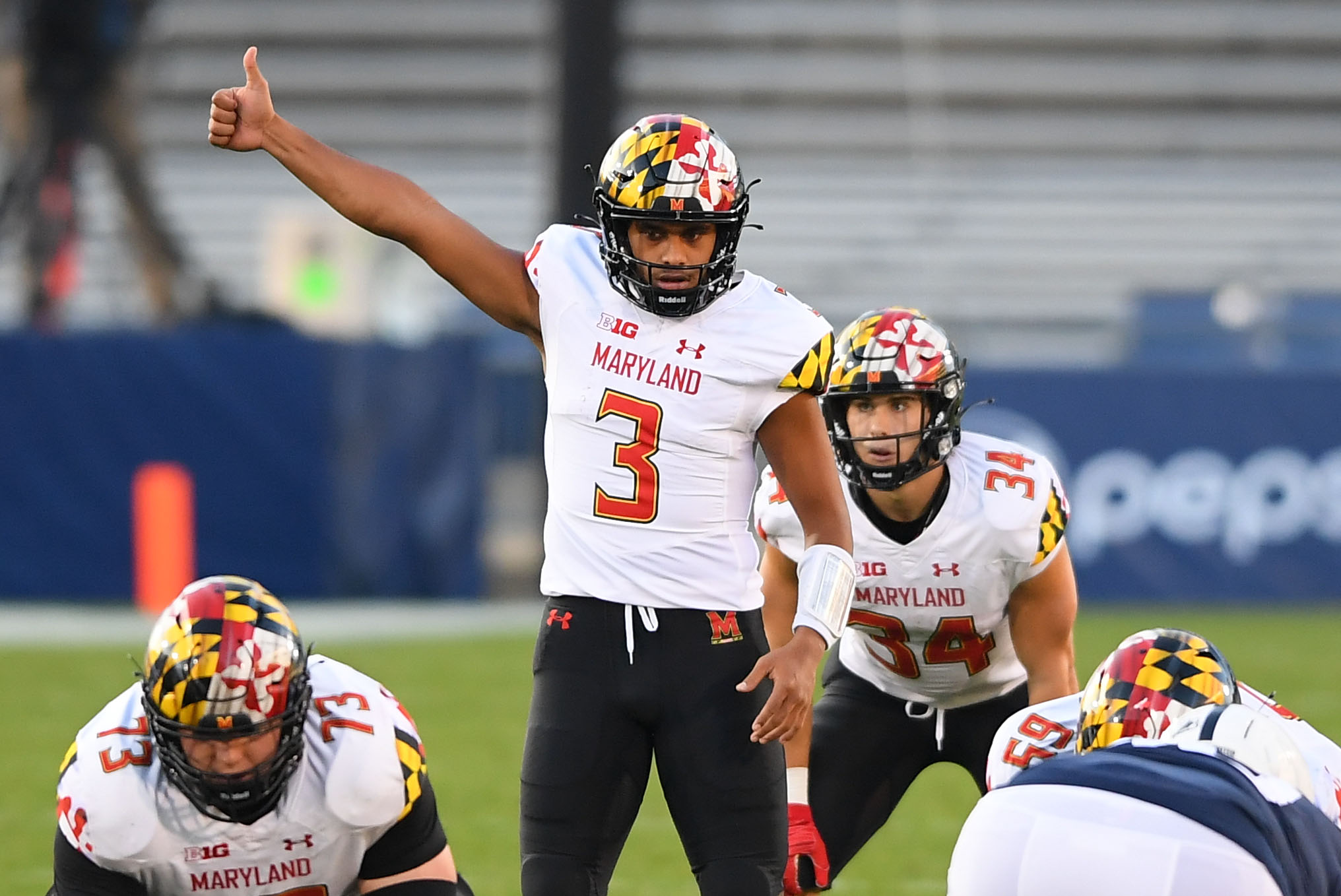 Taulia was the other Tagovailoa in the Alabama quarterback room last year, with his left-handed older brother Tua Tagovailoa manning the Crimson Tide offense. With his brother getting drafted fifth overall in the 2020 NFL Draft and Mac Jones proving to be a worthy replacement at the Alabama quarterback position, Taulia chose to transfer to Maryland for guaranteed playing time as a true sophomore. 
Following his first contest as a starter, many wrote Tagovailoa off after he posted a miserable statline. Against Northwestern in Maryland's season opener, Tagovailoa completed just 14 of 25 passes for a paltry 93 yards, zero touchdowns and three interceptions. However, in his last two bouts with Minnesota and Penn State, he has dominated, connecting on 70% of his passes for 672 yards, six scores and just one interception. He has also added 112 yards and two scores on 13 carries, seven of which were scrambles. 
The younger Tagovailoa is displaying shades of his older brother with his athleticism and ability to complete throws on the move, but he'll have the biggest test of his young career as the Terrapins host the Ohio State Buckeyes this weekend. Taulia has already proven to be much more than just Tua's little brother and has the opportunity to showcase his gifts against one of the best defenses in the nation. 
The quarterback who handed Taulia his first loss as a starter, Ramsey took his talents to Northwestern after losing his starting position at Indiana to Michael Penix Jr. in 2019 — despite seeing the field a great deal due to Penix enduring multiple injuries during the season. The combo of Hunter Johnson and T.J. Green was not effective for the Wildcats last season, so when Ramsey entered the transfer portal, it seemed like a match made in heaven for head coach Pat Fitzgerald. 
Ramsey has led his new team to three straight victories over Maryland, Iowa and Nebraska. Northwestern's schedule is not all that difficult, with their most challenging matchups being Wisconsin in Week 12 and Minnesota in Week 14 — though the Golden Gophers have not looked great this season. However, you can't blame the Wildcats for beating whichever opponent lines up across them. 
Ramsey's numbers are down across the board from his 2019 season, but he is dealing with much less talent on the outside, and his best offensive lineman, Rashawn Slater, opted-out before the beginning of the year. He only has six attempts of 20-plus yards downfield and has completed just one for 23 yards. The former Hoosier has been efficient in the red zone, completing four of six attempts for 28 yards and three touchdowns. Ramsey has not been asked to do too much through the first three games, but as the season wanes, more and more will be added to his plate — it will be interesting to watch how he responds.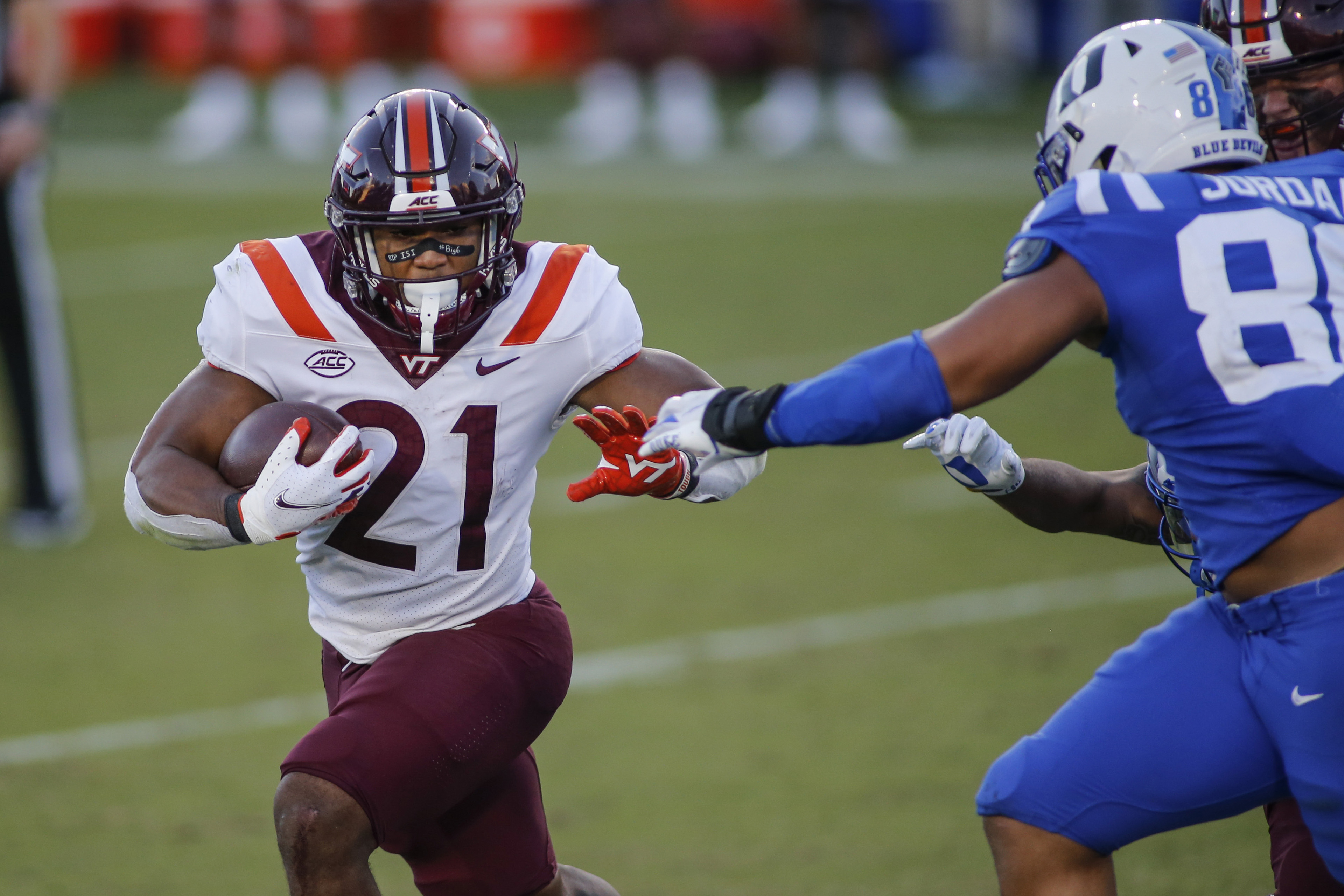 Herbert and Pooka Williams formed one of the most elusive and dynamic running back duos in the nation last season. Nevertheless, Khalil wanted to finish his collegiate career at a different program. Now with Virginia Tech, Herbert has been one of the best running backs across the country, averaging 8.4 yards per carry and 5.7 yards after contact per carry, both of which are the highest marks in college football. 
He has only forced 30 missed tackles, which is tied for 13th in the FBS, but that's only because he just has not had to this year. Twenty-three of his runs have gone for 10-plus yards and 12 have gained 20-plus, fourth and first among HBs, respectively. He has added little to nothing from the receiving side of the game but has allowed just one QB pressure on 45 snaps in pass protection. He is already 77th on PFF's NFL Draft Big Board — if he continues his dominating play, he will likely see his name rise even further. 
Roche is one of just two defensive transfers on the list and has impressed coming out of Temple. His 76.8 PFF grade is a far cry from his absurd 93.5 grade from a season ago, but Group of 5 offensive tackles are noticeably different than those in the Power 5. Despite facing stiffer competition in the ACC, Roche has generated 23 QB pressures, tied for 15th-most among edge defenders in the Power 5. He caused three or more pressures in every game this season before only having one against NC State in Week 10. Roche has won with raw power and with his technique and has a burst off the edge that not many pass rushers possess. 
Roche is not afraid of getting his hands dirty in the run game, either, recording 10 tackles for loss or no gain (tied for first) and averaging a depth of tackle of 0.45 yards past the line of scrimmage (sixth), both of which are top-10 marks among edge defenders. 
Jurkovec was backing up Ian Book at Notre Dame for the past two seasons and took his career into his own hands, determining it was in his best interest to enter the transfer portal. He ultimately chose Boston College and won the starting job with relative ease. He has generated a PFF passing grade of 70.5, which isn't awe-inspiring on its own, but it is the first time an Eagles quarterback has registered a grade above 70.0. 
Jurkovec has been a bit of a rollercoaster, with 20 big-time throws (most) and 15 turnover-worthy plays (second-most), both of which are ranked in the top-five of ACC QBs. He has led his team to a 5-3 record, but the one game many fans will remember for years to come is their 34-28 loss to a Trevor Lawrence-less Clemson. The Eagles owned a 28-13 lead heading into halftime before Jurkovec on the offense were held to zero points in the second half while the Tigers offense rallied to a victory. 
The former Fighting Irish signal-caller has one of the biggest arms in the conference and even has some legs to boot, carrying the ball 48 times for 280 yards and three scores. As long as he maintains his current trajectory, he will finish the season as Boston College's highest-graded quarterback since we started collecting college data in 2014. If he cuts down the turnover-worthy plays and sustains his big-time throw rate, he can blow that mark out of the water. 
In just five games with Ole Miss, Yeboah has nearly out-produced his entire four-year career at Temple. This season, he has hauled in 22 of 25 targets for 470 yards and six touchdowns. Over four years with the Owls, he reeled in 47 receptions for 538 yards and six scores. He is the only tight end in the country with 20 or more targets to hold a perfect 158.3 passer rating when targeted, average 20-plus yards per reception (21.4) and 10-plus yards after the catch per reception (10.4). 
He has been a reliable and explosive weapon for QB Matt Corral, as nine of his receptions have gone for 15 or more yards, and he has caught three of four contested targets. Of his 16 receptions that were not touchdowns, 14 moved the sticks, and he has even forced three missed tackles, the same amount as Florida's Kyle Pitts who is widely regarded as the best TE prospect in the 2021 NFL Draft.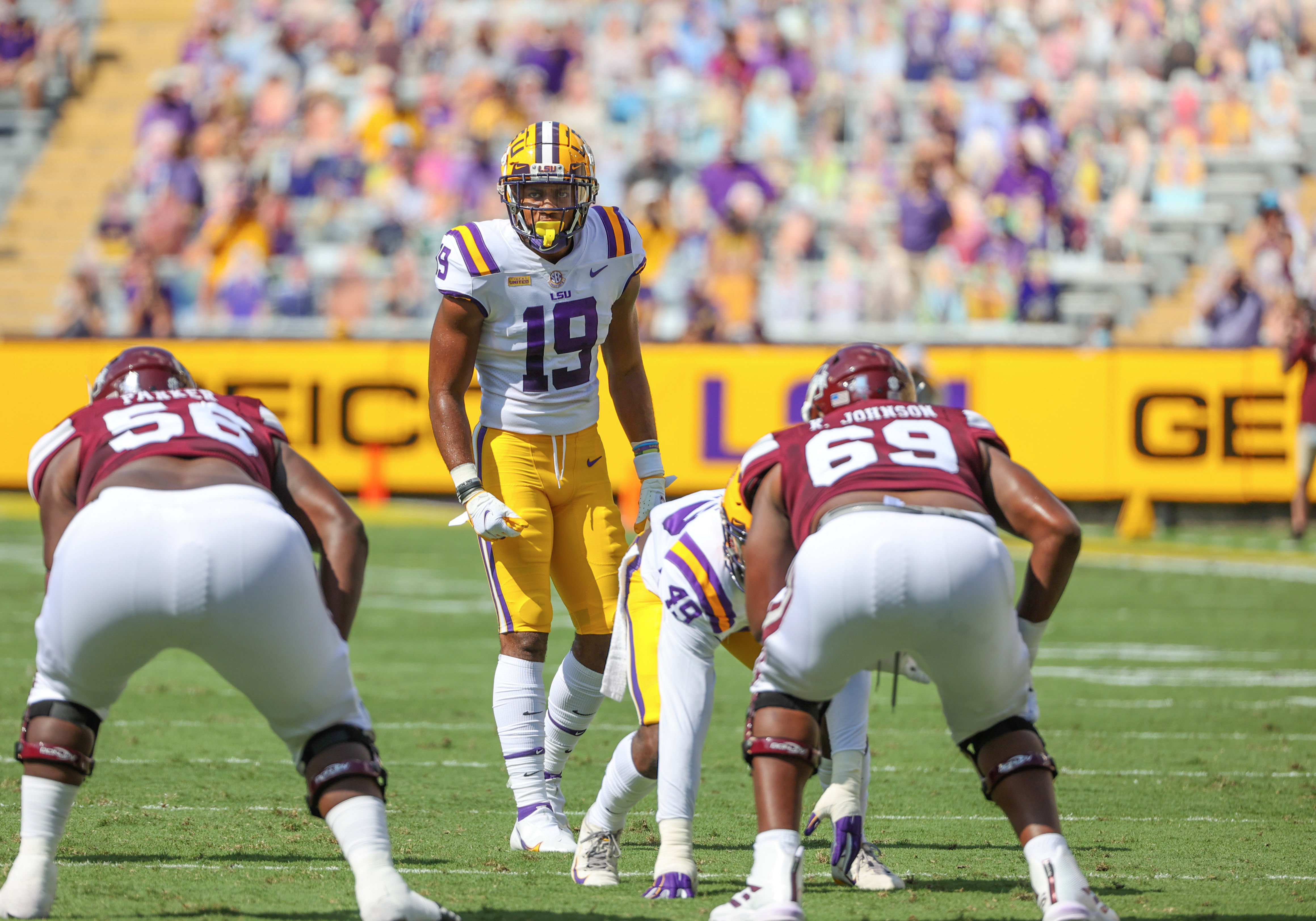 Cox transferred from FCS North Dakota State to not only the FBS but to the reigning national champion LSU Tigers. The Tigers underwent one of the largest roster overhauls this offseason with most of their offensive and defensive starters making their way to the NFL. One position that needed to be filled was linebacker, and head coach Ed Orgeron looked to FCS powerhouse NDSU for depth. The transition has not been the smoothest for Cox — between learning a new defensive scheme and the entire defense underperforming, it is easy to understand why. 
With that being said, Cox has the physical ability and skillset to achieve exceptional play in the SEC. He boasts elite explosiveness and fluidity that help him fly to the football but can cause him to over-pursue runs and run past receivers in the passing game. He has allowed 15 receptions on 18 targets for 187 yards with 153 coming after the catch, largely from being out of position or missing the tackle. Even so, he had an impressive pick-six in the season opener against Mississippi State where the receiver ran across his face and he had to flip his hips, catch up to the receiver and then jump in front of him for the interception, highlighting the elite traits mentioned above. 
Williams joined King in Miami after protecting his right side during their tenure at Houston. Williams has allowed the same amount of QB pressures as he did in 2019 (7) in over 100 additional pass-blocking snaps this year, in spite of battling stronger competition in the ACC. He has forfeited four sacks in his career across 1,039 reps in pass protection at both left and right tackle, demonstrating his versatility and athletic ability. 
Williams has not been nearly as effective in the running game, owning the 21st run-blocking grade among tackles in just the ACC. At 6-foot-6 and over 300 pounds, Williams has a great frame for the position but needs to add strength and improve on his footwork if he wants to excel at the next level.