With some surprise performances last week, there are two new faces on the freshmen top ten. Only one member of this week's group has a matchup against an opponent with a winning record, so while the excitement level will certainly be lessened, we should see some excellent grades from the collective assembly.
Ed Oliver, NT, Houston 88.0
Oliver put together yet another strong all-around performance against Tulane, as he posted a run stop, a hit, a hurry and a batted pass. While the Cougars have struggled to maintain early season momentum, Oliver has been a constant force throughout. He will once again get the chance to prove he is the top freshman in the country this week against fifth-ranked Louisville.
Dexter Lawrence, Clemson 87.4
Against Pittsburgh, Lawrence put up two defensive stops and two hurries, his second-straight mediocre pass rush output after his monster stretch of four games that saw him rack up 24 pressures. Look for him to get back on track against Wake Forest this week. 
Jonah Williams, OT, Alabama 83.0
Williams vaults all the way up to No. 3 with yet another clean slate in pass protection, his sixth of the season. He has given up just seven total pressures in ten games, and has not yield a sack or a hit since Week 3.
Jalen Hurts, QB, Alabama, 76.6
Hurst has clearly been the class of the freshmen QB class, and at this stage it's tough to envision him not taking home a national championship considering the roll Alabama is on. He shredded Mississippi State in Week 11 by completing 75.7 percent of his passes at 9.4 yards per attempt with a QB rating of 129.0.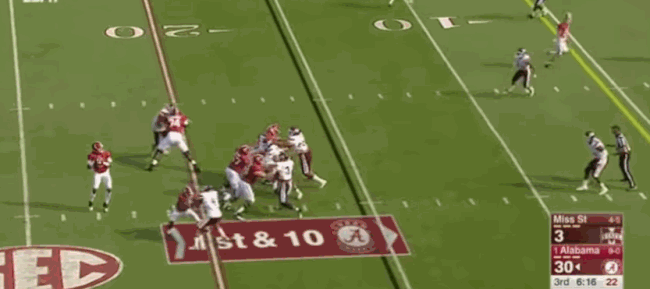 Nick Bosa, Edge, Ohio State 81.1
Bosa is in a bit of a cold streak, as he tallied just one pressure for the third-straight week and managed just one run stop. Look for him to pick it up this week against the Spartans, as the Buckeyes should collectively be fired up to avenge last year's loss, and Bosa will want to get back on track heading into The Game next week.
Benjamin Snell, Jr., RB, Kentucky 81.4
Snell was on a roll until this week, when he struggled to get going against the Volunteers and at 15 carries, he just didn't have the volume he's seen for the month prior. While he fumbled for the first time this season, he actually gained 87 yards after first contact despite rushing for only 79, which tells you how little room his offensive line was able to open up for him.
Jaylon Jones, CB, Mississippi 79.8
This is Jones' first time on the list, which he made by allowing just two catches on five targets for 12 yards against Texas A&M. He also broke up a pass, his third of the season. For the year he has allowed just six catches on 18 targets for 62 yards and just 20 yards after the catch.
Malcolm Roach, Edge, Texas 79.2
Roach posted his third sack of the season against West Virginia this past weekend, and now has 23 total pressures for the year. He posted four solo tackles, all of them for stops.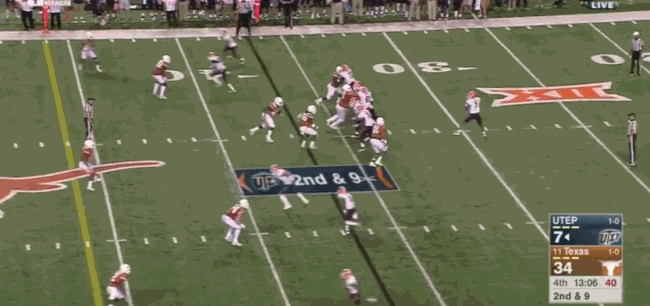 Rashan Gary, Edge, Michigan 77.7
Interesting to note that despite how solid Gary has been this season, in Michigan's two closest games (Wisconsin in Week 5 and Iowa this past Saturday) he has played just 22 total snaps. He did manage to tally two run stops against the Hawkeyes on just seven run snaps (nine total for the game). Expect his workload to go back up this week, and considering how low it's been in Michigan's biggest games, with Ohio State coming up next week he may see the field an extended amount of time against the Hoosiers.
Trayveon Williams, RB, Texas A&M 77.6
Williams posted just 72 yards on 17 carries in A&M's loss to Mississippi this past Saturday, and for the first time all season did not force a single missed tackle. He was also unable to get going in the screen game, as he gained -1 yards despite three catches.
Dropping out:
Jake Bentley, QB South Carolina
Michael Pinckney, LB Miami
Lorenzo Harrison, RB Maryland
Watch list:
Ben Deluca, S, Charlotte;
Ahmonn Richards, WR, Miami (FL);
Jawaan Taylor, OT, Florida;
N'Keal Harry, WR, Arizona State;
Shane Buechele, QB, Texas;
Brian Burns, Edge, Florida State;
Carter Coughlin, Edge, Minnesota;
Tai'yon Devers, Edge, Minnesota;
J.J. Taylor, RB, Arizona;
Demetris Robertson, WR, Cal;
Benito Jones, defensive interior, Ole Miss;
Isaac Nauta, TE, Georgia