Each Tuesday, I'll be breaking down the top 10 prospect performances from the weekend prior. While you can expect the Trevor Lawrences of the world to be stalwarts on the list, I'll also try to highlight some breakout and under-the-radar prospects, as well. This week, there were a number of guys who I hadn't even heard of but impressed enough to make the top 10.
Editor's note: Die-hard college football fans, NFL draft enthusiasts and avid college football bettors can now subscribe today to CFB Grades+ or CFB Premium Stats+ to get access to PFF's player grades, advanced stats and NCAA betting dashboard.
1. TE Kyle Pitts, Florida
Pitts' performance Saturday wasn't simply stud tape by tight end standards, it was stud tape by wide receiver standards, as well. He got open nearly at will and at every level of the field. And even when he wasn't open, Pitts was hauling in passes.
Kyle to Kyle.

Kyle Trask: 416 Pass Yds, 6 TD
Kyle Pitts: 170 Rec Yds, 4 TD

This @GatorsFB connection ???????? pic.twitter.com/7O9l2Xbhwg

— SEC Network (@SECNetwork) September 26, 2020
His combination of athleticism and ball skills is unlike anything we've seen at the tight end position in recent classes. The true junior finished with eight catches for 170 yards, four scores and two broken tackles on the day.
2. QB Kyle Trask, Florida
For as good as Pitts was, Trask wasn't too far behind. He finished with an elite 90.0-plus overall grade and had four big-time throws on 43 dropbacks. It was a far cry from the quarterback who had only nine big-time throws all last season. He looked so much more comfortable pushing the ball down the field and giving his guys chances to make plays.
Kyle Trask is dealing????

— PFF College (@PFF_College) September 26, 2020
The sort of accuracy he showed when throwing into tight windows or to closely guarded receivers was something we didn't get to see nearly as much in 2019. For the quarterback many have tabbed as "this year's Joe Burrow," he had a Burrow-esque Week 1.
3. WR Jaylen Waddle, Alabama
Waddle made his 34 pass plays against Missouri count on Saturday. His eight catches for 134 yards and two scores are obviously impressive on their face, but the way they came makes it all the more breathtaking. Waddle took 23 snaps as an outside receiver, equalling his entire 2019 total in that role. He showed the ability to get off the line of scrimmage and attacked the ball instead of letting it come to him.
Jaylen Waddle REFUSES to drop balls

— PFF College (@PFF_College) September 27, 2020
That's not always the case for a lot of speed receivers, but it's something he'll have to do in the NFL.
4. CB Roger McCreary, Auburn
The true junior was in a small rotation for Auburn's No. 2 corner spot across from Noah Igbinoghene last year and has now transitioned to a full-time starter on the outside. He still looks a bit skinny at his listed 6-foot, 188 pounds, even though he's gained nearly 10 pounds since arriving on campus.
He makes up for that lack of size with some pretty legit athleticism. Even though Kentucky isn't necessarily known for its passing prowess, McCreary was still in hip pockets all game. He allowed only one catch on three targets for two yards and added a 100-plus yard pick-six where he read the quarterback's eyes on the goal line before coming off his guy in man coverage for the interception.
Auburn's 2018 signing class included these HS 100m sprinters:
???? 10.09 Anthony Schwartz
???? 10.29 Shaun Shivers
???? 10.67 Seth Williams
???? 10.88 Roger McCrearypic.twitter.com/6qm2Jt1oYA

— Brian Spilbeler (@CoachSpil) September 26, 2020
5. QB K.J. Costello + RB Kylin Hill, Mississippi State
I grouped these two together because they're in a similar vein. Costello showing he can handle a volume passing offense, a ridiculous 30 dropbacks under pressure (out of 65) and SEC defenses while still play winning football was huge for his draft stock. He had six big-time throws along with three turnover-worthy plays en route to 623 passing yards, five scores and two picks.
K.J. Costello AGAIN

The Stanford QB transfer has 492 passing yards, 4 TDs and is nearing the SEC single-game passing record ????

(via @CBSSports)⁰pic.twitter.com/ZiqGzrTh29

— Bleacher Report (@BleacherReport) September 26, 2020
Hill's work in the passing game, as well, will be invaluable for his draft stock. His 10 targets in this game were nearly halfway to his total of 23 in 2019, while his 155 yards are only 25 short of his 2019 total. The way he attacked the ball away from his body is exactly what you want to see from a pass-catching back, and his three broken tackles after the catch are, too. Mike Leach's offense is going to be fun with these two in charge.
KYLIN HILL, STILL HERE

75-YARD TD

— PFF College (@PFF_College) September 26, 2020
6. ED Ali Gaye, LSU
The JUCO transfer made his presence felt right out the gate for LSU. At 6-foot-6, 262 pounds, Gaye is a long, powerful, pocket-pushing type of defensive end. He racked up 11 pressures on 49 pass-rushing snaps, including a sack and a hit. Gaye showed adept hand usage, too, but he's going to be limited physically.
His burst off the line of scrimmage left a good deal to be desired, and he was terribly stiff getting around the edge. A few more of those nine hurries should have translated into sacks or hits if he was able to get back to the quarterback.
7. WR Elijah Moore, Ole Miss
While there was certainly some "fluff" in Moore's 10-catch, 227-yard performance, what he did with the ball in his hands was incredibly impressive. He averaged over 10 yards per reception after the catch and broke four tackles.
Matt Corral complete to Elijah Moore for 57 yards! pic.twitter.com/8cQjV2sAMb ❤️???? #HottyToddy

— The Rebel Walk (@TheRebelWalk) September 26, 2020
He's got the type of speed and YAC-ability to be a vertical slot type of player in the NFL. He saw 61 of his 78 snaps come in the slot in Week 4. He looks like he's taken a considerable step forward after a sophomore year where he caught 67 passes for 850 yards with 13 broken tackles.
8. CB Rodarius Williams, Oklahoma State
Saturday's game against West Virginia was easily a career day for the redshirt senior cornerback, and that's saying something. That's because Williams has already started 41 games in his college career. He's played in every game for Oklahoma State since he was a freshman, and it looks like he's putting it all together this season.
He had four pass breakups on four targets this past weekend, as the Mountaineers' receivers couldn't get vertical on him. In two games this year, Williams hasn't given up any yards on seven targets. That's called playing your way up draft boards.
9. ED Jordan Smith, UAB
At 6-foot-7, 255 pounds, Smith is in a nearly identical mold of defensive end as Ali Gaye. The redshirt junior looks to have bulked up a good deal from last year when he racked up 52 pressures and earned a 91.5 pass-rushing grade. Through three games this season, Smith is already at 16 pressures and a 90.7 pass-rushing grade. This past weekend, he dominated Southern Alabama's offensive line and finished with four stops on the day.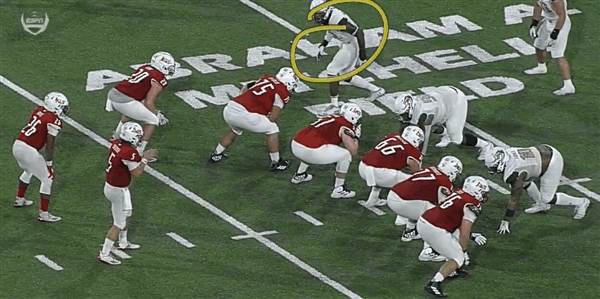 10. OT Larry Borom, Missouri
You might be asking, "Who?" Don't worry, I asked that too. And the answer would be the tackle the player who just pitched a shutout against Alabama. He didn't get beaten once on 46 pass-blocking snaps, including 14 true pass sets.
The redshirt junior certainly qualifies as a jumbo tackle at his listed 6-foot-6, 332 pounds. He's far more nimble than you'd expect at that size, however, as he played basketball in high school. After allowing 20 pressures across four different positions in his first year as a starter in 2019, Borom looks to have taken a considerable leap with his technique at right tackle this season.