Two Power Five conferences have taken the field thus far in 2020, and this weekend will see the third when the beloved SEC kicks off their conference-only season.
Things will look a little different in the SEC this year. Alabama no longer has the best quarterback situation in the conference, LSU lost nearly everyone from its historically good 2019 team, Mike Leach brings his infamous Air Raid attack to Starkville and much more. So, what better way to preview the SEC madness than with some preseason conference power rankings?
Using the PFF Elo system — which serves as the base power metric for our NCAA simulation — with allowances for recruiting rankings, returning players and market information, we can present our SEC power rankings ahead of their first week of games.
Editor's note: Die-hard college football fans, NFL draft enthusiasts and avid college football bettors can now subscribe today to CFB Grades+ or CFB Premium Stats+ to get access to PFF's player grades, advanced stats and NCAA betting dashboard.
Most programs would struggle significantly after having to replace the production lost from two first-round wide receivers, but not Alabama.
The Crimson Tide still have college football's best wide receiver duo in DeVonta Smith and Jaylen Waddle, as the two rank first and second, respectively, among FBS wideouts in the percentage of targets that resulted in a 15-plus-yard play since 2018 (Waddle 33%, Smith 32.9%). That dynamic duo, along with running back Najee Harris, makes life much easier for quarterback Mac Jones. From Week 9 on (his first start) in 2019, Jones had the fourth-highest rate of positively graded throws, which is a stat that is heavily influenced by supporting cast and playcalling.
On defense, Alabama has a rising star in Christian Barmore, who looks like the next great interior defensive lineman to come out of the program. The team also has a great outside cornerback duo in Patrick Surtain II and Josh Jobe. And don't forget about linebacker Dylan Moses, either, as he makes his return after missing all of 2019 due to injury (he racked up 48 stops and missed just five tackles on 107 attempts in his career prior to that). The program may have lost a lot of talent, but we just don't have many bones to pick with the Crimson Tide as we look forward to the SEC schedule.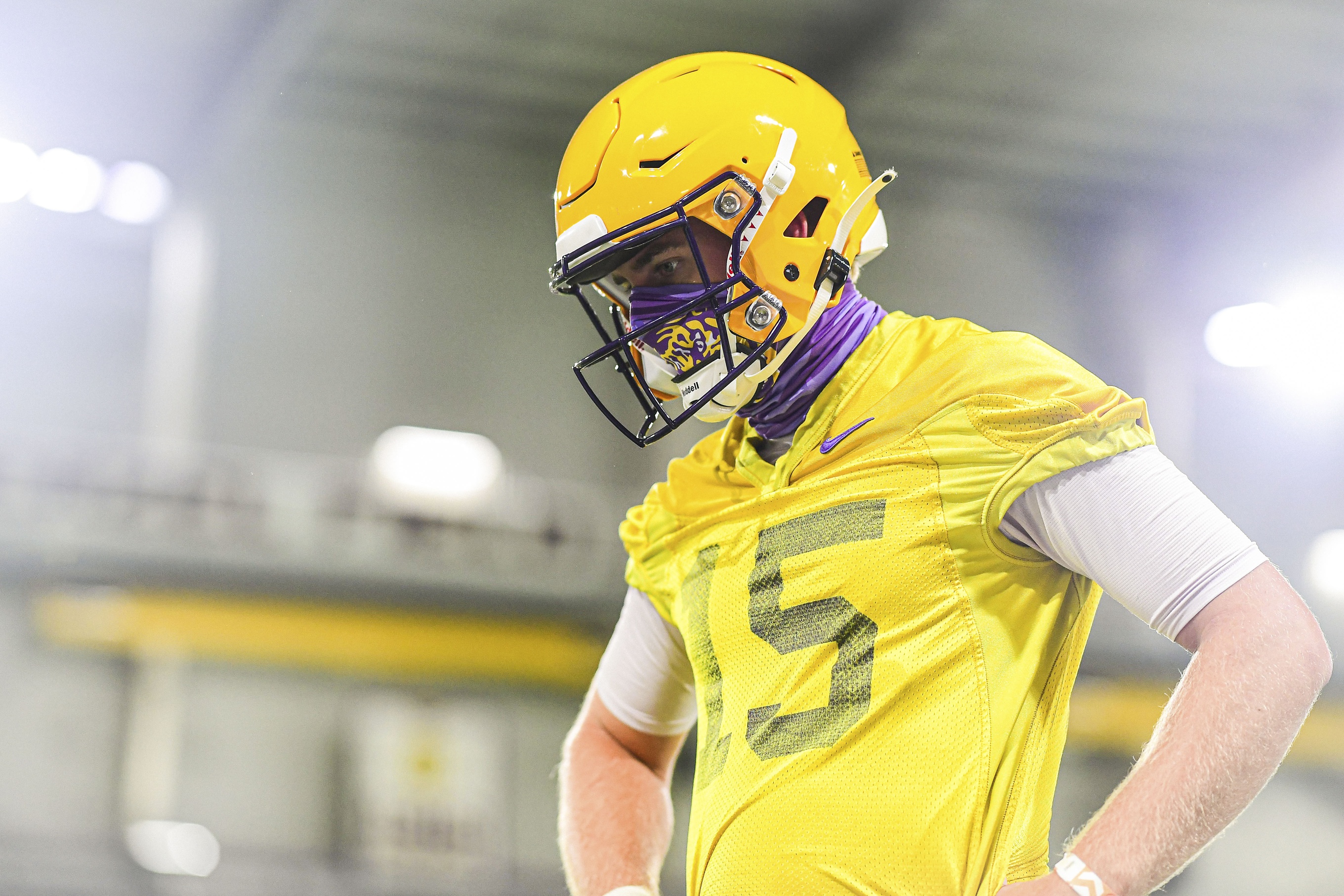 LSU's 2019 National Championship team was the best we have ever come across during our time grading college football (since 2014). However, a significant chunk of the team left the college ranks for the NFL this past April, and that saw the Tigers lose more value in terms of wins above average than any other team in college football. Then their star wide receiver, Ja'Marr Chase, made the decision to opt-out of the 2020 season due to COVID concerns and train for the 2021 NFL Draft.
On defense, LSU still has Derek Stingley Jr., who eventually beat Chase for the title of most valuable non-quarterback in the country. The secondary won't skip a beat with him playing alongside promising up-and-comers Cordale Flott and Elias Ricks. However, the offense will undoubtedly take a step back in 2020 as it transitions from Joe Burrow to Myles Brennan.
Jamie Newman was set to give the Georgia Bulldogs a real shot at winning the 2020 National Championship, but those aspirations for the program are now on hold after his decision to opt-out. Former USC quarterback J.T. Daniels is the likely guy to lead the offense for the Bulldogs — if he's cleared medically by Saturday, and even then it's no guarantee that he wins the job — and as much as people want to point to him being a former five-star recruit, the drop-off between Newman and Daniels is significant.
Daniels started for USC right away as a true freshman in 2018 and produced a lowly 59.8 PFF grade that ranked 118th of 136 qualifying FBS quarterbacks. And in 2019, he tore his ACL in Week 1 against Fresno State after another subpar performance (62.9 PFF grade, three turnover-worthy plays on 37 dropbacks).
While there's a strong chance Daniels is at least marginally better, it's highly unlikely that we see him go from the "poor" tier to the "great" tier that Newman belongs in. Looking strictly at passing performance, the difference between Daniels' passing grade in 2018 and Newman's in 2019 was 24.6 grading points. Of every Power Five quarterback since 2014, only three have improved their passing grade from one year to the next (minimum 165 dropbacks in each) by over 24.6 grading points.
Outside of the quarterback position, the Bulldogs have one of the best top-to-bottom rosters in the conference. The Bulldogs' defense has a player in every position group who should be considered as one of the best at the position in college football. The defensive line features Malik Herring, who is fresh off a 90.5 PFF grade in 2019. And at linebacker, Nakobe Dean is another star in the making, as he produced the highest grade of any true freshman at the position in 2019. Cornerback Eric Stokes and safety Richard LeCounte will lead the secondary and have both earned grades above 80.0 in each of the past two seasons.
With a top-notch set of playcallers and a little bit of luck, last year's Florida team had the biggest difference in actual wins and implied wins — they actually won three more games than they probably should have.
Quarterback Kyle Trask displayed dependable accuracy, which is the top trait needed for success at the quarterback position, but he also showcased some poor decision-making. He generated a -13 differential in big-time throws and turnover-worthy plays last year, which was tied for fourth-worst in the country.
The good news is that there is a lot of potential for him to tap into within Florida's receiving unit. Tight end Kyle Pitts is a proven piece and a prime candidate for the 2020 Mackey Award. At wide receiver, the Gators have an electric playmaker in Kadarius Toney, though he hasn't had many opportunities due to injuries and a stacked wide receiver room, and they also have Trevon Grimes, who is looking for a bounce-back year after lowering his grade from 73.8 in 2018 to 61.5 in 2019.
On the other side of the ball, Florida's secondary is stacked with two of the five best safeties in the SEC — Donovan Stiner and Shawn Davis — as well as a rising star in cornerback Kaiir Elam. The big question here, though, is whether Marco Wilson can get back to his 2017 form. Wilson earned a 78.3 coverage grade at outside corner that year before tearing his ACL in 2018 and then producing a 61.0 coverage grade on the outside in 2019.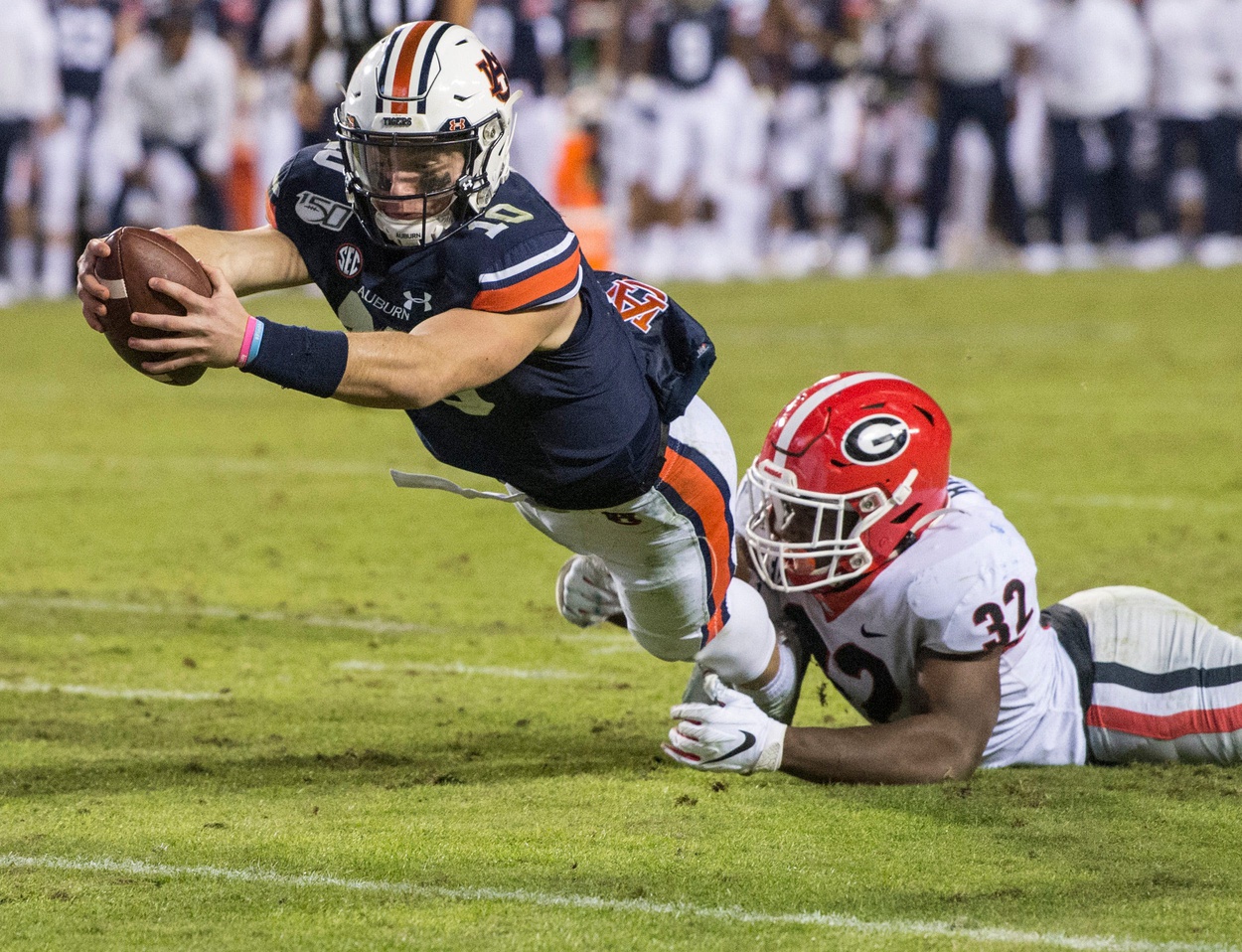 Auburn might have lost five significant pieces from its great defense last year (cornerbacks Javaris Davis and Noah Igbinoghene, safeties Jeremiah Dinson and Daniel Thomas, interior defensive lineman Derrick Brown), but the defensive unit will still be the backbone of the team's success in 2020.
Cornerback Roger McCreary, the third-most-valuable Auburn player in 2019, is one of the five best players at the position in the SEC, and safeties Jamien Sherwood and Smoke Monday look poised for big years after each performed well as rotational pieces in the past two seasons. The Tigers also return off-ball linebackers K.J. Britt and Zakoby McClain, who ranked second and third, respectively, in the SEC in PFF grade.
The Auburn offense is what gives us pause. Quarterback Bo Nix failed to crack the top 100 in clean-pocket passing grade as a true freshman, which is one of the most reliable metrics to use when it comes to predicting future play.
Texas A&M has the second-best quarterback in the SEC. Kellen Mond was the 17th-most-valuable quarterback in the FBS back in 2018, and he improved that mark to 11th in 2019. You can count on Mond both through the air and on the ground, and he'll also have a couple of great receivers at his disposal in 2020.
The Aggies have an up-and-coming talent at tight end in Jalen Wydermyer, who is coming off a freshman year that saw him earn the highest receiving grade of any SEC tight end. Wideout-turned-running back Ainias Smith rounds out this talented unit, and he is primed to break out as a premier dual-threat at the position. There's just a lot to like about this offense as we head into 2020.
Tennessee's secondary was its go-to strength last year, as the unit finished sixth in the SEC (and 17th among Power Five defenses) in expected points added allowed per play. The good news for Vols fans is that they return all but one of the key contributors from that group.
Meanwhile, the ball is in Jarrett Guarantano's court on offense — he could be the reason they succeed, but he could also be the reason they fall short of expectations. His play over the past couple of years is best described as inconsistent — one week he may post a PFF grade above 90.0; the next week he might have a game in the 40.0s.
Kentucky looked set for disaster in 2019 before Lynn Bowden Jr. saved the year. Thanks to him, the Wildcats had the second-most efficient rushing attack in the SEC and the 10th-most efficient rushing attack in the Power Five. Bowden is now off to the NFL, but the return of quarterback Terry Wilson could help boost a passing game that slowly slipped away in 2019.
However, last year's offense generated more expected points added per play than the Wilson-led unit of 2018, and we still have concerns with Wilson's ability as a passer. His performance under pressure was poor (he ranked 129th in passing grade in 2018), and his downfield passing was inconsistent.
The defense will still be just as strong in 2020 as it was in 2019, though. It returns all the critical cogs from a secondary that combined to form the fourth-best PFF grade in the SEC last year.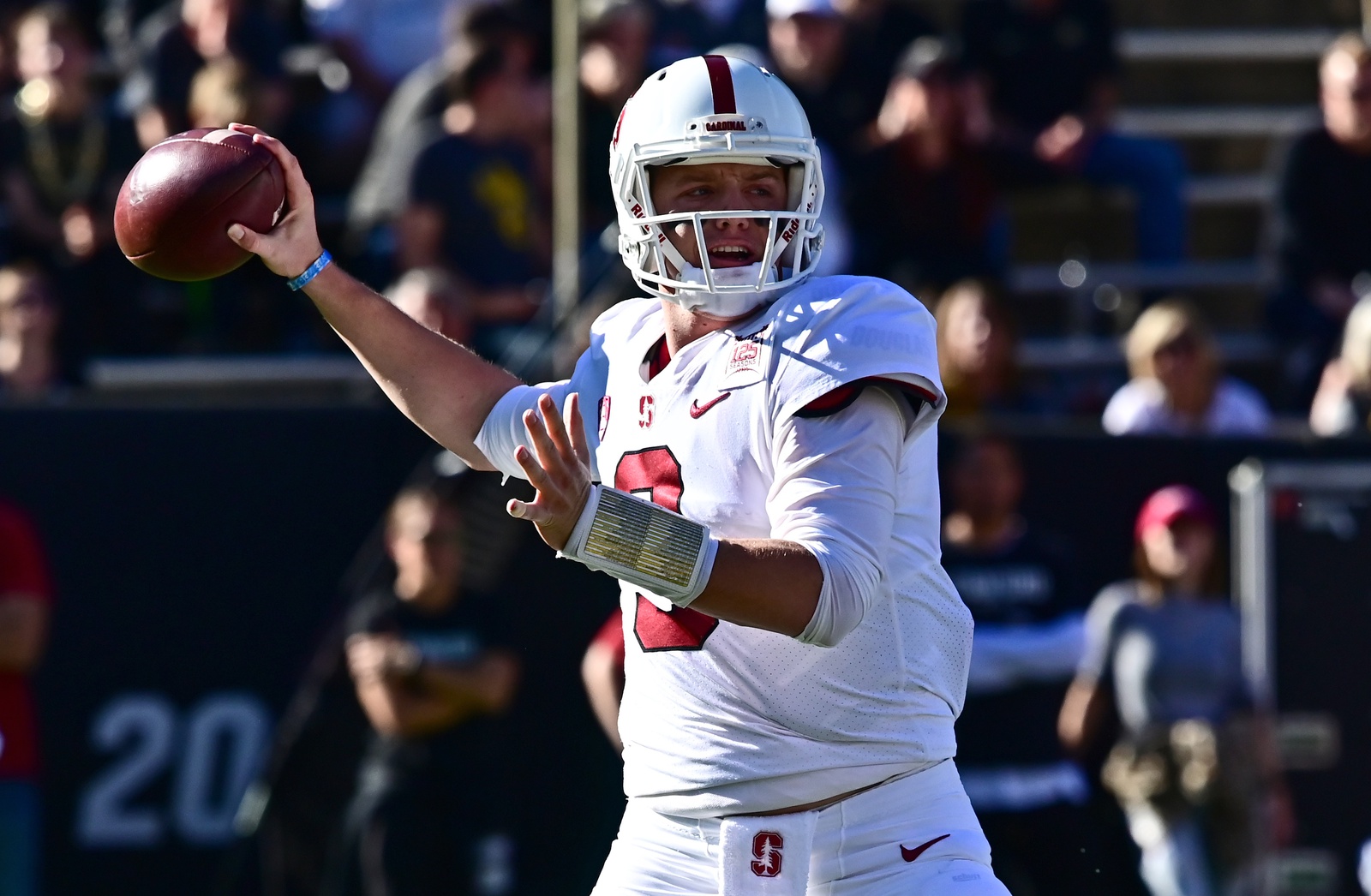 Mississippi State suffered through below-average quarterback play in each of the past four years, but that ugly streak comes to an end with the arrival of K.J. Costello. Forget about his injury-riddled 2019 — do you remember his 2018 season, when he was the second-highest-graded quarterback in the Pac-12 behind only Gardner Minshew?
This new offense is also set to turn running back Kylin Hill into a dual-threat star, as he has averaged 10.7 yards after the catch per reception in his career while breaking 16 tackles on 44 receptions. The offense isn't going anywhere but up in 2020. We sadly can't say the same for the defense.
Cornerback Tyler Williams and safety Marcus Murphy are potential breakout candidates in 2020, but the secondary's coverage ability outside of those two quickly drops off. The veteran presence in the secondary comes from safety C.J. Morgan, who is coming off a year in which he earned a 41.1 coverage grade.
Missouri is bound to have a bad offense once again in 2020 — there isn't a single returning player from last year's offense who played significant reps and produced a positive WAA value. And while new head coach Eli Drinkwitz may lead the offense to success eventually, he did inherit a bad deal for 2020.
There are some premier talents to get excited about on the defensive side of the ball, however. Off-ball linebacker Nick Bolton had one of the biggest breakouts of 2019, producing a 91.1 PFF grade (third in FBS) in his first year as a starter. His coverage ability is arguably the best of any linebacker in the country, as he made 10 total plays on the ball last year (second-most).
Interior defensive lineman Kobie Whiteside is another one to keep an eye on. He can play anywhere from heads-up nose to 5-tech and remain an effective player both against the run and as a pass-rusher. His explosiveness and power are remarkable, helping him become one of the top interior defenders in the SEC.
There's a lot of concern with how the Gamecocks will fare on the offensive side of the ball, but they at least have one of the best outside cornerback duos in college football in Jaycee Horn and Israel Mukuamu. Horn has had impressive ball production in his college career, posting the second-most PBUs (16) in the SEC since 2018. He played a significant amount of press in 2019 and really was beat by only Alabama. As for Mukuamu, his size is both his greatest strength and his biggest weakness. He can make a play on the ball in tight coverage with ease and snag tough INTs (e.g., versus Georgia in 2019), but he can also be too physical (five DPIs last year, led SEC).
I don't know about you, but I'm psyched to watch what Lane Kiffin does with the two dynamic runners he has at his disposal in quarterback John Rhys Plumlee and running back Jerrion Ealy.
Plumlee is the most mobile quarterback in college football. He has legit 4.4 speed that helped him average 7.5 yards per designed rush in 2019, first among Power Five QBs. Plumlee also had 10 runs of 30-plus yards, four more than any other returning FBS QB. He can't do much as a passer, though.
As for Ealy, he is already among the most elusive backs in college football. His 0.37 broken tackles per attempt led the SEC and ranked fourth in the FBS last year.
Arkansas has had the least efficient offense in the SEC over the past two seasons now by quite a bit. Feleipe Franks is no top-tier quarterback, but he — in tandem with incoming offensive coordinator Kendal Briles — will make the offense better than what it has been, particularly within the deep passing attack. Franks had a 14-to-3 big-time throw to turnover-worthy play ratio on deep passes in 2018.
Arkansas also returns Rakeem Boyd, who pieced together a great breakout campaign in 2019, raising his rushing grade rank to fourth in the SEC.
Just like the offense, the Arkansas coverage unit has sat at the very bottom of the conference over the past two seasons. But unlike the offense, they'll struggle to change that in 2020. The only bright spot from their secondary last year, Kamren Curl, has since departed. Arkansas will need underclassmen like Jalen Catalon to step up.
There's a lot wrong with this Vandy team, but I'm going positive vibes only for this write-up.
Vandy does have one of the best edge tandems in the entire conference in Dayo Odeyingbo and Andre Mintze. The two ranked third and fourth, respectively, in PFF pass-rush grade among returning SEC edge rushers. In addition to those two, cornerback Jaylen Mahoney is a standout player from 2019 to keep an eye on in 2020. Mahoney's role grew larger throughout his 2019 true freshman campaign, but the increasing workload didn't stop him from locking down the slot. He allowed just 0.54 yards per coverage snap in the slot last season, the sixth-best mark in the FBS. Keep in mind that he did this in his first year while playing for a bad team in the most difficult conference.