Finally, it's time for Big Ten football this weekend.
PFF is here to provide you with all the information you need to know ahead of the conference's start, starting with our top five players at every position in the conference. With the help of our unique play-by-play grading and other advanced data available in PFF's CFB Premium Stats+, here is how our Big Ten player rankings stack up before the season's start.
Editor's note:  PFF's CFB Premium Stats+ subscribers can view player grades, advanced statistics, positional snap counts and more. Subscribe today for access!
QUARTERBACK
Four Big Ten quarterbacks could produce at a top-10 level among FBS signal-callers in 2020.
Fields is a virtual lock to do so considering what we saw from him in 2019. In his first full season starting, he posted a 92.4 passing grade — the second-best mark in the FBS, behind only Joe Burrow, and the best grade in a season by a Big Ten quarterback. He does just about everything you could possibly want at the quarterback position at a high level and is going to give Trevor Lawrence, Mac Jones and now Zach Wilson a run for their money for the 2020 Heisman Trophy.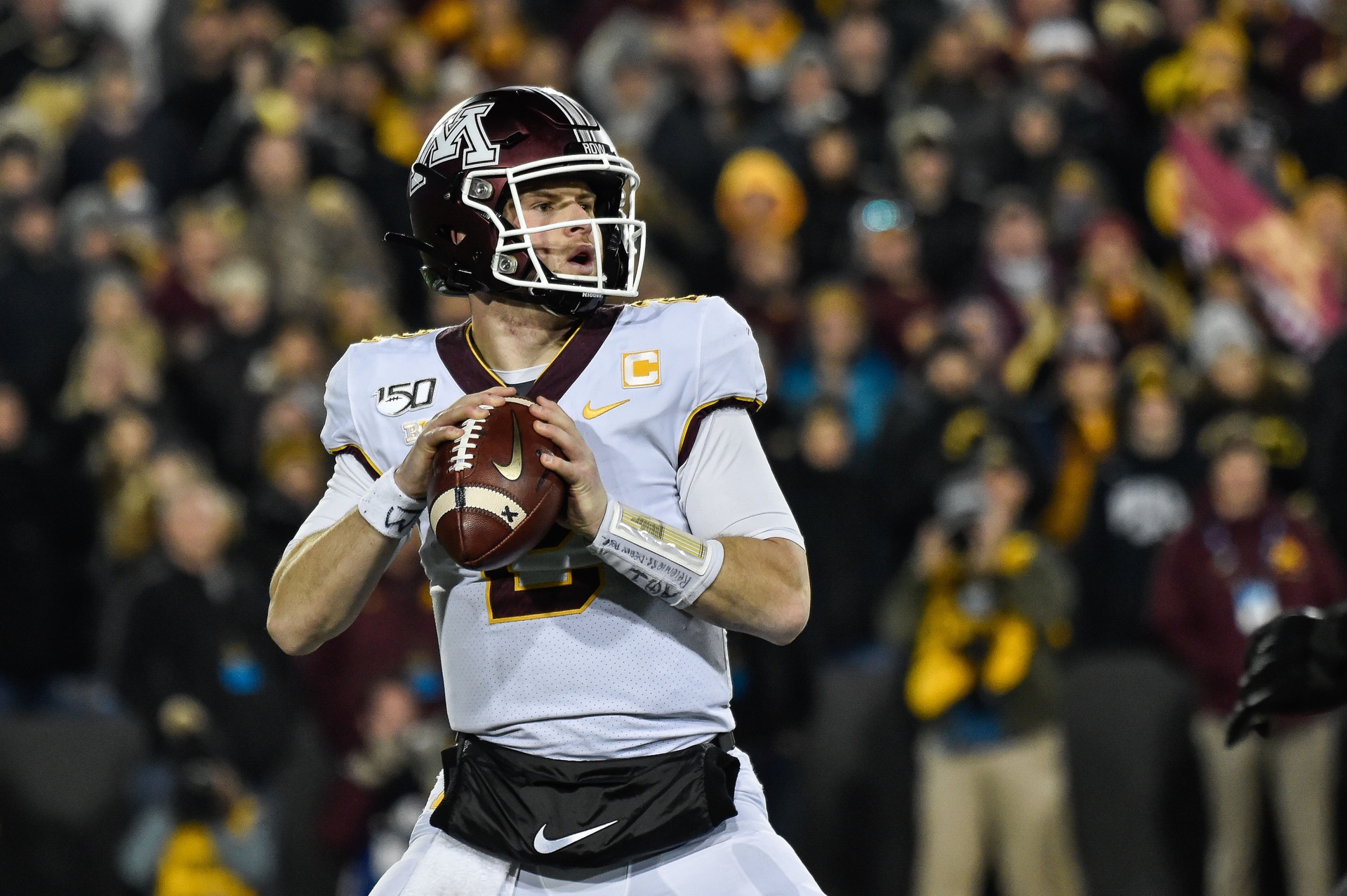 Morgan was one of the biggest surprises of the 2019 season, as he went from outside the top 100 in passing grade the year prior (66.9) to eighth (89.1). His anticipation, in particular, is among the best in the country. Morgan completed 50 passes that were 10 or more yards over the middle of the field on throws we chart as a horizontal lead (i.e., leading the receiver across the field).
Indiana may have its best football team in program history this year, and starting quarterback Michael Penix Jr. is a big reason why. Injuries have derailed his collegiate career thus far, limiting him to only six starts in 2019, but he's done everything right when on the field. Accuracy is vital to quarterback success, and no Big Ten quarterback threw a higher rate of accurate passes in 2019 than Penix (59.6%).
He's incredibly mobile, and it shows up with how well he evades sacks. No FBS quarterback converted pressure to a sack at a lower rate than Penix in 2019 (2.6%). Rarely has he committed a costly error when on the field for the Hoosiers. Penix had only three turnover-worthy plays in his six appearances, forming a rate that would rank fifth in the FBS. And the cherry on top is that the dude can sling it to all levels.
Considering the state of Northwestern's set of offensive weapons, it will be extremely difficult for Ramsey to produce at a top-10 level in 2020, but he has proven capable of doing so in the right environment. He filled in for an injured Penix at Indiana in 2019 and closed out the year with scorching hot play. Over the course of the Hoosiers' final seven games in 2019 (started five, came off bench in two), Ramsey put up a 91.1 PFF grade that ranked fifth in the FBS.
RUNNING BACK
Replacing J.K. Dobbins should be no problem for the Ohio State Buckeyes because they have one of the top backs in the country in Oklahoma transfer Trey Sermon. Injuries hindered his 2019 campaign, but he was the second-most valuable running back in college football in 2018,. Sermon broke 0.35 tackles per attempt that season, ranking third behind David Montgomery and Devin Singletary.
WIDE RECEIVER
There is a reasonable argument to be made that the top three here — Bateman, Moore and Olave — are among the five best wide receivers in college football. Among returning Power Five wide receivers, Bateman and Olave ranked third and fifth, respectively, in receiving grade last year. Moore missed most of the 2019 season due to injury, but he tied for fifth in the Power Five in receiving grade the year prior to that as a true freshman.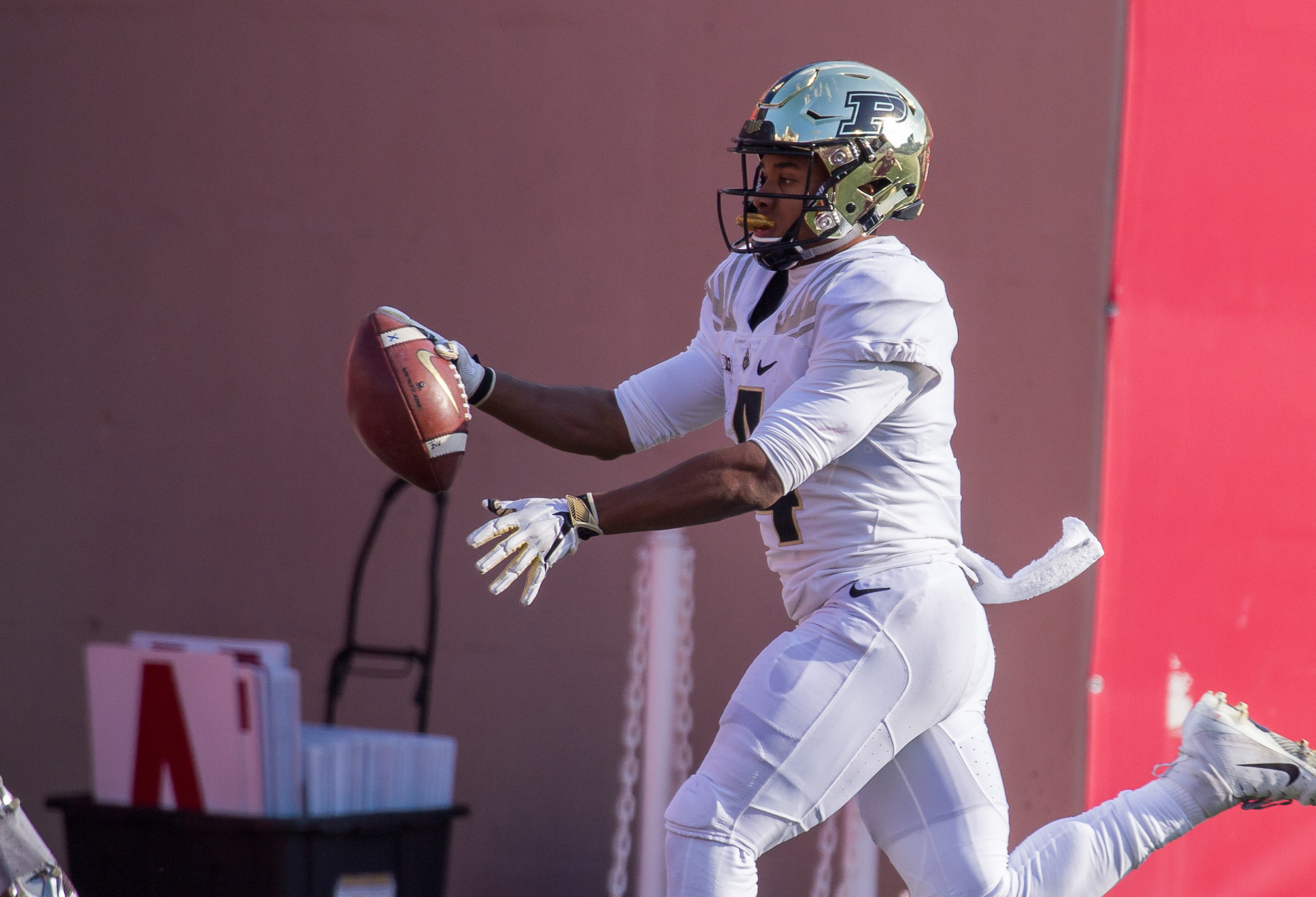 With Moore and Bell, the Boilermakers have one of the best wide receiver duos in college football. Moore is a freak athlete with his speed, agility and power — and it shows up in the open field. In 2018, he broke 34 tackles after the catch when he was open, which was 15 more than any other Power Five wideout. Bell complements Moore with his 6-foot-3 frame and deep playmaking ability. His body control downfield is top-notch — he can adjust to any off-target throw. That helped him snag 12 deep balls as a true freshman in 2019, tying for the third-most in the Big Ten.
TIGHT END
The race for the tight end All-American spot is pretty much locked up by Florida's Kyle Pitts, who is currently PFF's highest-graded tight end (95.5) is and on pace to break records. Still, both Freiermuth and Hendershot are in the running for the second-team.
Freiermuth is a powerful human at 6-foot-5, 258-pounds and is like a freight train after the catch — he averaged 6.3 yards after the catch in 2019 and broke nine tackles on 43 receptions. That, along with his ability to body defenders in tight coverage, played a part in him being the conference's highest-graded tight end in 2019 (74.6).
Hendershot is another great tight end after the catch and can threaten the seams. On targets underneath in 2019, Hendershot racked up 263 yards after the catch (over 50 yards more than any other tight end) and 11 broken tackles (tied for the most). He generated seven explosive plays of 15-plus yards on seams, too, leading the FBS.
TACKLE
Van Lanen will look to get back to his 2018 form in 2020 — he earned a career-high 90.8 PFF grade at the position that year but dipped down to 72.6 in 2019. That's still a great mark, good enough to rank eighth in the conference, but he wasn't at that elite level we saw in 2018.
Nebraska's Brenden Jaimes is one of the more interesting tackles to watch this year, given how great he was in pass protection and how poor he was as a run-blocker in 2019. In the Big Ten, only Tristan Wirfs's 88.1 grade in pass protection topped Jaimes' mark. But at the same time, he failed to produce at an average level in the run game. Jaimes' 63.0 run-block grade ranked 19th among 30 qualifying tackles.
GUARD
Davis had originally opted out of the season to train for the 2021 NFL Draft, but he decided to return to Ohio State once the fall season was reinstated. And that's a very good thing for the Buckeyes considering he is the best interior offensive lineman in the country. He was one of five Power Five guards to play at least 300 pass-blocking snaps in 2019 and not allow a single sack or hit, and he also ranked third among that group in run-blocking grade.
CENTER
Linderbaum ended his first year playing center in 2019 — after switching positions from the defensive line — as the fifth-highest-graded center in the FBS. He's a freaky athlete who excelled as both a pass-blocker and a run-blocker last year, as he was one of just two Power Five centers to earn a grade above 79.0 in both facets.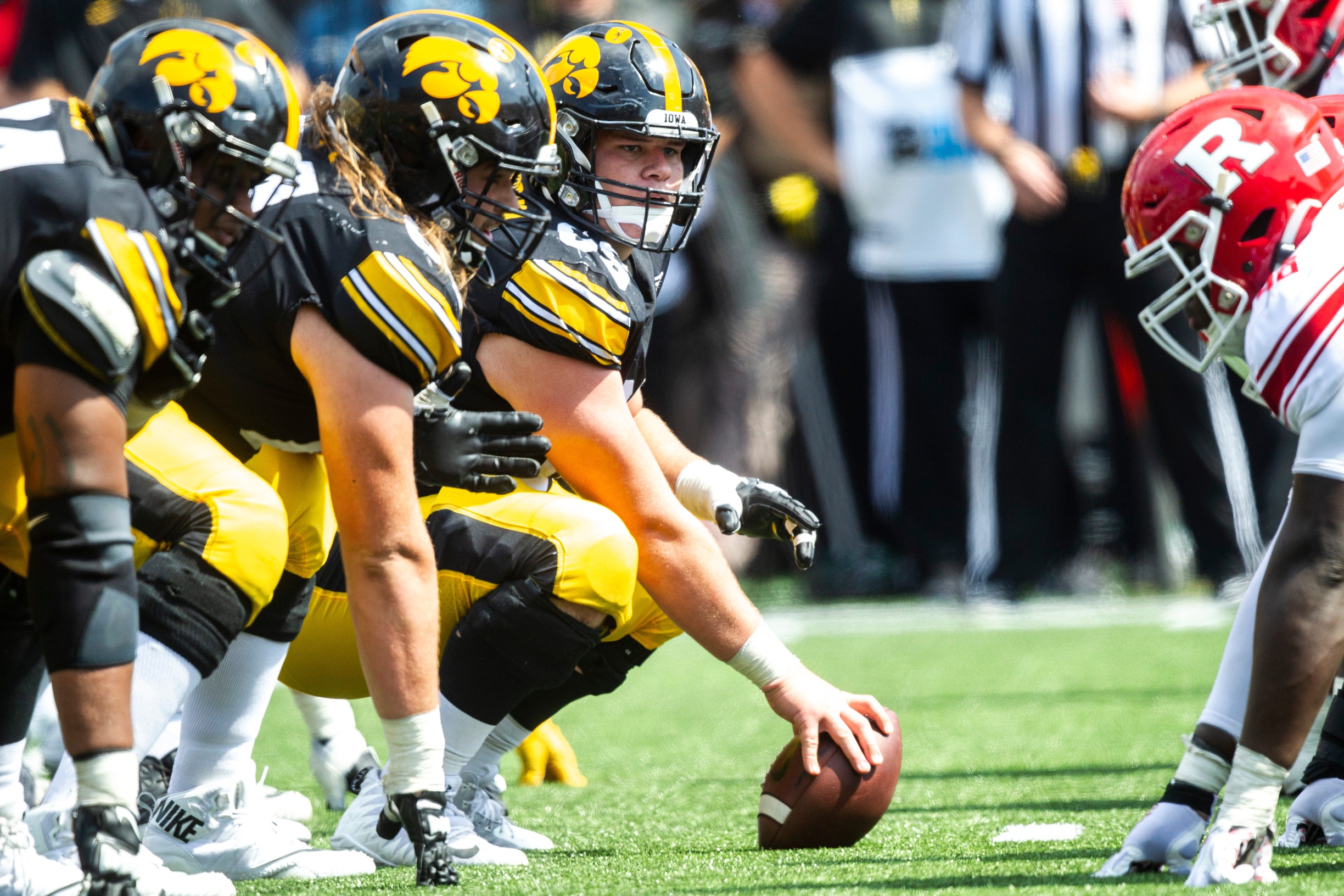 Schmitz is an interesting prospect because he isn't even a starter for the Golden Gophers. Yet, he has shown enough to put his name in the ring as one of the conference's best players at the position. He played 452 snaps in 2019 and logged an 85.0 PFF grade — the third-best in the FBS. Schmitz is a nasty run-blocker and was stout in pass protection with just one loss on his true pass sets last year.
INTERIOR DEFENSIVE LINE
Keep an eye on Heflin because of the immense success he had at Northern Illinois. He earned a 90.1 PFF grade for the Huskies in 2019, ranking sixth in the entire FBS. It's a whole new ball game in the Big Ten, though, and it won't be easy to replicate that kind of production.
The Badgers have a big-time breakout candidate here with Benton. The 6-foot-4, 315-pound nose tackle logged 245 snaps as a freshman and excelled in limited action as a pass-rusher. His 13.1% pressure rate at nose tackle tied for first in the FBS last season, and he even got to Ohio State's Wyatt Davis.
EDGE
Two of PFF's favorite breakout candidates find themselves in the top five here — Penn State's Jayson Oweh and Minnesota's Boye Mafe.
We saw Oweh serve as a backup in 2019, but it was quite apparent that his athleticism was ridiculous enough to expose any middling tackle. Humans his size (6-foot-5, 247 pounds) aren't supposed to move the way he does. Oweh rushed the passer 207 times in 2019, recorded 31 pressures, forced two fumbles and won on over 20% of his reps.
On 207 career pass-rush snaps, he has generated a 19.3% win rate and an 82.9 pass-rush grade. Mafe can really win from anywhere on the line and is a name to watch when the college football season gets underway.
LINEBACKER
Sanborn's blitzing and coverage ability overshadows his high missed tackle rate. The Wisconsin Badger generated a 77.3 pass-rush grade and 23 pressures on 83 pass-rush snaps in 2019. In coverage, he posted an 83.8 grade while intercepting three passes and breaking up another three en route to a 37.4 passer rating allowed.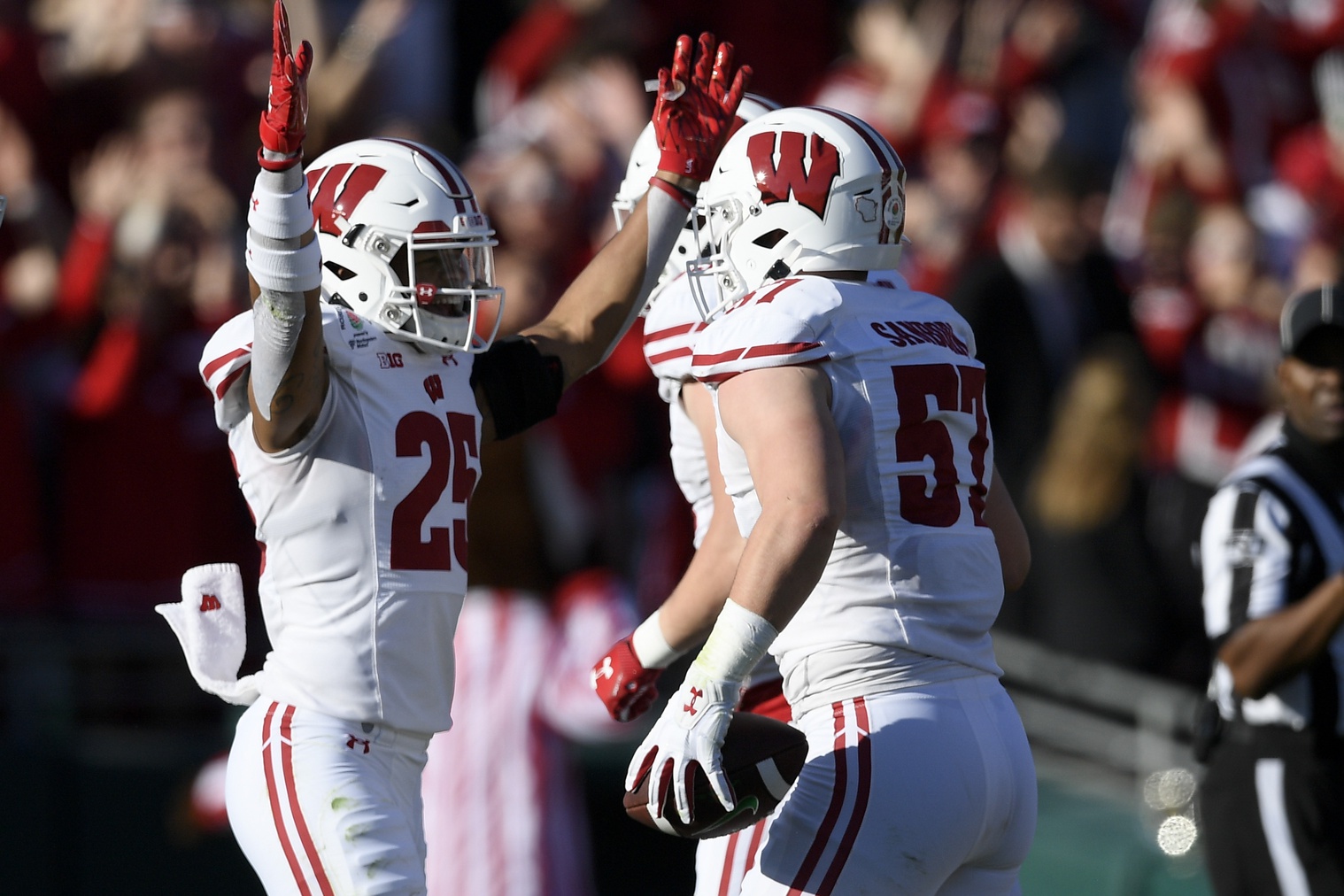 How about that Northwestern linebacker duo of Fisher and Gallagher? While Fisher has lacked consistency throughout his three years (PFF grade dropped from 90.6 to 84.2 to 71.4), you can count on him to be a playmaker with his physical play style. He has 12 pass breakups plus interceptions and 11 forced fumbles in his career. Gallagher had a big-time breakout year in 2019 after struggling for the first few weeks. He ranked sixth in PFF grade among FBS linebackers from Week 5 and on. He looked completely different in coverage for the better. These two are easily the best non-quarterbacks on Northwestern's roster.
CORNERBACK
Last year's true freshman class had a multitude of standout corners, with the most notable being LSU's Derek Stingley Jr., Florida's Kaiir Elam and Oregon's Mykael Wright. But there were a few who didn't get the same deserved national recognition, and one of those players was Indiana's Tiawan Mullen. He had the second-highest forced incompletion rate in college football last year (30%) as well as the third-highest rate of contested targets forced (43%).
Wade is going to garner a lot of attention from the draft community this year as he makes the transition from the slot to the outside. He locked down the slot last season, allowing just seven first downs in coverage while intercepting one and forcing seven incompletions. With his tools, we believe Wade will have success on the outside. The only question is, to what degree?
St-Juste is one of college football's most underrated players and has had a bit of a rollercoaster collegiate career. He was a four-star recruit in the 2017 class before committing to Michigan, where he played only three defensive snaps for the Wolverines as a freshman before missing all of 2018 due to injury. Then, it was reported he was medically retiring from the game. But that obviously didn't hold.
He transferred to Minnesota, earned a big role on the Gophers' defense and thrived. St-Juste is a tremendous athlete with great length at 6-foot-3, which aided in him recording a 26.2% forced incompletion rate in 2019 — the eighth-best mark in the FBS. And remember, this was his first real taste of collegiate action and his first time consistently on the field since high school in 2016. 
SAFETY
Just like his teammate Sanborn, Burrell has tackling issues that would normally raise a red flag (17 misses on 71 attempts in 2019). But his playmaking in coverage makes it easy to look past those concerns. Whether he was playing free safety, in the slot or in the box, Burrell thrived with nine combined pass breakups and interceptions on the year.
Brisker is the secret superstar of Penn State's defense. The JUCO product had no trouble with the jump in competition, as he put up the fifth-best coverage grade among Big Ten safeties in his first year as a Nittany Lion in 2019. He is an incredibly explosive player who is bound to be a playmaker for Penn State.