A locked-in college football schedule with no sudden changes. Tailgates with friends and family. Stadiums packed to the brim. Students storming the streets after a major upset win. It's all coming soon — the college football landscape is returning to normal.
The 2021 college football season kicks off in just under two months, and what better way to prepare than by running through PFF's preseason awards. The 600-page PFF College Football Magazine and PFF Preseason All-America Team dropped on Monday, and 10 all-conference teams will be hitting PFF.com throughout the week.
Below is the PFF 2021 Preseason All-Pac-12 Team. The side was selected with the help of PFF grades and advanced statistics, which are now available to PFF's CFB Premium Stats+ Subscribers.
Note: Washington edge defender Zion Tupuola-Fetui would have earned an EDGE spot had he not suffered a torn Achilles that will keep him out of the 2021 season.
QUARTERBACK
Slovis is skating on thin ice here but holds onto the top spot. He shattered expectations as a true freshman in 2019, earning an 80.8 passing grade and displaying precise accuracy. Still, Slovis often looked like a first-year player, with one or two head-scratching forced throws per game. He also struggled to hold onto the ball in collapsing pockets.
Instead of taking that next step forward, Slovis was the same player in 2020. He earned an 80.1 passing grade in six starts, which featured 13 turnover-worthy plays but top-notch accuracy underneath.
He isn't in the elite tier yet, but he has the skill set to make the jump to elite status in 2021.
Second-Team: Dylan Morris, Washington
Third-Team: Jayden de Laura, Washington State
Honorable Mention: Chase Garbers, Cal
RUNNING BACK
In Nick Rolovich's offense, receiving ability is a top priority at the running back position. Borghi played in just one game under his new head coach in 2020 due to injury, but he's shown more than enough to arguably be the best receiving back in the country. In 2018 and 2019, Borghi produced the sixth-best combined receiving grade at the position in the FBS. He saw 157 targets and dropped just four while dazzling after the catch with his unreal speed. On 139 catches in those two years, Borghi broke a whopping 48 tackles.
He has reportedly clocked a 4.35-second 40-yard time and, according to The Denver Post, was called "a genetic freak" by the doctor overseeing his rehab from a torn ACL and MCL in high school. That's a fair way to describe Borghi when he's on the field, too.
Second-Team: Chip Trayanum, Arizona State
Third-Team: CJ Verdell, Oregon
Honorable Mention: Michael Wiley, Arizona
White came to the Sun Devils from JUCO prior to 2020 and flashed in Year 1 with the program in both major facets. On the ground, he produced 10 runs of 10-plus yards on 42 carries en route to an 82.9 rushing grade. In the passing attack, he turned four of his eight targets into a gain of 15-plus yards and notched an 86.0 receiving grade.
Second-Team: Brittain Brown, UCLA
Third-Team: Deon McIntosh, Washington State
Honorable Mention: Deshaun Fenwick, Oregon State
WIDE RECEIVER
London is officially dedicating his college career to football full time after also playing basketball at USC. And he is arguably the best wideout in the Pac-12. London was a 2019 four-star recruit who earned a major role right away in a loaded USC wide receiver unit. He emerged in Week 8 as a true freshman, and from that point on, he was one of the 10 highest-graded players at the position in the conference. This past year, London tied for third in receiving grade in the conference, with the two players ahead of him — Simi Fehoko and former teammate Amon-Ra St. Brown — now in the NFL.
Standing at 6-foot-5 and weighing 210 pounds, London has a massive catch radius and good ball skills. He ranks second among Power Five wide receivers in drop rate when targeted beyond the line of scrimmage (2.9%). London is unafraid to make plays over the middle of the field and is a weapon after the catch thanks to his size and physicality. In fact, he ranks eighth among Power Five receivers in broken tackles forced after the catch in his college career (27) despite slotting in at 53rd among that group in catches (72).
Second-Team: Michael Wilson, Stanford
Third-Team: K.D. Nixon, USC
Honorable Mention: Travell Harris, Washington State
Philips has grown into one of the conference's top slot receivers over the past two seasons. He leads the Pac-12 in slot receiving grade since 2019. Whether it's been schemed or earned against single coverage, Philips has been open at an extraordinary rate. Nearly 86% of his targets since 2019 featured separation, sitting at the 99th percentile in the FBS.
Second-Team: Bru McCoy, USC
Third-Team: Jaylen Dixon, Utah
Honorable Mention: Tahj Washington, USC
The 24-year-old Covey is back again at Utah for the 2021 season. If he can stay healthy, he's bound to be an after-the-catch weapon for the Utes. Since joining the program in 2015 (missed 2016 and 2017 due to mission trip, hurt most of 2019), Covey has recorded 41 broken tackles and averaged 8.4 yards after the catch across 134 receptions.
Second-Team: Kekoa Crawford, Cal
Third-Team: Mycah Pittman, Oregon
Honorable Mention: Devon Williams, Oregon
TIGHT END
Kuithe has some competition for the top spot among Pac- 12 tight ends, but he's the clear leader in that race for now. He's not your prototypical tight end, at 6-foot-2 and 230-pounds, and he isn't anything special when it comes to in-line blocking, but the receiving ability makes him one of the nation's best players at the position.
Kuithe is a fantastic all-around athlete, which is clear for all who watch his route-running and production after the catch. Over the past two years, he has broken 16 tackles on 59 receptions while averaging 7.3 yards after the catch per reception and generating an 86.7 receiving grade. Of course, Kuithe will need to work on his ball skills, as he's a body-catcher by nature and doesn't impress in contested scenarios, but it hasn't been a death knell to his success so far. He is capable of taking home the Mackey Award, given to college football's most outstanding tight end, in 2021.
Second-Team: Greg Dulcich, UCLA
Third-Team: Cade Otton, Washington
Honorable Mention: DJ Johnson, Oregon
OFFENSIVE TACKLE
Diesch was a four-star recruit and a fringe top-100 player in the 2016 class who spent the first four seasons of his college career at Texas A&M. He didn't make a single start in that span, playing just over 130 snaps overall. He then transferred to Arizona State for the 2020 season, starting only four games at left tackle due to the impact of COVID-19.
But the early signs were promising. Diesch posted an 81.3 PFF grade, trailing only 2021 first-round draft pick Alijah Vera-Tucker for the best among Pac-12 tackles. Keep an eye out for a big breakout from Diesch as he takes on a full-time starting job for the first time in his college football career.
Second-Team: Victor Curne, Washington
Third-Team: Alec Anderson, UCLA
Honorable Mention: Steven Jones, Oregon
Lucas has played lights-out since taking over a starting job as a redshirt freshman in 2017. He has played more true pass sets than any other tackle in the FBS since 2018 (652) and leads all active college football tackles in pass-block grade and pressure rate allowed on those plays.
Second-Team: Jaxson Kirkland, Washington
Third-Team: Sean Rhyan, UCLA
Honorable Mention: Walter Rouse, Stanford
INTERIOR OFFENSIVE LINE
Saffell is an undersized interior offensive lineman, but that hasn't stopped him from being one of the Pac-12's top pass protectors over the past few years. Since 2018, he owns an 80.9 pass-block grade on true pass sets, the third-highest mark among the conference's interior offensive linemen.
Second-Team: Alex Forsyth, Oregon
Third-Team: Nathan Eldridge, Oregon State
Honorable Mention: Josh McCauley, Arizona
West performed admirably as a true freshman in 2019 after moving from center to right guard in Week 3 (70.0 PFF grade from that point on). He then took his play to new heights at left guard in 2020. In four starts, West earned a grade above 75.0 as both a pass blocker and a run blocker, paving the way to the seventh-best overall grade among Power Five guards.
Second-Team: Jarrett Kingston, Washington State
Third-Team: Heneli Bloomfield, Oregon State
Honorable Mention: McKade Mettauer, Cal
Bainivalu was a small sample darling his first year of seeing substantial game action in 2019. He saw ample time on the field for four outings — two of which were starts — and finished with a 73.4 PFF grade. While he didn't get the chance to enjoy a full year in a starting job in last year's pandemic impacted season, he still got some playing time and maintained that strong play. Across his 264 snaps in four games, Bainivalu recorded a 74.1 PFF grade and didn't allow a single sack or hit.
Second-Team: Ryan Walk, Oregon
Third-Team: Jake Levengood, Oregon State
Honorable Mention: Andrew Vorhees, USC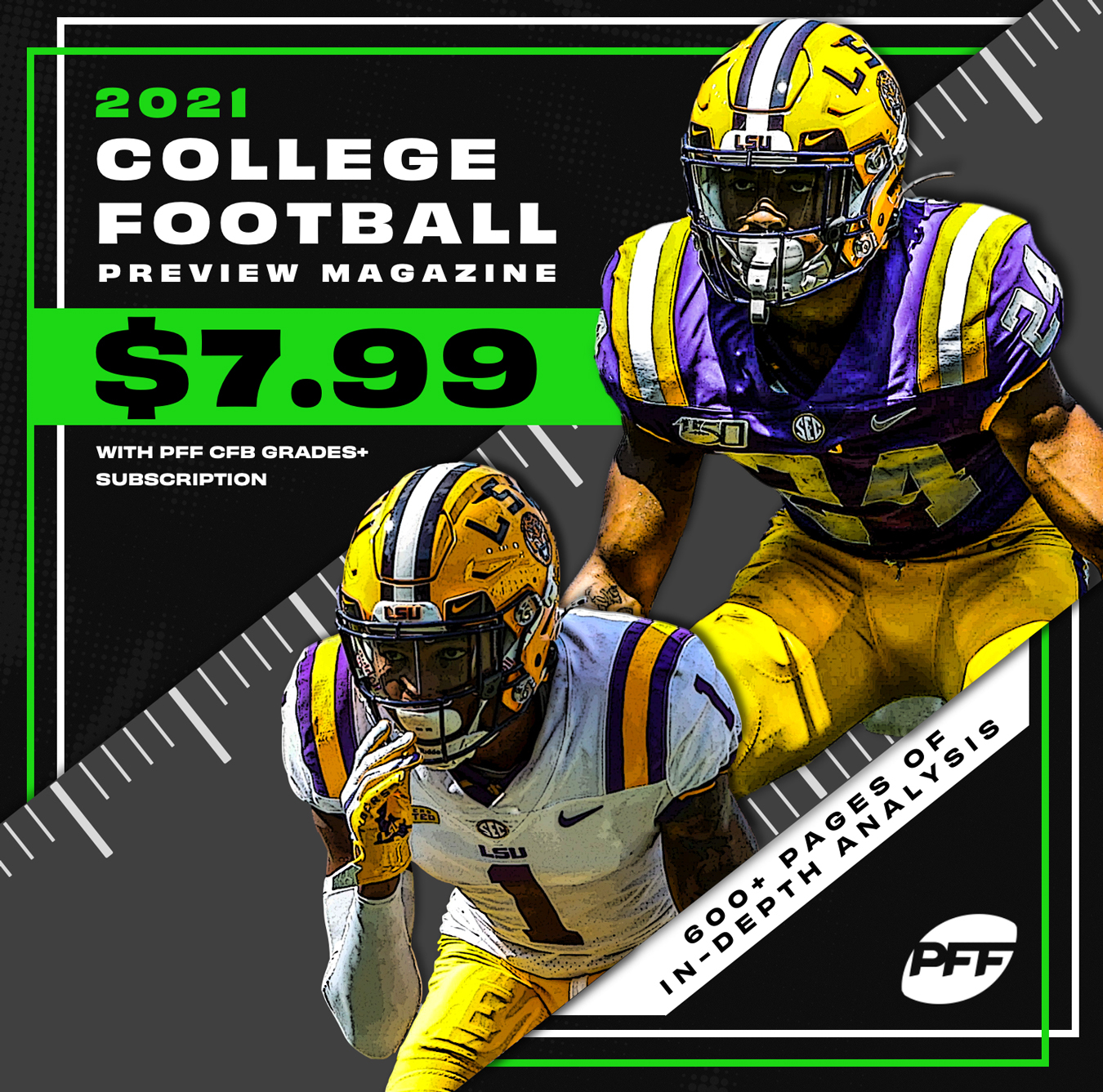 INTERIOR DEFENSIVE LINE
Arizona State's defense underwent a scheme tweak in 2020, which moved Lole from a versatile role that predominantly saw him on the edge to an every-down interior defender. And that paid big dividends, as expected. He was one of the 10 highest-graded Power Five defensive linemen against the run when playing defensive tackle in 2019.
That remained the case in 2020, but he was even better against the run and looked far more polished as a pass rusher. In fact, Lole was the third-highest-graded Power Five defensive lineman when playing 3-technique this past season. The fact that he played only four games in 2020 and still came away with 18 pressures and 17 defensive stops is quite impressive.
Second-Team: Brett Johnson, Cal
Third-Team: Tuli Tuipulotu, USC
Honorable Mention: Simon Sandberg, Oregon State
Booker has enough on tape at this point to where it's clear he isn't going to do much as a pass rusher. He ranks 14th of 20 Pac-12 interior defenders in pass-rush grade since his true freshman year in 2018. Against the run, however, Booker will be an impact player. He leads the conference in both run stops (38) and tackles for loss or no gain (13) since 2019.
Second-Team: Tuli Letuligasenoa, Washington
Third-Team: Viane Moala, Utah
Honorable Mention: Otito Ogbonnia, UCLA
EDGE DEFENDER
Thibodeaux's 2020 campaign started slowly, but he turned on the jets down the stretch and looked like an elite edge defender over his final four games (out of seven on the year). Thibodeaux was one of the highest-graded players at his position over that span, boasting an 87.2 PFF grade that included a 12-pressure performance against USC and Alijah Vera-Tucker — a first-round pick in 2021 — in the Pac-12 championship game.
If you were to build a perfect college pass rusher among those playing next year, Thibodeaux's get-off and bend would be precisely what you'd want. He is an elite talent who is bound for a monstrous 2021. Be sure to circle the calendar for Week 2 when he goes up against the best tackle duo in college football — Thayer Munford and Nicholas Petit-Frere — as the Ducks take on the Buckeyes in Columbus, Ohio.
Second-Team: Mitchell Agunde, UCLA
Third-Team: Terrance Lang, Colorado
Honorable Mention: Drake Jackson, USC
Bowman has been an odd evaluation throughout his four college seasons as a pass rusher. Instead of improving each year, he's regressed. His pass-rush grade went from 77.2 in 2017 to 75.8 in 2018 to 72.4 in 2019 to a 68.7 mark across two outings in 2020. He has flashed an ability to take over; he just needs to show some consistency.
Second-Team: Carson Wells, Colorado
Third-Team: Mike Tafua, Utah
Honorable Mention: Nick Figuera, USC
LINEBACKER
He may have only seven career starts to his name, but the 2018 two-star walk-on has done enough to cement his place as one of the top off-ball linebackers in college football. Ulofoshio has yet to have a bad outing in his two years of game action at Washington, proving to be a consistent playmaker in every facet of play.
Across 452 snaps since 2019, Ulofoshio has posted a grade above 82.0 against the run, as a pass-rusher and in coverage. No one else in the Power Five accomplished the feat in that span. His tackling is no issue, either, as he missed just five times across 93 career attempts, forming a 5.4% missed tackle rate that ranks third among Power Five linebackers.
Second-Team: Noah Sewell, Oregon
Third-Team: Nate Landman, Colorado
Honorable Mention: Jahad Woods, Washington State
After performing fairly well in his first year as a starter in 2019, with a 69.5 PFF grade, Lloyd noticeably refined his game in 2020. In his five outings over the shortened season, he produced an 82.2 PFF grade that ranked fifth among Power Five off-ball linebackers who played at least 250 snaps.
He has the range desired at the position, and Utah can count on him to make plays against the run and as a blitzer. Lloyd ranked sixth among Power Five off-ball linebackers in run-defense grade (86.8) and second in run-stop rate (16.1%). As a pass rusher, he notched an 83.5 grade and came away with nine pressures on 47 rushes.
Don't be surprised if Lloyd's name gets floated around in the Butkus Award conversation by season's end, as he's a candidate to take his play to elite status in 2021.
Second-Team: Avery Roberts, Oregon State
Third-Team: Levani Damuni, Stanford
Honorable Mention: Nephi Sewell, Utah
CORNERBACK
After bursting onto the scene as a true freshman in 2019, McDuffie again looked the part in 2020. The 5-foot-11, 195-pound cornerback has earned an impressive 88.3 coverage grade in his college career. He is one of just three outside corners in the Power Five who has generated a coverage grade above 75.0 in both man and zone coverage since 2019.
And McDuffie might also be the best tackling cornerback in college football. He has missed just two of his 64 career attempts while earning a run-defense grade that ranks second among Power Five corners over the past two years.
Second-Team: Jaylen Watson, Washington State
Third-Team: Kyler Gordon, Washington
Honorable Mention: Jack Jones, Arizona State
While Wright endured a rocky 2020 campaign, make no mistake: He's right behind Washington's Trent McDuffie for top cornerback in the Pac-12, and he's one of the 15 best players at the position in the FBS. After all, he does have the second-highest career grade when playing press-man coverage among returning FBS cornerbacks and the second-best career forced incompletion rate among that same group.
Second-Team: Chase Lucas, Arizona State
Third-Team: Elijah Jones, Oregon State
Honorable Mention: Kaleb Ford-Dement, Washington State
SAFETY
Lewis played just 29 defensive snaps throughout his first three years on campus, but he ended up taking on a starting job for 2020. The versatile weapon logged over 45 snaps each on the defensive line, in the box, at deep safety and in the slot. He covered the slot more than anything and allowed just four first downs while forcing three incompletions and making seven passing stops.
Second-Team: Vonte Davis, Utah
Third-Team: Daniel Scott, Cal
Honorable Mention: Isaiah Mays, Arizona
Lake has been playing more true safety than slot cornerback as of late, which is ideal considering that's where he's been at his best throughout his college career. When not in the slot since 2018, Lake owns an 88.8 coverage grade that ranks fourth among Pac-12 safeties. When covering the slot, he dips down to 14th in coverage grade with a 69.4 mark.
Second-Team: Verone McKinley III, Oregon
Third-Team: Elijah Hicks, Cal
Honorable Mention: Cameron Williams, Washington
FLEX D
Blackmon transferred to Colorado prior to the 2018 season after one year at the College of San Mateo and served in a limited role in his first season with the Buffaloes. He began 2019 as a starting outside corner but played in only four games before being shut down for the year with an injury. He came back fully healthy in 2020 and had a breakout year, starting all six of Colorado's games and allowing the lowest catch rate of any outside cornerback in the Pac-12. He also tied for first among that same group in forced incompletion rate. And he accomplished that despite playing a fairly high rate of press-man coverage.
Blackmon played press-man on roughly 29% of his coverage snaps in 2020. On the 10 targets he saw on those plays, he allowed no catches while forcing four incompletions. His grade on those plays trailed only LSU's Eli Ricks for the best in the Power Five. Blackmon may be thin, but he has good length, is well-balanced and is just a savvy player in coverage. Don't sleep on him heading into 2021.
Second-Team: Josh Drayden, Cal
Third-Team: Brendan Radley-Hiles, Washington
Honorable Mention: Cam Johnson, UCLA
KICKER
First-Team: Jadon Redding, Utah
Second-Team: Nicholas Barr-Mira, UCLA
Third-Team: Parker Lewis, USC
Honorable Mention: Henry Katleman, Oregon
PUNTER
First-Team: Ben Griffiths, USC
Second-Team: Michael Turk, Arizona State
Third-Team: Ryan Sanborn, Stanford
Honorable Mention: Tyler Loop, Arizona
KICK RETURNER
First-Team: D.J. Taylor, Arizona State
Second-Team: Nathaniel Peat, Stanford
Third-Team: Mykael Wright, Oregon
Honorable Mention: Giles Jackson, Washington
PUNT RETURNER
First-Team: Britain Covey, Utah
Second-Team: Kyle Philips, UCLA
Third-Team: Trent McDuffie, Washington
Honorable Mention: Nikko Remigio, Cal