Coverage might be more important than pass rush, but getting after the quarterback on a consistent basis is still certainly a great advantage for a football team.
Continuing on in our preview of the 2021 college football season, PFF is diving into the teams capable of putting constant pressure on opposing quarterbacks. Below are PFF's top 10 pass-rush units heading into the 2021 college football season, chosen based on a variety of factors, including PFF's College Football Preview Magazine, PFF grades, advanced stats and, of course, the tape.
Subscribe to
While the Sooners lost Ronnie Perkins, who earned a 90.4 pass-rush grade in 2020, to the NFL, their defensive line is still going to get after the quarterback at a high level.
For starters, they return edge defender Nik Bonitto, who led the FBS in pass-rush grade (93.6), pass-rush win rate (28%) and pressure rate generated (25.7%) in 2020. Bonitto ranks in the top five in all three metrics among Power Five edge defenders since PFF began grading college football seven years ago. His explosiveness and athleticism caused headaches for every offensive tackle he faced, and no lineman succeeded in shutting him down in 2020. His lowest win rate in a single game this past year sat at 17.6% — a pretty solid day for most FBS edge rushers.
Isaiah Thomas pairs with Bonitto, and while he primarily lined up at defensive tackle last season, he was far more dominant playing defensive end. The 6-foot-5, 267-pound Sooner recorded a 21.9% pressure rate when playing on the edge, third-best at the position in the FBS.
Jalen Redmond, who opted out of the 2020 season, returns for the 2021 season, too. The 2018 four-star recruit enjoyed a breakout year in 2019 when he earned a 76.3 pass-rush grade. When isolating his pass-rush performance to just true pass rushes (i.e., removing three-man rushes, play action, screens, etc.), his grade spiked to the 90th percentile among interior defensive linemen. Redmond recorded a 27% win rate on true pass rushes, which was the sixth-highest mark among Power Five interior defensive linemen. He'll join forces with interior defensive lineman Perrion Winfrey, who is fresh off a season in which he led the Big 12 in total pressures at his position.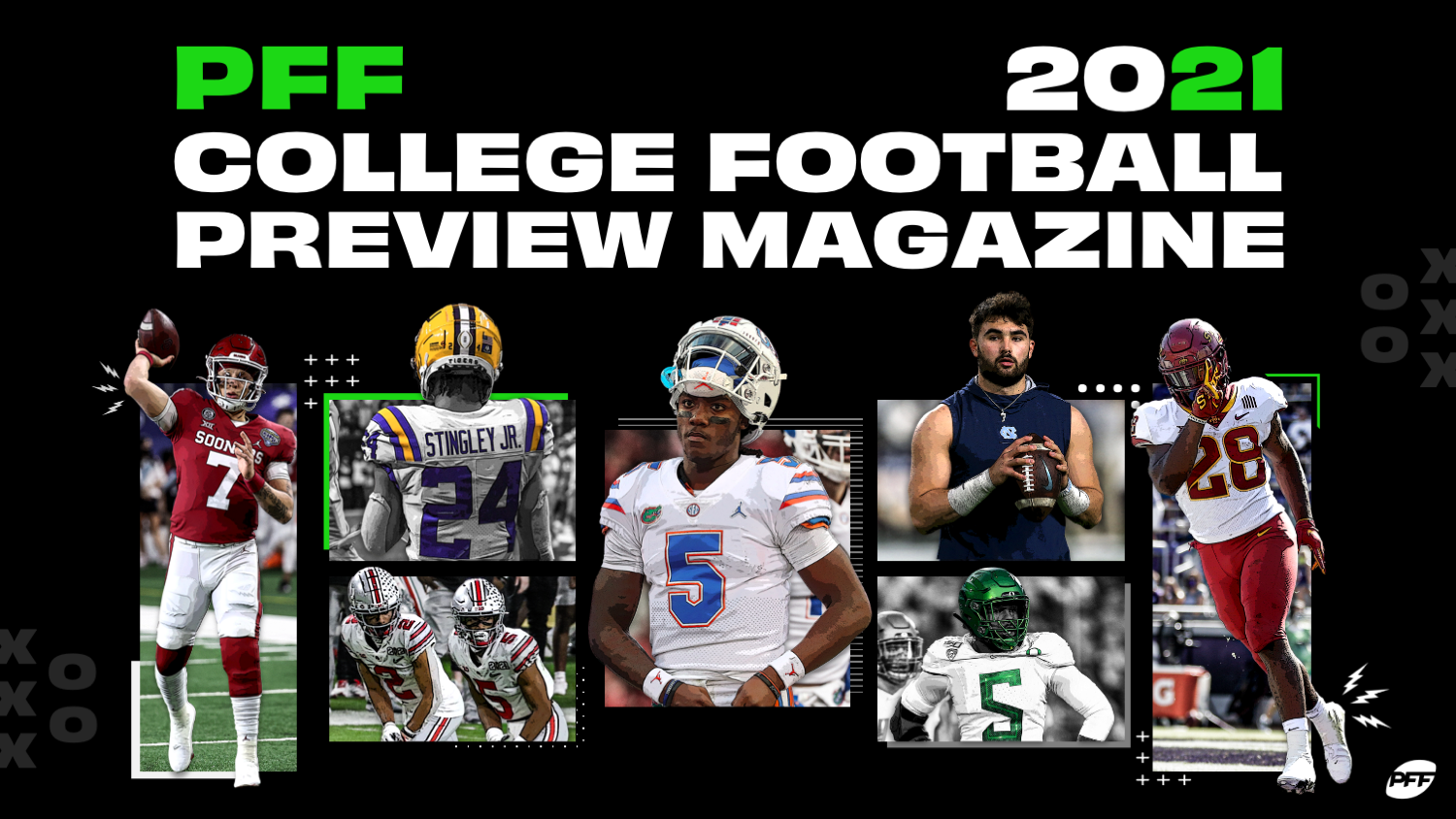 Ohio State's secondary may not be the best in America in 2021, but the same can't be said for the pass-rush unit. Led by interior defensive lineman Haskell Garrett and edge defenders Tyreke Smith and Zach Harrison, this group has the chance to be special.
Garrett didn't consistently see the field until the 2020 season after just over 400 snaps throughout his first three college seasons. Yet, he broke out in a big way in 2020 with an astounding 88.9 pass-rush grade that trailed only Alabama's Christian Barmore, now in the NFL, for the best in the Power Five. Garrett may have generated only 18 pressures in eight games, but he won on a consistent basis. His 17.9% win rate also trailed only Barmore for the best mark in the Power Five. He is a force of nature with heavy hands who is bound to wreak havoc again in 2021.
Smith got an opportunity to showcase his talents in 2020, and he looked as good as many had hoped. He posted an 85.1 pass-rushing grade to go along with a 25.3% win rate (fourth in the FBS) and a 22.3% pressure rate (second in the FBS). He routinely showed an ability to attack with quickness and win with power. Expect that breakout to continue in 2021.
Harrison was rather quiet as a true freshman in a limited role in 2019, but the consensus five-star recruit stepped up in the middle of Ohio State's shortened 2020 season. Over the course of his last four games, Harrison notched a 90.0 PFF grade and 19 pressures on 102 rushes. He's only scratching the surface of what he can become.
And don't forget about 2021 No. 4 overall recruit Jack Sawyer. He hasn't played a down of football since 2019 after getting hurt and subsequently opting out of the 2020 season to end his high school career, but the edge defender showed what kind of potential he possesses in Ohio State's spring game. Sawyer is gifted from a tools perspective and could be next in line to become a Buckeye pass-rushing great.
Georgia's defensive line — like nearly every position group on the team — has a sky-high ceiling. Despite losing key contributors Azeez Ojulari, Malik Herring and Jermaine Johnson, the Bulldogs are capable of surpassing even Oklahoma or Ohio State for best pass-rush unit in college football by the season's end.
Leading the group is edge defender Adam Anderson, who is a safe breakout bet for 2021 as he takes on a starting job for the first time. The 2018 five-star recruit has racked up just shy of 200 pass-rush snaps in his college career, recording a 90.9 pass-rush grade, 24.5% win rate and 23.7% pressure rate.
Another promising edge defender is Nolan Smith. He doesn't have the sizzling production on a small sample like Anderson does, but he definitely possesses the tools to be great. Smith came to Georgia as a raw athlete, and after two years with the team, he's pretty much no different. His lateral agility and explosiveness are rare, but he has yet to show any technical refinement in his game. He's earned only three single-game pass-rush grades above 70.0 in his limited time on the field, one of which came against Murray State in 2019 when he solely worked speed to power and obliterated his lesser opponent. But again, don't be surprised if he breaks out, given his potential.
Continuing the trend of uber-athletic breakout candidates with limited high-level play is interior defensive lineman Jalen Carter. The 2020 five-star recruit saw significant playing time as a true freshman and began piecing it together down the stretch, recording 10 pressures and a 73.2 pass-rush grade over his final four games.
Devonte Wyatt is one of Georgia's most experienced players. His sack numbers might be low, but pressure is more predictive of a pass rusher's skill set. He's posted a 73.3 pass-rush grade, 13.4% win rate and 52 pressures over the past two seasons.
The Bearcats return the best pass rusher in the Group of Five in edge defender Myjai Sanders. He broke out in 2019 with an 82.8 pass-rushing grade before taking his play to elite status in Year 3. The 6-foot-5, 258-pound speed rusher posted a 90.1 pass-rushing grade in 2020 that featured four or more pressures in all but one of his games played (he had three in his worst pass-rush outing of the year). His blend of length, strength and explosiveness is just too much for most offensive tackles to handle.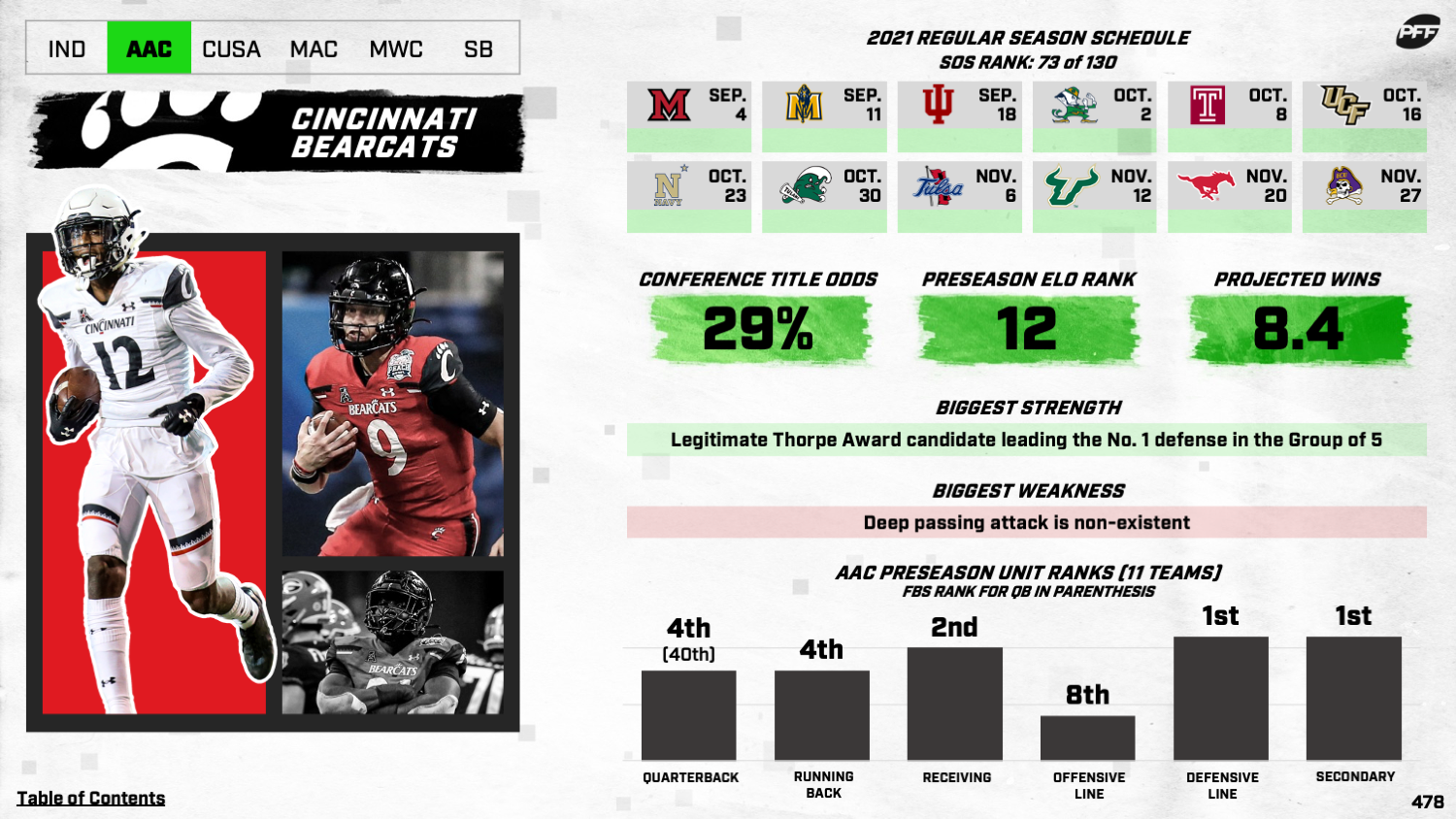 There's plenty of promising players behind Sanders, too, despite Cincinnati losing its No. 2 pass rusher, Elijah Ponder. Curtis Brooks returns for his sixth season and will anchor a starting spot after emerging the past couple of years in a versatile role. Playing up and down the Bearcats' line, Brooks boasts a 77.9 pass-rush grade since 2019.
The Bearcats also welcome back interior defensive lineman and Cincinnati native Jowon Briggs, a Virginia transfer who was a former top-100 recruit. He is full of power and has all the traits to be a consistent pocket pusher. He saw seven starts this past year as a true sophomore and put together decent pass-rush production, considering he played half his pass-rush snaps at 0-technique. The 6-foot-1, 310-pound interior defensive lineman produced a 76.7 pass-rush grade for the season and notched an impressive 22% win rate when not playing nose tackle.
The Aggies' defensive line is special, anchored by 6-foot-4, 290-pound edge defender DeMarvin Leal. He has so much power and impressive twitch. Leal notched an 80.0-plus grade as both a run defender and a pass rusher in 2020, something only four other Power Five edge defenders accomplished this past year. Interior defensive lineman Jayden Peevy and edge defender Tyree Johnson are two other impactful players alongside him.
Peevy is coming off a late-career senior breakout season that ended with him ranking third among SEC interior defensive linemen in pass-rush grade. As for Johnson, he earned a starting spot in 2019 but was average at best with a 64.7 PFF grade. He began 2020 as a situational pass rusher before taking on a more pronounced role in Week 9 against South Carolina. His performance subsequently took off. From that point on, he was the fourth-highest-graded edge defender in the SEC (78.8).
The Tigers' defense is loaded with rising stars, including 2020 No. 1 overall recruit Bryan Bresee and 2020 No. 7 overall recruit Myles Murphy, who were each standout performers along the defensive line as true freshmen. Bresee posted an 81.2 pass-rush grade and a 14.1% pass-rush win rate, both of which ranked sixth or better among Power Five interior defensive linemen.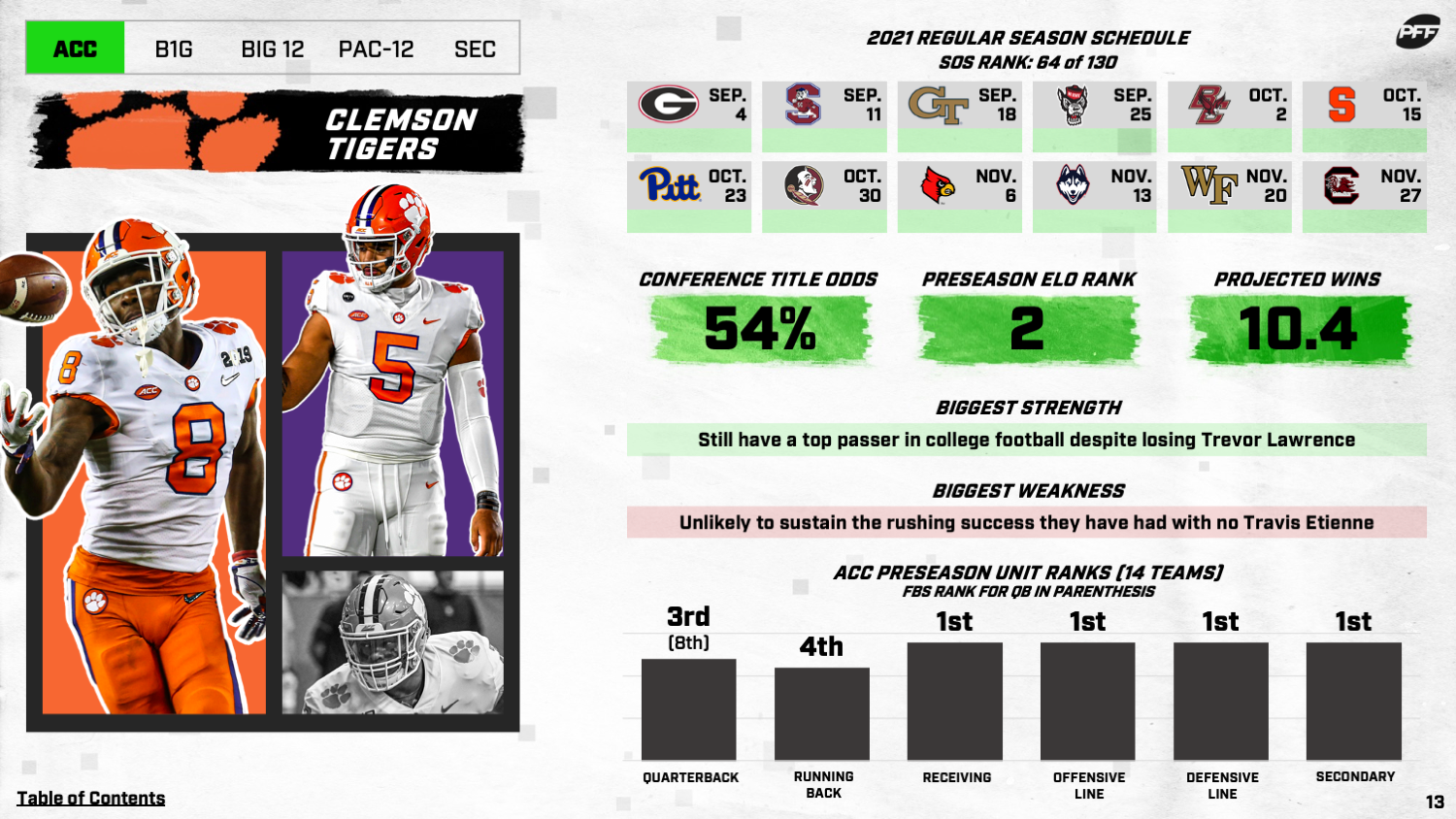 Meanwhile, Murphy made his impact against the run with a first-ranked 92.5 run-defense grade. His pass-rushing was rather streaky, but he showed high-end play that provides hope for the future. Murphy did have three pressures in the College Football Playoff against a great Ohio State offensive line, and he generated an impressive 17% win rate when the Tigers rushed four instead of three.
Interior defender Tyler Davis is another impactful player who has been a true force when playing nose tackle. Around half of Davis' pass-rush opportunities as an underclassman were at nose tackle, a position where he came away with the highest pressure rate in the Power Five. He and Bresee could challenge to be the top interior duo in college football.
Like Clemson, Alabama has a star in the making leading its defensive front. Edge defender Will Anderson Jr. came to Alabama as a five-star recruit who ranked in the top 20 of the 2020 class, according to 247Sports, and he finished his first season with a whopping 60 pressures. Not only was his total more than double that of any other true freshman, but it was also the most in the entire FBS. Sure, playing in 13 games helped, but Anderson's 17.4% pressure rate still ranked eighth in the FBS, and his 19.5% win rate ranked 24th. The tools are there for him to special — and he is only scratching the surface of what he can become.
Leading the interior is veteran Phidarian Mathis. After a couple of years of strong run defense but little to no impact as a pass rusher, Mathis turned a big corner in 2020. He raised his pass-rush grade by over 24 grading points to 79.5, the sixth-best mark in the Power Five. Mathis might not be a player who can overtake a game like Quinnen Williams or Christian Barmore, but he's going to consistently get the job done at a high level.
Pittsburgh's strong pass rush isn't going away anytime soon despite the team losing edge defenders Patrick Jones II and Rashad Weaver from 2020's unit. The group has a rising stud in interior defensive lineman Calijah Kancey, who broke out in 2020. He ranked among the top 25 FBS interior defensive linemen last season in pass-rush grade, win rate and pressure rate. And that all came despite it being his first college campaign
There are two other interior defensive linemen to keep an eye on from this group in 2020: Keyshon Camp and Devin Danielson. Camp has endured some bad injury luck throughout his time at Pittsburgh, but the former four-star recruit can be something special when healthy. Across 301 pass-rush opportunities in his career, he has earned an 80.1 pass-rush grade. Danielson, on the other hand, is a stout run defender but hasn't quite developed as a pass rusher yet.
There are also several breakout candidates to look out for on the edge. Deslin Alexandre and John Morgan are both back after producing 70.0-plus pass-rush grades in limited action last season, but perhaps the most intriguing player of the group is Habakkuk Baldonado. He missed almost the entirety of the 2020 season due to injury but still managed six pressures across his last 23 pass-rush snaps. The 6-foot-5, 250-pound edge defender performed admirably in his first college season in 2019 with a 70.8 pass-rush grade.
San Jose State's pass-rush unit is more underrated than any other in the country, mainly because of the team's top-notch edge duo, Viliami Fehoko and Cade Hall. Fehoko went from playing a versatile role mostly on the interior in 2019 to mostly outside of the tackle in 2020. It led to a career year.
He finished with an 87.0 PFF grade that ranked 10th in the FBS. He'll be interesting to monitor in 2021 after packing on 30 pounds to his 6-foot-4 frame this past offseason to get to 263 pounds. Hall managed to rank second in the Mountain West last year in PFF grade, behind only Fehoko. Those two combined for a whopping 35 sacks plus quarterback hits last season.
The Spartans also feature a top non-Power Five breakout candidate in interior defensive lineman Noah Wright, who transferred in from JUCO. He is a threat to push the pocket on any true pass-rush opportunity. His powerful 6-foot-5, 315-pound frame gifts him a physical advantage over most Group of Five linemen, an advantage that became more and more apparent as the 2020 season went on. He recorded an 89.1 pass-rush grade over his final three outings, pairing that with a 24.4% win rate. And he did that while playing everywhere across the line.
Penn State's defensive front sufferred a couple of major losses this past offseason. The Nittany Lions' two highest-graded pass-rushers, Odafe Oweh and Shaka Toney, departed for the NFL. Despite that, Penn State is still destined to field a ferocious pass-rush unit in 2021 thanks to a couple of transfer additions.
The first is Arnold Ebiketie, who comes from Temple and will handle one of the edge spots. He saw only five games of true pass rushing in 2020, but he was a force throughout that small sample. He racked up 22 pressures across 142 pass-rush snaps en route to an 88.3 pass-rush grade. He boasts some pretty good pop behind his hands and good cornering ability. Derrick Tangelo was a three-year starter for Duke and steadily improved as a pass rusher. He is fresh off a career-high 78.6 pass-rush grade that ranked seventh among Power Five interior defensive linemen.
And don't sleep on Adisa Isaac, who will be stepping into the other starting edge spot opposite Ebiketie. He has the tools to be just as impactful as Oweh and Toney were for Penn State after putting together decent production in his limited reps in 2019 and 2020. Isaac has rushed the passer just over 150 times in his college career, coming away with a 75.7 pass-rush grade.
---
Dive into PFF's guides to get the most out of the 2021 season, from the 2022 NFL Draft to college football to fantasy football! Get 40% off a PFF subscription with promo code SAVE40