No position group is more of an afterthought in football than the big men in the trenches. They're tasked with keeping the quarterback clean and opening up gaping holes for the run game. And using PFF's advanced database and play-by-play grading, which is also available to PFF's CFB Premium Stats+ subscribers, we can quantify which team really has the best offensive line in college football. As such, here are the top 10 offensive lines in college football through Week 4.
(Note: Only lines that have played a game in 2020 are eligible.)
Editor's note: Die-hard college football fans, NFL draft enthusiasts and avid college football bettors can now subscribe today to CFB Grades+ or CFB Premium Stats+ to get access to PFF's player grades, advanced stats and NCAA betting dashboard.
LT: Liam Eichenberg — 93.7 PFF grade
LG: Aaron Banks — 82.2 PFF grade
C: Jarrett Patterson — 91.4 PFF grade
RG: Tommy Kraemer  — 72.9 PFF grade
RT: Robert Hainsey — 88.6 PFF grade
The Fighting Irish came in at No. 1 in our preseason rankings, and they have certainly played like it thus far. On true pass sets (i.e., no play action, screen, quick throw, etc), The Irish have the highest-graded offensive line (88.5) in the country among those with at least 25 such reps. For perspective on how good that is, second place has a 76.2 grade. As you can find in CFB Premium Stats, the Irish offensive line is also the highest-graded unit in the run game.
Starting left tackle Liam Eichenberg leads the unit and is the highest-graded tackle in the country. He's the only tackle to produce grades above 85.0 in both pass protection and as a run blocker. Center Jarrett Patterson also leads his position in PFF grade, while guard Aaron Banks and tackle Robert Hainsey each crack the top 10 at their respective positions. Guard Tommy Kraemer may not have a top-10 grade like his peers, but it's still a solid mark relative to his counterparts. He has also allowed just one pressure in 2020.
LT: Brady Christensen — 91.8 PFF grade
LG: Clark Barrington  — 90.8 PFF grade
C: James Empey — 86.8 PFF grade
RG: Tristen Hoge — 94.9 PFF grade
RT: Chandon Herring  — 74.4 PFF grade
BYU's offensive line opened up the season against Navy with one of the most dominant showings we have ever seen in the PFF College era. Four of the five starting offensive linemen produced a PFF game grade above 90.0, and none of the five allowed a single pressure on 21 dropbacks.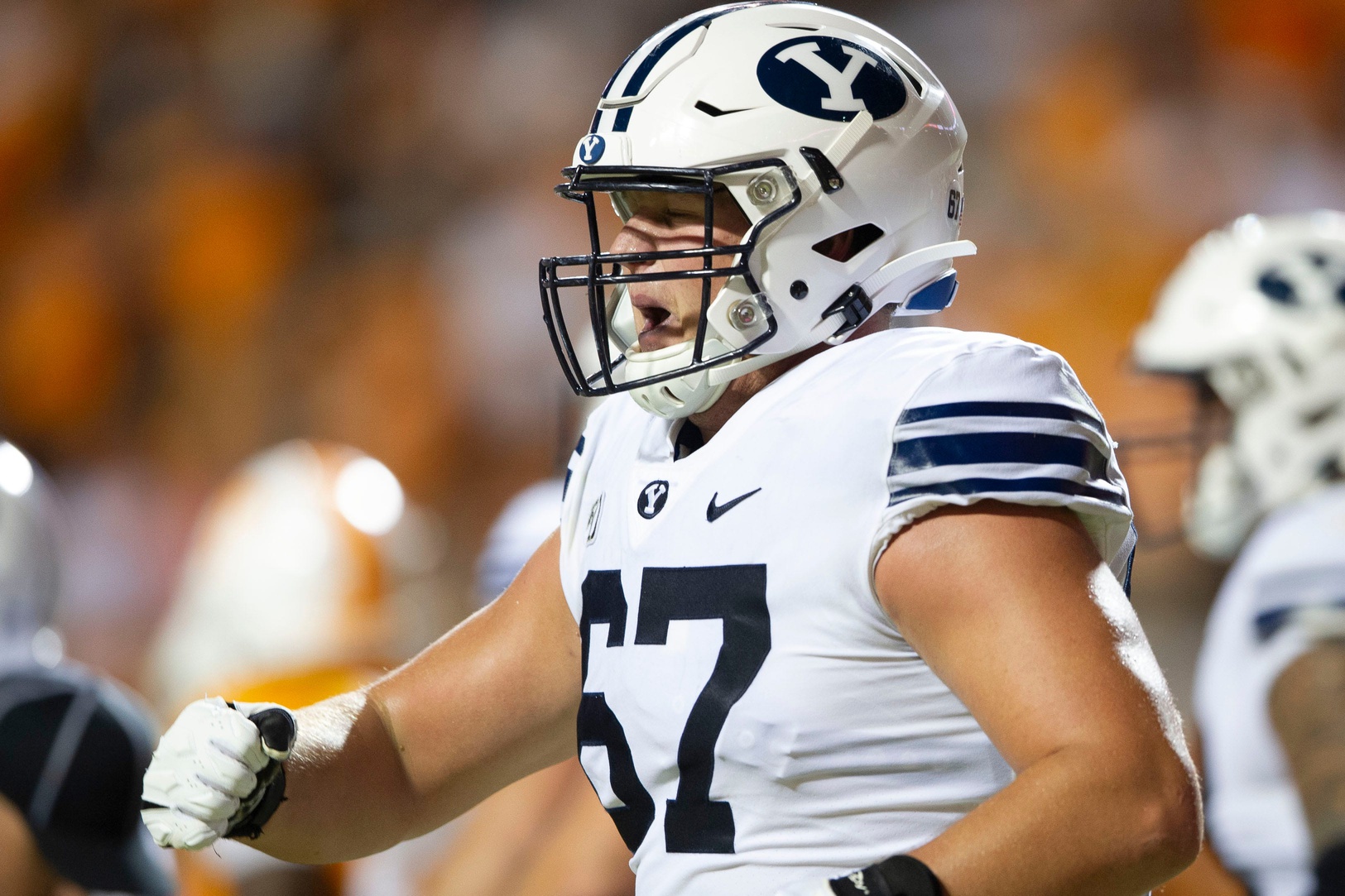 Against Troy in Week 4, they were without Tristen Hoge, who reportedly had an illness, but the line still remained stout. The Cougars allowed only five total pressures on 36 dropbacks and produced the second-best unit grade of any team in Week 4.
LT: Cole Garrison — 68.4 PFF grade
LG: Ryan Neuzil — 84.7 PFF grade
C: Noah Hannon — 90.2 PFF grade
RG: Baer Hunter — 85.2 PFF grade
RT: Cooper Hodges — 73.6 PFF grade
Joining Notre Dame and BYU as the only teams to rank in the top five in both team pass-block grade and run-block grade is none other than the Appalachian State Mountaineers. And as you can see by the grades above, it's largely due to their loaded interior.
Removing tackles from the equation, the interior trio of Neuzil, Hannon and Hunter give Appalachian State the highest-graded interior offensive line in college football. Neuzil and Hunter rank fifth and sixth, respectively, among guards in PFF grade, and Hannon ranks second among centers — behind only Patterson of Notre Dame.
LT: Jack Carman — 76.2 PFF grade
LG: Matt Bockhorst — 70.0 PFF grade
C: Cade Stewart — 77.3 PFF grade
RG: Will Putnam — 64.4 PFF grade
RT: Jordan McFadden — 89.9 PFF grade
The Clemson tackle duo of Carman and McFadden anchors this line and is becoming one of the best in college football. Carman may have only a 76.2 PFF grade (which is still very good), but his pass protection is up there with the best at the position. He has yet to allow a pressure on 43 pass-block snaps and ranks third at the position in pass-block grade.
As for McFadden, he ranks fifth at the position in overall PFF grade and has been a mover in the run game; he has produced the fourth-best positively graded run-block rate.
LT: Josh Ball — 64.2 PFF grade
LG: Alex Mollette — 71.6 PFF grade
C: Alex Salguero — 66.3 PFF grade
RG: Cain Madden — 89.4 PFF grade
RT: Tarik Adams — 88.9 PFF grade, Will Ulmer — 81.6 PFF grade
Marshall rounds out the top five but could be even better, considering that arguably their best offensive lineman — tackle Josh Ball — is off to a slow start in 2020. He was the Thundering Herd's highest-graded offensive lineman in 2019 and did his best work for the run game. Ball produced an 80.3 run-block grade, ranking 22nd among all FBS tackles.
Right guard Cain Madden ranked second to Ball in PFF grade last year, but he is leading Marshall in 2020 with exceptional run blocking. Among 141 qualifying guards this year, Madden ranks fourth in positively graded run-block rate and 12th in negatively graded run-block rate.
LT: Christian Darrisaw — 80.4 PFF grade
LG: Lecitus Smith — 60.1 PFF grade
C: Brock Hoffman — 56.9 PFF grade
RG: Doug Nester  — 72.9 PFF grade
RT: Luke Tenuta — 90.1 PFF grade
Christian Darrisaw was one of the best tackles in the ACC a year ago, and it looks like he'll earn that same honor in 2020. In 2019, Darrisaw produced an 80.3 PFF grade that ranked third in the conference. In 2020, Darrisaw once again ranks third in the conference in PFF grade. The best performer from the Hokies' 2020 debut against NC State is a bit of a surprise, though.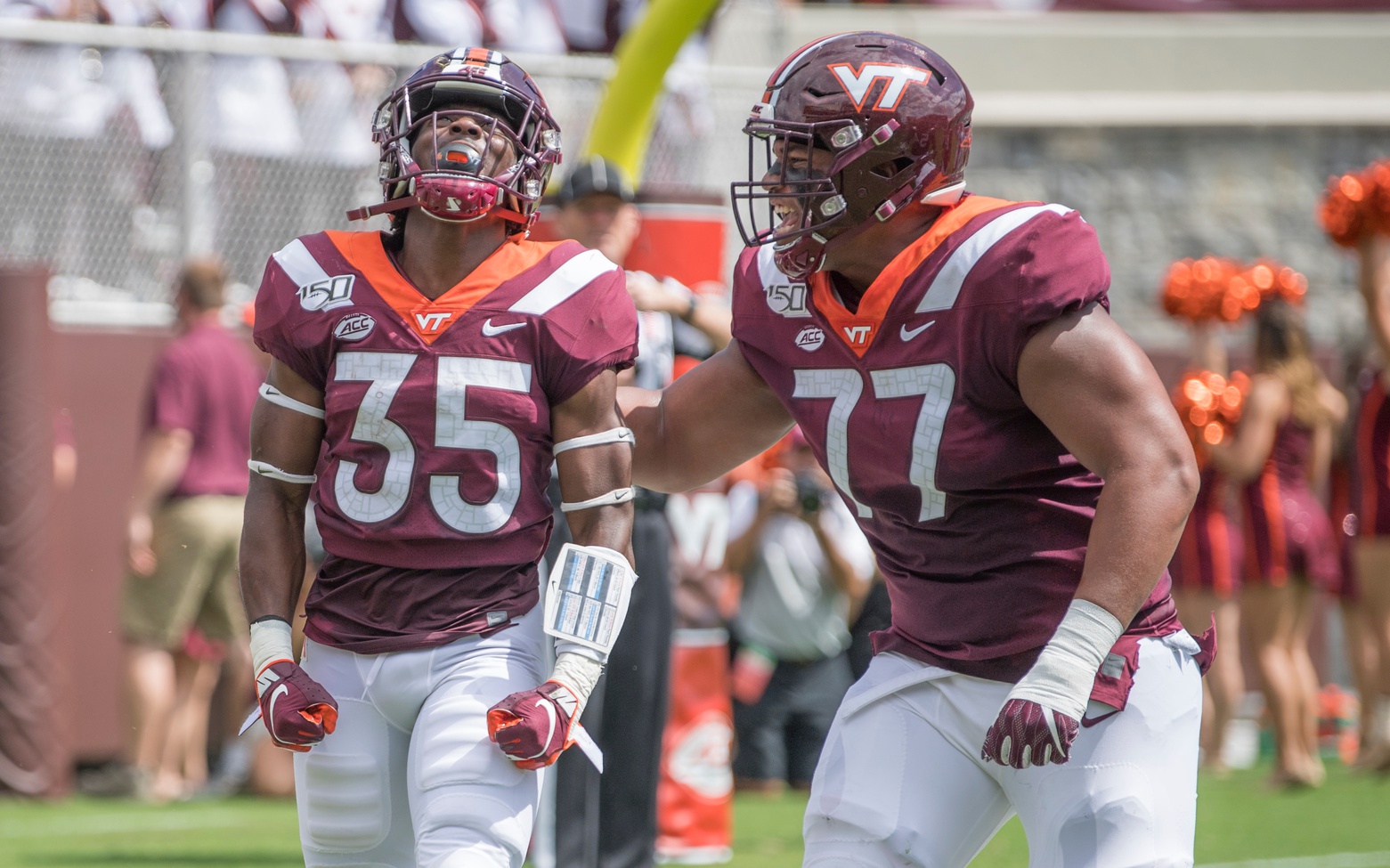 Right tackle Luke Tenuta was used primarily as a rotational player in his first year seeing the field in 2019 before starting the final five games for Virginia Tech. Either way, he looked rough. Tenuta produced a PFF grade above 70.0 in just one game, and that was against Furman.
Against NC State, though, Tenuta was the highest-graded tackle of the week. He didn't allow a single pressure and led all tackles in positively graded run-block rate. If he sustains that type of play, Virginia Tech will rival Clemson for best tackle duo in the conference.
LT: Obinna Eze — 71.7 PFF grade
LG: Isaac Ellis — 75.3 PFF grade
C: Manuel Orona-Lopez — 57.3 PFF grade
RG: Matt Dale — 69.9 PFF grade
RT: Dylan Parham — 79.7 PFF grade
Dylan Parham spent the first two years of his college career at left guard and performed fairly well. He produced a PFF grade above 70.0 in each season, which each ranked second among AAC left guards. Memphis kicked Parham over to right tackle this year, and he is now playing even better. In the Tigers' lone game this year, Parham produced a 79.7 PFF grade, which ranks 10th among all right tackles. In that game against Arkansas State, Memphis' offensive line allowed just three hurries and no sacks or hits.
LT: Landon Young — 70.5 PFF grade
LG: Kenneth Horsey — 58.6 PFF grade
C: Drake Jackson — 61.5 PFF grade
RG: Luke Fortner — 67.0 PFF grade
RT: Darian Kinnard — 81.2 PFF grade
The Kentucky offensive line's debut against Auburn wasn't as strong from a run-blocking standpoint as what we saw from them on a routine basis in 2019, but the Wildcats were still pretty strong overall. They ranked fifth in the SEC in team run-block grade and ranked first in pass-block grade.
Kentucky's offensive line allowed just three pressures, which was the same number we charged quarterback Terry Wilson with inviting in. Right tackle Darian Kinnard is off to a hot start, looking even better in pass protection. His 81.2 PFF grade against the Tigers was over seven grading points higher than any other SEC tackle.
LT: Cole Spencer — 68.4 PFF grade
LG: Tyler Witt  — 65.7 PFF grade
C: Seth Joest — 51.0 PFF grade
RG: Jordan Meredith — 78.1 PFF grade
RT: Mason Brooks — 70.0 PFF grade
The Hilltoppers' offensive line is easily among the five best in the Group of Five. Only Clemson's offensive line has played more pass-block snaps without allowing a sack or hit (68, Western Kentucky at 56). That's helped them produce the sixth-best team pass-block grade in college football. And they've done that with perhaps their best offensive lineman, Cole Spencer, not playing up to his usual level.
Spencer was Western Kentucky's highest-graded offensive lineman in 2019 (81.8), but his grade has taken a step back thus far into 2020 (68.4). He is responsible for five of their eight total pressures allowed, which has played a major role in his grade dropoff. For perspective, that's already over half the number of pressures he allowed in 2019. If Spencer can get back to his 2019 form, this top-10 offensive line will be even better.
LT: Joey Claybrook — 67.8 PFF grade
LG: Corey Dublin — 71.8 PFF grade
C: Sincere Haynesworth — 75.9 PFF grade
RG: Josh Remetich  — 51.4 PFF grade
RT: Trey Tuggle — 68.3 PFF grade, Jaylen Miller — 59.6 PFF grade
The Green Wave have one of the best pass-protecting tackles in the Group of Five thus far in 2020 in Joey Claybrook, as well as at guard in Corey Dublin. The two rank first at their respective positions in the FBS in pass-block grade.
Center Sincere Haynesworth brings value in both facets, as he has earned a grade above 70.0 as both a pass-blocker and a run-blocker. That's helped him produce the fifth-best PFF grade among non-Power Five centers through Week 4. The rest of the group isn't as strong in the run game as Haynesworth, but the pass-blocking is stout all the way around. Tulane's pressure rate allowed is the third-lowest in college football and the best among those not in the Power Five.