There has long been a divide between analytics and traditional football groupthink about running backs and how much they are worth to a team.
The position is overvalued at the pro level; NFL running backs are easily replaceable and don't contribute nearly as much as many think in respect to team wins. Things are a little bit different at the college level, however.
The density plot below shows the distribution of PFF WAA for every single running back PFF has charted at both the collegiate and professional levels. And as we can see, running backs do matter some in college.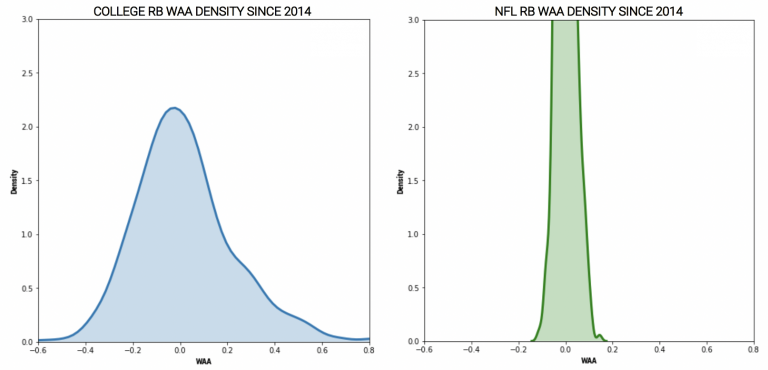 Quarterback is still the most valuable position on the field by a large margin — cornerbacks and wide receivers follow — but having a talented back with elite-level athleticism can be a tremendous asset to any team.
Today we'll take a look at the 10 best running backs heading back to campus next fall. The list is based on a bevy of factors, including PFF grade and other advanced metrics available to CFB Premium Stats+ subscribers.
Bigsby was one of the most impressive true freshmen of the 2020 class, finishing as the fifth-most valuable first-year non-quarterback in the country, per PFF Wins Above Average (WAA).
The 2020 four-star recruit — who ranked 40th nationally, according to 247Sports — was easily among the most elusive ball carriers in college football last year, his strong contact balance on full display as he came away with the fifth-most broken tackles per attempt (0.34) in the FBS.
The 6-foot, 204-pound freshman was the third-highest-graded ball carrier in the FBS, behind Javonte Williams and Khalil Herbert, before suffering an injury in Week 12 against Tennessee.
Tank Bigsby is a created player in NCAA 14

— PFF Draft (@PFF_College) October 10, 2020
He is the clear favorite to claim the title of No. 1 running back in 2021.
Much like Bigsby, Vaughn was also one of the top first-year players in college football this past season, as the 5-foot-5 running back made it known right from the get go that he is going to be in the conversation for being the best dual-threat back in the country.
Only Vaughn and North Carolina's Michael Carter produced a grade above 85.0 as both a runner and receiver in 2020. Vaughn can take some defender's souls in an open field with his blend of quickness and agility.
Deuce Vaughn took some souls yesterday pic.twitter.com/MARSIbptuA

— Anthony Treash (@PFF_Anthony) December 6, 2020
Brooks decided to opt out of the 2020 season due to COVID-19 concerns, but he will be back for the 2021 campaign — very good news for the Sooners.
Brooks was the third-highest-graded ball carrier in the FBS from 2018 to 2019 and established himself as one of the top breakaway threats at the position. No FBS running back churned out 10 or more yards on a higher rate of their carries over that period than Brooks (23.4%). He doesn't have electrifying speed, but he is elusive and fights through contact as well as anyone.
Robinson has been a key backup over the last four years and is set to take on a starting role in his "super senior" season this fall.
This past season was his best yet, as he recorded an 89.5 rushing grade over 91 carries, the 11th-best in the FBS. Robinson runs violently and will be one of the toughest guys to bring down in 2021 — he averaged over 4.0 yards after contact per attempt and broke 23 tackles in 2020.
Ealy, a 2019 four-star recruit, didn't put up monstrous box score numbers in 2020, but he consistently showed up and got the job done. He was the sixth-highest-graded runner in the Power 5 at 90.0 and logged 147 carries without ever fumbling the football, the second-most in the nation.
The 5-foot-8, 190-pound back also showed off the same elusiveness, athleticism and physical playstyle that we saw from him on a limited basis as a true freshman in 2019 — he produced two of the 15 highest single-game broken tackle rates from the 2020 season and ranked eighth in the Power 5 in the percentage of runs that picked up at least 3.0 yards after contact (48%).
Some might consider this ranking disrespectful, as Hall led the country with 1,562 rushing yards in 2020, but let's not forget that he also saw 28 more carries than any other back and was one of six backs with over 200 carries.
Of his 280 carries on the year, just 13.6% resulted in a 10-plus-yard gain, 86th of 140 qualifiers. But despite the discrepancy between the box score and the play-level production, Hall still falls comfortably into this top 10.
The Iowa State running back has the explosiveness needed to ramp up that big-run rate and proved on a number of occasions that he has that uncoachable ability to make something out of nothing. Among the 68 FBS backs who totaled at least 50 carries on which they were contacted behind the line of scrimmage in 2020, Hall ranked third in PFF rushing grade.
Borghi was only able to play in one game this past season due to injury. It wasn't all that spectacular either, as he fumbled on one of his 10 carries en route to a 57.2 PFF grade for the day.
Still, we mustn't forget who Borghi was back in 2019 when he was fully healthy: a player with immense speed and one of the top receiving backs in the entire country.
Borghi tied for first in the nation in the most first down/touchdown receptions in Mike Leach's Air-Raid attack in 2019, with 26. He also tied for the lowest drop rate among FBS backs at 2.3% and broke eight more tackles after the catch than any other back in the country (28). He earned an 80.6 receiving grade for the year, making him one of two running backs to generate a grade above 80.0 as both a receiver and a runner.
Nick Rolovich's run-and-shoot offense produces one of the highest pass-play rates in college football (67%, though 14 percentage points lower than Leach's Air Raid), and having a back with Borghi's receiving chops and speed is a huge plus.
Can't wait to discuss RB Max Borghi this week on Journey to the Draft!

5'10 197 Junior
Undersized
Shifty/Elusive
Instant Acceleration
Balance
Short Area Quicks
Hands +++

1 of 2 FBS players to have 500/500 last year (Memphis RB Gainwell)

NFL Style: C. McCaffrey/D. Woodhead pic.twitter.com/YlWsfqyMLN

— Ben Fennell (@BenFennell_NFL) July 27, 2020
Rodriguez finished as the second-highest-graded running back of the 2020 season (92.4) and ranked second to UNC's Javonte Williams among Power 5 backs in the percentage of runs that picked up a first down or touchdown (41%). When it came to those inside-zone runs that Kentucky loves so much, Rodriguez jumped to first in rushing grade nationwide.
BYU produced a whos who list of breakout players in 2020, and among them was running back Tyler Allgeier, who walked on to the team back in 2018 and spent most of the 2019 season at off-ball linebacker.
Yes, you read that correctly. Allgeier had only 26 career carries to his name entering the 2020 season but still managed to finish the year with a 93.1 rushing grade, the second-best behind Javonte Williams. The offensive line in front of him was exceptional in 2020, but so was Allgeier's vision. He ended the year with the sixth-highest rate of runs that resulted in a gain of 10-plus yards (21.5%).
After watching Frank Gore Sr. put together a 16-year NFL career — and possibly more, as the soon-to-be 38-year-old hasn't officially retired yet — we now get to see his son dominate in the collegiate ranks.
Gore finished with the 18th-best rushing grade in the FBS (86.8) as a true freshman this past season. And the 5-foot-8, 165-pound back shook defenders on the regular, recording the eighth-most broken tackles per attempt in the FBS (0.33).
He's right there with Allgeier for the best non-Power 5 running back in the country. If Gore can improve upon his 84 snaps on the receiving front, an area he flashed in last season, he can climb even higher up this list come 2021.