There have been breakouts as well as a few big disappointments through the first eight weeks of the 2020 college football season, which has led to a massive shakeup in our Big 12 quarterback rankings.
With the help of our unique play-by-play grading and the advanced data available with PFF's CFB Premium Stats+, here is how each Big 12 quarterback stacks up as we head into the ninth week of the season.
While Rattler has made a few really bad throws in crunch time this year — take the game-ending interceptions against Kansas State and Iowa State, for example —  he has been nearly flawless outside of those passes.
He has the seventh-lowest negatively graded throw rate in the FBS heading into Week 9, and he also ranks fourth in positively graded throw rate. The first-year starter has made some incredible plays on the move for the Sooners, too,  earning a 95.0 passing grade on throws outside the pocket so far — the best in the FBS and well above the second- (90.6) and third-placed (85.1) passers.
Doege is coming off his second 90.0-plus-graded performance of the season, which is enough to earn the second spot on this list. What's been so impressive about his 2020 season so far is his in-rhythm passing. Doege is the 10th-highest-graded quarterback in college football when in rhythm, at 91.9, and he is also 10th in negatively graded throw rate on such dropbacks. That grade is eight grading points higher than any other quarterback on this list.
It's rare to see a quarterback drastically improve his accuracy from one season to the next, but Duggan has done just that this season. After ranking second-to-last in the Big 12 in uncatchable-pass rate on throws beyond the line of scrimmage in 2019, Duggan has jumped up to third in the conference in 2020.
The TCU signal-caller sits here at No. 3 for now, but there is some concern given that he's been a lot better under pressure than he has been from a clean pocket. His passing grade under pressure is over 11 grading points higher than his clean-pocket grade, and it actually ranks fourth in the FBS. The problem is that play under pressure is extremely volatile, whereas clean pocket passing is stable and predictive.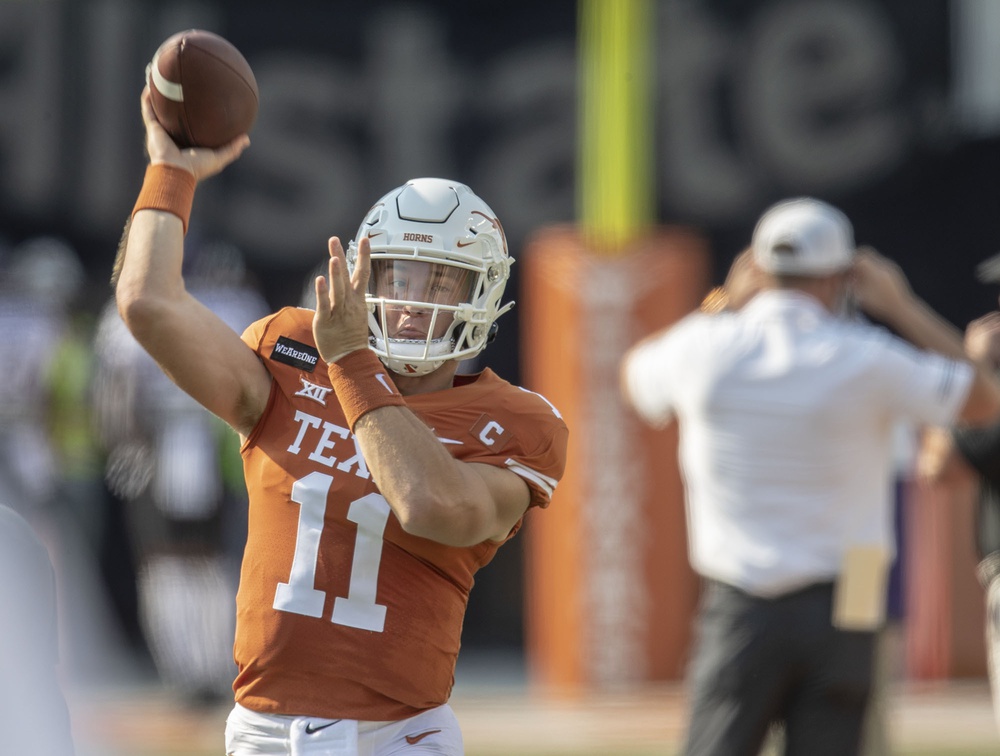 Ehlinger was a candidate to take his passing to elite status this year after posting an 81.2 passing grade in 2018 and an 86.9 passing grade in 2019. But instead of taking that next step forward, Ehlinger has earned just a 70.1 passing grade through five games in 2020.
While Rattler's outside-the-pocket passing is his greatest strength, it's Ehlinger's Achilles' heel. The Texas quarterback currently boasts a 39.6 passing grade outside the pocket, ranking third-to-last in the FBS. Ehlinger has averaged just 2.9 yards per attempt on those plays — the worst figure by a QB by a full yard, and over eight yards less than Rattler, who leads the group. When he is free from pressure and inside the pocket, Ehlinger has fared a lot better, as his grade improves to 85.6, ranking 28th in the FBS.
Colombi has been the most conservative passer in the Big 12, throwing just 5.3 yards downfield on average — over two yards less than any other quarterback on this list. But when he has thrown the ball downfield, he has been relatively solid. On passes thrown 10 or more yards in the air downfield, Colombi has posted an 85.6 passing grade (sixth in the Big 12) while completing 15-of-22 attempts for 268 yards, three touchdowns and only one interception. Much of this production has been schemed for Colombi, but it's a heck of a lot better than what Alan Bowman was doing for the Red Raiders, and it's more efficient on a per-pass-play basis in terms of expected points added (EPA).
If Oklahoma State had Shane Illingworth starting instead of Sanders, their quarterback would be a few spots higher on this list. The true freshman Illingworth posted passing grades of 73.9 and 84.5 in his two starts in relief of the injured Sanders to start the year. For perspective, Sanders has earned just two single-game passing grades of 72.0 over his career, and he's never earned a mark above 81.9.
Illingworth completed 13-of-20 10-plus-yard throws, racking up 338 yards and three touchdowns en route to a 93.0 passing grade and a 127.1 passer rating. Sanders' career grade on these same throws is 69.8, and his passer rating is 69.5. One of Illingworth's starts may have come against Kansas, but it was his second career start, and Sanders never even sniffed that kind of game last year as a passer — not against Kansas, and not even against McNeese State.
The Wildcats have had to throw in true freshman Will Howard after losing original starter Skylar Thompson to a season-ending injury. He didn't look too great in his first two appearances against Texas Tech and TCU, as he posted a 54.3 passing grade and displayed concerning accuracy. Just 35.5% of his total passes were charted as accurate in those two games, per PFF's quarterback charting process, the second-worst mark in the FBS in that span.
Howard looked a heck of a lot better against Kansas last week, though, with just two quarterback-fault incompletions and an 85.4 passing grade on the day. He was cooking with play action — a Kansas State staple — going 6-for-10 for 98 yards, one touchdown and two big-time throws on play-action attempts.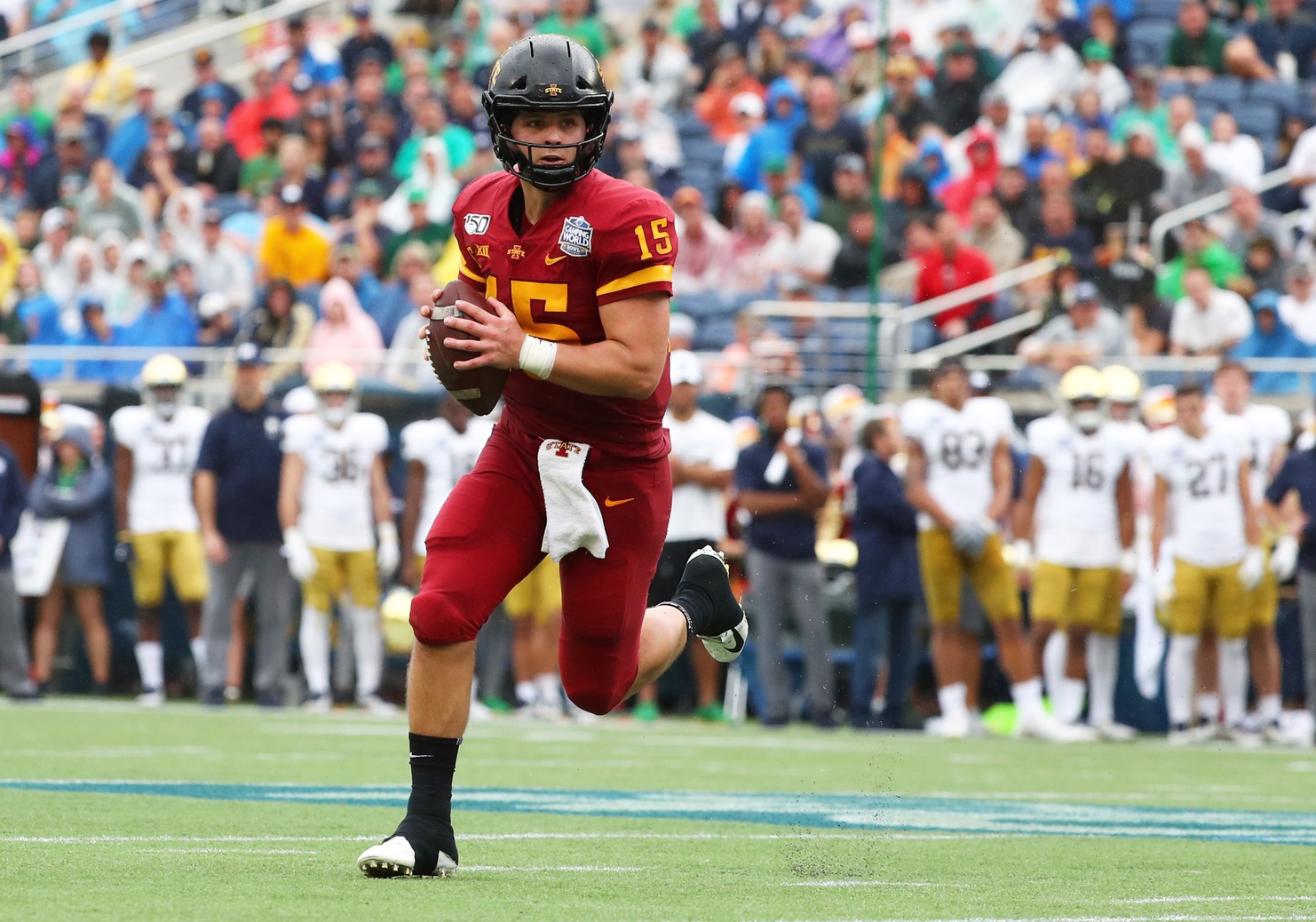 Purdy's 2020 season has been shockingly bad compared to his previous two years at Iowa State. In 2018 and 2019, Purdy put together an 87.8 passing grade and showed to be one of the best rhythm passers in all of college football. But all of those anticipatory throws we saw him make in that span have seemingly vanished into thin air in 2020. His passing grade has fallen to 58.1, and he has recorded a passing grade north of 60.0 in just one of his five games this season. The downfield accuracy has been abysmal, too, as he has thrown an uncatchable pass on 57% of 10-plus-yard passes, the second-worst rate in college football and nearly 20 percentage points worse than the FBS average.
Purdy's decline has been one of the most bizarre in the PFF College era, and he isn't showing many signs that this isn't here to stay.
Brewer is another quarterback who has succumbed to a steep decline in play this year. He's played in three games in 2020 and earned just a 55.9 passing grade — 20 points lower than his 2019 grade.
His moderate success a season ago was solely because of play-action shots. Brewer earned a passing grade of 89.1 with play action in 2019, but he hasn't been able to get anything cooking downfield on these plays this season. His passing grade with play action has fallen to 53.9, and his average depth of target dropped over 3 yards. That's caused his big-time throw rate to go from 4.3%, 53rd of 130 FBS quarterbacks in 2019, to 0.7% in 2020, third-worst in the FBS.
True freshman quarterback Jalon Daniels, who made his first collegiate start at 17 years old, has played in just two full games this year due to injury. And things did not go particularly well in those two starts.
Daniels posted a PFF grade of 56.4 in his starting debut against Baylor back in Week 4; then he posted a 29.8 PFF grade in his return against Kansas State last week. The Kansas passer has more quarterback-fault incompletions (11) than completions (nine) on passes thrown 10 or more yards downfield. It's too early to say he's not going to be "the guy" to help turn this Kansas program around, but Daniels has a long way to go before he can do that.