Clemson football has thoroughly dominated the ACC over the past decade. But as we peer into our crystal ball trying to predict the 2021 season, what if this year was when things changed? What if this year was the underdog year? Could the Miami Hurricanes or the North Carolina Tar Heels, or even a bigger sleeper than that, claim the throne?
Let's start by examining the Tigers' reign of terror. They have won seven of the past 10 ACC Championship games, with Florida State taking home the other three. It has been six years since a team other than Clemson won the ACC title, with the Tigers outscoring their league opponent by an average of 44-19 in the title game. Since 2015, their first championship of the six in a row, head coach Dabo Swinney's team has lost three conference games while winning 47.
Finding a team worthy enough to usurp Clemson is difficult, but here are three squads that could give them a run for their money in 2021.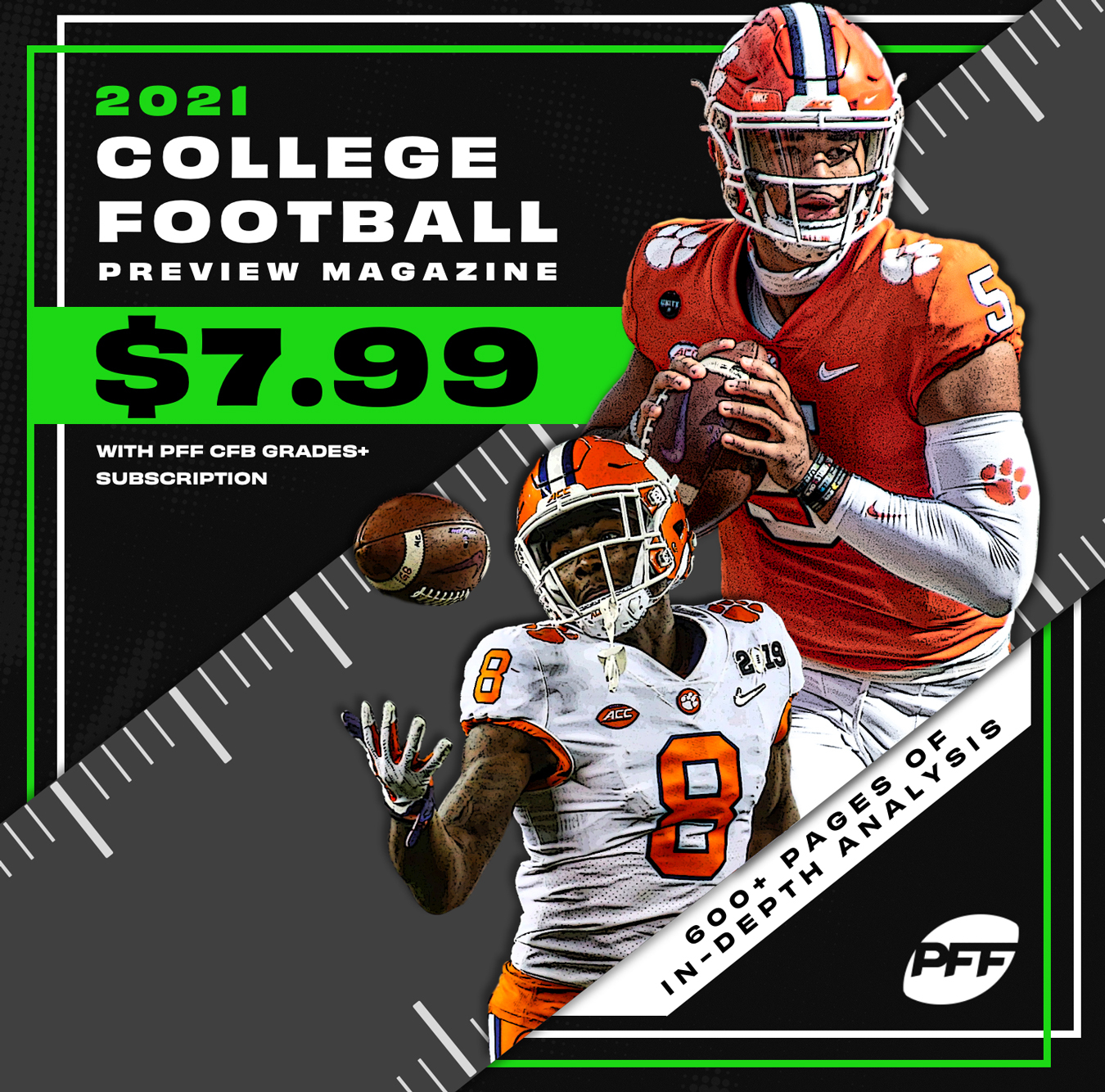 Conference Title Odds: 7%
Is Miami back? After a turnover-fueled 10-0 start to the 2017 campaign, The Hurricanes are just 21-19. But with head coach Manny Diaz running the defense and Rhett Lashlee spearheading the offense, there is reason for optimism.
Since Diaz became Mark Richt's defensive coordinator in 2016 through the 2019 season, the Canes' defense had finished no worse than 34th in overall efficiency before dropping to 62nd last year. Yet, 2020 was the unit's best season since the 2017 debacle. Why? Because the offense finally broke out.
From 2017 to 2019, the offense ranked 98th in the country. Last year? 35th. The turnaround came from bringing in Lashlee as offensive coordinator and transfer quarterback D'Eriq King to helm the unit, and both return. Lashlee stretched the Miami offense to the extreme, with receivers hugging the sideline running go routes. That meshed perfectly with King's deep moon-ball-type throws falling perfectly into receivers' hands. King suffered a torn ACL at the end of last season, but if he's healthy, the results could be stunning in his second year with Lashlee.
The team loses its top pass catcher in tight end Brevin Jordan, who recorded a 78.0 receiving grade in 2020, but replaces him with transfer wide receiver Charleston Rambo, who posted a 73.7 receiving grade in 2019 with Oklahoma, to pair with Mike Harley and his 76.9 receiving grade. Having an elite tight end is never a bad thing, but these "superspreader" offenses seem to be better suited with elite talent outside rather than at tight end. The tight end can be a glorified sixth offensive lineman and they would still be efficient.
With just about the entire offensive line returning, Miami's offense could improve and even be a top-10 unit in the country this season. Diaz has done such a good job with the defense that the 62nd-place finish last season in efficiency seems like an aberration rather than the start of a trend. The Hurricanes do lose talent on the defensive line, but they return 3-technique Nesta Jade Silvera: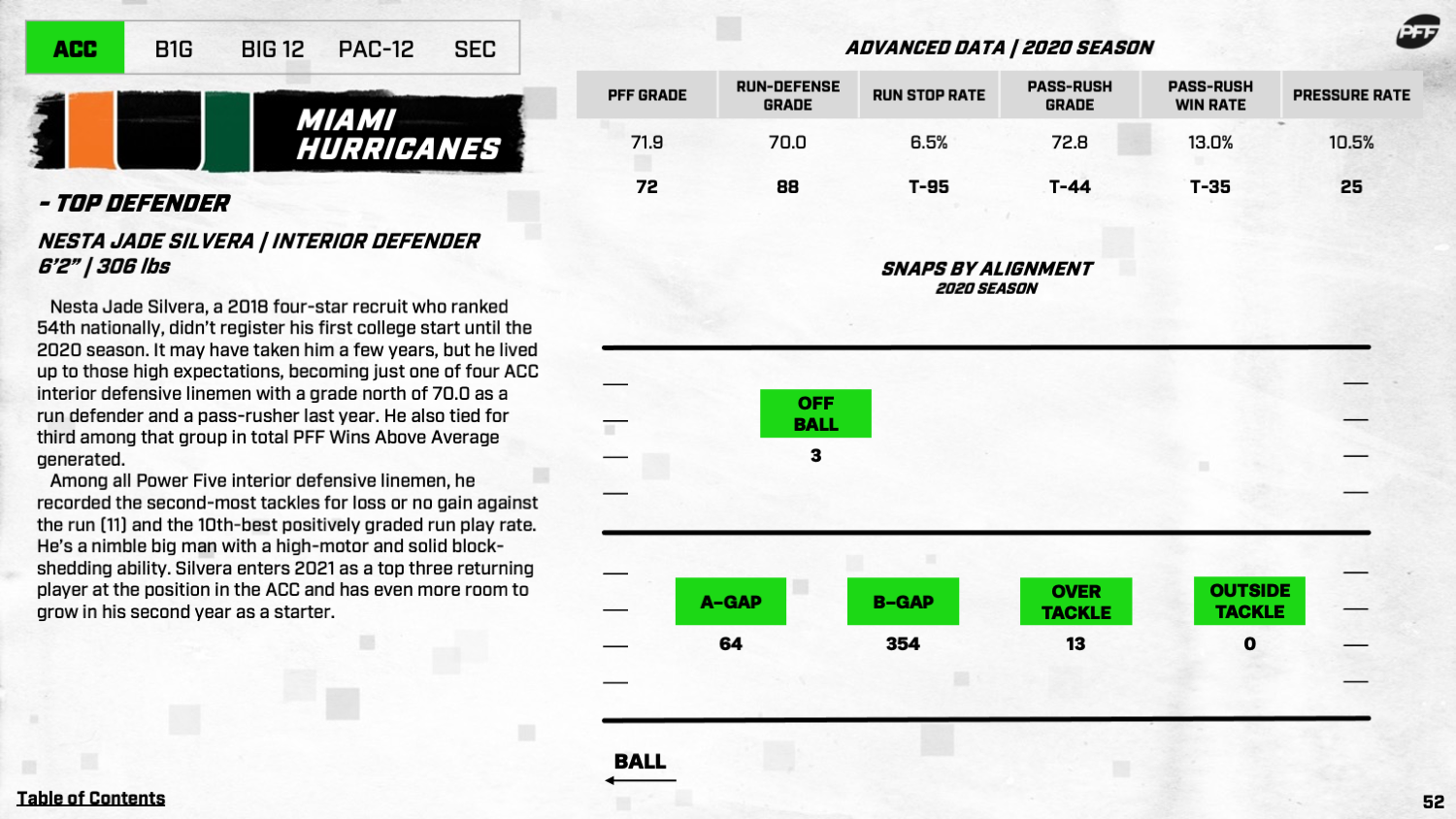 Is Miami back? We're going to find out this year.
Conference Title Odds: 20%
The Tar Heels have better conference title odds than Miami, but we've never seen quarterback Sam Howell without an elite group of skill position players.
He looked human in last year's Orange Bowl without running backs Javonte Williams and Michael Carter and wide receiver Dyami Brown. He posted a 72.7 passing grade in that game and took four sacks. Those three playmakers plus Dazz Newsome are gone, and the offensive line still looks shaky going forward. While Howell has the talent on paper to keep the ship afloat, we'd love to see it on the field first.
The offensive line returns five players with at least 650 snaps played last season, but three of them posted sub-52.0 pass-block grades. Continuity on an offensive line is important, and if the individual skill level doesn't improve, it could spell doom for the Tar Heels.
The team is also going to need breakout years from receivers Josh Downs and Khafre Brown to settle the offense.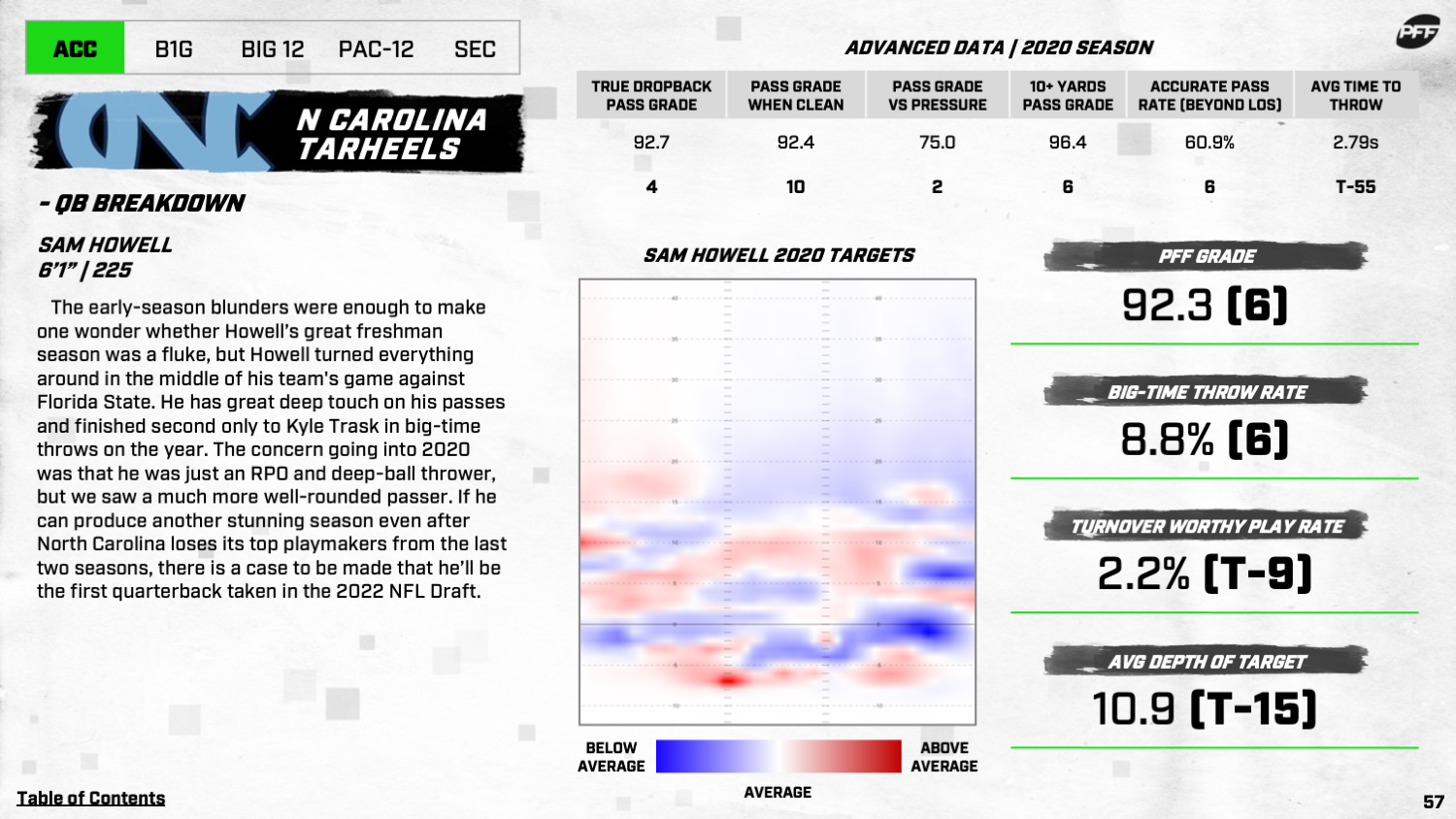 Howell has a chance to be a top pick in next year's draft, and putting up the numbers he did as a true freshman and sophomore for another season will cement his status as one of the top players in college football. He started last season a little slow but picked up as things wore on. By the campaign's end, he was simply stunning. His slow start might have been a "big man on campus" symptom in the same realm as Trevor Lawrence's true sophomore 2019 season at Clemson, but as Lawrence bounced back in 2020, so did Howell by the end of his sophomore season.
Conference Title Odds: 4%
After Miami and North Carolina, the pool of sleeper teams to win the conference gets murkier. Boston College, Louisville and Florida State are all interesting picks to have a nice run, but they also play in the same Atlantic division as Clemson. Even an upset against the Tigers might not be enough to put them in the title game.
While the Pittsburgh Panthers, in the Coastal division, also play Clemson in 2021, they could still lose that contest and find their way into the championship game. It's a long shot, but there's enough talent on the Panthers' roster to where they could upset both Miami and North Carolina as part of a brutal four-game stretch. Pittsburgh plays Clemson, Miami and North Carolina over four weeks, with Duke sandwiched in the middle.
This entire premise relies on Kenny Pickett finally becoming a legitimate college football quarterback. He enters the 2021 season with a lifetime 70.6 PFF grade in four years with the Panthers. There is hope that the team can change what it does on offense to better suit Pickett. Head coach Pat Narduzzi brought in new wide receivers coach Brennan Marion, who is of the unique "go-go offense" and hopefully brings some fresh ideas.
This is a team that threw the ball a lot but almost never with play action. While Arkansas led the Power Five with a 54% play-action rate, including RPOs, Pittsburgh ranked third-to-last at only 13%. Dropping back without play action means shorter pass concepts and more difficult throws over the middle.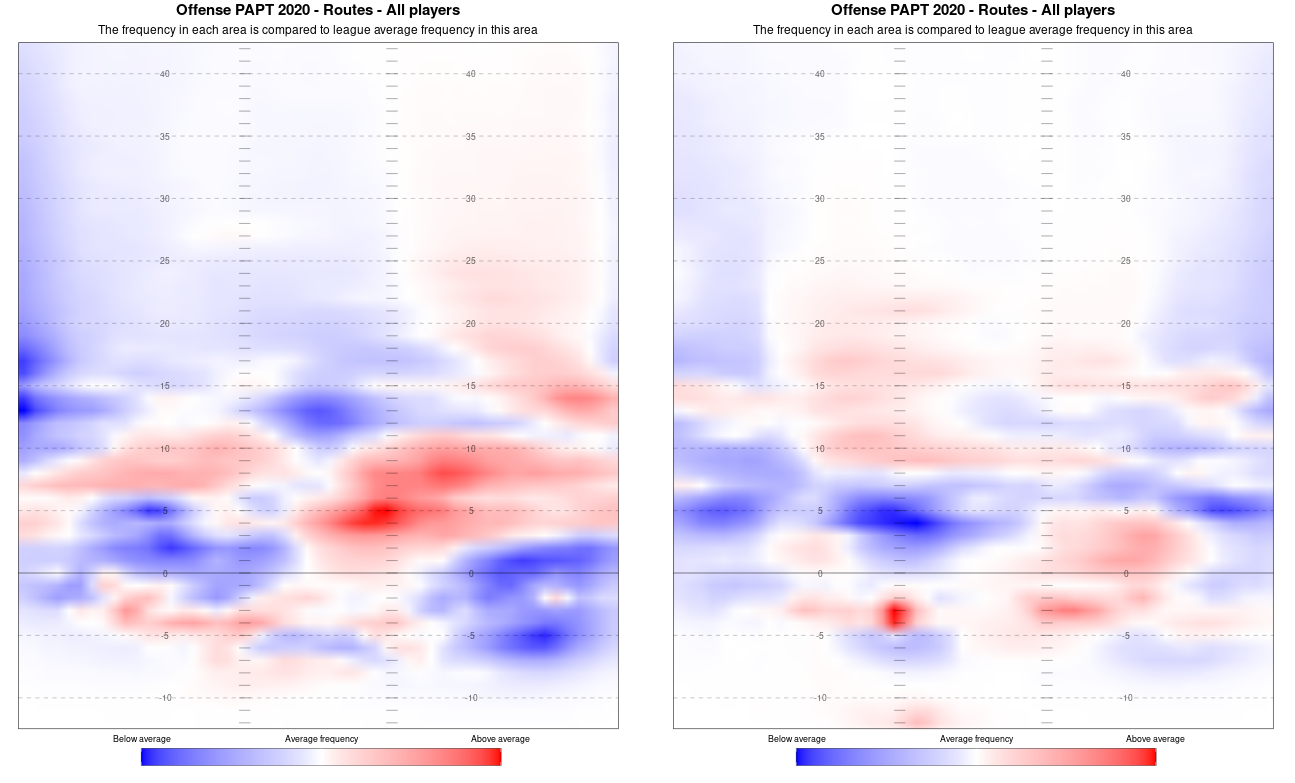 Even with the limited amount of play action, the Panthers were still throwing short often. Pickett's NFL prospects might be a pipe dream, and it's hard to even tell if he's a good college quarterback when every other top signal-caller gets the benefit of throwing only RPOs, play actions and go routes.
Considering how good the Panthers' defense has been under Narduzzi and how good it projects to be in 2021, they could really help themselves out by creating an easier offense for their quarterback. It's a long shot, but if they strip away the harder aspects of the offense and Pickett subsequently improves — he's not entirely off the hook for how bad the offense has been the past few years — they could compete and win the ACC title.