The Alabama Crimson Tide have dominated the SEC over the past decade, winning six conference titles since 2010. They are the standard-bearers for the best conference in football.
The Tide are joined by the LSU Tigers (2), the Auburn Tigers (2) and the Georgia Bulldogs (1) as the only other teams to win a title in that same time span. So what should we make of the other programs? The Florida Gators have rebuilt themselves in the Dan Mullen era, while the Texas A&M Aggies have been trending up since hiring Jimbo Fisher.
Here are the top four teams in the SEC that can make the push to become champions, some for the first time ever and some for the first time since 2010.
Subscribe to
Conference Championship Win Probability: 10%
Florida hasn't won the conference since the end of the Urban Meyer era. In other words: a long time ago. Since winning in 2008, they have represented the SEC East four times but lost each of those outings by an average score of 42 to 23. From the time of hiring Will Muschamp to oversee the transition away from the Urban Meyer era until the hiring of current head coach Dan Mullen, the Gators won just under 60% of their games. Since Mullen became the head coach, they have jumped back up to 80%.
Florida is back to beating up on its opponents, and the team even topped rival Georgia last year for the first time since 2016. Recruiting has stabilized after a couple of rough years in 2014 and 2015 where the Gators finished seventh and 10th, respectively, in 247Sports' team recruiting rankings in the conference. In Mullen's time, they haven't finished lower than sixth in the conference, but they also haven't been higher than fourth. There's still room for improvement.
But Mullen has righted the ship on offense. From 2015 to 2017, the Gators' attack produced -.149 expected points added per play, ranking dead last in the SEC and 121st in the country. Mullen's offenses have gained .106 EPA per play in the three years he's been in charge, ranking third-best in the SEC and 11th in the country. This is both an indictment on former head coach Jim McElwain and a testament to how good Mullen is.
The issue going into this year is that the Gators are losing a ton of skill position players. Looking at just the receiver and tight end positions, Florida's returning players graded out to a 62.0 mark, putting them at 94th in the country. Jacob Copeland, a former four-star recruit, and Justin Shorter, a former five-star recruit, are the only two to play over 200 receiving snaps last year.
Florida will certainly be looking for a couple of skill position players to emerge. The team will be without two-year starter Kyle Trask at quarterback but should feel confident in Emory Jones, one of the prized possessions of the 2018 class. Jones has played well on his minimal 99 career dropbacks, grading out to 84.7. His passing grade stands at 88.1 when removing rollouts, RPOs and screen passes. He projects as a really good dropback passer with solid running ability.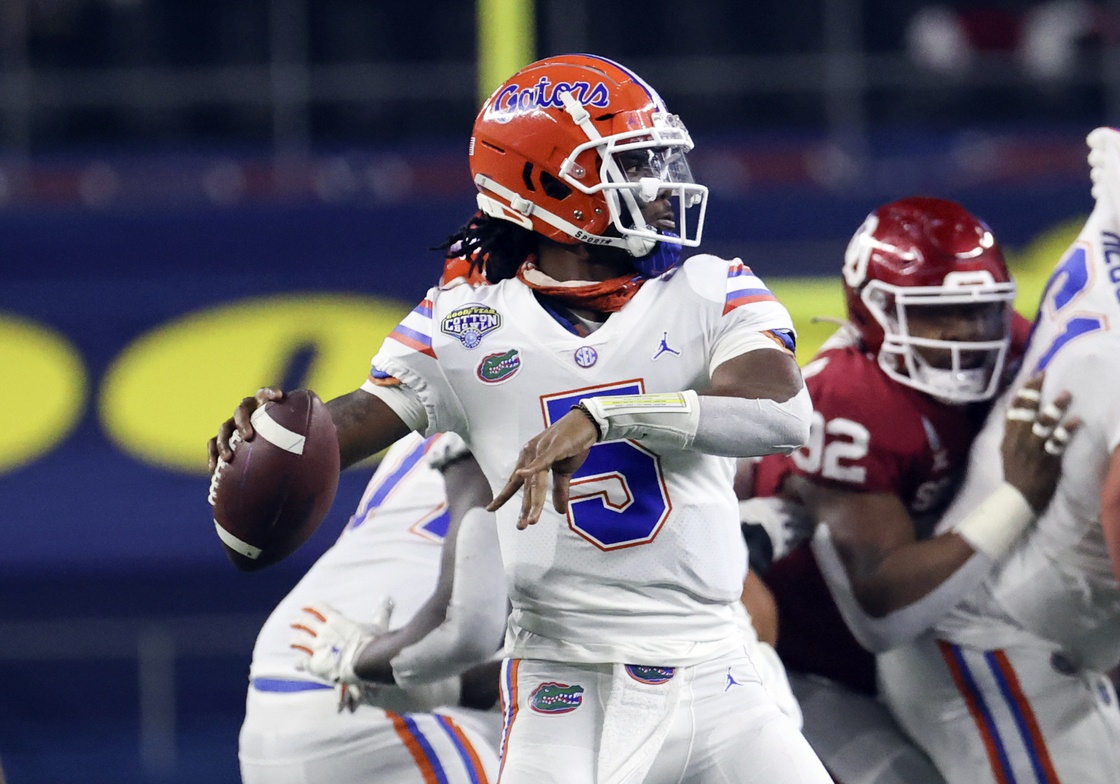 Even with the bevy of new faces who will get significant snaps for the Gators offense this season, one would assume that the unit won't miss much of a beat. At this point, we can give Mullen the benefit of the doubt.
The defense is another story.
Under Todd Grantham, Florida's defense has gone in the wrong direction. The unit ranked second in the SEC in EPA allowed per play in 2018 and then fifth in 2019 before falling to 10th in the SEC and 94th nationally last season. Grantham does get some familiar faces back in 2021, however. His group returns nine players with at least 300 snaps from 2020, including the two highest-graded players: cornerback Kair Elam (77.4) and edge rusher Brenton Cox Jr. (77.1).
Man coverage proved to be a problem area for the Gators in 2020, so they'll be hoping for some regression to the mean there. Florida didn't play a ton of straight Cover 1 looks, but even when they played zone, they struggled to match routes. Only 47.3% of those single-coverage snaps ended in a successful play for the Gators, the sixth-lowest mark in the Power Five last year. If the defense isn't the sieve it was last season and the offense continues its stellar performances under Mullen, the Gators might be the next SEC champions.
Conference Championship Win Probability: 5%
The Aggies continue to be a trendy pick to win their first-ever SEC title because they've uncovered another level of recruiting under Jimbo Fisher. They weren't bad in that regard under Kevin Sumlin, but their past three classes finished fourth, sixth and eighth in the country. Sumlin was recruiting in the 10th-20th range mostly. For Texas A&M to win the SEC, the team will have to start by winning the SEC West. The Aggies have not been good against the three teams that have represented the SEC West in the title game since 2010, posting a combined 7-20 record against Alabama, Auburn and LSU.
And while expectations are still high, the Aggies will have to replace starting quarterback Kellen Mond, who was responsible for 1,358 passing attempts in his career. That's a lot to replace. Zach Calzada and Haynes King are battling it out for the starter role, with freshman Eli Stowers joining in the fall. Fisher has a reputation as a quarterback whisperer, but his offenses aren't the easiest to handle, so there is work to be done.
Texas A&M also has to replace almost the entire offensive line, as Kenyon Green is the only returner with over 12 snaps. The skill position players are back en masse, however. Isaiah Spiller has put together two really nice seasons running the ball, grading out to an 82.4 on rushes. He will have to split time with Devon Achane, who burst onto the scene with 8.5 yards per carry last year, albeit on only 43 rushes.
Not to be outdone, Anias Smith, a receiver by trade, has 55 carries the past two seasons and forces a missed tackle on every third rush on average. He also hauled in 43 catches last year while averaging 9.3 yards per touch overall. It's not a bad problem to have, and you could see Spiller having to let go of quite a few of his potential carries. The team gets Caleb Chapman back after his season-ending leg injury in 2020. He's a downfield threat who will open up the underneath areas for stud tight end Jalen Wydermyer.
Wydermyer produced an 84.4 grade last season as the main attraction over the middle of the field, running tough routes and catching almost every ball thrown at him. The lack of returning talent at quarterback and the offensive line is cause for concern, though, and the strong recruiting classes may not be able to conceal the losses in those two areas.
The Aggies' defense has just been all right since Mike Elko took over the unit in 2018. The unit ranks 51st in EPA allowed per play during that time, but it has shown improvement after slotting in at 77th in Elko's first year. Elko wants to sit back and let the game come to his defense. The group was really good on first and second downs last year, trailing only Alabama and Georgia in that category in the SEC.
And the Aggies return plenty of talent on defense, with DeMarvin Leal leading the way. He had a breakout 2020 season that saw him create 36 total pressures and boast a pass-rush win rate of 17%, ranking 10th best in the SEC among returning players with at least 100 pass rushes. The secondary is almost the same as 2020's iteration, including both starting corners (Jaylon and Myles Jones), a slew of players who manned the slot and the safeties. While Texas A&M loses structural pieces on offense, they retain them on defense. 
Kentucky Conference Championship Win Probability: 1%
Ole Miss Conference Championship Win Probability: <1%
These two teams are off-the-board picks to get to the SEC Championship game for the first time ever, let alone win it, but they both return some interesting talent and could make an unlikely push.
Kentucky's big offensive line is led by Darian Kinnard, who has been a mauler in the run game from his right tackle spot, posting overall grades of 89.2 in 2019 and 91.5 last season. The Wildcats also return another three players with at least 350 snaps on offense last year. They have been a very good rushing team the past couple of seasons, and they just need anything from their passing attack to become a legitimate contender.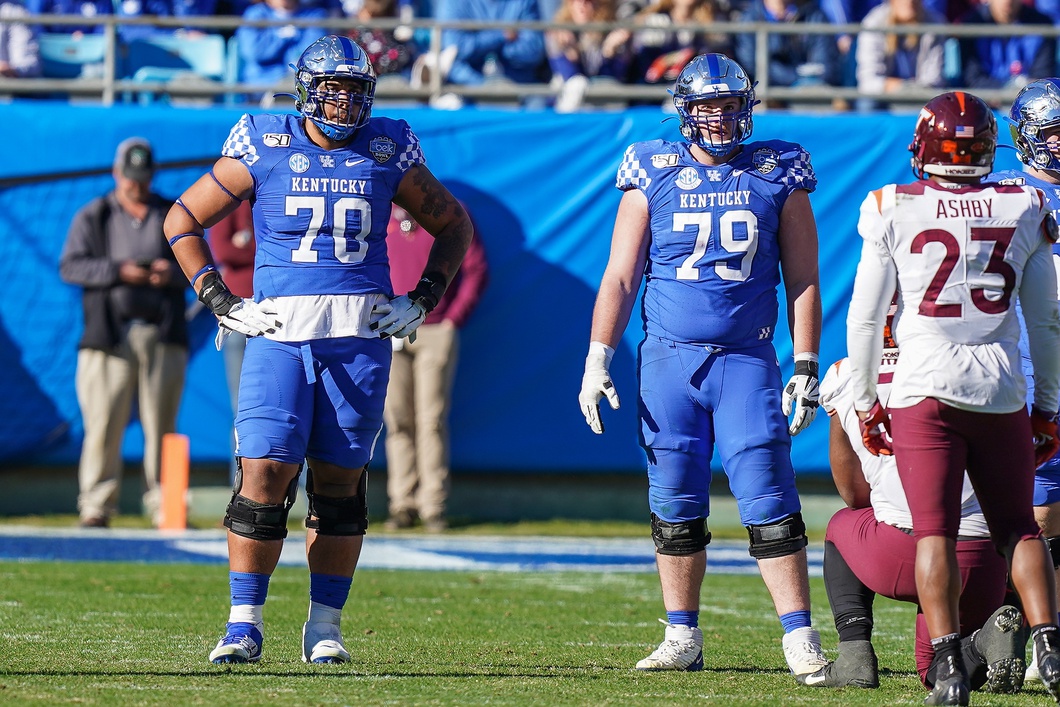 Last year, Kentucky had the 120th-ranked passing attack (-.232 EPA). The highest-graded passer at Kentucky since 2015 is Stephen Johnson in 2017 at a lowly 67.9 passing grade. The team will look for either former four-star quarterback and Auburn transfer Joey Gatewood or former three-star and Penn State transfer Will Levis to win the job and excel. It's a long shot, but if the Wildcats can get even average quarterback play, they could make some noise.
Ole Miss, on the other hand, does have some stability in its quarterback and passing attack. Head coach Lane Kiffin can always produce an offense, and with quarterback Matt Corral back at the helm, the Rebels will be in any game they play.
However, can they get just one stop from the defense? Just one. That's all Ole Miss fans are asking for. After ranking 26th in EPA allowed per play in 2015 among FBS teams, Ole Miss has yet to finish higher than 83rd (2019). And what did that 2019 team do for an encore? They dropped to 122nd last year. Ole Miss allowed a scoring drive 50% of the time last year, which ranked as a bottom-five mark in the country. Teams ran 6.8 offensive plays against them per drive, ranking last in the country.