The best quarterback in the ACC has been set in stone and is immovable from that top spot, but there's an intriguing debate to be had as to who follows as the next best signal-caller in the conference.
Now that we've seen these quarterbacks take the field for a third of the 2020 college football season, we have a better idea of which quarterbacks are taking that next step forward; we know which passers are for real, and we know the ones who are not. With the help of our unique play-by-play grading and the advanced data available with PFF's CFB Premium Stats+, here is how each ACC quarterback stacks up as we head into Week 8.
Editor's note:  PFF's CFB Premium Stats+ subscribers can view player grades, advanced statistics, positional snap counts and more. Subscribe today for access!
Shocking to see, I know.
Lawrence was the second-most-valuable player in college football in his true freshman and sophomore seasons — behind only Joe Burrow — and he is now on pace to have his best season yet.
The future No. 1 overall pick has earned a 92.7 passing grade in his five games, leading the conference by six grading points. Lawrence hasn't put his mobility to work in the ground game as much or as well as he did last year, but the man has been peppering defenses downfield. His grade rank in the conference on throws of 10 or more yards downfield remains the best by quite a bit, and his rate of quarterback-fault incompletions on such throws is the lowest among his peers. A season ago, small stretches of inaccuracy would pop up every once in awhile, but that has been far from the case in 2020.
It wasn't until the second half of Week 7 that Howell finally produced like we expected him to. Howell hadn't been bad in 2020 before that half, but there was a clear lack of aggressiveness in the playcalling, and his numbers took a hit as a result. The North Carolina signal-caller earned a 74.2 passing grade over the first three games of 2020, and he did that with the lowest average depth of target (aDOT) in the ACC — a mark nearly 4 yards lower than it was in 2019.
Then, after the Tar Heels found themselves trailing by 24 points at the half against Florida State, they had no choice but to be aggressive. Howell's aDOT in those final two quarters skyrocketed from 3.5 to 20.4; he earned a 93.6 passing grade while completing 6-of-9 deep attempts (20-plus yards downfield) for 186 yards and three touchdowns in that second half. It was reminiscent of his 2019 true freshman campaign when he ranked third in the FBS in deep completions.
Let Howell air it out and prosper.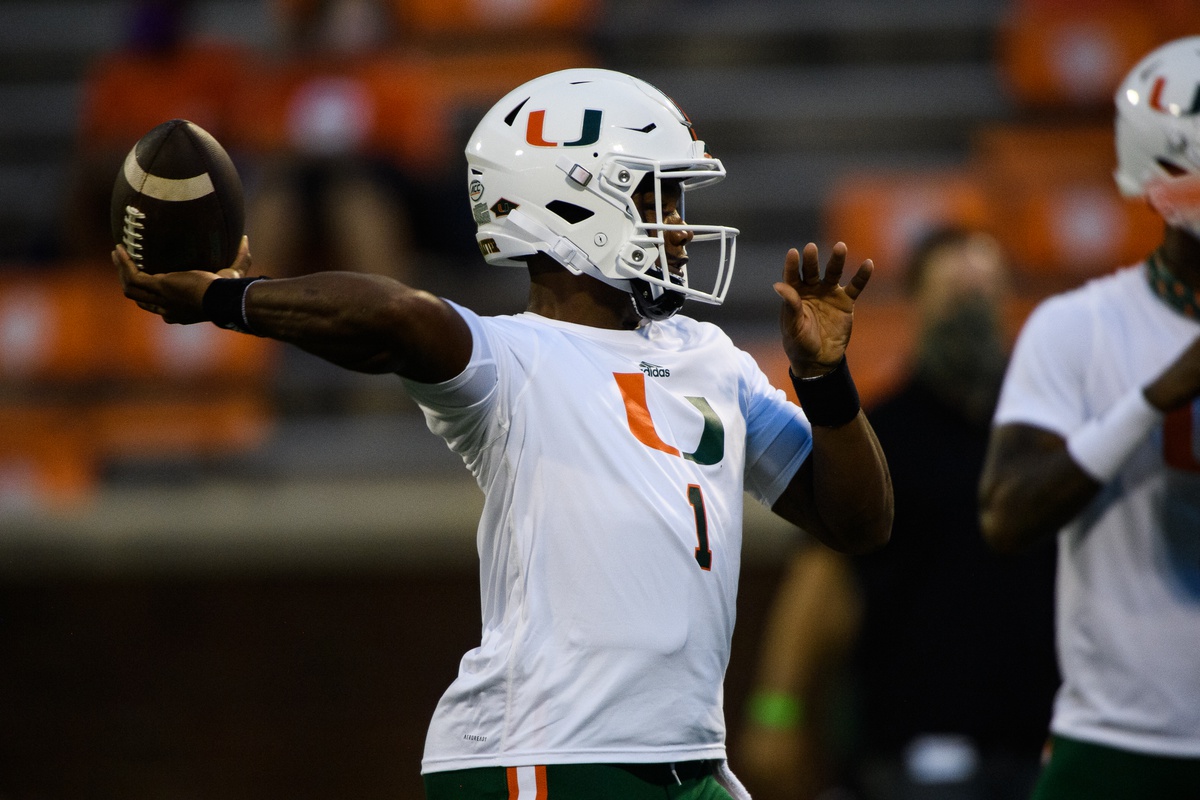 King rattled off three straight 80.0-plus game grades to start his time with the Hurricanes — something no Miami quarterback has done in the PFF College era. He was carving defenses up through the air and on the ground, reminding us of 2018 D'Eriq King, when he was the second-highest-graded quarterback in the country.
He has looked more like 2019 D'Eriq King over the last two weeks, as he has managed a 51.3 passing grade in that span, but he has still maintained an 85.6 rushing grade by making plays on the ground.
King's overall performance as a runner has been one of the best in the country this season. He has recorded an 83.3 rushing grade, averaged over 5 yards after contact per rush, busted off 13 explosive runs of 10 or more yards and broken 18 tackles — all of those rank in the top three in the FBS this season.
The new Miami quarterback lost his No. 2 spot behind Lawrence because of that drop-off in passing performance, but he has still been among the best QBs in the ACC.
Hooker has only played a little over a game and a half in 2020, as he missed the first few games of the season due to COVID-19 protocols. However, we have seen enough from him, both this season and last season, to know he is worthy of this ranking. Since taking over as starter back in Week 6 of 2019, Hooker ranks fourth among this group in PFF grade.
Hooker's running ability has been put on full display this year. He has seen 25 carries this season and has produced an FBS-high 89.4 rushing grade, 10 broken tackles and has averaged 7.9 yards per attempt.
Hooker hasn't found the same success through the air in 2020 as he did in 2019, but it's been a small sample (28 pass attempts). It's only a matter of time before we start seeing the 2019 version of Hooker that ranked fifth in the ACC in grade on throws of 10 or more yards downfield.
Hartman has exceeded expectations so far. The Wake Forest quarterback has earned an 85.2 passing grade in his four games this year — over 10 grading points higher than the mark he earned as a starter in 2018.
That year, as a true freshman, Hartman beat up the three Group of Five defenses he faced en route to a 92.0 passing grade but struggled in conference play, as his grade dipped to 58.6 in those games.
Hartman has recorded a passing grade above 70.0 in each of his three conference games this year — against Clemson, NC State and Virginia — and he has been exceptional when free from pressure. His grade on such dropbacks is 92.6, trailing only Trevor Lawrence for the best in the conference. Considering clean-pocket play is stable and most predictive of future performance, this is a great sign.
Pickett missed Pitt's Week 7 matchup against Miami and is likely to miss the Week 8 clash with Notre Dame, but his 2020 passing grade is nearly identical to the grade he earned last year.
Pickett earned a 75.8 passing grade in 2019 and currently sits at 75.4 in 2020. However, if you remove that cupcake game against Austin Peay to open up the year, Pickett's passing grade actually dips to 69.3. He has avoided uncatchable throws and is routinely hitting his open receivers downfield, but we are seeing a low rate of big-time throws from Pickett — he currently ranks third-to-last in big-time rate in the ACC. On top of that, he has fumbled the ball seven times this year, tying for the most in the FBS. If Pickett wants to climb up this list, he has to improve in those two areas.
Jurkovec can be a bit of a rollercoaster at times — his 16 big-time throws lead the ACC while his 14 turnover-worthy plays are the second-most in the conference — but he is still on pace to be the best Boston College quarterback since perhaps the days of Matt Ryan.
The program hasn't churned out a quarterback who has produced a single-season passing grade above 70.0 in the PFF College era, but Jurkovec's 72.3 passing grade is set to change that. He's been fearless under pressure and has made a bevy of big-time throws out of structure — in fact, Jurkovec has had five big-time throws when creating out of structure this season.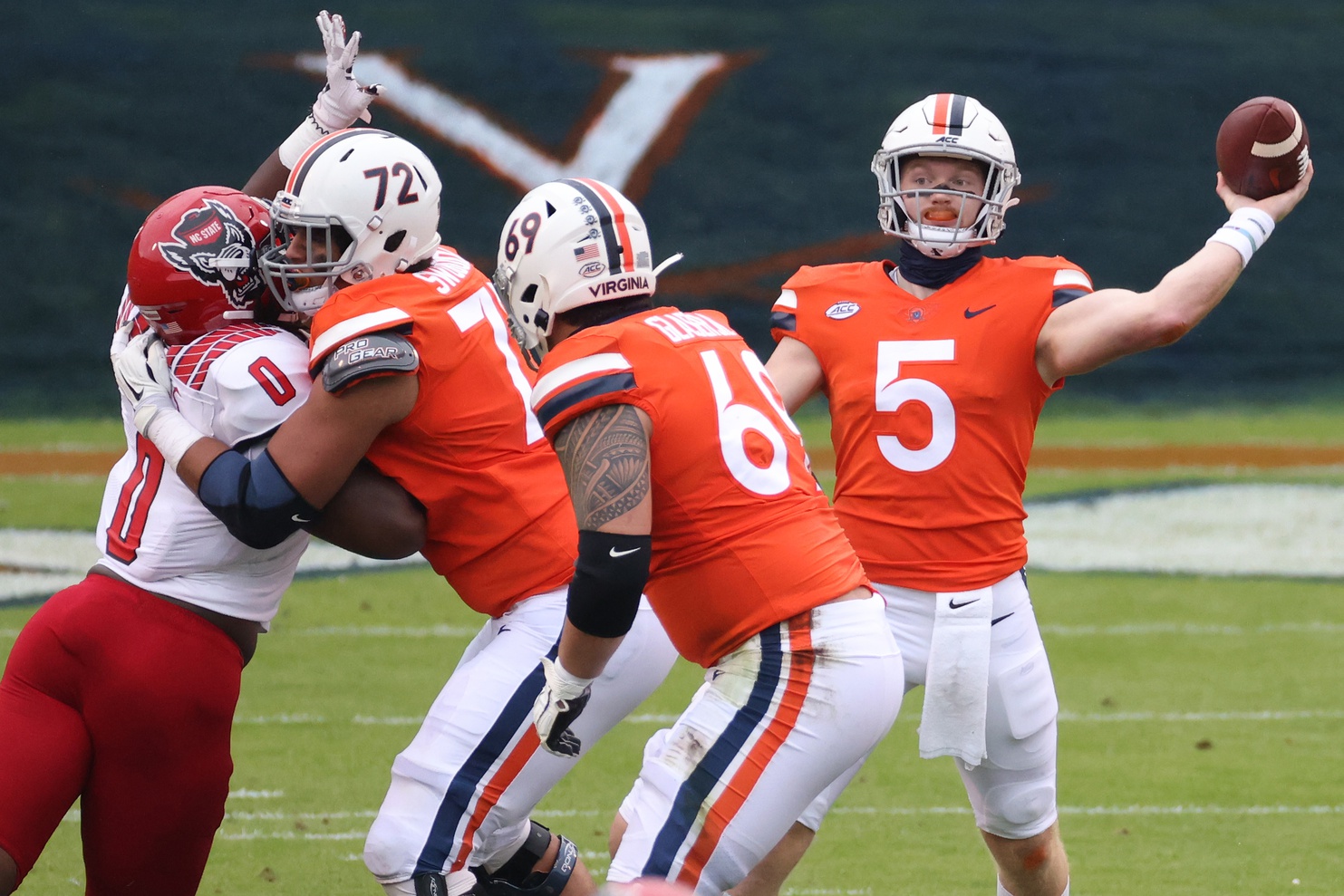 Armstrong was knocked out of the Cavaliers' Week 6 matchup against NC State with a concussion, causing him to miss Week 7 and most likely Week 8. He looked solid in his two starts, though, posting PFF grades of 74.4 and 77.3 against Duke and Clemson.
Armstrong had three carries in each of those two games that resulted in a 10-plus-yard gain, and his arm was the key reason why Virginia won their first matchup against the Blue Devils. They entered the fourth quarter that night down 20-17, but Armstrong led them to 21 unanswered points in the fourth as he earned a 94.5 passing grade in that quarter, completing 8-of-9 attempts for 144 yards, two touchdowns and three big-time throws.
Cunningham has experienced a steep drop-off in performance in 2020. In five games this year, Cunningham has earned a 64.1 PFF grade that ranks 50th among 66 qualifying FBS quarterbacks. That's nearly 10 grading points lower than his grade in 2019, and it has played a major role in the Cardinals going from the most efficient passing offense in the ACC in 2019 to the 11th-most-efficient in 2020.
He made a multitude of bad decisions in his first four games of the 2020 season; he had multiple turnover-worthy plays in each game, 11 in total. More than half of those came from a clean-pocket, an area Cunningham thrived in last year when he was third in the FBS in clean-pocket passing grade.
Cunningham did bounce back in Week 7 against Notre Dame and didn't record a single turnover-worthy play. He tied for the lowest negatively graded throw rate of the week en route to a 90.8 PFF grade for the game. Hopefully that game was the start of a turnaround for the Louisville quarterback.
The Irish defense has been great, the offensive line has been great, the run game (thanks to the offensive line) has been great, but the passing offense has fallen short.
Book hasn't been able to overcome the deficiencies at wide receiver and has earned just a 65.0 passing grade in four games this year. He hasn't put the ball in harm's way — he has the lowest turnover-worthy play rate in the ACC — but Book also hasn't been able to produce many big plays. He has just one big-time throw this year, forming the lowest big-time throw rate in the ACC. Notre Dame is actually only one of two Power Five programs to generate more 10-plus-yard gains on the ground than through the air in 2020. If the Irish want to give Clemson a run for their money, this will have to change.
Travis took over the Florida State offense a few weeks ago after James Blackman was relegated to the bench. Travis hasn't been much better on a throw-for-throw basis, as his passing grade for the year sits at just 56.5, and he has done that in an offense that rarely relies on true dropbacks (straight dropbacks that have no play action or RPO attached; no quick throws, screen passes, etc.).
That said, Travis has been able to connect on some downfield play-action shots. He leads the ACC in total deep (20-plus yard) play-action completions with seven. While there are some question marks with his passing ability, there are none with his rushing. Travis has recorded the third-best rushing grade in the ACC behind Hooker and King and has turned 44% of his carries into either a first down or touchdown.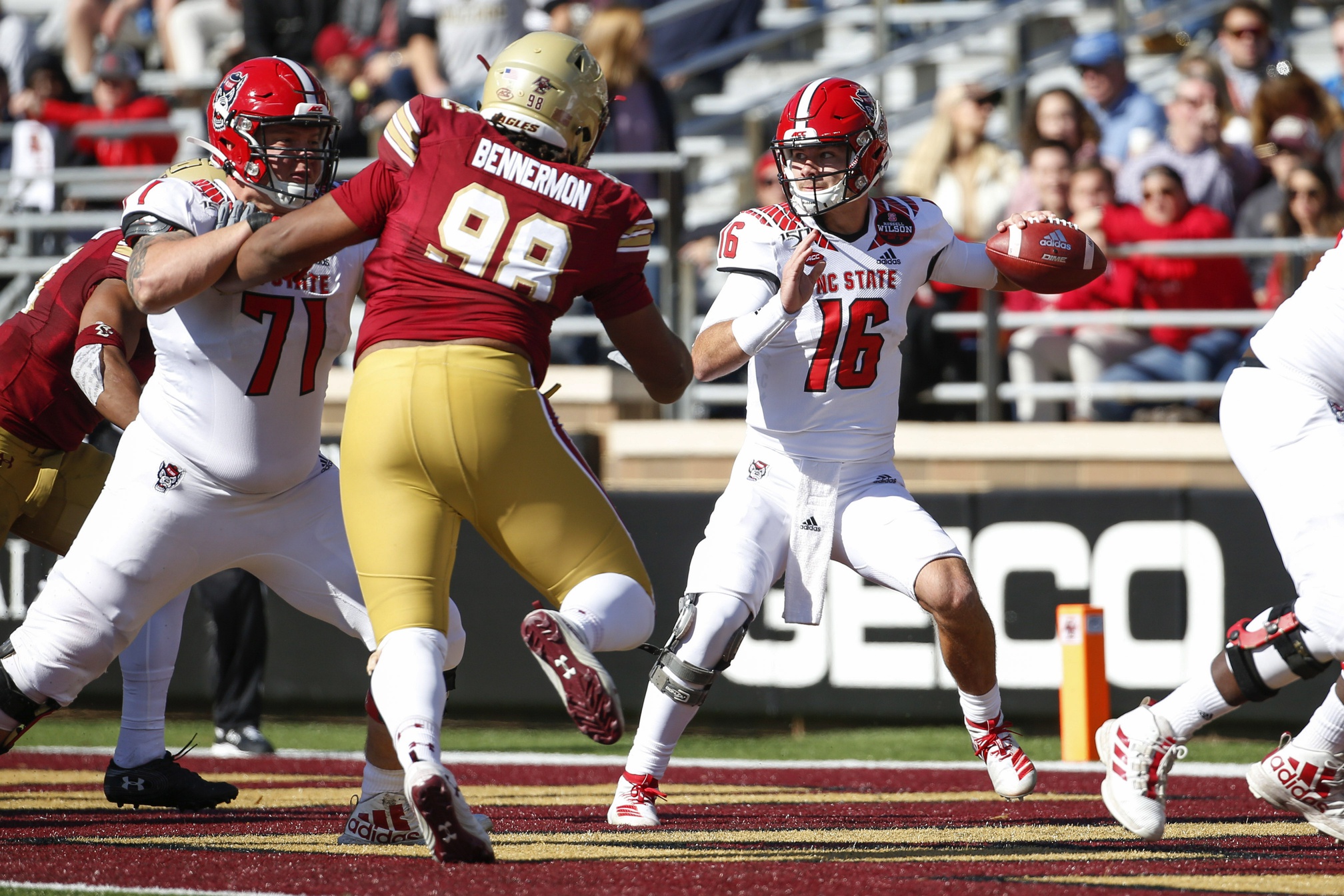 Unfortunately, the Wolfpack's starting quarterback, Devin Leary, broke his fibula in last week's matchup against Duke. The redshirt sophomore earned just a 57.2 passing grade in 2019 but improved that mark to 77.1 on his 122 dropbacks in 2020. He was one of the more aggressive quarterbacks in the country, and that playstyle paid off, as he had the second-best big-time throw rate in the ACC up until his injury.
This offense will now be led by Hockman, who began the season as NC State's starting quarterback. Sure, he was conservative, with a 5.8 average depth of target, but he did complete 6-of-9 passes that traveled 10 or more yards downfield, racking up 130 yards and a touchdown. Hockman then got the start against Virginia Tech the following week, despite Leary being ready to return from the COVID-19 protocol.
Hockman was then quickly replaced after a shocking start against the Hokies that saw him struggle to a 36.8 passing grade with two turnover-worthy plays on 17 pass attempts. Then, when he came in for Leary in Week 7, Hockman attempted seven passes and managed to produce another two turnover-worthy plays, resulting in a 29.1 passing grade.
Culpepper has now become the starter for the Orange in the wake of Tommy DeVito's season-ending injury.
The fifth-year senior made his second career start against Liberty last week, and it didn't go all that well. He recorded a 56.2 passing grade for the game and failed to get anything rolling downfield. Culpepper attempted 17 passes over 10 yards downfield and completed just four. For his second start of the year, Culpepper and Syracuse are lucky enough to go up against the Clemson Tigers. They will be in for a long day.
There was a lot of optimism surrounding Brice entering the season. After all, he performed fairly well in his garbage-time opportunities at Clemson in 2018 and 2019. He took a total of 147 dropbacks in those two years for the Tigers and even earned an 82.4 passing grade, but he hasn't come remotely close to producing at that level in 2020.
Brice has earned a 47.3 passing grade in his six starts — the fifth-worst mark in the FBS — and he has failed to produce a passing grade above 60.0 in all six. The downfield accuracy has been even worse than expected from him, too, as he ranks dead last in the ACC in the percentage of accurate passes thrown 10 or more yards downfield.
A new era of Georgia Tech football commenced last year as they transitioned from the flexbone to the spread, but the offense was extremely poor in that first year, as they ranked 123rd in the FBS in per-play efficiency. This year, they called on four-star true freshman Jeff Sims to lead the offense and get this new era rolling. Alas, the results have been underwhelming.
Sims has recorded a 35.5 passing grade in five games this season, the second-worst in the FBS. He has thrown a quarterback-fault incompletion on nearly a quarter of his pass attempts, the worst rate in the ACC, and he has let go of a turnover-worthy play on 8% of his pass attempts, also the worst mark in the ACC.
There's no doubt that Sims has the athleticism to do some damage with his legs — we have seen him record at least one explosive run of 10-plus yards in every game played, and he has also broken 17 tackles on 53 carries. At the same time, Sims also tied for the third-most fumbles with six. He might be the guy who eventually turns the Yellow Jackets around, but Sims has a long way to go as a passer.