Every week this college football season, we are going to take you into the minds of college football's top young quarterbacks to gain some insight into their decision-making process — from the great throws to the boneheaded mistakes and everything in between.
This week, we saw upsets galore as the Sun Belt ran rampant over the Big 12. And Trevor Lawrence came out swinging to knock out Wake Forest, but we start in Chapel Hill with young phenom Sam Howell.
Editor's note: All of PFF's grades and advanced stats from Week 1 of NFL action are available to ELITE subscribers now. Subscribe today for access!
Sam Howell, North Carolina — The RPO King
Sam Howell was one of the breakout stars of the 2019 college football season, leading North Carolina to a 7-6 record, almost upsetting Clemson and then winning ACC Rookie of the Year honors. In the RPO-laden offense of coordinator Phil Longo, the Tar Heels led all Power Five teams in RPOs called in 2019. Howell was magnificent in these run-pass option plays, racking up 1046 yards and six touchdowns without any interceptions. Those concepts set the floor for him, but if he could develop more as a passer outside of those structures, the sky was really the limit for him and his team.
We are left still searching for answers after North Carolina's sloppy win over a Syracuse squad that may end up being the worst ACC team in 2020. Last year's 'Cuse team finished 10th in the ACC in expected points added per play, and although they brought back some playmakers — such as Andre Cisco, more on him later — this could have been a great way to acclimate Howell in the pocket.
That didn't quite happen, and it wasn't all on the quarterback. Tar Heel receivers bumped into each other on numerous occasions, and there was even an example of a receiver trying to catch a ball not intended for him, only for it to be dropped by the receiver it was actually meant for.
Howell would finish with a 73.1 grade on non-RPO throws — down around 7.2 points from his grade on the same throws in 2019. He did throw the ball accurately, especially on in-breaking routes when he was able to find the open receiver, but those plays were few and far between. On his first of two interceptions on the day, he threw an accurate ball to Dyami Brown, who was draped by a Syracuse cornerback. That was another story of the day: Syracuse's ability to blanket North Carolina's strong receiver group in man coverage. On this play, 'Cuse corner Ifeatu Melifonwu was able to get a hand on the ball and tip it up to a teammate.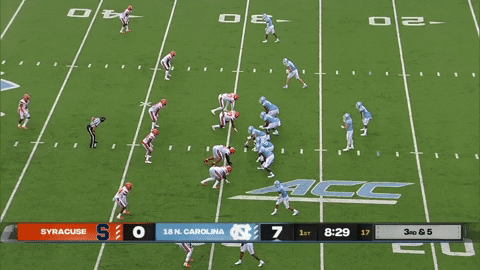 Howell's read right off the snap is the movement of Syracuse's No. 31, who is lined up over the Tar Heel running back. When he sprints to cover the running back in man coverage, the screen set up to that side is voided because there aren't enough blockers. Howell moves on to the backside of the play, where UNC has two quick in-breaking routes.
Subscribe to PFF Edge to continue reading
Already have a subscription? Sign In