In the offensive age, watch lists for the best receiver in college football seem to get deeper and tougher to narrow down. There are so many potent passing attacks across the country, and with them come numerous talented players who are building future NFL resumes.
With plenty of names to choose from, here are PFF's top candidates for the Fred Biletnikoff Award, given to the best receiver in college football.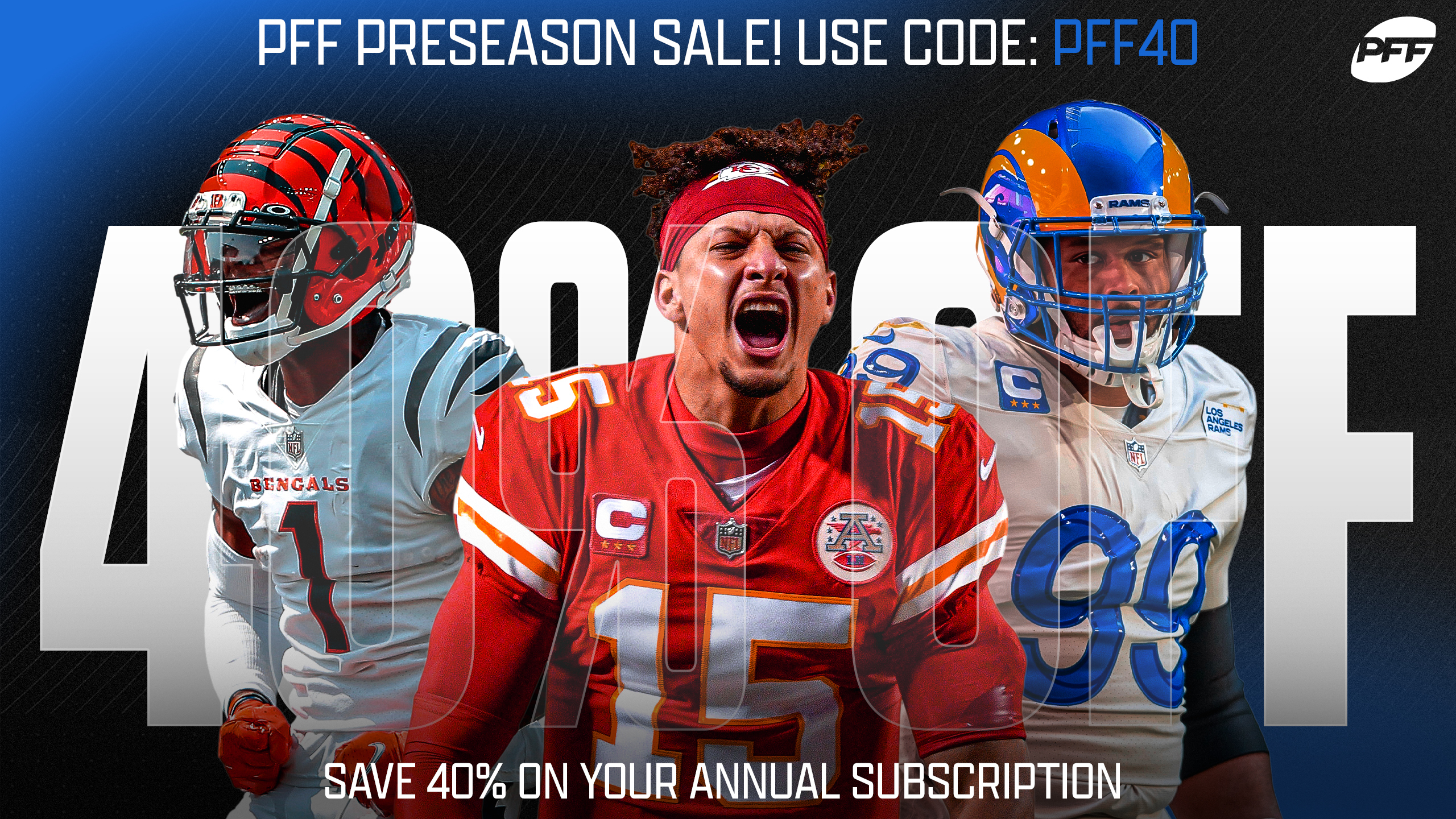 The Reigning King
Addison is the reigning Biletnikoff Award winner after an incredible 2021 campaign in which he caught 100 passes for 1,593 yards and 17 touchdowns. He transferred from Pittsburgh to USC for the 2022 season, but that has only boosted the hype surrounding him, as he'll be in a Lincoln Riley offense with Heisman Trophy candidate Caleb Williams as his quarterback.
Michael Crabtree and Justin Blackmon are the only players in college football history who have won the award twice in a row. Addison could very well be the third.
Other Favorites
Many look at Smith-Njigba's name on award lists and think, "Oh yeah, he's in for a lot more volume with Garrett Wilson and Chris Olave now in the NFL." And then you realize that even with Wilson and Olave, Smith-Njigba led Ohio State in receptions (95) and receiving yards (1,606). With quarterback C.J. Stroud back, JSN has the chance to lead the nation in every receiving category this year.
Despite less-than-ideal quarterback play, there was a stretch of nine games between the end of 2022 and the start of 2021 where no player in the FBS had more total receiving yards (967), yards after contact (208, yards after the catch (493) and receiving touchdowns (13) than Kayshon Boutte. He's LSU's big-play machine, and now that he's fully recovered from his offseason ankle surgery, expect a big year for the true junior.
Worthy was just a true freshman last season, but that didn't stop him from making an impact on one of the best programs in the country. In 2021, Worthy set freshman school records for receiving yards (981) and receiving touchdowns (12). More confidence and more passes his way with better quarterback play could stuff the stat sheet for a premiere program (which always helps with awards).
Best of the Next
Volume should be the name of the game for these next four receivers. Perry ranked third in the country in receiving touchdowns (15) last year while recording almost 1,300 yards. The 5-foot-8, 155-pound Dell caught 90 passes and over 1,300 yards in his first full campaign with the Cougars. Downs eclipsed both the 100-catch mark and the 1,300-yard mark. And as for Johnston, his career high last year was just 33 catches for 634 yards, but the future NFL receiver should be the focal point of the Horned Frogs' offense in 2022.
You have to be close to the top of the leaderboard in those key stats to be crowned Biletnikoff Award winner. These four players should have the chances to do so.
Back And Better Than Ever
These two receivers are coming off season-ending injuries but could be in the conversation for the nation's top receiver when fully healthy. 
Through five games, Demus yielded a 146.5 passer rating when targeted in 2021. He also placed top 10 in categories such as 20-plus yard receptions (7) and receiving yards (279). As for Bell, we didn't get much from him in 2021, as he suffered his season-ending injury in Week 1. But there's a ton of hype around the Wolverines' senior playmaker, who was on his way to an elite PFF grade in that first week before going down.
Fresh-Start Stars
A handful of receivers wearing new uniforms this season still have a good chance to stand out among the best. Cowing, now at Arizona after transferring from UTEP, joined Jaxon Smith-Njigba as the only receivers in the FBS with elite receiving grades above 90.0. Neyor brings a big 6-foot-3, 215-pound frame to Texas after a fantastic season at Wyoming last year with 15 contested catches and 12 touchdowns, both top-15 numbers in the FBS. Williams, the highly touted recruit, followed head coach Lincoln Riley from Oklahoma to USC. Expect him to hit the ground running with familiarity already in place.
"So You're Saying There's a Chance…"
As for those with some outside shots at the award, Tillman is a beneficiary of Josh Heupel's pass-heavy offense, notching over 1,000 yards, 12 receiving touchdowns and 13 contested catches in 2021. Wicks had an incredible 21.1 yards-per-catch average with over 1,200 receiving yards total last season. Mims is now playing with a quarterback who threw 61 passing touchdowns over the span of two seasons in Dillon Gabriel. Meanwhile, Henderson and Reed both found their names on the 2022 Maxwell Award watch list, given to the best all-around player in the nation.