College football award watch season has finally arrived, which means it's time for PFF to reveal preseason picks for the most prestigious honors in the game.
Today, we dive into the Butkus Award, which is given to the best linebacker in college football each year.
With the help of PFF's College Football Preview Magazine, PFF grades, advanced stats and, of course, the tape, here is a look at PFF's favorites and a list of other names to watch.
Editor's Note: This is a PFF preseason watch list that is in no way affiliated with the Butkus Award.
Subscribe to
Ulofoshio, a 2018 walk-on, looked like a prime breakout candidate for 2020. And he dominated in each of his four outings, finishing the year with an 87.8 PFF grade. Across 452 career snaps, he has an 84.8 run-defense grade, a 92.6 pass-rush grade and an 82.3 coverage grade. If he keeps this up, no one is catching him for the Butkus Award.
Jones places at No. 2 here solely because of his impact in coverage. His run defense and tackling are shaky, but LSU can live with those deficiencies. Jones is fresh off a season in which he posted an elite 90.2 coverage grade and was a blitz weapon with 11 pressures on 48 pass-rush snaps. His athleticism will be an asset to the Tigers, who no longer have to be too worried about the departure of standout coverage linebacker Jabril Cox.
Martial walked on for the Troy Trojans in 2017, made his first start in 2018 and has since been in the conversation for the best off-ball linebacker in the Group of Five. He's on the smaller end, standing at 5-foot-9 and 216 pounds, but that hasn't held him back. Martial posted PFF grades of 90.9, 91.3 and 82.4 in his three years on the field. He has accumulated 159 defensive stops in that span, the most among all FBS off-ball linebackers.
While the lowest-graded season of his career came in 2020, that 82.4 mark was still good enough to rank 12th in the FBS. And over his last six games, he was college football's highest-graded off-ball linebacker.
Domann mans a hybrid role in the Cornhuskers' defense; he'll line up at outside linebacker or in the slot — the latter being where he has played most often. There's a reasonable case that he shouldn't be on this list, but his listed position by the team is outside linebacker, so here we are.
Domann's coverage prowess has been apparent ever since he took on a major role in 2019. Over the past two seasons, he's recorded an 86.6 coverage grade, nine forced incompletions and 19 passing stops. The 6-foot-1, 230-pound sixth-year senior also made major strides in run defense in 2020, raising his grade from 56.3 to 73.5.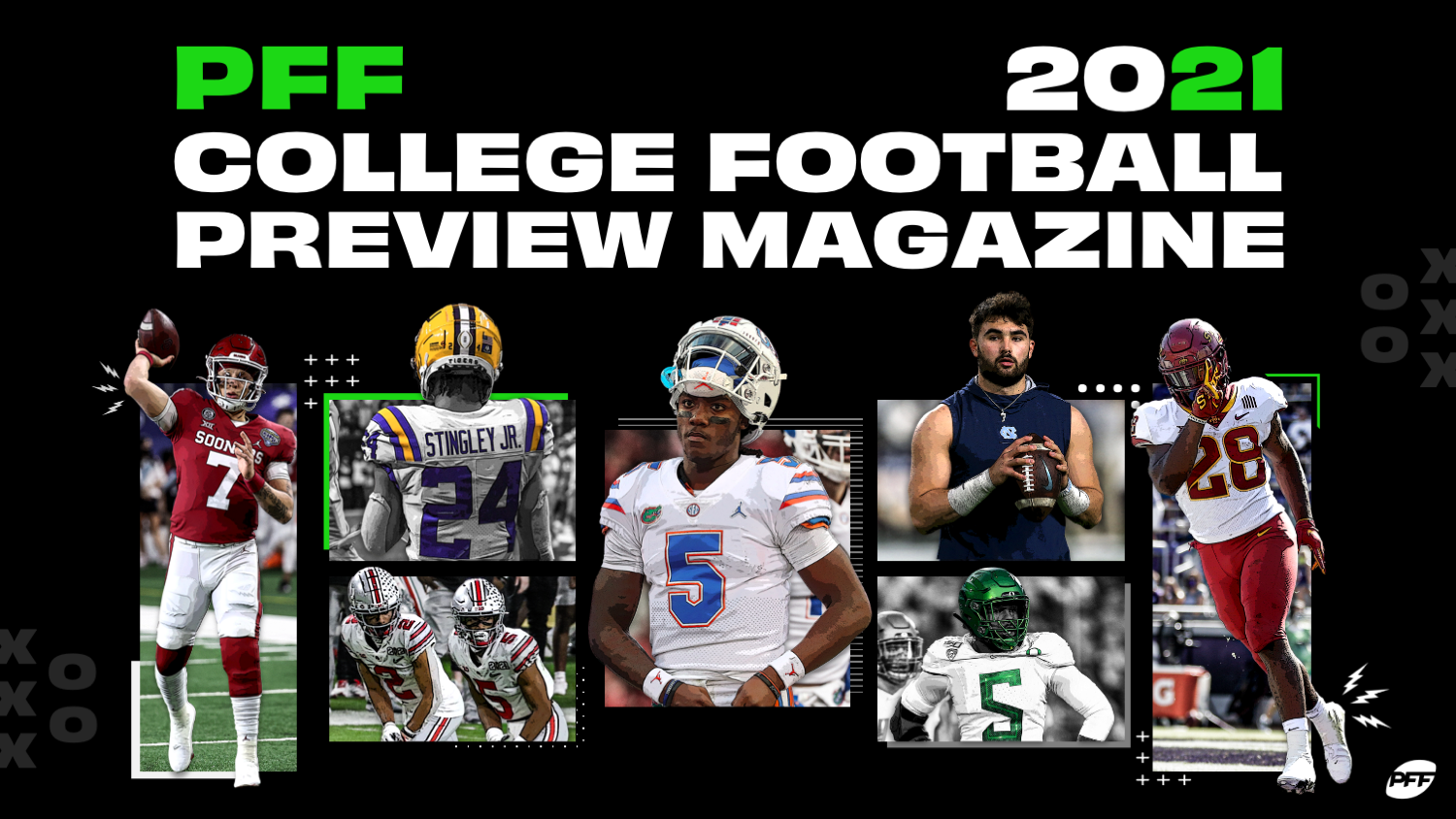 McFadden is the best blitzing off-ball linebacker in college football, and the Hoosiers will continue to take advantage of that. He rushed the passer on close to 28% of passing snaps in 2019, coming away with an 81.9 pass-rush grade. In 2020, that rate jumped to over 44%, and his pass-rush grade skyrocketed to 90.8.
He did that while showing major growth in coverage and as a tackler, which was his downfall in 2019. McFadden went from missing a tackle on 27% of his attempts in 2019 to just 13% of the time in 2020. And all of his misses in 2020 came in two games (Penn State and Ohio State).
Pitre took on a big role as a true freshman in 2017 but put forth only a mediocre performance. He himself said it was tough to acclimate to Power Five football in a complex system. His playing time then dipped in Year 2 before a shoulder injury caused him to redshirt in 2019. 
Pitre came back at full strength in 2020 and was one of the most explosive and productive players at the position. He posted 80.0-plus grades against the run, as a pass rusher and when dropping into coverage, paving the way for a top-five PFF overall grade among Power Five off-ball linebackers. 
Sanborn shined in the passing game in his first year as a major piece within Wisconsin's defense in 2019, but he had some major kinks to work out in run defense and tackling. He posted an 83.8 coverage grade, six combined pass breakups and interceptions and 23 pressures on 83 pass-rush snaps en route to a 77.3 pass-rush grade. On the flip side, he produced a 24% missed tackle rate and a 56.5 coverage grade. 
After a rough debut against Illinois in 2020, Sanborn worked out those kinks. He finished the year with a run-defense grade that was nearly 30 grading points higher (84.3), and his missed tackle rate dropped by 10 percentage points.
Rose has ranked among the best linebackers in the Big 12 in each of his three years starting for the Cyclones. His PFF grades stand at 78.1 (sixth), 75.8 (second) and 78.4 (second). Last year, Rose showed his best play against the run, where he took on blocks with ease and recorded a 91.6 run-defense grade that tied for best in the FBS.
His coverage, however, is a bit shaky. Rose snagged five interceptions in 2020, but he was often caught out of position, leading to a 50th-percentile coverage grade among Big 12 off-ball linebackers. The year before that was a different story, though, so he could bounce back in 2021. In 2019, Rose trailed only Garret Wallow (TCU) and Kenneth Murray (Oklahoma) for the best coverage grade in the conference.
OTHERS TO WATCH (IN ALPHABETICAL ORDER)