A locked-in college football schedule with no sudden changes. Tailgates with friends and family. Stadiums packed to the brim. Students storming the streets after a major upset win. It's all coming soon — the college football landscape is returning to normal.
The 2021 college football season kicks off in just under two months, and what better way to prepare than by running through PFF's preseason awards. The 600-page PFF College Football Magazine and PFF Preseason All-America Team dropped last week, and now 10 all-conference teams have hit PFF.com.
Below is the PFF 2021 Preseason All-MWC Team. The side below was selected with the help of PFF grades and advanced statistics, which are now available to PFF's CFB Premium Stats+ Subscribers.
QUARTERBACK
Strong will enter 2021 with a fanfare after breaking out in 2020. Armed with one of the biggest arms in the country, he earned an 85.8 passing grade last season that featured the fifth-best turnover-worthy play rate in the FBS (1.7%). Strong tallied four touchdowns that traveled 50-plus yards through the air last year. For reference, that's the most in a single season in the PFF College era — no other quarterback in the FBS in 2020 had more than one.
Second-Team: Jake Haener, Fresno State
Third-Team: Nick Starkel, San Jose State
Honorable Mention: Jack Sears, Boise State
RUNNING BACK
Rivers is one of the few running backs in the Group of Five who can effectively make an impact both on the ground and as a receiver. He was just one of two non-Power Five running backs with an 80.0-plus grade in each facet in 2020.
Second-Team: Tyler Nevens, San Jose State
Third-Team: Greg Bell, San Diego State
Honorable Mention: Devonte Lee, Nevada
Roberts is going to be an integral part of the Air Force option attack after coming out of nowhere and impressing in 2020. He only played in four games last year, the first action of his collegiate career, and he came out with an 82.0 rushing grade. He managed 4.22 yards after contact per attempt and 13 runs of 10-plus yards across 64 carries.
Second-Team: Toa Taua, Nevada
Third-Team: Xazavian Valladay, Wyoming
Honorable Mention: Trey Smith, Wyoming
WIDE RECEIVER
Shakir went from playing predominantly in the slot in 2019 to mostly out wide in 2020, but his production didn't skip a beat. His strong 88.2 receiving grade from 2019 increased slightly to 88.8 this past season, the ninth-best mark in the FBS. He joined Alabama's DeVonta Smith and Ole Miss' Elijah Moore as the only FBS wide receivers to generate over 3.2 yards per route run in both the slot and out wide.
Second-Team: Elijah Cooks, Nevada
Third-Team: Kyle Williams, UNLV
Honorable Mention: Tory Horton, Nevada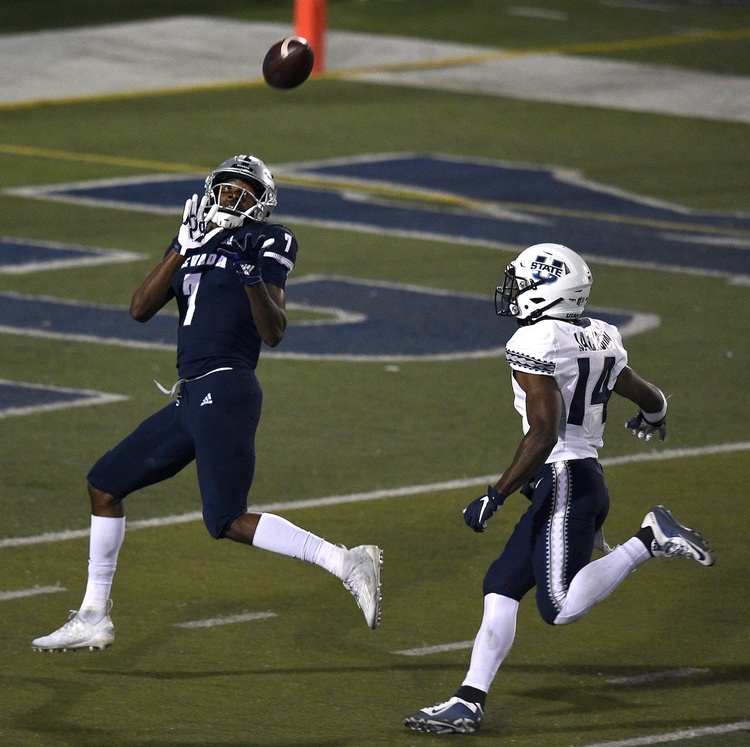 Strong's No. 1 deep threat was none other than Romeo Doubs, who finished top-three in the FBS in both deep receiving yards (538) and touchdowns (seven) last season. When filtering to just single coverage reps, he leads the FBS in deep receiving yards (505). Doubs has the top-end speed to stack corners with ease.
Second-Team: Jalen Cropper, Fresno State
Third-Team: CT Thomas, Boise State
Honorable Mention: Josh Kelly, Fresno State
Wright generated an 85.0 receiving grade along with 3.54 yards per route run in three games last season. In 2019, his freshman season, he proved to be one of the most electric players after the catch in college football. He has averaged 8.6 yards after the catch per reception and has broken 18 tackles in his career.
Second-Team: Calvin Turner, Hawaii
Third-Team: Jesse Matthews, San Diego State
Honorable Mention: Isaiah Hamilton, San Jose State
TIGHT END
McBride is one of the top all-around tight ends in college football when it comes to combining blocking prowess and receiving ability. The 6-foot-4, 260-pound tight end emerged with an 83.6 PFF grade in his 2019 sophomore campaign. He was limited to only four games in 2020, but he was the focal point of the offense whenever he was on the field. He saw a total of 34 targets and put up a 90.8 receiving grade while averaging 2.60 yards per route run.
Second-Team: Cole Turner, Nevada
Third-Team: Kyle Patterson, Air Force
Honorable Mention: Derrick Deese Jr., San Jose State
OFFENSIVE TACKLE
Snyder has been a mainstay on San Jose State's offensive line for the past four years, but he took a massive step forward in every facet in 2020. He earned a grade above 88.0 as both a pass-blocker and a run-blocker en route to a 90.9 PFF grade for the season. His play strength markedly improved, which led to far cleaner true pass sets and more impactful run blocking.
Second-Team: Aaron Frost, Nevada
Third-Team: Barry Wesley, Colorado State
Honorable Mention: John Ojukwu, Boise State
Thomas is one of the most impactful run-blockers in the Group of Five — his 90.1 grade in that facet ranked inside the top 10 among FBS tackles last season. Unfortunately, his work in pass protection is not quite up to that standard, as he earned a 61.1 pass-block grade in 2020 despite seeing a low rate of true pass sets.
Second-Team: Alfred Edwards, Utah State
Third-Team: Gene Pryor, Hawaii
Honorable Mention: Jacob Gardner, Nevada
INTERIOR OFFENSIVE LINE
Orsini might not be able to hang with some of the big dogs in the Mountain West, but he is still well above his fellow centers as a pass-protector. He earned a pass-block grade north of 73.0 in seven of his nine starts last season. The two that failed to hit that mark came against the potent pass rushes of UNLV and San Diego State (both were sub-45.0 marks).
Second-Team: Alama Uluave, San Diego State
Third-Team: Kyle Stapley, New Mexico
Honorable Mention: Keegan Cryder, Wyoming
While Dunkle is a good pass-protector, he really elevated his play in 2020 with his nasty performance in the run game. In his five outings as a redshirt freshman, Dunkle recorded a 90.4 run-block grade that ranked second in the FBS. Despite only playing in five games, he managed to tie for the second-most big-time blocks among FBS guards with nine while leading that group in positively graded run-block rate.
Second-Team: Julio Garcia, UNLV
Third-Team: Jermaine Ledbetter, Nevada
Honorable Mention: Michael Eletise, Hawaii
Stetz has quietly been one of the best pass-protectors in the Group of Five over the last couple of years. He owns a 90.7 pass-block grade on true pass sets since 2019, the best among all FBS guards. He has allowed just one pressure on 165 such reps, good for the lowest rate among that same group (0.6%).
Second-Team: Vincent Picozzi, Colorado State
Third-Team: Austin Cook, New Mexico
Honorable Mention: Isaak Gutierrez, New Mexico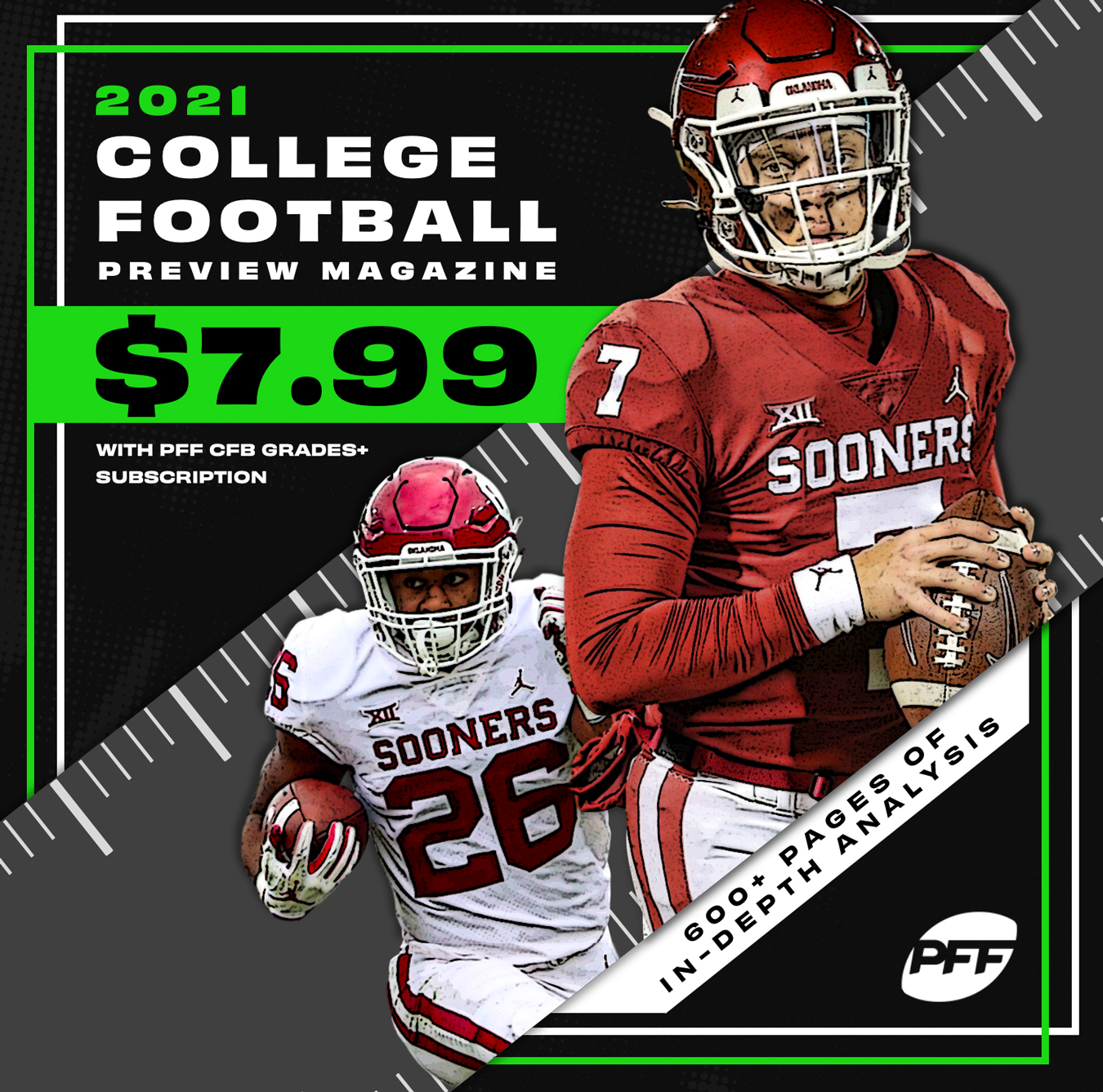 INTERIOR DEFENSIVE LINE
After dominating as a redshirt freshman and earning an 84.8 PFF grade while playing both nose and defensive tackle, Thomas transitioned more to the edge as the year went on. He had no issue, either, generating an 81.4 PFF grade that ranked second among all Mountain West defensive linemen.
Second-Team: Jonah Tavai, San Diego State
Third-Team: Eliel Ehimare, UNLV
Honorable Mention: Scale Igiehon, Boise State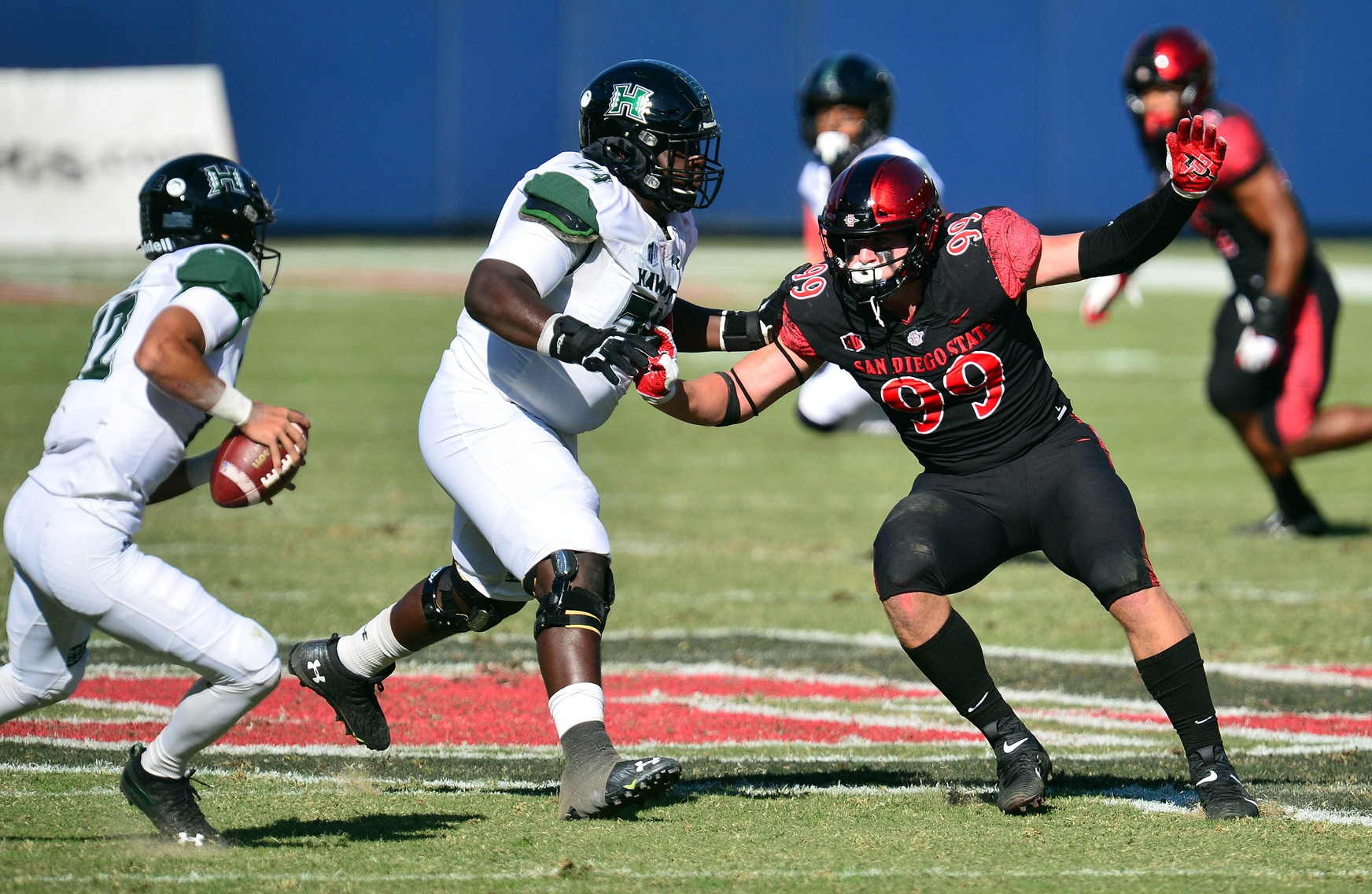 The Mountain West's fourth-highest-graded interior defensive lineman from 2020, Dom Peterson, anchors things up front for Nevada. Back in 2019, Peterson played more on the edge and ended up finishing as the conference's second-highest-graded edge defender.
Second-Team: Kolo Uasike, UNLV
Third-Team: Manny Jones, Colorado State
Honorable Mention: Noah Wright, San Jose State
EDGE DEFENDER
Fehoko went from playing a versatile role mostly on the interior in 2019 to mostly playing outside the tackles in 2020, and he went on to enjoy a career year. He finished with an 87.0 PFF grade that ranked 10th in the FBS. He'll be interesting to monitor in 2021 after packing on 30 pounds to his 6-foot-4 frame this past offseason to get to 263 pounds.
Second-Team: Cade Hall, San Jose State
Third-Team: Nick Heninger, Utah State
Honorable Mention: Caden McDonald, San Diego State
Patchan transferred to Colorado State after five years with the Miami Hurricanes. He was a late-career bloomer at The U and recorded a 76.9 PFF grade in his final year there in 2019. With CSU in 2020, he earned a 79.7 PFF grade that featured 75.0- plus marks as both a run defender and pass-rusher.
Second-Team: Sam Hammond, Nevada
Third-Team: David Perales, Fresno State
Honorable Mention: Solomon Byrd, Wyoming
LINEBACKER
Muma's coverage prowess is still a work in progress, but his run defense, blitzing and tackling are up there with the best in the country. He plays near-mistake-free ball against the run while making plays — he ranked 10th in run-defense grade and 16th in pass-rush grade among all FBS off-ball linebackers since 2019. He produced those marks while maintaining a low missed tackle rate of 7.8% (19th in the FBS). One thing to watch in 2020 is how he fares with his added weight after packing on an extra 15 pounds to get to 6-foot-3 and 242 pounds.
Second-Team: Alii Matau, San Jose State
Third-Team: Hadari Darden, San Jose State
Honorable Mention: Dequan Jackson, Colorado State
Hall joins Chad Muma as the only off-ball linebackers returning in the Mountain West to have earned a grade above 80.0 over the last couple of seasons. When playing inside linebacker, Hall has produced a top-10 coverage grade among all players at the position in the FBS since 2019.
Second-Team: Easton Gibbs, Wyoming
Third-Team: Michael Shawcroft, San Diego State
Honorable Mention: Darius Muasau, Hawaii
CORNERBACK
Robins has firmly established himself as one of the toughest corners to go up against in the Mountain West. Standing at 5-foot-9 and weighing 170 pounds, Robins owns the highest coverage grade among all returning outside corners since 2019. The zone coverage skills are clearly there and will continue to lead him to success in 2021.
Second-Team: Markel Reed, Boise State
Third-Team: Nehemiah Shelton, San Jose State
Honorable Mention: C.J. Coldon, Wyoming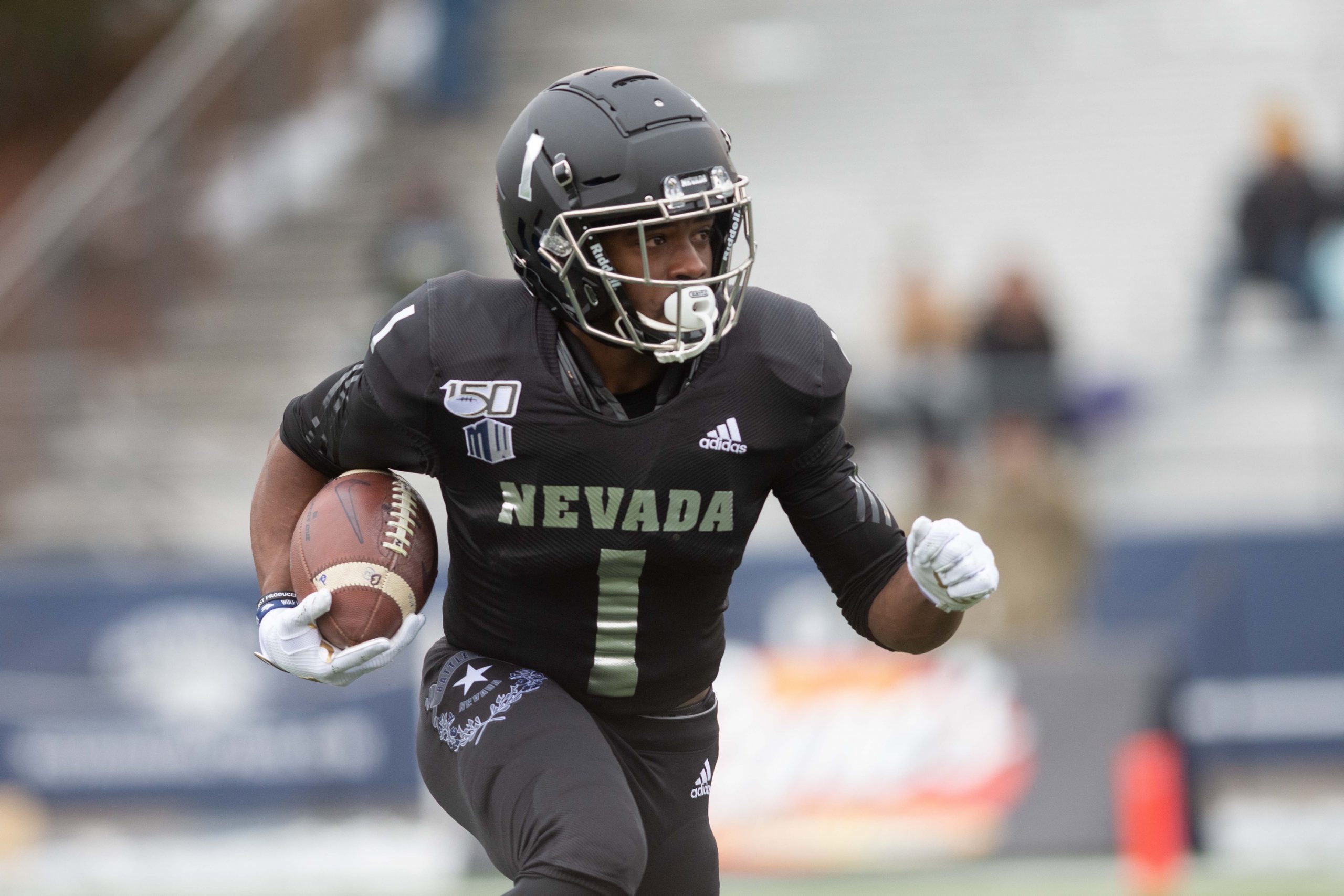 Cameron made his debut with the Rams after transferring in from Northern Colorado in 2019. He performed quite well as he finished the year owning a 70.3 PFF grade. He looked like he was on the path to a breakout in 2020, earning a 78.6 PFF grade and racking up 13 defensive stops in his four-game mini-season. The former trailing only Berdale Robins for the best in the Mountain West.
Second-Team: Wylan Free, Fresno State
Third-Team: Azizi Hearn, Wyoming
Honorable Mention: Michael Washington, Hawaii
SAFETY
Lenard may not have started last season, but when on the field, he sustained the high level of play he put on display the year prior. Lenard has been the second-highest-graded safety in the conference since 2019 and jumps to No. 1 among those that are returning this fall.
Second-Team: Trenton Thompson, San Diego State
Third-Team: Shaq Bond, Utah State
Honorable Mention: Jerrick Reed II, New Mexico
Jenkins has high expectations in 2021 after impressing in his starting debut season last year. He was one of the cleanest safeties in the conference against the run as he recorded the lowest negatively graded run play rate. Meanwhile, in coverage, he produced four combined interceptions and pass breakups in his seven starts en route to a 72.5 grade in that facet.
Second-Team: Rome Weber, Wyoming
Third-Team: Esaias Gandy, Wyoming
Honorable Mention: Eugene Ford, Hawaii
FLEX D
Davis finished top-three in both forced incompletion rate (16.7%) and passing stops (13) among MWC corners in his first year after transferring from JUCO in 2019 — he has become a corner opposing teams have simply avoided for the most part. He was targeted at the lowest rate in the conference last season (11% of his snaps) and allowed just six first downs on the year (four of which came against Boise State).
Second-Team: EJ Muhammad, Nevada
Third-Team: Kekaula Kaniho, Boise State
Honorable Mention: Tayler Hawkins, San Diego State
KICKER
First-Team: John Hoyland, Wyoming
Second-Team: Jonah Dalmas, Boise State
Third-Team: Brandon Talton, Nevada
Honorable Mention: Matt Mercurio, San Jose State
PUNTER
First-Team: Ryan Stonehouse, Colorado State
Second-Team: Adam Stack, Hawaii
Third-Team: Julian Diaz, Nevada
Honorable Mention: Stephen Kotsanlee, Utah State
KICK RETURNER
First-Team: Shamar Garrett, San Jose State
Second-Team: Calvin Turner, Hawaii
Third-Team: Savon Scarver, Utah State
Honorable Mention: Jordan Byrd, San Diego State
PUNT RETURNER
First-Team: Romeo Doubs, Nevada
Second-Team: Ronnie Rivers, Fresno State
Third-Team: Dante Wright, Colorado State
Honorable Mention: Jesse Matthews, San Diego State