A locked-in college football schedule with no sudden changes. Tailgates with friends and family. Stadiums packed to the brim. Students storming the streets after a major upset win. It's all coming soon — the college football landscape is returning to normal.
The 2021 college football season kicks off in just under two months, and what better way to prepare than by running through PFF's preseason awards. The 600-page PFF College Football Magazine and PFF Preseason All-America Team dropped last week, and now 10 all-conference teams have hit PFF.com.
Below is the PFF 2021 Preseason All-MAC Team. The side below was selected with the help of PFF grades and advanced statistics, which are now available to PFF's CFB Premium Stats+ Subscribers.
QUARTERBACK
Crum is in the conversation for the best non-Power Five quarterback heading into the fall. The dual-threat has earned PFF grades of 91.7 and 85.1 in the last two seasons. The ball jumps out of his hand as a passer — he has connected on six touchdown passes that traveled over 40 yards in the air since 2019, which only trails Sam Howell, Justin Fields and Carson Strong for most in the FBS. And he did that with only four games played in 2020.
Second-Team: Kaleb Eleby, Western Michigan
Third-Team: Kyle Vantrease, Buffalo
Honorable Mention: Preston Hutchinson, Eastern Michigan
RUNNING BACK
While it was a really small sample, Williams did look like an entirely different back in 2020. He saw 27 carries and managed to record a 91.8 rushing grade, seven runs of 10-plus yards and nine broken tackles on those reps. On top of that, only one of those runs ended in a stuff a the line. No team had a higher successful run rate in the 2020 season than Kent State, and Williams and second-teamer Marquez Cooper were key reasons why.
Second-Team: Marquez Cooper, Kent State
Third-Team: Lew Nichols III, Central Michigan
Honorable Mention: Terion Stewart, Bowling Green
Jaret Patterson is a major loss to the Buffalo offense, but the Bulls do still have a quality back ready to take over with Marks. He had a rather quiet 2020 opener, but over the course of his last six games, he took advantage of the open lanes the offensive line was creating. He rattled off 16 runs of 15-plus yards over 107 carries in that span, tied with his former teammate for the most in the MAC in 2020.
Second-Team: De'Montre Tuggle, Ohio
Third-Team: La'Darius Jefferson, Western Michigan
Honorable Mention: Teon Dollard, Akron
WIDE RECEIVER
Richie is coming off a breakout year in which he was one of the three highest-graded receivers in the MAC. He is strong in contested scenarios and after the catch, having racked up the second-most such catches (10) and second-most broken tackles (11) in the conference last year. One thing to monitor this fall is how he fares against press-man; he ran only 26 of his 228 routes last year against press-man, and that is likely to ramp up in 2021.
Second-Team: Jack Sorenson, Miami (OH)
Third-Team: Bryce Mitchell, Toledo
Honorable Mention: Ja'Shaun Poke, Kent State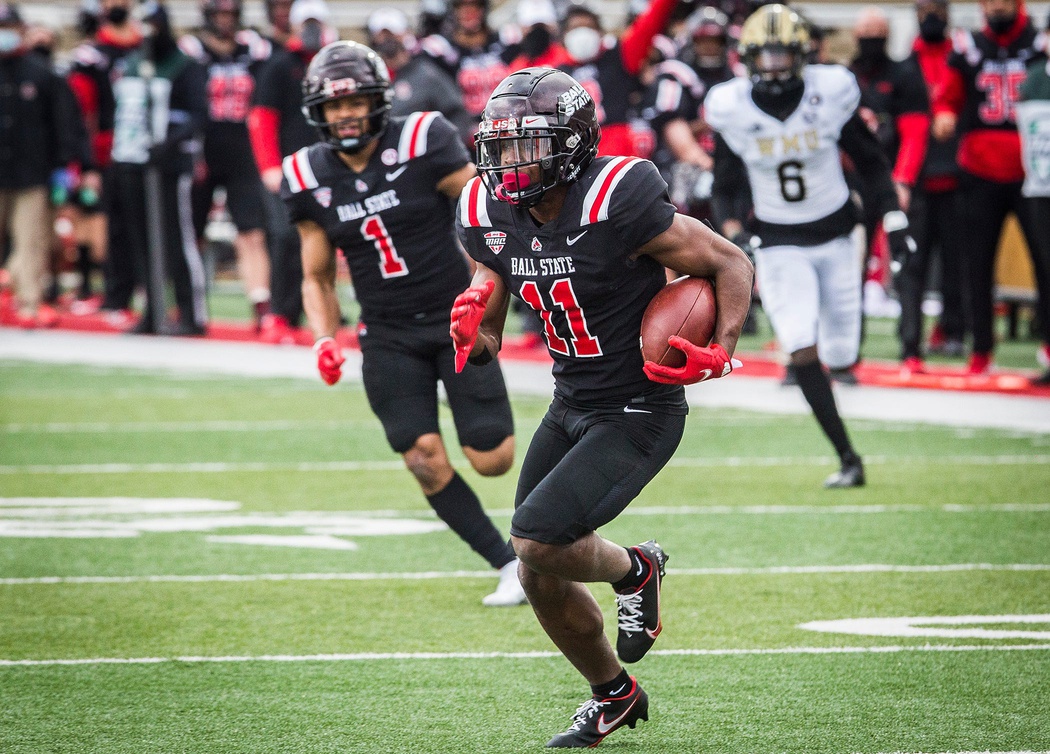 Hall is one of the shiftiest and most dangerous receivers after the catch in college football. The super senior has averaged 7.4 yards after catch across his 258 career receptions in four years while also breaking 80 tackles. The latter is 21 more than any other FBS wide receiver since 2017.
Second-Team: Skyy Moore, Western Michigan
Third-Team: Isiah Cox, Ohio
Honorable Mention: Kalil Pimpleton, Central Michigan
Tyler is a big-bodied receiver at 6-foot-3 and 204 pounds who thrives in contested scenarios. This past season, he hauled in the fourth-highest contested-catch rate among all FBS wide receivers (61.5%, 16 of 26 caught).
Second-Team: Hassan Beydoun, Eastern Michigan
Third-Team: Jerjuan Newton, Toledo
Honorable Mention: JaCorey Sullivan, Central Michigan
TIGHT END
Luehrman, who was a top pass-catcher for Joe Burrow in high school, is hands down the top returning tight end in the MAC. Over 48% of his targets over the past two years have resulted in a first down or touchdown, the 12th-highest rate in the FBS and third-highest mark among non-Power Five tight ends.
Second-Team: Bryson Cannon, Eastern Michigan
Third-Team: Jack Coldiron, Miami (OH)
Honorable Mention: Drew Rosi, Toledo
OFFENSIVE TACKLE
Fuzak was one of several standout run-blockers along Buffalo's offensive line last season and will try to salvage the group in 2021 as one of two returning starters from 2020. He produced an 88.9 grade as a run-blocker in seven games last year. Fuzak isn't much of a punisher like his former teammate Kayode Awosika, but he is rarely going to lose a rep. His negatively graded run-block rate was the lowest in the Group of Five last season, and he did that while allowing only one pressure on the year.
Second-Team: Bill Kuduck, Kent State
Third-Team: Nick Sink, Ohio
Honorable Mention: Derek Smith, Central Michigan
Outside of the Buffalo tandem Jake Fuzak and Kayode Awosika, no MAC tackle has produced a higher PFF grade over the last two years than Western Michigan's Mark Brooks. His wide zone blocking in particular is what stands out — he ranks seventh among Group of Five tackles in run-block grade on such runs since 2019.
Second-Team: Luke Goedeke, Central Michigan
Third-Team: Bernhard Raimann, Central Michigan
Honorable Mention: Hagen Meservy, Ohio
INTERIOR OFFENSIVE LINE
Patton turned his career around last season and finished as the second- highest-graded center in the MAC (fourth-highest in the Group of Five). He earned a grade above 74.0 as both a run- and pass-blocker, something only one other Group of Five center accomplished in 2020.
Second-Team: Bryce Harris, Toledo
Third-Team: Mike Van Hoeven, Eastern Michigan
Honorable Mention: Jack Clement, Kent State
Klenk didn't see a single start and played just 46 total snaps on offense throughout his first four years on campus, but finally notched a starting job in 2020. After a rough debut, he turned on the jets and was one of the most controlling run-blockers in the MAC. He earned a 90.7 run-block grade when taking that opener out of the equation.
Second-Team: Sidy Sow, Eastern Michigan
Third-Team: Nathan Monnin, Kent State
Honorable Mention: Dylan Deatherage, Western Michigan
Caliendo is coming back for his sixth year in the collegiate ranks and fifth as the Broncos' starting left guard. And he's also coming off his highest-graded season of his career. Caliendo recorded a grade above 77.0 as both a pass- and run-blocker in 2020, making him just one of two guards in the conference to accomplish that feat. 
Second-Team: Sam Neverov, Bowling Green
Third-Team: Danny Motowski, Central Michigan
Honorable Mention: Rusty Feth, Miami (OH)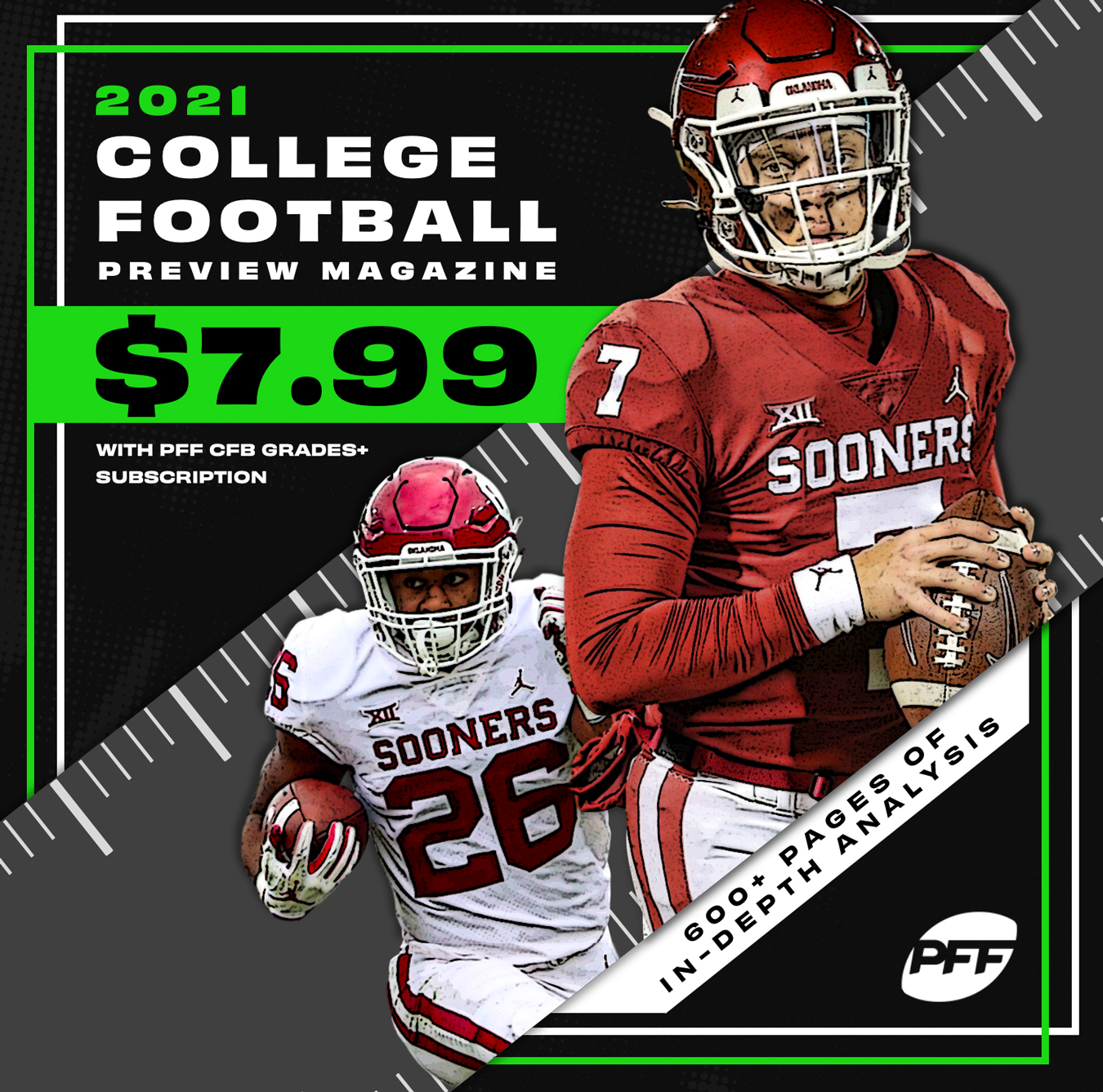 INTERIOR DEFENSIVE LINE
While Holley was a good and effective interior defensive linemen in 2018 and 2019, he was nowhere near the kind of player Western Michigan got in last year's shortened season. In six starts, Holley earned an 84.9 PFF grade that was anchored by a 90.6 pass-rush grade. The latter beat out his previous career-best by over 20 grading points. 
Second-Team: Robi Stuart, Central Michigan
Third-Team: Jack Sape, Ball State
Honorable Mention: Kylen McCracken, Ohio
Johnson moved from the edge to the interior in 2020, and the 6-foot-3, 255-pound lineman took a major step forward. He earned an 85.3 PFF grade in 2020, the best mark among MAC interior defensive linemen. He was a constant force regardless of the play, earning the best pass-rush win rate and positively graded run play rate in the conference.
Second-Team: Tico Brown, Central Michigan
Third-Team: James Ester, Northern Illinois
Honorable Mention: Braden Fiske, Western Michigan
EDGE DEFENDER
Fayad has played all over the defensive front during his career, starting on the interior in 2018 and then playing with his hand in the dirt at defensive end in 2019. Last season, he transitioned to mostly stand-up outside linebacker. He owns a 90.4 pass-rush grade over the last three years and has routinely embarrassed tackles with his crafty spin move.
Second-Team: Anthony Ekpe, Ball State
Third-Team: Jose Ramirez, Eastern Michigan
Honorable Mention: Max Michel, Buffalo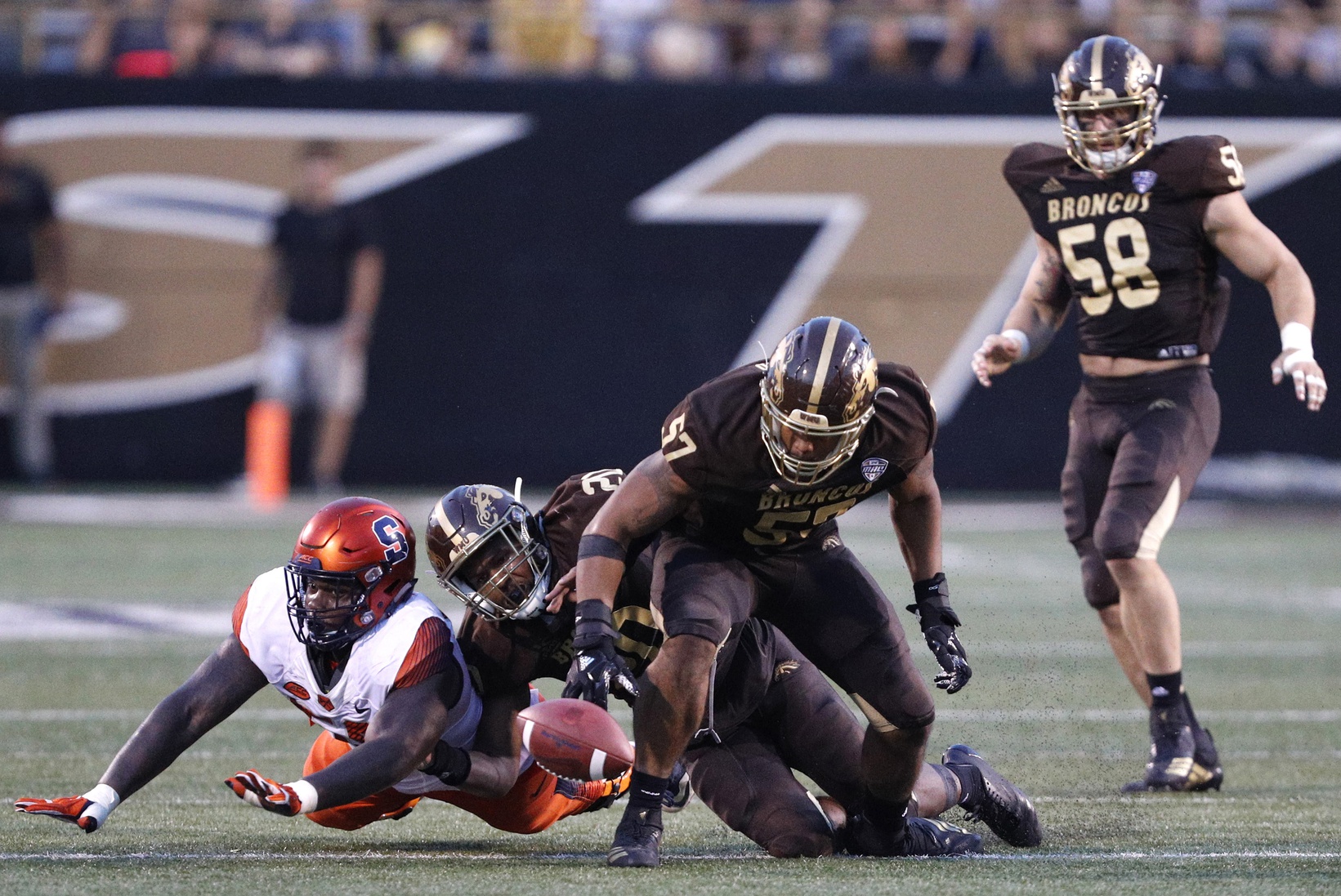 Riggins missed all of 2020 due to injury, but he showed in 2019 what he is capable of. That season, he posted an elite 90.1 pass-rush grade that ranked 14th among all FBS edge defenders. He is the best returning defensive lineman in the MAC.
Second-Team: Troy Hairston II, Central Michigan
Third-Team: Jamal Hines, Toledo
Honorable Mention: LaQuan Johnson Jr., Central Michigan
LINEBACKER
Wright displayed pristine eye discipline over the past two seasons for the Bulls. Since 2019, he ranks inside the top 10 in negatively graded play rate in run defense and has allowed just four first downs in coverage while tying for the fourth-most plays made on the ball (10). His stop numbers are a little underwhelming, but again, his mistakes are few and far between. Over the past two years, Wright boasts a 90.8 PFF grade.
Second-Team: James Patterson, Buffalo
Third-Team: Daveren Rayner, Northern Illinois
Honorable Mention: Jaylin Thomas, Ball State
Brown converted to linebacker from defensive back prior to 2020, and his coverage ability has shined. He has made eye-widening plays on the ball and racked up a top-10 total of passing stops nationally the last two years (24). He owns the third-best coverage grade among FBS off-ball linebackers since 2019 behind only Zaven Collins, formerly of Tulsa, and Kadofi Wright of Buffalo. If anyone is dethroning Wright for top off-ball linebacker in the MAC this season, it's Brown.
Second-Team: Dyontae Johnson, Toledo
Third-Team: Corvin Moment, Western Michigan
Honorable Mention: Kyle Pugh, Northern Illinois
CORNERBACK
Womack made his name known as a boom-or-bust cornerback in 2019, but he reeled in his play last season a great deal. He was tested with 32 targets in six games (and one of those games had zero), and he still managed to produce a top 10 forced incompletions rate in the Group of Five (21.9%) while averaging under a yard allowed per coverage snap. Only 15.6% of those targets were deemed open, which was the second-lowest rate allowed among Group of Five corners.
Second-Team: A.J. Watts, Akron
Third-Team: Chris McDonald, Toledo
Honorable Mention: Amechi Uzodinma II, Ball State
Outside of a 72-yard touchdown allowed to former Western Michigan Bronco and current Seattle Seahawk D'Wayne Eskridge, there was a lot to like with McNary's first year in a starting job. He earned a 75.9 coverage grade across his six starts that featured the fifth-highest forced incompletion rate among Group of Five corners (24%). Keep an eye on a bigger breakout from McNary in 2021.
Second-Team: Aapri Washington, Buffalo
Third-Team: Cedric Boswell, Miami (OH)
Honorable Mention: Elvis Hines, Kent State
SAFETY
Anderson has been a quality all-around safety for Toledo since arriving on campus in 2017, and that isn't likely to change in 2021. He owns an 81.4 PFF grade over his four-year career, which is one of the five highest marks among MAC safeties in that span.
Second-Team: Jordan Anderson, Bowling Green
Third-Team: Cory Gross Jr., Buffalo
Honorable Mention: Nate Bauer, Toledo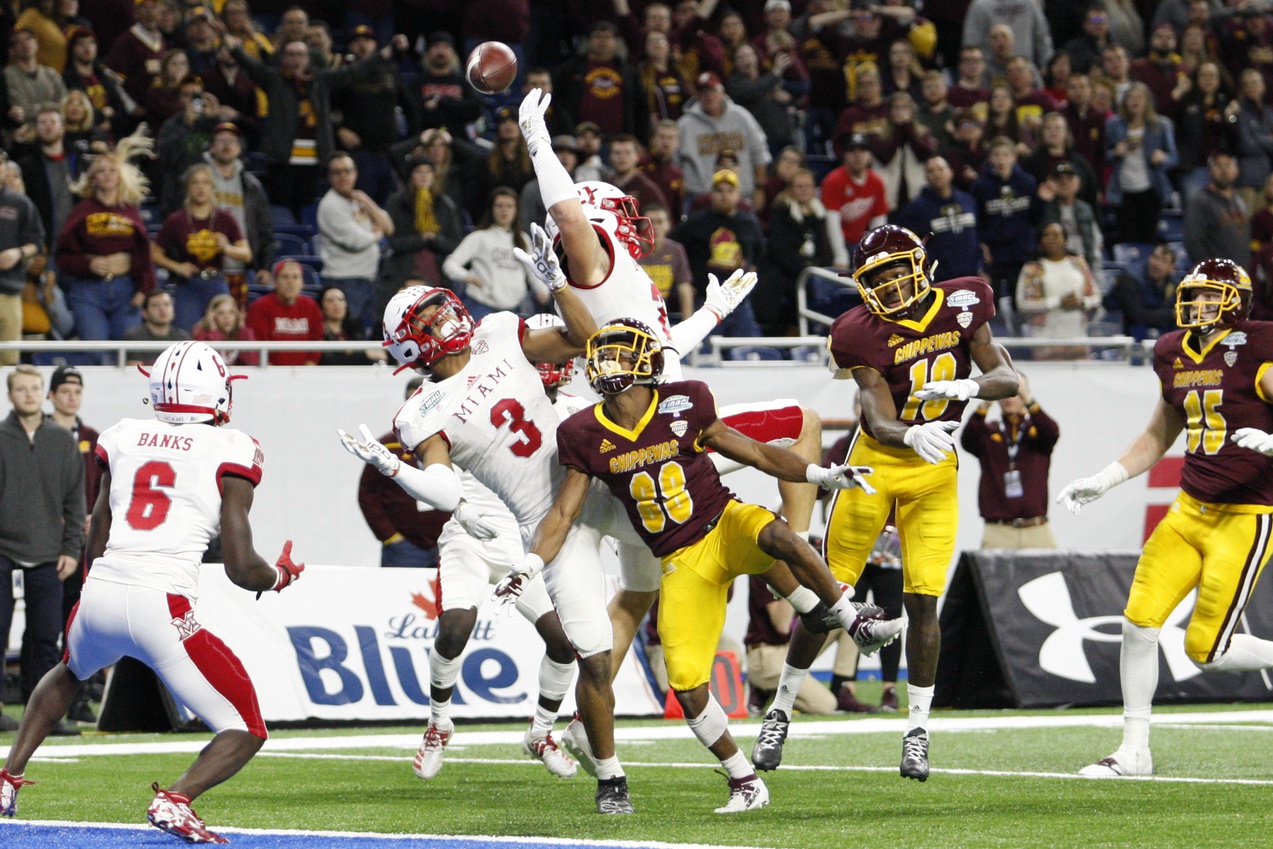 Weatherford is perhaps the best safety who will take the field in the MAC this fall. He was only able to play in three games last year, and he did make a few uncharacteristic mistakes in that small span, but he also showed off his length and playmaking ability with a couple of pass breakups. The latter is what we saw a lot of in 2019 when he posted an 85.2 coverage grade; he had eight PBUs that year, tying for the seventh-most among FBS safeties.
Second-Team: A.J. Thomas, Western Michigan
Third-Team: Brett Anderson II, Ball State
Honorable Mention: Willie Reid, Central Michigan
FLEX D
Cosby transitioned to more of a slot corner role in 2020 and sustained his coverage success. He actually led everyone in the MAC in slot coverage grade last season and ranked seventh in the Group of Five in that metric.
Second-Team: Keith Sherald Jr., Kent State
Third-Team: Jett Elad, Ohio
Honorable Mention: Alvinoski LaFleur, Eastern Michigan
KICKER
First-Team: John Richardson, Northern Illinois
Second-Team: Marshall Meeder, Central Michigan
Third-Team: Chad Ryland, Eastern Michigan
Honorable Mention: Cory Smigel, Akron
PUNTER
First-Team: Luke Elzinga, Central Michigan
Second-Team: Nick Mihalic, Western Michigan
Third-Team: Matt Ference, Northern Illinois
Honorable Mention: Dom Dzioben, Miami (OH)
KICK RETURNER
First-Team: Trayvon Rudolph, Northern Illinois
Second-Team: Justin Hall, Ball State
Third-Team: De'Montre Tuggle, Ohio
Honorable Mention: Ron Cook Jr., Buffalo
PUNT RETURNER
First-Team: Ron Cook Jr., Buffalo
Second-Team: Kalil Pimpleton, Central Michigan
Third-Team: Cole Tucker, Northern Illinois
Honorable Mention: Jalen Walker, Miami (OH)