Believe it or not, but there are just five more weeks of regular season play in the 2020 college football season. And that means we have a far better idea of how the 2020 College Football Playoff picture shakes out, especially after last week where we saw Notre Dame take down Clemson and BYU handle Boise State with ease.
Editor's note:  PFF's CFB Premium Stats+ subscribers can view player grades, advanced statistics, positional snap counts and more. Subscribe today for access!
We here at PFF decided to break down and rank the most likely scenarios of how the CFP will end up here in just over a month. Please note that these are under the assumption that Ohio State, Alabama and Clemson all win out in the regular season and win their respective conference championships unless otherwise indicated. Again, these are not how we would rank these teams, but rather what we think will happen.
Scenario 1
Notre Dame wins out the rest of the regular season and loses a close game to Trevor Lawrence and the Clemson Tigers in the ACC Championship — securing the No. 4 spot in the CFP
Well, it happened. Notre Dame did the inevitable and pulled off a double-overtime win over Clemson… who was without likely 2021 No. 1 overall pick Trevor Lawrence under center. Lawrence had gotten off to the best start of his collegiate career and was the highest-graded passer on throws over 10 yards downfield prior to being diagnosed with COVID-19. Had he played, we likely would have been talking about a different outcome, but alas, that did not occur and now Notre Dame is sitting pretty and likely just needs to get to the ACC Championship game and not get handled by Lawrence.
If Ian Book continues to play like he did against the Tigers in Week 10, this very much could happen. He actually hit some throws downfield and didn't have nearly the rate of quarterback-fault incompletions that we have seen from him before this game. Book had just one such throw against Clemson (fewest of the season) and completed seven throws over 10 yards downfield (two more than in any other game this year).
Only the CFP committee knows how much they value Notre Dame's win over a Lawrence-less Clemson over say an undefeated Cincinnati or BYU team, but it seems likely that if this scenario occurs, they'd get that fourth and final spot.
Scenario 3
Notre Dame loses to North Carolina in the regular season or gets throttled by Clemson in the ACC Championship and Cincinnati wins out to secure the No. 4 spot
Considering the fact that Book earned a passing grade below 73.0 in each of his six starts before the Clemson game, it is far from a guarantee that we see the Irish march through the regular season and give Lawrence and the Tigers a run for their money in the conference title game. If we see pre-Week 10 Book in either their showdown against the Tar Heels, who are led by the ninth-highest-graded quarterback in the FBS Sam Howell, in a few weeks or against Clemson in the title game, the Irish won't have the passing firepower to keep their CFP hopes alive. And the Cincinnati Bearcats are right there for the taking of that fourth and final spot if that occurs.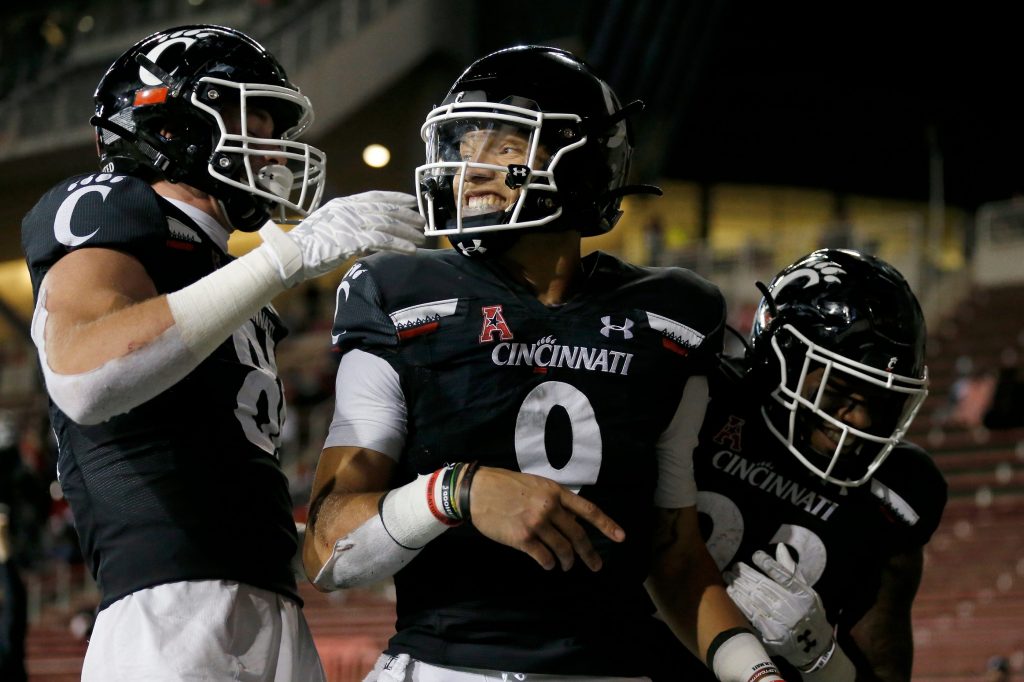 With their stout defense that is arguably the best in college football, Cincinnati has been steamrolling their competition. They have allowed just one touchdown in five of their six games this season, and in the one game they didn't, it was because the Bearcats pulled their starters for the fourth quarter against Austin Peay after being up 42-6 through the first three. Cornerbacks Ahmad Gardner and Coby Bryant have shut down the outside and are key reasons why the Bearcats have the third-best team coverage grade in the FBS, while edge rushers Elijah Ponder and Myjai Sanders — the first and third highest-graded players at their position — anchor the defensive front. Though they will have a tough test here in a couple of weeks, as they face UCF and their potent deep passing attack led by Dillon Gabriel. But as we have seen against Memphis and SMU, Cincinnati can clearly shut down one of the Group of 5's top passing attacks.
The key to the Bearcats winning out, however, doesn't lie on the defense. It has to do with their offense and whether or not they can continue the success they have had in recent weeks. Over the course of Cincy's last three games, UC ranks 13th in expected points added (EPA) per play generated. In their three games prior to that, they were 52nd.
Scenario 3
Notre Dame loses to North Carolina in the regular season or gets throttled by Clemson in the ACC Championship, Cincinnati loses at some point and BYU wins out and secures the No. 4 spot
If Notre Dame plays their way out of the playoff picture and both Cincinnati and BYU go undefeated, the committee is likely to give the spot to the Bearcats because of that conference championship that the Cougars won't have. We, however, think BYU might be the better team for that final spot. All because of their star quarterback Zach Wilson, who has established himself as an easy top three passer in the FBS.
Wilson has been the biggest breakout player of the season, receiving an FBS-high 94.3 passing grade through eight starts in 2020. That is higher than any quarterback through their first eight games of a season in the PFF College era. Joe Burrow, Tua Tagovailoa, Kyler Murray, Baker Mayfield, Marcus Mariota — none of those past college stars in the timespan touched Wilson's mark through their first eight games. Sure the competition level has been weak, but Wilson is fresh off torching a good Boise State defense in Week 10 and is doing precisely what he should be doing to some of these low-tier opponents.
BYU has two more games this year against North Alabama and San Diego State, and their passing attack that is the third-most efficient in the FBS is likely to roll over them just like they have to everyone else this season. The Cougars have a path to the playoff, but they are going to need some losses to Notre Dame and Cincinnati to get there.
Scenario 4
Notre Dame loses at some point and Florida upsets Alabama in the SEC Championship
The first three scenarios are all under the assumption that we see Alabama, Ohio State and Clemson win every single game the rest of the season, and that is very much likely to occur. That being said, there is a chance that the Crimson Tide get knocked off in the conference title game to perhaps the Florida Gators.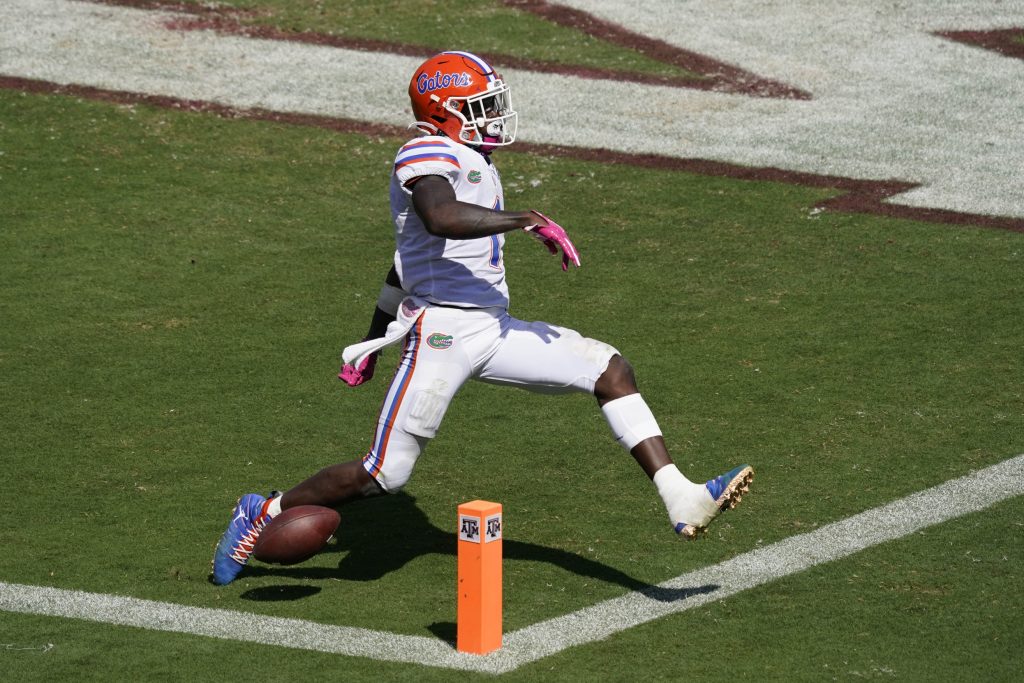 Alabama currently has the most efficient passing attack in all of college football. Quarterback Mac Jones is one of the three highest-graded passers in the FBS and has the clear-cut best and highest-graded wide receiver, DeVonta Smith. In order for any of their remaining opponents in the SEC to come close to knocking them off, they need an offense capable of putting up points like Alabama can and will do. And Florida has one that could very well do that.
The Gators are fresh off a dominant offensive outing against Georgia in Week 10 and now have the fifth-most efficient passing attack in the country. Head coach Dan Mullen and offensive coordinator Brian Johnson have built a phenomenal offense that consistently creates open throws and that gives their receivers opportunities to extend plays after the catch. They have made life easier on quarterback Kyle Trask with the scheme and not having difficult reads to make. He does, however, still have to be accurate with the ball, and Trask was exactly that against Georgia.
Florida will need another performance like they had against Georgia to give Alabama a run for their money, and they'll also need to keep the Crimson Tide in check and hope they have one of their worst outings of the year. If this does occur, Florida and Alabama will without question make the CFP. It's not impossible, but it's hard to imagine the wheels falling off the Alabama wagon — hence why this is Scenario no. 4.
Scenario 5
None of the four scenarios above happen and all hell breaks loose
This is very unlikely, but there is a world in which Notre Dame, Cincinnati and BYU all lose at some point this year, while Alabama, Ohio State and Clemson all handle their remaining schedule with ease. If that scenario occurs, well we are in for a treat.
Texas A&M would be the clear frontrunner for that fourth and final spot if all that happens, but they would, of course, have to win out the rest of the 2020 season. To do that, they'll need Kellen Mond to keep on producing like he has been the last couple of weeks. Mond could not get anything cooking downfield in the Aggies' first four games, ranking dead last in the SEC in passing grade over 10 yards downfield. Though in the last two weeks, he has improved to third in the SEC in that metric and seventh in the entire FBS. That has helped the Aggies have the second-most efficient passing offense in Weeks 9 and 10. The early Mond that was unable to move the ball downfield had them nearly lose to Vandy in the first game of the year, and if that passer returns, it seems doubtful they win the rest of their 2020 slate.
And if Texas A&M loses, the committee will look to the Pac-12 who will hopefully have at least one team not have any games canceled due to COVID-19 that also rolls over every team they face. Again though, it's highly unlikely that we even get to this point considering BYU has two more easily winnable games left in their season.
At this point, the race for that fourth and final spot is really down to only four teams: Notre Dame, Cincinnati, BYU and Florida — and the only one that controls their own destiny is the Fighting Irish.