No year in college football will be more memorable than the one we are experiencing now, as the impact of COVID-19 has forced most colleges to cancel the 2020 fall football season with the hope of trying to play in the spring.
We aren't here to give you our opinion on whether they should or should not have played in the fall, nor are we going to do that with their attempt to play in the spring. Instead, we want to shine a light on the players who deserve credit for the performances they have put forth over their college careers.
Without further ado, we present to you what would have been the 2020 PFF College Preseason All-Mount West Team:
QUARTERBACK
O'Brien has some real-deal arm strength. It might not be the most valuable trait for a QB to carry, but it certainly helped him make a handful of special big-time throws in 2019. There are some decision-making issues, but he's still the best QB in the conference.
RUNNING BACK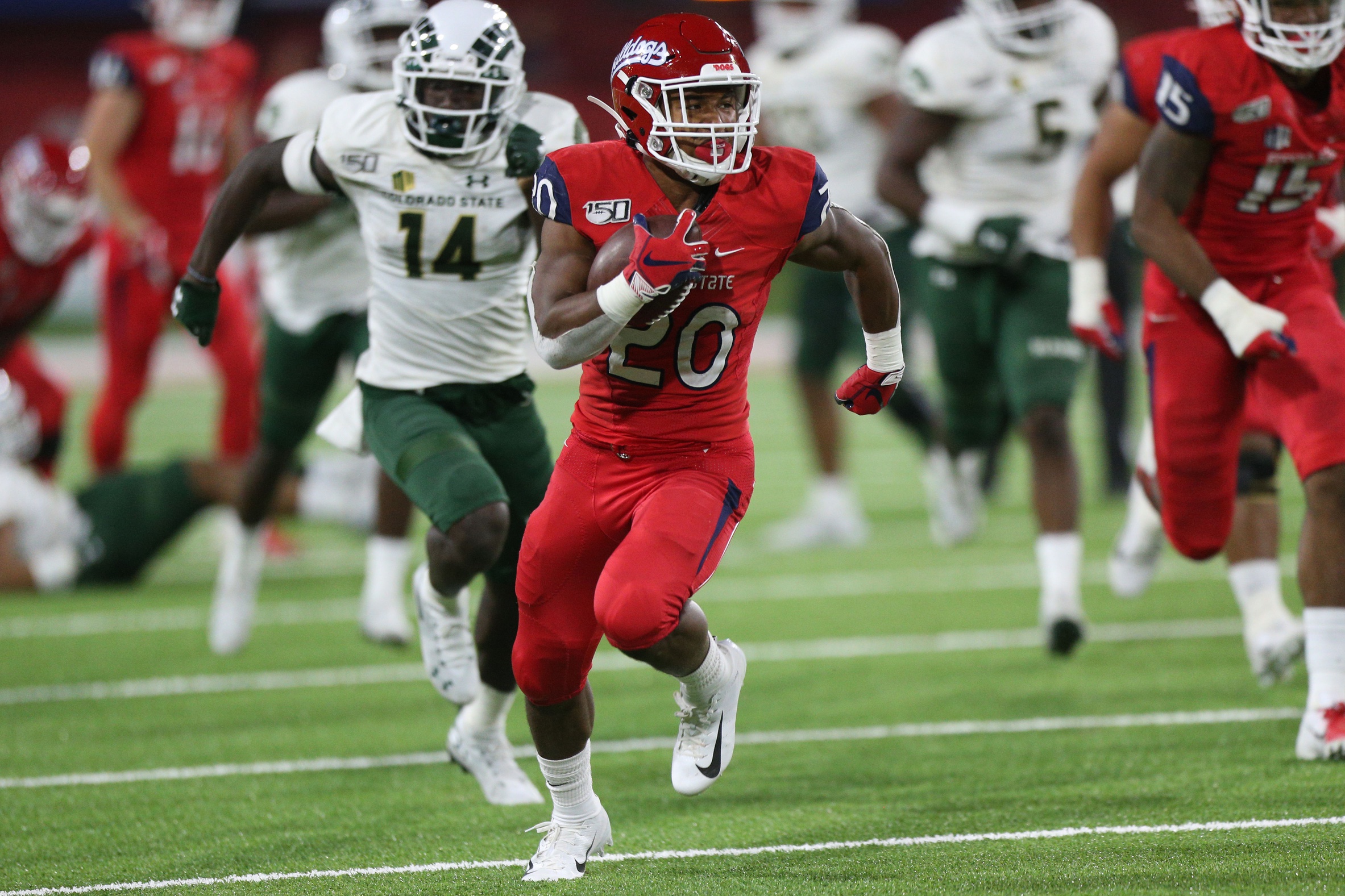 Some of the cuts Rivers makes on the field will make you fall out of your chair — he just embarrasses defenders with as both a runner and receiver. His dual-threat ability is the best asset to Fresno State.
RUNNING BACK
Williams finally had the breakout many were waiting for in his fourth year at UNLV in 2019. There was a midseason lull, but he started and closed out the year with strong performances, paving way to an 80.4 rushing grade (previous career high was 67.7).
WIDE RECEIVER
The 6-foot-6 Jackson straight bullies defensive backs when he doesn't have separation; in fact, his grade on close-coverage targets ranked first in the FBS a season ago. Few MWC DBs can handle that size and strength.
WIDE RECEIVER
Shakir is the top receiver in the Group of 5 and one of the best slot receivers in the entire country. Only Ja'Marr Chase and Tutu Atwell posted better slot receiving grades in 2019. He's a vertical weapon but also has the requisite skills to win underneath.
WIDE RECEIVER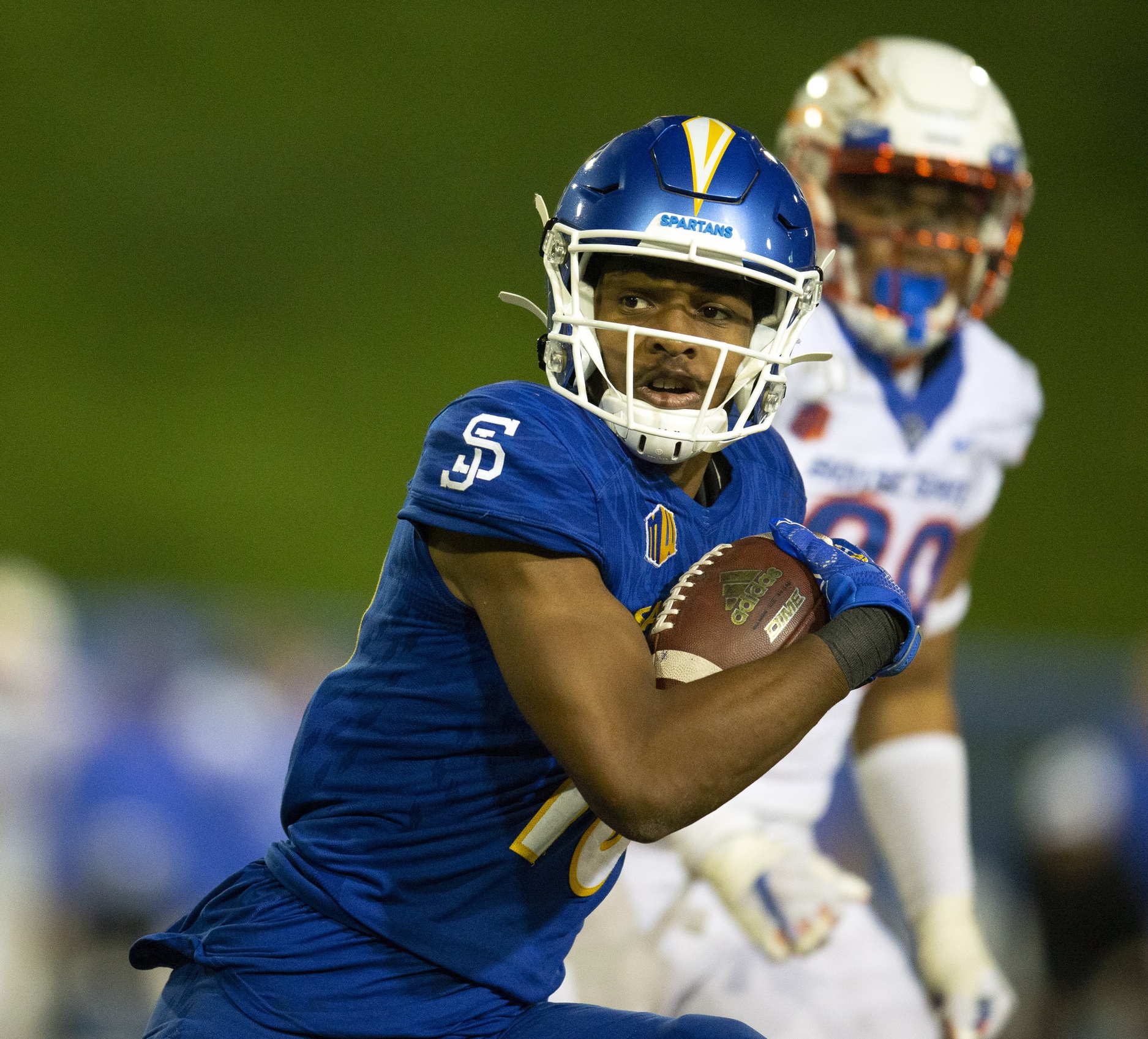 Walker is one of the most underrated receivers in the country. He can separate at all levels, fight through contact after the catch and has the kind of remarkable body control that makes him a genuine back-shoulder weapon.
TIGHT END
The Rams have a gem in McBride, as he is not only a receiving threat but also one of the best blocking tight ends in the FBS. His hands are as sure as they come, and his 95.7% catch rate backs that up.
(*Future with CSU unknown, reportedly entered the transfer portal but this is not confirmed.)
OFFENSIVE TACKLE
Ferguson is really just as strong of a run-blocker as his teammate and fellow first-teamer Nolan Laufenberg. His 85.7 run-block grade in 2019 was 13th among FBS tackles and helped him own the seventh-most-valuable year at the position. Without them, there is no rushing attack.
OFFENSIVE GUARD
Laufenberg is one of the best run-blockers in the entire country. He rarely makes a mistake — his 2019 PFF WAA was the eighth-best we have seen by a guard. Watching him on trap runs is just a beautiful sight to see.
CENTER
Tuulima has taken 1,231 pass-block snaps since 2018 and has yet to allow a single sack. That's 280 snaps more than any other center who hasn't allowed a sack in that span. Tuulima's run-blocking is fairly subpar, but he's not letting his quarterback get touched by the defense.
OFFENSIVE GUARD
Stetz only 435 snaps to his name but was set to take over a starting role in 2020, and rightfully so, as he has been exceptional when on the field for Boise State. Last season, he played 403 snaps and produced an 83.0 PFF grade, ranking third among all FBS guards. On his 185 pass-block snaps, Stetz allowed just one pressure.
OFFENSIVE TACKLE
Wesley is as versatile a lineman as they come, splitting time between left guard and right tackle in 2019 and taking 40-plus reps at every alignment on the line over the last two years. Wesley found some consistency in 2019 in both facets of play, posting a grade above 77.0 in pass-block and run-block grade.
---
[Editors Note: PFF's customizable NFL Mock Draft Simulator gives you the opportunity to be the GM of any team and is now updated with a select group of 2021 prospects]
---
INTERIOR DEFENDER
Thomas was tasked with playing more nose tackle toward the back half of 2019 and saw his production take a hit, but his performance playing 3-technique was borderline elite. He earned an 88.0 PFF grade when playing defensive tackle in 2019.
INTERIOR DEFENDER
Igiehon closed out the 2019 season with one of the hottest stretches of play at the position. In his final seven games from Week 7 on, Igiehon recorded an 85.5 PFF grade, which ranked fourth in the FBS and a spot ahead of Derrick Brown.
EDGE DEFENDER
Peterson will be a force on the field week in and week out, regardless of the play call. He produced grades above 84.0 against the run and in the pass rush in 2019, finishing the year with an 89.9 overall grade that ranked eighth in the FBS.
EDGE DEFENDER
Hall's pass-rush grade (84.7) ranked second to only Curtis Weaver in the MWC last year. He's a plus athlete for the position with some really nice bend.
LINEBACKER
Hall didn't have many coverage responsibilities in 2019, but when he was given a chance, he made some impressive plays on the ball. His 80.4 coverage grade was fourth in the FBS last year.
LINEBACKER
Mosby isn't much of a presence against the run, but he has a nose for the football in coverage. He made five total plays on the ball in 2019 and also ranked second in the MWC in passing stops (11). His 82.0 coverage grade ranked 15th in the FBS last year.
CORNERBACK
To anyone going up against Walker: Good luck shaking him for an open target. Last year, he forced close coverage at the second-highest rate in the entire FBS. He has excellent read-and-react ability, and his 20 forced incompletions in 2019 — third in the FBS — back that up.
CORNERBACK
Davis is fluid and has some decent straight-line speed, making him nearly impossible to shake downfield. In 2019, Davis saw 20 vertical-route targets, and he forced tight coverage on 14 of them. He played the catch point well, allowing only one catch on those 14 while forcing six incompletions.
SAFETY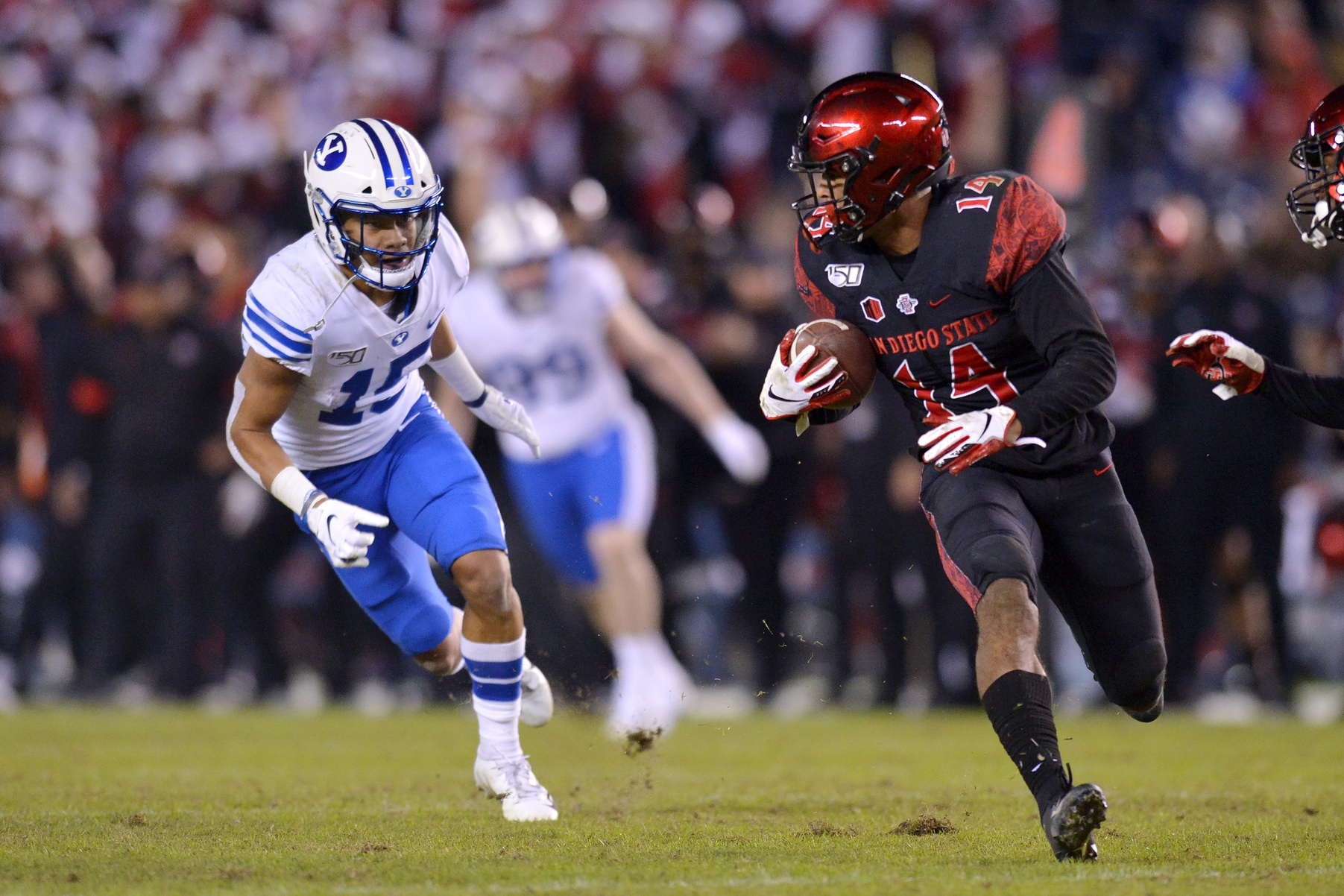 Thompson has been one of the best players in the Mountain West Conference since he first stepped foot on the field as a freshman in 2017. In each of his three seasons, Thompson has produced a PFF grade above 80.0 and combined to produce a whopping 25 interceptions plus pass breakups.
SAFETY
Johnson is hands down the best safety in the Group of 5. He brings a physical presence in the box against the run and is a fluid mover in coverage. His 87.3 PFF grade led the conference and ranked ninth among all FBS safeties in 2019.
FLEX DEFENSE
After a year of volatile play in 2018 in which he had great production but a bevy of mistakes in coverage, Lenard cleaned up his play in 2019 and sustained that production. When lined up at free safety, Lenard ranked 18th in the FBS in coverage grade.
KICKER
PUNTER
KICK RETURNER
PUNT RETURNER