No year in college football will be more memorable than the one we are experiencing now, as the impact of COVID-19 has forced most colleges to cancel the 2020 fall football season with the hope of trying to play in the spring.
We aren't here to give you our opinion on whether they should or should not have played in the fall, nor are we going to do that with their attempt to play in the spring. Instead, we want to shine a light on the players who deserve credit for the performances they have put forth over their college careers.
Without further ado, we present to you what would have been the 2020 PFF College Preseason All-MAC Team.
QUARTERBACK
Not only is Dustin Crum the best quarterback in the Group of 5, but he's also one of the best quarterbacks in the entire country. Most college quarterbacks likely wish they had his arm talent — he had just a 0.7% turnover-worthy play rate a season ago (by far the best in the entire country), while he also ranked behind only Burrow in deep-passing grade. Crum earned a 91.7 PFF grade last year, third in the FBS.
RUNNING BACK
Patterson was not only the fifth-most-valuable running back in college football last year, but he was also the sixth-most-valuable Group of 5 running back we have ever recorded. He easily handled a massive workload in 2019 and shined in a Buffalo scheme that runs a considerable amount of outside zone — his rushing grade on those plays led all current FBS backs in 2019.
RUNNING BACK
Ohio's rushing attack was set to benefit massively in 2020 by giving Tuggle more opportunities. He's a breakaway threat any time he gets the ball. Last year he had five touchdown runs of 10 or more yards, fourth in the MAC.
WIDE RECEIVER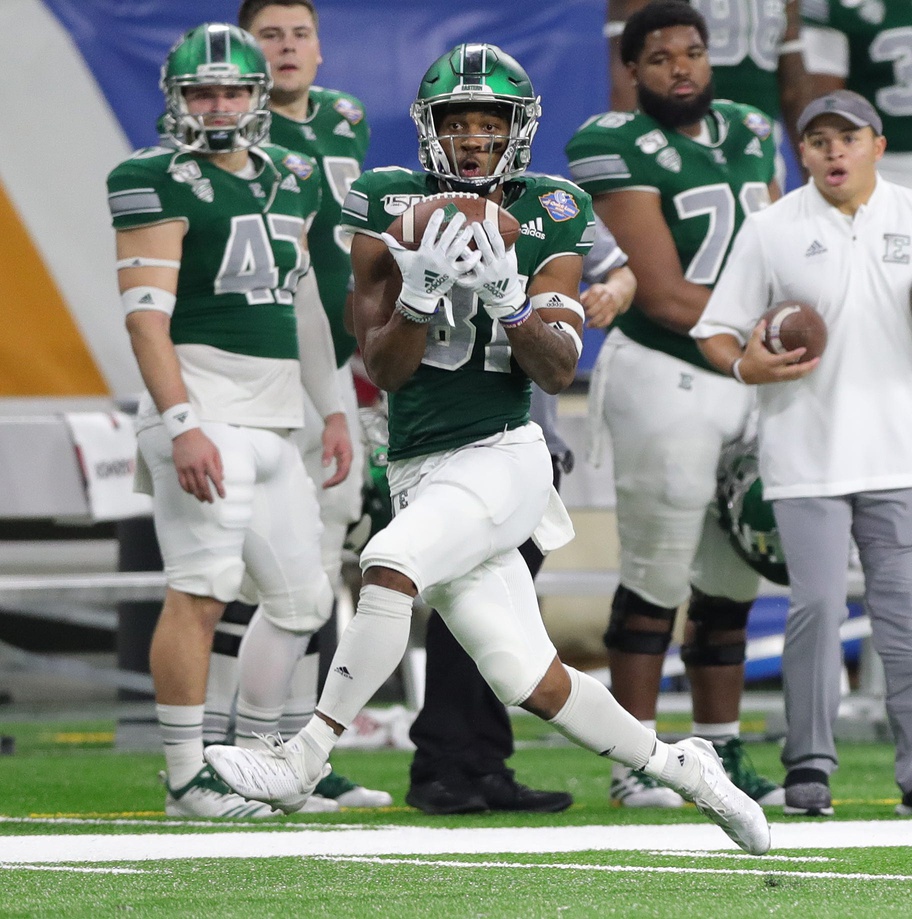 Williams is one of the most reliable receivers you'll see this year. He hauled in 98.1% of his catchable targets in 2019 (fourth in the FBS), which led to a 144.6 passer rating when targeted that ranked seventh among qualifying FBS wideouts.
WIDE RECEIVER
Nunn closed out the 2019 season with one of the hottest stretches of play we saw at the position. In his final six games, the Buffalo pass-catcher produced an 88.0 receiving grade that ranked seventh in the FBS. He's a big-time vertical threat and earned the second-highest grade in the FBS on vertical routes over those final six outings.
WIDE RECEIVER
Moore was the fifth-highest-graded WR in the MAC last year … as a true freshman. He runs a nice and sudden hitch, which led to most of his production, in fact, as 23 of his 51 catches came via the hitch route. He also has top-notch balance, and that helped him break 12 tackles after the catch in 2019.
TIGHT END
Luehrman is a reliable chain-mover for Ohio and should see an increased workload whenever he next sees the field. He dropped just one of his 29 targets past the sticks in 2019, and he earned a 73.3 receiving grade on the year, 20th of 70 qualifying FBS tight ends.
OFFENSIVE TACKLE
Awosika has been one of the top Group of 5 tackles in each of the last two seasons now. Since 2018, he's been the 13th-most-valuable tackle in the FBS and has earned PFF grades of 82.2 and 81.7 in those two years, third and second in the MAC, respectively.
OFFENSIVE GUARD
Rosi plays with great leverage in the running game. The man just opens up holes, and his positively graded run-block rate — first in the MAC and ninth among FBS guards — can attest to that. He's also stout in pass protection, as evidenced by his first-ranked grade in the MAC when it came to true pass sets.
CENTER
Novitsky now has a season of starting experience under his belt and will look to improve upon his rollercoaster season in pass protection. Most of his worst performances in that facet came earlier on in the year, as four of his first five games ended in sub-60.0 pass-blocking grades. From Week 6 on, he didn't allow a single pressure, though he did have one poor game in Week 10 when he stumbled to 20.7 pass-blocking grade. Novitsky's work as a run-blocker was a bit more consistent, however, as he actually finished with the 19th-best run-blocking grade in the FBS over the course of the year.
OFFENSIVE GUARD
Smith kicked back inside to guard after struggling at tackle in 2018, and he found far more success. He produced a 76.6 pass-block grade and 71.2 run-block grade in 2019, both of which ranked fourth among MAC guards.
OFFENSIVE TACKLE
Goedeke is the best run-blocking tackle in the MAC. He produced an 81.0 run-blocking grade in 2019, 21st among FBS tackles. He could add more to his frame, and his agility is lacking, but there's a lot to like with Goedeke heading into Year 2 as a starter.
---
[Editors Note: PFF's customizable NFL Mock Draft Simulator gives you the opportunity to be the GM of any team and is now updated with a select group of 2021 prospects]
---
INTERIOR DEFENDER
Central Michigan has a terrific group of pass-rushers, and Stuart is the best of the bunch. He recorded an 80.4 pass-rush grade last season, leading all MAC interior defensive linemen who were set to return in 2020.
INTERIOR DEFENDER
Sharp broke out in the second half of the 2019 season. He has not quite reached that "elite" level, but he has proven to be a reliable interior defensive lineman nonetheless. Sharp produced a 76.9 PFF grade from Week 7 on, which trailed only his former teammate Doug Costin and fellow first-teamer Stuart.
EDGE DEFENDER
Riggins has an array of pass-rush moves (including a crafty inside spin), but that's just one of the many reasons why he is among the five best edge rushers in FBS. He's coming off a year in which he posted a 90.1 pass-rush grade, and he has strung together the ninth-best win rate in the FBS since 2018.
EDGE DEFENDER
In case you didn't know already, Buffalo has two of the top 10 edge rushers in college football. Only two edge rushers posted higher win rates than Koonce (24%) in 2019. He's a threat to push the pocket on any given play.
LINEBACKER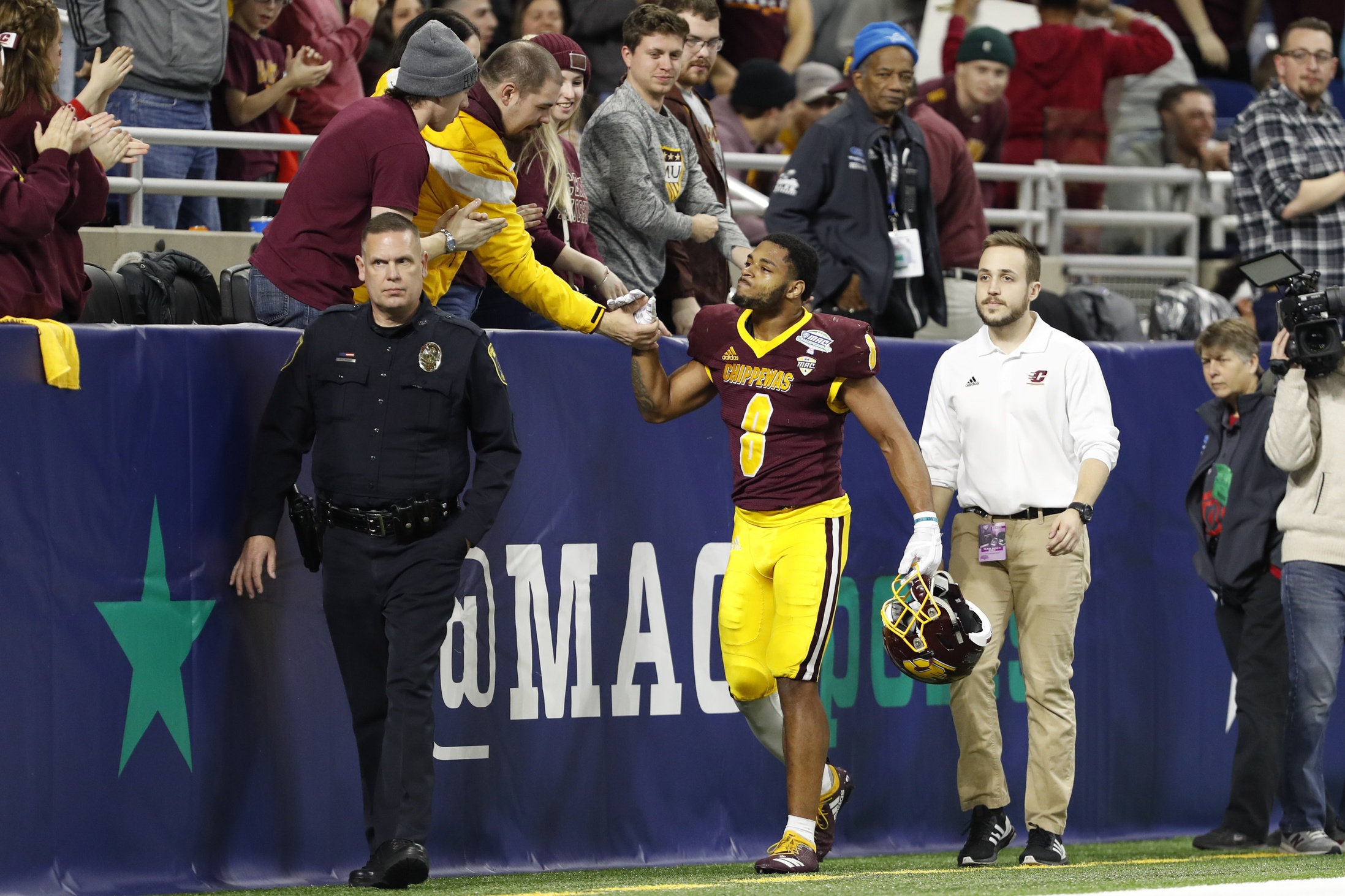 Brown came to Central Michigan as a cornerback before flipping to off-ball linebacker, and you can tell by looking at his top-notch coverage play. He has terrific click-and-close ability, which helped him produce more passing stops than any active linebacker in 2019 (21).
LINEBACKER
Whether he is vying to stop the run, rush the passer or drop into coverage, Wright does his job at a high level. After returning from injury in Week 5 of last season, Wright went on to produce and 86.4 PFF grade that ranked fifth among all FBS off-ball linebackers.
CORNERBACK
Phillips is the lockdown corner in the MAC. He allowed 25 yards or more in coverage just twice in 2019 and has produced the conference's best coverage grade on the outside since 2018.
CORNERBACK
Motley is a boom-or-bust corner. He doesn't give up many catches, but when he does, it often tends to be a huge one. Still, he allowed one catch or less in over half of his games in 2019 and had the second-most coverage snaps per catch allowed in the MAC (18.3).
SAFETY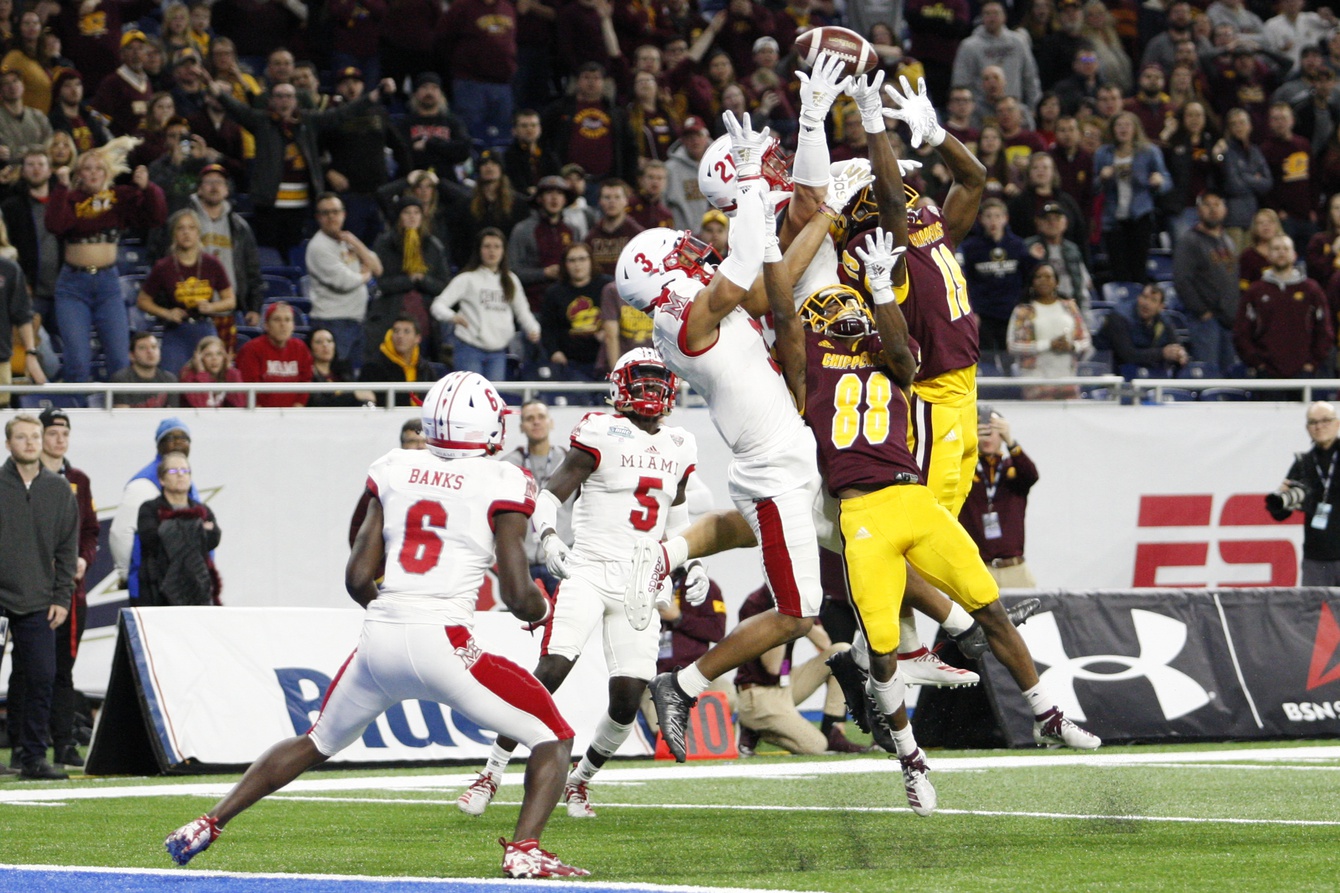 Weatherford is one of the best playmaking safeties in the Group of 5 — he has the range you want roaming around the middle of the field (six plays on the ball when lined up at free safety in 2019). The top-notch coverage skills stay with him when he's down in the box or slot, too.
SAFETY
Anderson is excellent at attacking the catch point, and he's more than capable of playing man coverage. He saw eight targets in single coverage as a true freshman last year and allowed just one first down while forcing four incompletions.
FLEX DEFENSE
Rugamba has fluid change-of-direction ability, and it showed last season. He made 11 total plays on the ball and racked up 20 passing stops, seven more than any other MAC corner in 2019. He closes ground in a hurry and will rarely give up a big play on his watch.
KICKER
PUNTER
KICK RETURNER
PUNT RETURNER