No year in college football will be more memorable than the one we are experiencing now, as the impact of COVID-19 has forced most colleges to cancel the 2020 fall football season with the hope of trying to play in the spring.
We aren't here to give you our opinion on whether they should or should not have played in the fall, nor are we going to do that with their attempt to play in the spring. Instead, we want to shine a light on the players who deserve credit for the performances they have put forth over their college careers.
Without further ado, we present to you what would have been the 2020 PFF College Preseason All-Conference USA Team.
QUARTERBACK
O'Hara's mobility is Middle Tennessee's greatest asset. No current QB produced a higher rushing grade in 2019 than O'Hara. You really do have to get a square shot on him — he ranked fifth in the entire FBS (including RBs) in total runs with 10-plus yards after contact.
RUNNING BACK
More opportunities could solidify Davidson as one of the best backs in the FBS. He's not only shifty with the ball (0.3 broken tackles per attempt, tied 17th in the FBS), but he's also a breakaway threat (25% of carries in 2019 were 10-plus yard gains, best in the FBS).
RUNNING BACK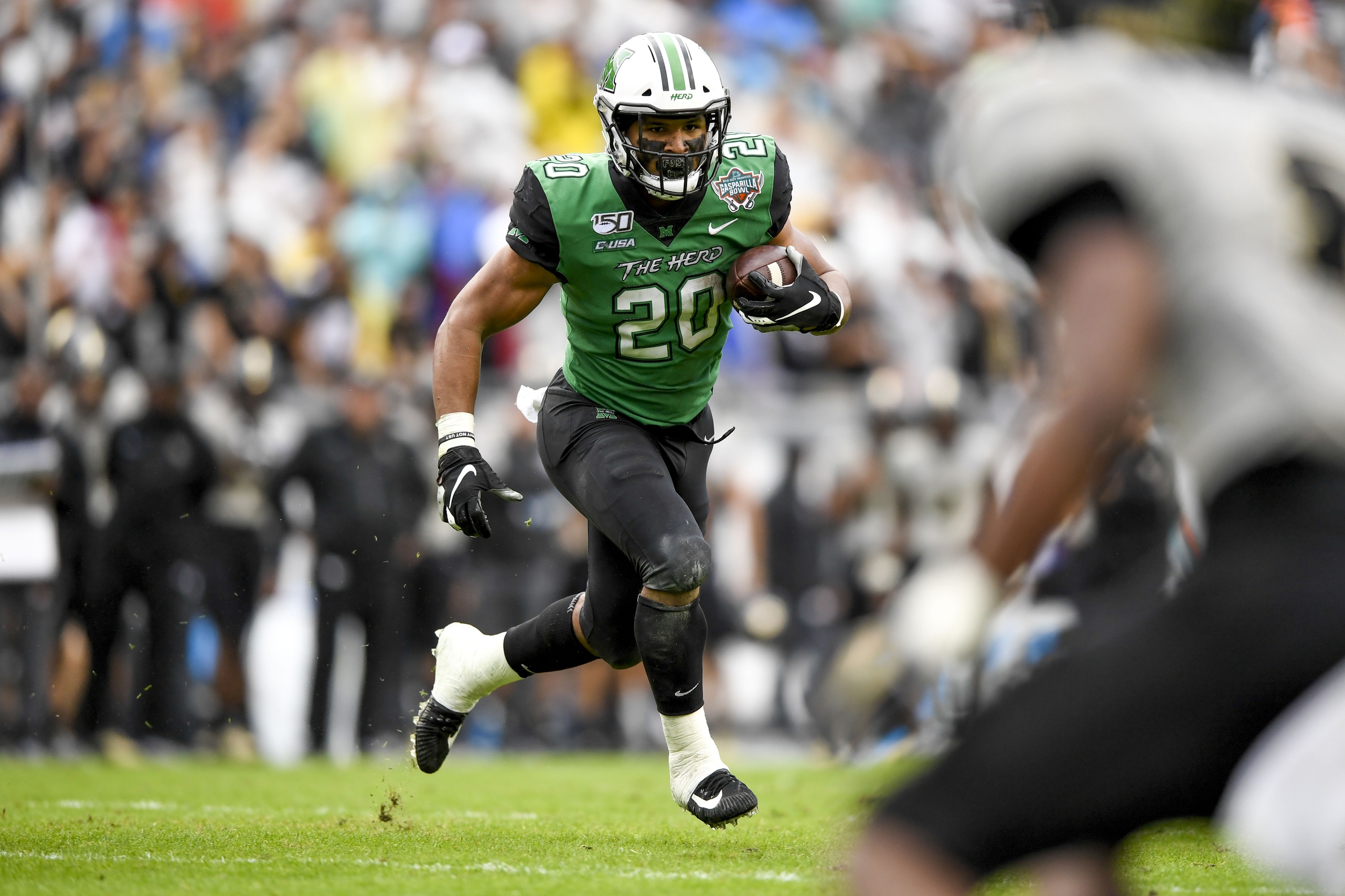 Knox really took off down the stretch of the 2019 season, making his name known as one of the top backs in the conference. From Week 8 on, Knox produced the 12th-most explosive rushes of 10-plus yards in the FBS, with 26.
WIDE RECEIVER
Watkins is one of college football's best receivers in contested situations. In fact, his grade on such targets ranked seventh in the entire FBS. He's a legitimate deep threat, too, as he led the FBS in 20-plus-yard targets while tying for 14th in the FBS in deep-receiving grade.
WIDE RECEIVER
Tucker earned an 84.5 receiving grade in 2019, the second-best grade in the C-USA. He dropped only two of his 58 catchable targets and recorded an 89.2 grade on contested targets, too.
WIDE RECEIVER
Darden is electric with the ball in his hands, and that makes him a huge weapon underneath. Only four current FBS wide receivers have produced a higher receiving grade on underneath targets since 2018.
TIGHT END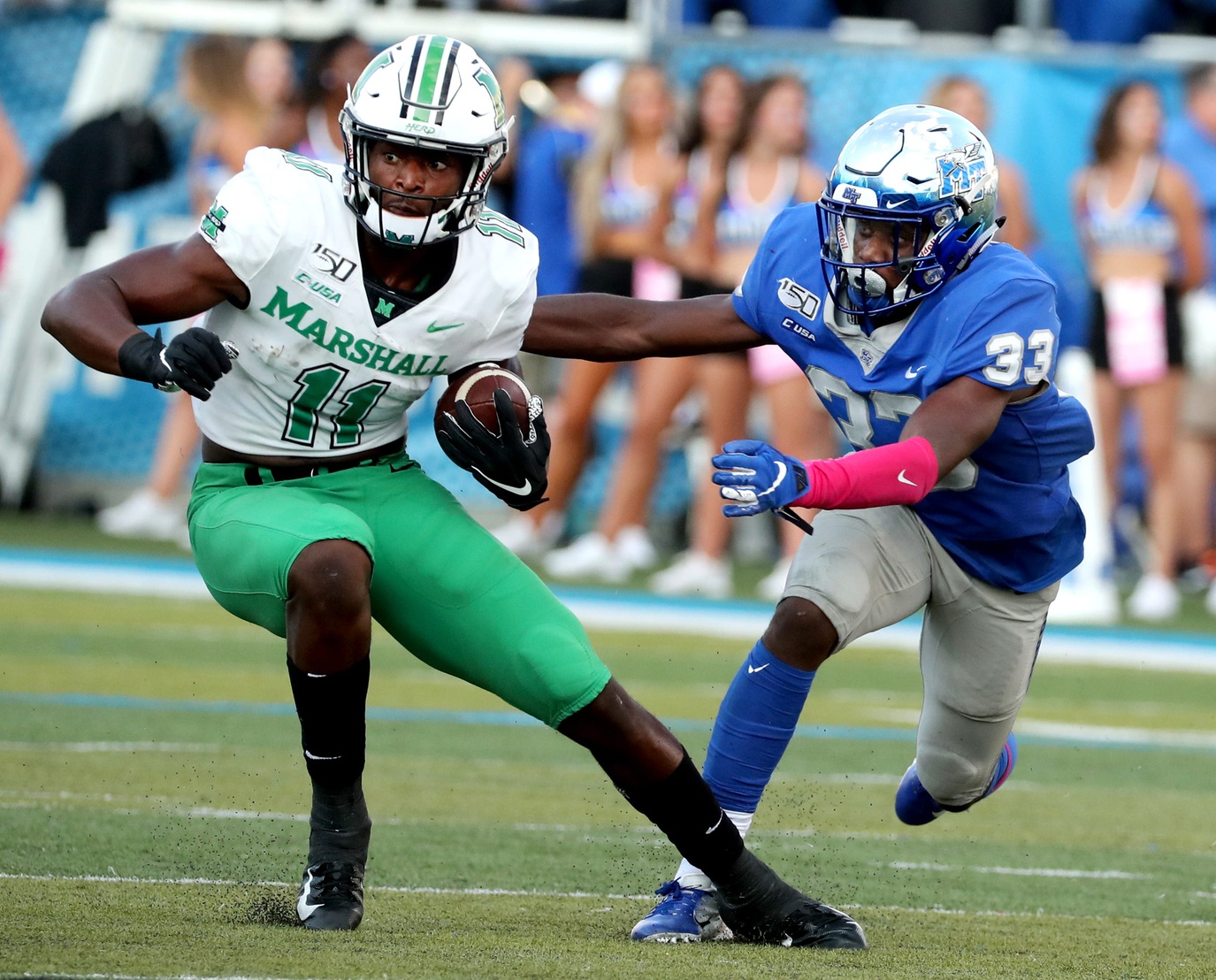 Gaines is far from a polished tight end, but he is the best one in the C-USA right now. He has more than proved that he can produce after the catch, though, as he has broken 12 tackles on 40 career catches while averaging over 7 yards after the catch per reception.
OFFENSIVE TACKLE
Spencer is one of the most reliable pass-protecting tackles in the Group of 5. He's fresh off a year in which he produced an 87.4 pass-block grade, 13th in the FBS, and he allowed just nine pressures (none of which were a sack) on 468 pass-blocking snaps.
OFFENSIVE GUARD
Meredith took his play to new heights in 2019. After performing at a relatively average level in his first year starting for Western Kentucky in 2018, Meredith came back in 2019 to produce the second-best pass-block grade among all FBS guards.
CENTER
Russey is the best center in C-USA, and it isn't particularly close. He was one of 15 centers to produce a 74.0-plus grade in both pass protection and as a run-blocker. If you don't have an all-star on the line, you're likely not making many plays against Russey.
OFFENSIVE GUARD
Once the 338-pound Madden gets his hands on you, you're not escaping. He also moves exceptionally well for a guy of his size, and he looks like a bulldozer in the run game. These skills helped him earn the second-highest grade in the conference in 2019.
OFFENSIVE TACKLE
At 6-foot-8, 350 pounds, Ball isn't going to lose often in a phone booth. He had the best true pass set grade of any C-USA tackle in 2019, which also ranked eighth in the entire FBS. Ball's run- block grade was also first in the conference.
---
[Editors Note: PFF's customizable NFL Mock Draft Simulator gives you the opportunity to be the GM of any team and is now updated with a select group of 2021 prospects]
---
INTERIOR DEFENDER
Novil has no issue at all when it comes to shedding blocks. He's a force at heads-up nose, where he played over 76% of his snaps (third-most snaps in the FBS). Novil was also just one of eight FBS nose tackles to produce 75.0-plus grades versus the run and in the pass rush.
INTERIOR DEFENDER
Meiser was always good against the run, but he entered the 2019 season quite unrefined as a pass-rusher. All that changed last season. Meiser finished the year with a PFF pass-rush grade of 88.1, making him college football's sixth-highest-graded pass-rusher.
EDGE DEFENDER
The former four-star Florida Gators recruit (2016 class) came to UAB in 2019 and proved that he's one of college football's top edge rushers by finishing the year as the fourth-most valuable player at the position.
EDGE DEFENDER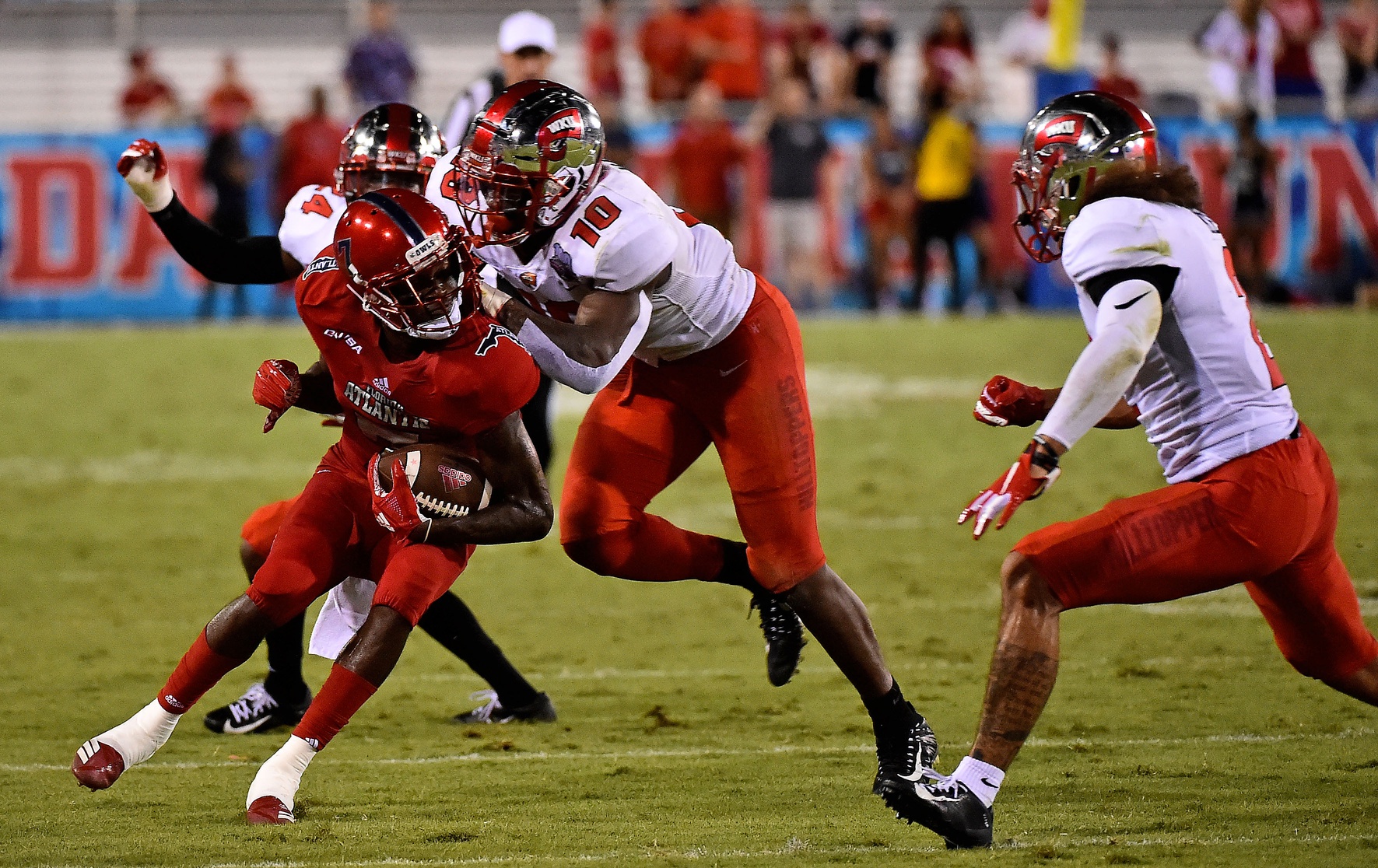 If the last three years are any indication, WKU is getting a solid pass-rusher in Malone this year. In that span, he has generated an 86.1 pass-rush grade and a 16.8% win rate — both of which crack the 70th percentile among FBS edge players with 600 or more pass-rush snaps.
LINEBACKER
Leroy is one of the few linebackers in the country who can execute in any role at a high level. Last year, he produced 74.0-plus grade in every facet (run defense, pass rush, coverage and tackling), which is something only four other FBS off-ball linebackers did.
*Future with FAU is uncertain.
LINEBACKER
Bailey is coming off a season in which he produced a 90.4 coverage grade, tied for the best in the FBS. He made several impressive plays on the ball in the process.
CORNERBACK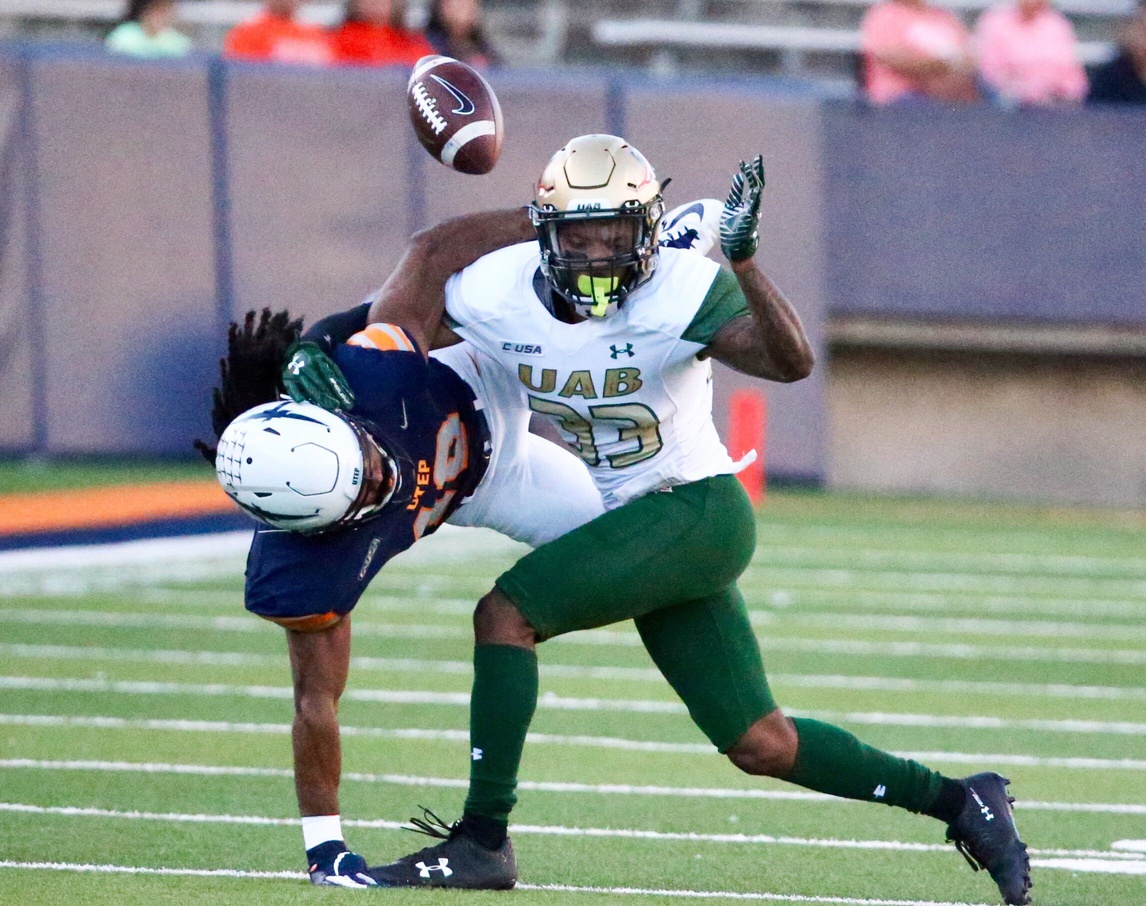 People often forget what Harris did before missing all of 2019 through injury, but we sure as heck didn't. Back in 2017 and 2018, Harris combined for a coverage grade that ranked fifth among Group of 5 cornerbacks; he allowed a 40% catch rate and made 25 plays on the ball.
CORNERBACK
Ford-Dement's feel for zone is excellent. He made 12 plays on the ball in zone coverage in 2019, tying for the fifth-most among FBS cornerbacks.
SAFETY
Kincade has quick read-and-react ability wherever he is on the field. We routinely saw it at free safety in 2019 when he led C-USA in passing stops. He also had the third-best grade when covering the slot, where he allowed only three catches on 11 targets.
SAFETY
Hall is a playmaker on the back end. He has made impressive reads to put himself exactly where he needed to be to make a play on the ball. A free safety since 2018, Hall intercepted three passes (two more were negated by penalty) and forced two incompletions.
FLEX DEFENSE
Turner is the best player in C-USA, and the only players sniffing him in that regard are his own teammates. He produced the highest slot-coverage grade among Group of 5 defensive backs last year and had three more plays on ball (10) than the number of first downs he allowed.
KICKER
PUNTER
KICK RETURNER
PUNT RETURNER