No year in college football will be more memorable than the one we are experiencing now, as the impact of COVID-19 has forced most colleges to cancel the 2020 fall football season with the hope of trying to play in the spring.
We aren't here to give you our opinion on whether they should or should not have played in the fall, nor are we going to do that with their attempt to play in the spring. Instead, we want to shine a light on the players who deserve credit for the performances they have put forth over their college careers.
Without further ado, we present to you what would have been the 2020 PFF College Preseason All-Big 12 Team.
QUARTERBACK
Ehlinger is coming off an exceptional season in which he earned a 90.1 PFF grade that ranked seventh in the FBS. He's been one of the 10 most valuable quarterbacks in college football in each of the past two years now. And he has protected the ball exceptionally well in that span with the fourth-best turnover-worthy play rate. As said in the 2020 PFF College Magazine, Ehlinger can take his play to an even higher level if he gets a tad better in going through his progressions and doesn't bail as often on clean pockets.
RUNNING BACK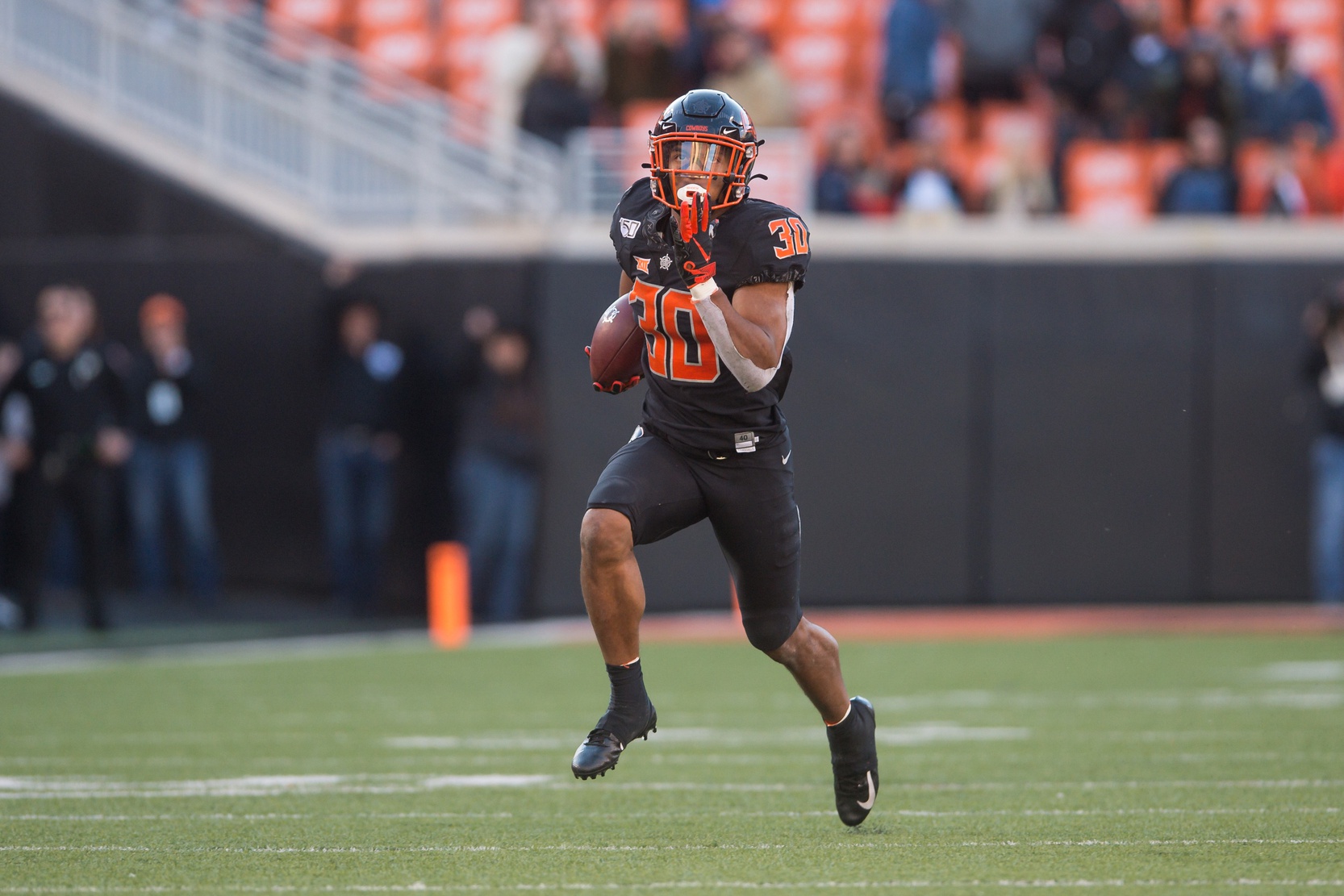 Hubbard is unafraid to go hard into contact — he had more rushing yards after contact than all but eight Power Five running backs had rushing yards in total. He takes full advantage of any open hole, as he finished the 2019 season with 15 runs that resulted in a gain of 30-plus yards, which was four more than any other FBS running back.
RUNNING BACK
Brooks is a breakaway threat any time he touches the ball, whether he's gifted an open hole or contacted behind the line of scrimmage. No FBS running back has had a higher rate of their carries go for 10-plus yards since 2018 than Brooks (23.4%).
WIDE RECEIVER
Wallace is an explosive play waiting to happen and can be used in a bevy of ways. We saw him used extensively as a downfield threat in 2018, and he led the country in deep catches, with 20. In 2019, his average depth of target dipped from 17.4 yards to 11.3 yards and he was used far more underneath, where he was explosive after the catch. On his 53 catches, he broke 13 tackles and averaged 9.8 yards after the catch. Even after missing the tail end of the 2019 season due to injury, Wallace has been responsible for 51 gains of 15-plus yards, which trailed only CeeDee Lamb for most in the Big 12.
WIDE RECEIVER
With good ball skills, after-the-catch ability, deep speed and suddenness, Rambo is destined to put up numbers with CeeDee Lamb now in the NFL. He had a 140.5 passer rating when targeted in 2019 (10th in Power Five) and will be quarterback Spencer Rattler's best friend.
WIDE RECEIVER
Spielman might have a Jalen Reagor-like catch rate with the Horned Frogs given the current quarterback situation, but you can count on him being a playmaker if he's given an accurate ball. He's dynamic with the ball in his hands, breaking 36 tackles and generating 65 plays of 15-plus yards since 2017.
TIGHT END
The highest-graded Power Five tight end last year was none other than Kolar. The 6-foot-6, 257-pounder maintained his top-ranked grade among Power Five tight ends when it came to contested targets, too. Kolar's ball skills are elite for the position and are part of the reason why he's such a threat on the vertical route tree. He caught 12 vertical targets last year, tying for the most at the position in college football.
OFFENSIVE TACKLE
Playing at both left and right tackle the past two years, Cosmi has been one of the most reliable pass-protectors in the country in a pass-heavy Texas offense. He has earned an 86.6 pass-block grade in that two-year stretch, ranking seventh among all Power Five tackles. He took an even bigger step forward this past season, in particular, as he nearly cut his pressure total in half (2.5% pressure rate allowed on the year and just one QB knockdown allowed on 565 pass-block reps).
OFFENSIVE GUARD
Rivas' consistently slow reaction to stunts and blitzes is a huge concern heading into 2020 — all but one of his lost reps in his career were on a play with either a stunt or blitz. It's near impossible to beat him in a phone booth, though. Rivas' run blocking is just violent. He saw 235 run-block snaps in 2019 as a backup and earned an 85.6 grade in that facet, the best mark among Power Five guards.
CENTER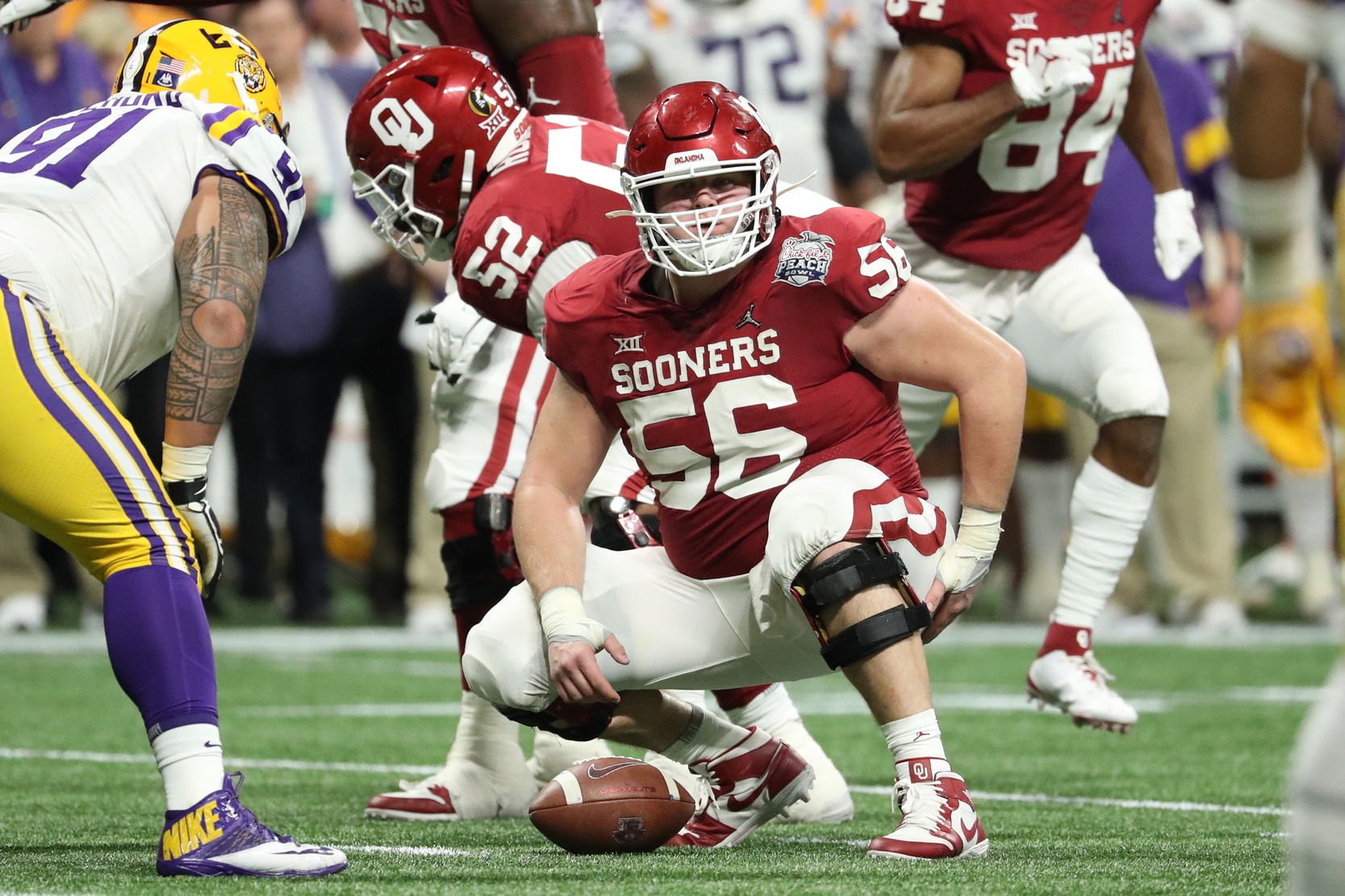 Humphrey's 2019 campaign wasn't nearly as strong as his first year starting at center in 2018, but he's still been the second-most valuable player at the position in the Power Five over the past two seasons behind Tyler Biadasz, who is now in the NFL. During that span, Humphrey has played 896 pass-block snaps and has yet to allow a sack. For perspective, only eight FBS centers have played at least 650 pass-block snaps and not allowed a sack in that span.
OFFENSIVE GUARD
Just like his teammates Cosmi and Kerstetter, who are anchoring the tackles spots for Teas, Angilau is a stout pass protector for the Longhorns. He produced a 77.5 pass-block grade in his first year starting last season, which ranked 23rd among 157 Power Five guards.
OFFENSIVE TACKLE
When Jenkins is helped in pass protection within the Cowboys' scheme, he'll rarely lose a rep. He didn't give up a single sack or quarterback hit in 2019. He's also a people-mover in the run game (ranked first in Big 12 in positively graded run-block rate in 2019), making him a premier tackle.
---
[Editors Note: PFF's customizable NFL Mock Draft Simulator gives you the opportunity to be the GM of any team and is now updated with a select group of 2021 prospects]
---
INTERIOR DEFENDER
Redmond made only four starts in 2019 and logged a total of 332 snaps, but we have seen enough from him to name him to the 2020 Preseason All-Big 12 First Team. Redmond was the 12th-most valuable player at the position in 2019, recording great production both against the run and as a pass-rusher en route to an 82.6 PFF grade.
INTERIOR DEFENDER
Stills plays with consistent leverage, which helped him record 33 pressures and 28 defensive stops in 2019 (both the most among current Big 12 interior defenders). He is clearly in the conversation for the best interior defensive lineman in the conference.
EDGE DEFENDER
Bonitto is the most valuable player on the Sooners' defense with how well he plays the rush position. He has twitch off the line that helped him put up the sixth-highest win rate in the Big 12 in 2019. In coverage, he ranked first among that group in PFF grade.
EDGE DEFENDER
The transfer addition of Bradley-King isn't being talked about enough. At Arkansas State since 2018, he put up the third-best pass-rush grade in the FBS. The level of competition will obviously rise in the Big 12, but the payoff of his addition will likely be far bigger than anyone expects.
LINEBACKER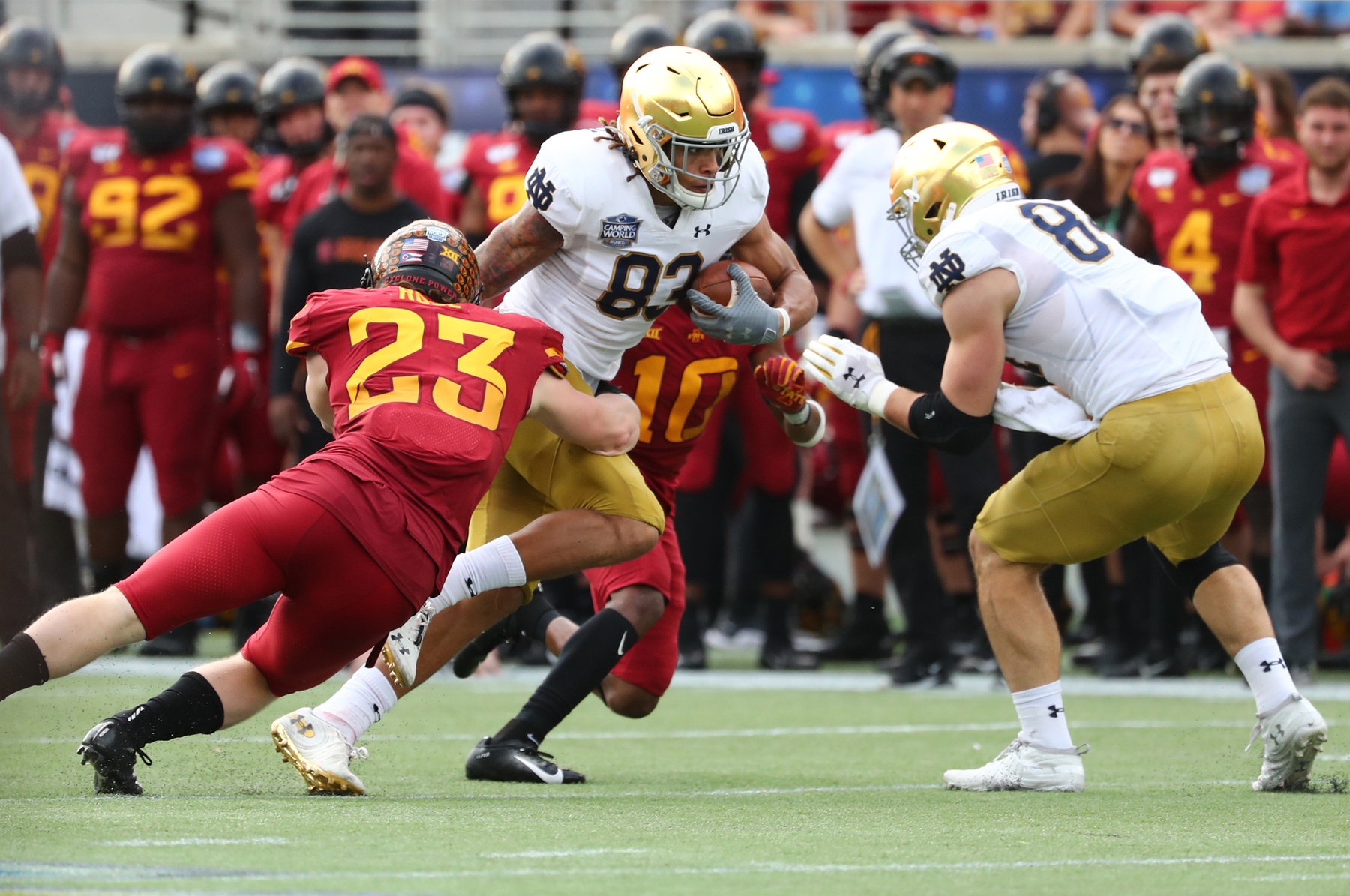 Rose's click-and-close ability on underneath plays is a big reason why he's one of the best off-ball linebackers in the Big 12. Among all returning Power Five linebackers, no one produced more passing stops in 2019 than Rose (20).
LINEBACKER
Wallow has a clear nose for the ball and won't let anyone escape on shallow targets for a big play. Only Oklahoma's Kenneth Murray, who is now in the NFL, had more defensive stops in the conference on targets of 5 yards or fewer downfield in 2019.
CORNERBACK
Texada's track background shows up any time a receiver tries to beat him on a deep vertical route. In the past two years, he didn't give up a deep catch where the wideout had separation. Texada also allowed only four catches on 26 deep targets and made 10 plays on the ball.
CORNERBACK
While Brown's physicality helps him rack up ball production (had a 25.9% forced incompletion rate in 2019, leading the Big 12), it also helps him rack up penalties. He had eight DPI/holding penalties in 2019. If he learns to limit his aggressiveness, he could skyrocket.
SAFETY
Moehrig's playmaking and versatility in coverage is a huge asset. This past season, he posted an impressive 91.9 coverage grade and made multiple plays on the ball in half of the games he played in. Moehrig has the size, length (6-foot-2, 208 pounds) and strength for the safety position, and he isn't going to get outmuscled at the catch point very often. In 2019, Moehrig forced 13 targets into tight coverage and allowed zero catches while making three interceptions and forcing eight incompletions.
SAFETY
For what Washington lacks in size, he makes up for with supreme instincts and athleticism. He allowed just one first down in coverage while intercepting five passes and forcing four incompletions this past year. Keep in mind, it was his first full college season on the field. The Horned Frogs have easily the best safety duo we have ever seen in the PFF College era in Moehrig and Washington — one that could go down in history when it's all said and done.
FLEX DEFENSE
Harvell-Peel's ballhawk nature is the saving grace of this Oklahoma State defense. His read-and-react ability helped him make eight plays on the ball when playing free safety last year, which tied for the most in college football.
KICKER
PUNTER
KICK RETURNER
PUNT RETURNER