With a plethora of strong performances from across the nation in Week 7, the PFF play-by-play grading his here to sort out our Team of the Week. A number of familiar faces return to the team as All-American candidates like Alabama's Jonathan Allen and Vanderbilt's Zach Cunningham continued their strong season, but there's also the usual mix of new players who stood out in an exciting week of action.
Here's the Week 7 Team of the Week:
Quarterback: Skyler Howard, West Virginia 83.8
West Virginia remains undefeated after an efficient outing from Howard who threw for 318 yards on 21-of-31 passing while adding 89 yards and two scores on the ground. He missed only a couple of throws along the way as West Virginia continues their push to stay in the national conversation.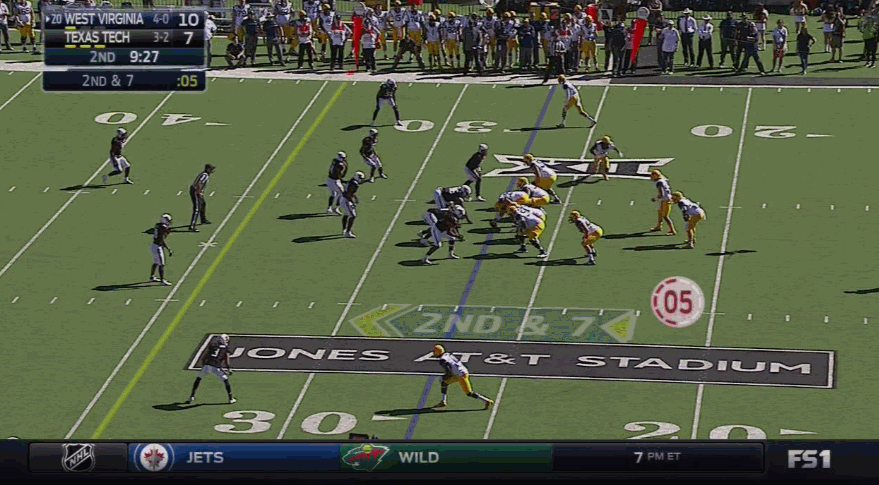 Running back: Phillip Lindsay, Colorado 82.8 and Jeremy McNichols, Boise State 79.3
Lindsay ran for 219 yards and three touchdowns on his 26 carries and perhaps most impressive was the 13 missed tackles he forced along the way. McNichols had another monster game with 40 carries for 217 yards and two touchdowns, while adding another 47 yards on four receptions. He's been a workhorse for Boise State this season and one of the nation's top all-around running backs.
Wide receiver: Jalin Robinette, Air Force 89.4 and Travis Rudolph, Florida State 86.4
We highlighted Robinette as a player to watch and he made us look good with 182 yards and a touchdown on seven receptions in Air Force's option attack. Rudolph got open all afternoon against Wake Forest, catching 13 passes on 17 targets for 238 yards. He was excellent after the catch as well where he picked up 78 of his yards and forced six missed tackles.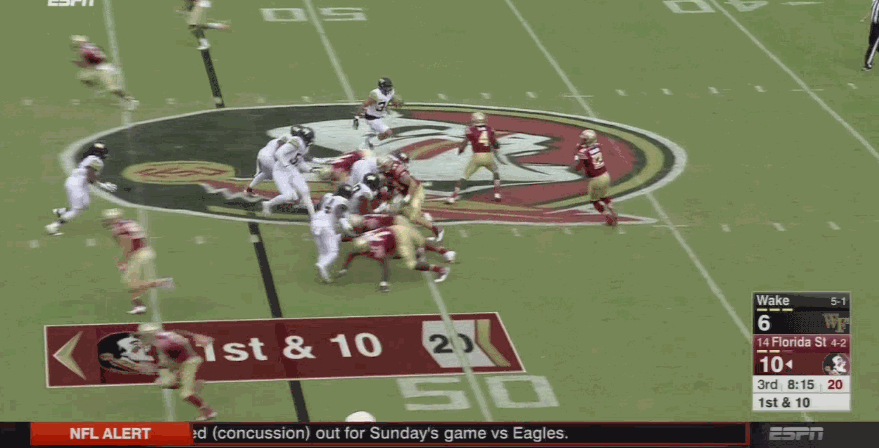 Slot: Richie James, Middle Tennessee State 81.9
With 223 receiving yards, 170 of which came from the slot, James was the go-to option for Middle Tennessee State quarterback Brent Stockstill. 150 of James' 223 yards came after the catch as he did his usual fine work turning short passes into big gains.
Tight end: Michael Roberts, Toledo 85.5
Roberts posted the week's top receiving grade among tight ends as he caught six of his seven targets for 94 yards and three touchdowns while also catching a two-point conversion. Roberts now has nine touchdowns on the season to lead all tight ends.
Offensive tackle: Taylor Moton, Western Michigan 83.0 and Tariq Cole, Rutgers 82.7
Moton has been one of the best tackles in the nation this season and he had a perfect day on 36 snaps in pass protection. He also graded at 80.0 in the run game to help pave the way for 384 yards on the ground for Western Michigan. There hasn't been a lot of positives for Rutgers this season but this is Cole's second time on the Team of the Week as he had a clean day on 37 pass protection snaps while grading well as a run blocker.
Guard: Cody O'Connell, Washington State 83.4 and Quenton Nelson, Notre Dame 83.4
We highlighted O'Connell as part of a matchup to watch in Washington State's game against UCLA and he came through with another pressure-free day in pass protection while grading at 84.1 as a run blocker. Nelson gave up two pressures in pass protection but it's his nation-best 91.0 run blocking grade that puts him on the team this week as he opened holes at the point of attack against Stanford.
Center: Pat Elflein, Ohio State 83.1
With his second appearance on the team in three weeks, Elflein has made great strides in his move to center after a slow start to the season. His 83.6 run-blocking effort ranked second in the nation this week and he gave up one pressure on 36 attempts in pass protection.
Defense
Edge rusher: Olasunkanmi Adeniyi, Toledo 86.2 and Ifeadi Odenigbo, Northwestern 84.8
Toledo has one of the nation's best defensive fronts and Adeniyi is a big part of it with his all-around game. He finished with a sack and six QB hits on only 31 rushes against Bowling Green while adding five more stops in the run game. Odenigbo now has six sacks in his last two games as he had two against Michigan State to go with six more hurries on his 34 rushes. He also had two run stops.
Defensive interior: Jonathan Allen, Alabama 88.5 and Daniel Wise, Kansas 86.8
One of the many dominant performances on the Alabama defense, Allen led the way with nine total pressures including a sack, QB hit, and seven hurries on only 29 rushes. He has the No. 2 overall grade among the nation's interior defensive linemen at 89.5. Despite the loss to Baylor, Wise was in the backfield often with a QB hit and six hurries on his 26 rushes while also showing well in the run game.
Linebacker: Zach Cunningham, Vanderbilt 89.6; Roquan Smith, Georgia 87.8; Stacy Thomas, Louisville 87.5
Making his second-straight appearance on the team, Cunningham was a force in the run game against Georgia, culminating in his key fourth-down stop to save the game for Vanderbilt. From the same game, Smith had two passes defensed (one negated by a penalty) and he was rarely out of position in the running game. Thomas shed blocks well on his way to an 82.2 grade against the run, finishing with three stops and a pass defensed.
Cornerback: Jhavon Williams, UConn 92.6 and Dravious Wright, NC State 87.5
Williams was targeted five times, allowing only one catch for eight yards while intercepting a pass and deflecting two more. It was by far his best game of the season. Wright plays more of a slot role for NC State, but he nearly led the upset of No. 3 Clemson by forcing two fumbles and recovering one of them in the overtime loss.
Safety: Jamal Adams, LSU 88.9 and Austin Hall, Memphis 87.1
Doing most of his damage in the running game, Adams led all safeties with eight stops this week including a strip sack and recovery on one play. Hall finished with 10 solo tackles and he was a force in the run game, finishing with an 87.2 grade. He finished with three stops and a hurry that forced a holding call.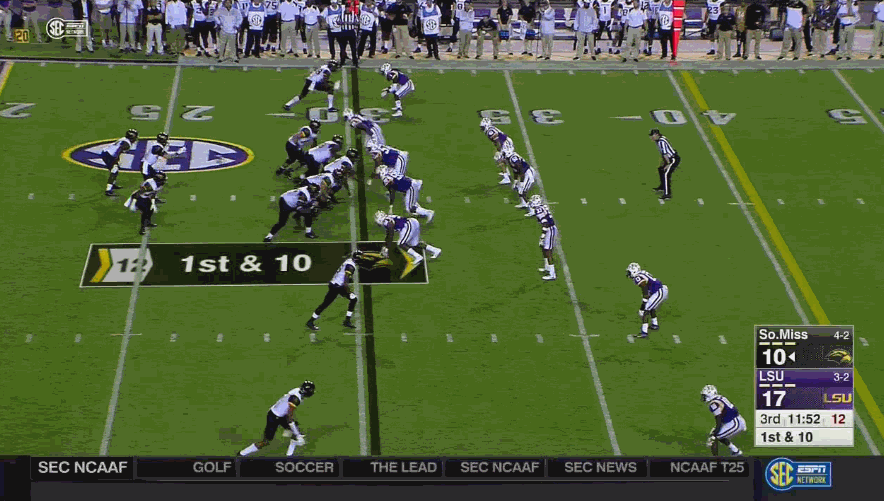 Kicker: Zane Gonzalez, Arizona State
Incase you haven't noticed yet, Gonzalez is pretty good at the whole kicking the football really far thing. This past weekend he connected on all three field goal attempts, with all coming from 50+ yards out. He also boomed all five of his kickoffs for touchbacks.
Punter: Trevor Daniel, Tennessee
Not much went right for the Volunteers in the blowout loss to Alabama, but punter Trevor Daniel graded well. He averaged 48.3 yards per punt, with three of his punts landing inside the 20 yard line.
K/PR: Eddie Jackson, Alabama
While Daniel did a good job as a punter, Alabama's Eddie Jackson ruined his net yards averaged thanks to a long punt return that saw his shake and weave his way for another special teams touchdown.
SEC — Gordon McGuinness
QB: Nick Fitzgerald, Mississippi State, 70.1
HB: Rawleigh Williams III, Arkansas, 76.2
FB: Christian Payne, Georgia, 77.1
WR: Malachi Dupre, LSU, 77.6; Christian Kirk, Texas A&M, 78.9
TE: Isaac Nauta, Georgia, 81.1
OT: George Pyke, Georgia, 79.4; David Sharpe, Florida, 76.9
OG: Jordan Sims, Ole Miss, 81.0; Lester Cotton, Alabama, 77.7
C: Bradley Bozeman, Alabama, 82.5
ED: Arden Key, LSU, 83.9; Ryan Anderson, Alabama, 82.8
DI: Jonathan Allen, Alabama, 88.5; Dalvin Tomlinson, Alabama, 83.2
LB: Zach Cunningham, Vanderbilt, 89.6; Roquan Smith, Georgia, 87.8; Jarrad Davis, Florida, 84.9
CB: Quincy Wilson, Florida, 88.7; John Gibson, Missouri, 81.9
S: Jamal Adams, LSU, 88.9; Ryan White, Vanderbilt, 86.4
K: Rodrigo Blankenship, Georgia
P: Trevor Daniel, Tennessee
K/PR: Eddie Jackson, Alabama
Pac-12 — Jordan Plocher 
QB: Sefo Liufau, Colorado, 77.0
OT: Jeromy Irwin, Colorado, 79.0;  Zach Banner, USC, 80.0
OG: Cody O'Connell, Washington State, 83.4; David Bright, Stanford, 79.0
C: A.J. McCollum, ASU, 78.0
RB: Philip Lindsay, Colorado, 82.8;  Bryce Love, Stanford, 81.4
TE: Dalton Schultz, Stanford, 78.1
WR: Darren Andrews, UCLA, 78.5; Bryce Bobo, Colorado, 77.1
ED: Jimmie GIlbert, Colorado, 80.3; JoJo Wicker, ASU, 73.7
DI: Viliami Latu, ASU, 84.6; Tashon Smallwood, ASU, 84.5
DI: Solomon Thomas, Stanford, 82.4
LB: Kenneth Olugbode, Colorado, 86.1; Peyton Pelluer, Washington State, 83.8
CB: Quenton Meeks, Stanford, 83.8; Ahkello Weatherspoon, Colorado, 83.3
S: Adarius Pickett, UCLA, 79.7; Tedric Thompson, Colorado, 77.9
Big 12 — Bryson Vesnaver
QB: Skyler Howard, West Virginia, 83.8
HB: Joe Mixon, Oklahoma, 77.5; Rushel Shell, West Virginia, 70.2
WR: Dede Westbrook, Oklahoma, 80.3; Ka'Raun White, West Virginia, 79.1; Jonathan Giles, Texas Tech, 79.0
OT: Colton McKivitz, West Virginia, 79.2; Dalton Risner, Kansas State, 78.8
OG: Tony Matteo, West Virginia, 79.0; Kyle Bosch, West Virginia, 75.7
C: Tyler Orlosky, West Virginia, 80.1
ED: Dorance Armstrong Jr., Kansas, 85.9; Naashon Hughes, Texas, 79.1
DI: Daniel Wise, Kansas, 86.8; Will Geary, Kansas State, 82.9
LB: Charmeachealle Moore, Kansas State, 83.3; David Long, West Virginia, 83.3; Malik Jefferson, Texas, 82.5
CB: Ryan Reid, Baylor, 84.4; Kris Boyd, Texas, 84.1; Jomal Wiltz, Iowa State, 83.8
S: Kamari Cotton-Moya, Iowa State, 83.1; Ahmad Thomas, Oklahoma, 80.9
K: Cole Netten, Iowa State
P: Drew Galitz, Baylor
KR: Kene Nwangwu, Iowa State
Big Ten — Josh Liskiewitz 
QB:  J.T. Barrett, Ohio State  75.3
RB:  Reggie Corbin, Illinois  77.1
FB: Drake Kulick, Iowa  80.2
WR:  Austin Carr, Northwestern  81.3; Stanley Morgan, Nebraska  75.7
TE:  Cole Herdman, Purdue 83.0
OT:  Tariq Cole, Rutgers  82.7; Cole Conrad, Nebraska  78.6
OG:  Jordan Roos, Purdue  79.1; J.B. Butler, Northwestern  76.7
C:  Pat Elflein, Ohio State  83.1
DI:  Raequan Williams, Michigan State  82.7; Kevin Maurice, Nebraska  81.2
ED:  Ifeadi Odenigbo, Northwestern  84.8; Dawuane Smoot, Illinois  82.2; Sam Hubbard, Ohio State  81.8
LB:  Jack Cichy, Wisconsin  84.5; Dedrick Young II, Nebraska  81.8
CB:  Justin Layne, Michigan State  86.2; Desmond King, Iowa  85.8
S: Nathan Gerry, Nebraska  82.5; D'Cota Dixon, Wisconsin  82.5
ACC — Coming Soon
QB Jerod Evans, Virginia Tech 74.2
WR Travis Rudolph, Florida State 86.4; Bucky Hodges, Virginia Tech 77.3
TE Jaylen Samuels, North Carolina State 75.8
OT Adam Bisnowaty, Pittsburgh 79.9; Justin Herron, Wake Forest 78.8
OG Alex Bookser, Pittsburgh 76.2; Tyrone Crowder, Clemson 71.2
C Alec Eberle, Florida State 81.0
HB Matthew Dayes, North Carolina State 74.8
ED Duke Ejiofor, Wake Forest 84.0; Devonte Fields, Louisville 82.9
DI Ricky Walker, Virginia Tech 82.9; DeAngelo Brown, Louisville 82.3
LB Stacy Thomas, Louisville 87.5; Marquel Lee, Wake Forest 83.4
LB Dravious Wright, North Carolina State 87.5
CB Corn Elder, Miami 85.0; MJ Stewart, North Carolina 87.9
S Terrell Edmunds, Virginia Tech – 83.0; Trey Marshall, FSU 86.0
Group of Five — Zoltan Buday 
QB: Brent Stockstill, Middle Tennessee State 78.6
RB: Jeremy McNichols, Boise State 79.3
WR: Carlos Henderson, Louisiana Tech 96.6; Jalen Robinette, Air Force 89.4
TE: Michael Roberts, Toledo 85.5
OT: Taylor Moton, Western Michigan 83.0; Chris Brown, Charlotte 81.6
OG: Tyler Bowling, Tulsa 82.7; Mike Ebert, Toledo 82.8
C: Daniel Stephens, Middle Tennessee State 81.6
ED: Tarrell Basham, Ohio 90.0; Olasunkanmi Adeniyi, Toledo 86.2
DI: Chris Odom, Arkansas State 87.5; Casey Sayles, Ohio 85.3
LB: Darrell Songy, South Alabama 85.0; Tabary McGaskey, Rice; Malik Fountain 86.5, Central Michigan 84.1
CB: Jhavon Williams, Connecticut 92.6; Michael Egwuagu, UTSA 94.2
S: Austin Hall, Memphis 87.1; Kris Weatherspoon, Troy 86.3