Chase Young was a consensus five-star recruit and the top-ranked player in the state of Maryland. His freakish 6'5'', 250-pound frame on top of his athletic ability garnered interest and scholarships from nearly all major college football programs in the country. In the end, Young decided to join Nick Bosa at Ohio State, effectively forming one of the most dangerous defensive duos in college football history.

As a true freshman, Young flashed his skill as a pass-rusher, posting a respectable 80.7 overall grade that ranked 45th among edge defenders with at least 100 total snaps played. He was also able to place top-50 in both pass-rush win percentage (18.5%, 45th) and pressure percentage (20.6%, 28th) among all defenders with at least 90 pass-rush snaps. His strong play came on just 196 total snaps, 163 of which came when lined up outside the tackles.
One reason for his limited snap count was the historic performance from sophomore Nick Bosa. By the close of the 2017 season, Bosa had netted the highest overall grade ever recorded by an edge defender with at least 200 total snaps played in a season, dating all the way back to the start of the PFF College era (2014). The duo's play off the edge helped the Buckeyes obtain the highest team pass-rush grade in all of college football, as well as the most total pressures, with 324.
The 2018 campaign saw Nick Bosa participate in just three games for Ohio State, electing to withdraw from the rest of the season in order to fully recover from a core injury that required surgery. In his absence, Chase Young showcased his game-breaking ability as a pass-rusher, improving in every facet from his freshman year. In 2017, he earned a pass-rush grade of 72.0, which was 92nd out of all edge defenders with 100-plus total snaps. However, in 2018, Young posted an elite 91.2 pass-rush grade, good for the ninth-best mark among edge defenders with the same threshold.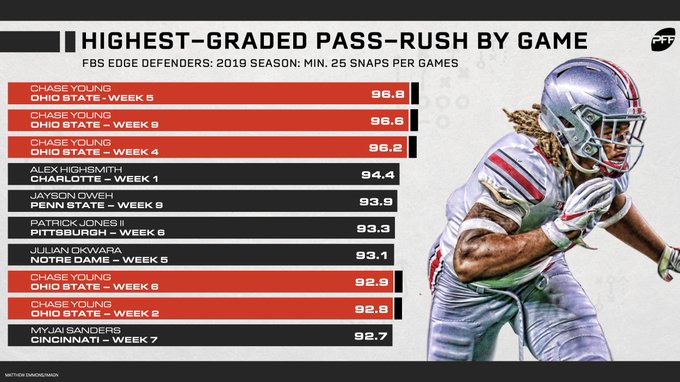 The reason for his vast increase in grading was he was able to beat his blocks at a higher clip, nabbing a win percentage of 19.4% and a pressure percentage of 17.0%, ranked 30th and 27th, respectively, among edge defenders with 100 or more snaps. He also generated the most total pressures in the nation, with 80, four more than the next player despite having the fourth-most pass-rush reps at 470. Young splashed on to the scene in his sophomore season and further showed his pass-rushing talent, but even then, he had yet to reach his full potential as a football player.
After a stellar two-year start to his collegiate career, Young entered the 2019 season as the third player on PFF's 2020 preseason draft big board. Through 10 weeks of college football, he has not only lived up to the hype but reached heights we have not seen before. His 14 sacks lead the nation in 2019 and are the most by any defender through the first nine weeks of a college football season since Carl Nassib had the same amount in 2015.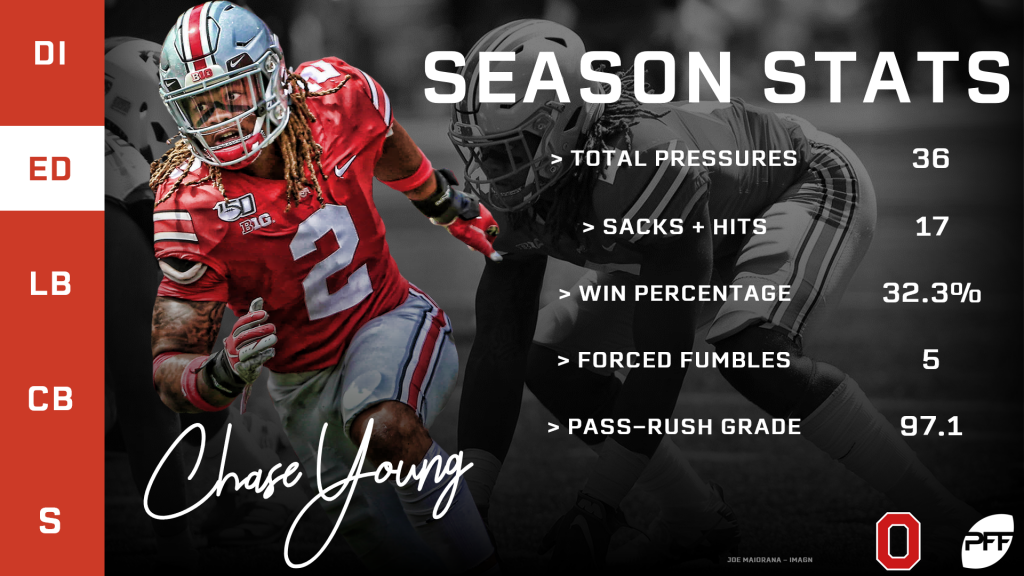 Game in and game out, he has tormented opposing quarterbacks, posting a pass-rush grade below 82.5 just once. However, his most impressive performance came in a Week 9 bout against Wisconsin that saw the Buckeye demolish every player that lined up in front of him en route to the highest grade we have ever given to a college edge defender in a single game with at least 25 snaps. Young generated six total pressures—four of which were sacks—two additional defensive stops and two forced fumbles against an offensive line that entered the contest as the 25th best pass-blocking unit in the FBS. PFF's Mike Renner noticed Young's historic week, listing it as the best performance thus far this season.
His historic game against the Badgers is the cherry on top of his already historic season. The highest pass-rush grade we have ever given over a full season in our five years of grading college football belongs to Josh Allen from Kentucky in 2018, but Young is on pace to shatter that with his 97.1 grade thus far. So, due to his play in 2019, we at PFF believe Chase Young is deserving of the Heisman trophy, which would make him the just the second primarily defensive player to ever lay his hands on the award since Charles Woodson in 1997.
PFF's lead college football analyst Cam Mellor revisited our top Heisman candidates after Week 9 and praised Young, stating, "He's crushing records on a game-by-game basis and putting forth the best season we've ever seen from a player on either side of the ball in our time of grading football at any level."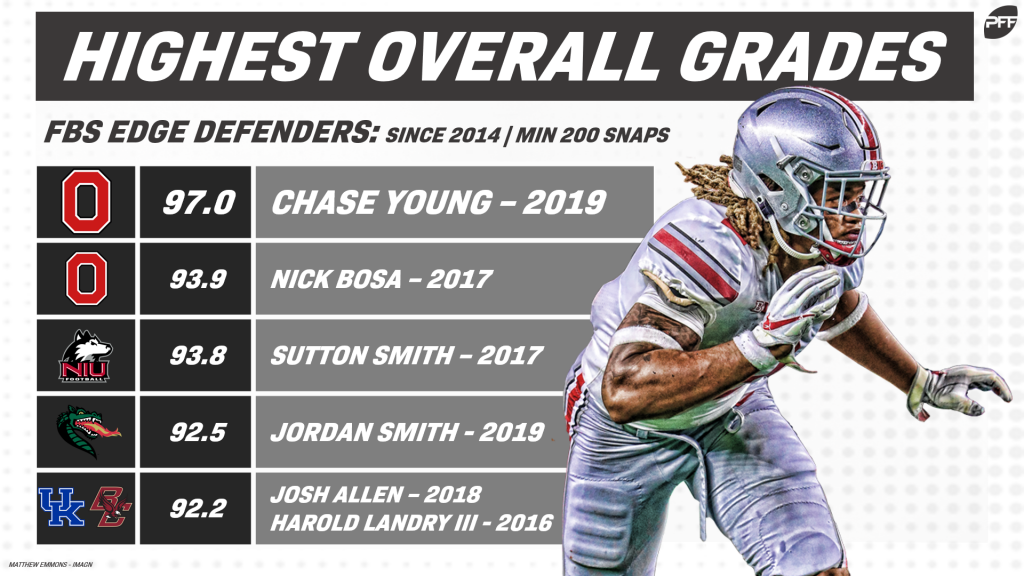 His current 97.0 overall grade is on pace to be the best grade ever earned by any player at any position, either the NFL or college football. The Heisman hopeful's 32.3% win percentage is second among all defenders who have played at least 100 pass-rush snaps this season, and his pressure percentage of 22.8% is fifth using the same threshold. If it continues, and we're sure it will, Young has a good chance to become only the second defensive player in history to win the Heisman, and rightly so.