When college quarterbacks face pressure, there are more undisciplined moments than in the NFL, as the QBs are less poised and make more rash decisions, which leads to heightened levels of inefficiency. And in the run game, there are only a few backs elusive enough to deal with lackluster blocking upfront.
Having a stout offensive line doesn't make a team elite nor does it automatically make the team competitive. Quarterback, cornerback, wide receiver and defensive linemen are the most valuable positions in college football (in that order). Still, a top-tier set of blockers upfront undoubtedly provides a big boost to any offense. And with the help of PFF's advanced database, we can identify which collegiate programs benefit from that boost.
---
Click here for more PFF tools:
Rankings & Projections | WR/CB Matchup Chart | NFL & NCAA Betting Dashboards | NFL Player Props tool | NFL & NCAA Power Rankings
---
Below are the top 10 offensive lines in college football ahead of Week 11. Please note that this list was formed on a variety of factors, not just season-long PFF grades.
Related content for you: Highest-graded players at every position through Week 10 of the 2021 college football season via Seth Galina
Other key contributors: G Matthew Jones (78.1, 272 snaps)
Ohio State has six offensive linemen with a PFF grade north of 75.0 this season, which is more than any other team in college football. They have a high recruiting pedigree starting along their offensive line with two five-star recruits (Petit-Frere and Johnson) and two four-star recruits (Munford and Wypler), and all four have clearly lived up to the hype. Petit-Frere and Munford, in particular, have been the stars over the last couple of years and currently are inside the top 100 of PFF's 2022 Draft Board.
The one starter who wasn't amongst the blue-chip recruits in their respective class is Jones, who has arguably been the most impressive performer in 2021. Jones is a 6-foot-8, 360-pound former star basketball player from Indiana. He actually left football for a season in high school to dedicate his time to basketball before returning to the gridiron his last two years. Jones turned down offers from mid-majors to play basketball so that he could play football for the Buckeyes, and now he's one of the five highest-graded tackles in the Power Five in his first year starting. Jones has been a monster in the run game, in particular, earning an 88.5 grade in that facet this season.
Other key contributors: T Jack Conley (47.1, 226 snaps)
If any offensive line can challenge Ohio State for the best starting five in the country, it's Boston College. From Vrabel — the son of Tennessee Titans head coach Mike Vrabel — to Lindstrom — the brother of former Boston College Eagle and current Atlanta Falcon Chris Lindstrom — there is immense talent and a sky-high ceiling within this group.
Johnson, a former Davidson transfer, has been the group's top performer. Starting at left guard (with exception to Week 10 when he filled in at left tackle), Johnson has earned an 85.2 PFF grade this season, which ranks inside the top 10 of all Power Five offensive linemen.
Vrabel has missed some time as of late but is now back at practice, which is clearly a huge for the Eagles. This group has still managed a top-five offensive line grade for the 2021 season despite some poor play from non-starters. When healthy, this group can challenge Ohio State for the top spot.
This Ragin' Cajun offensive line is the real deal. All five starters have been excellent this year, as evidenced by their PFF grades listed above, but there are two players, in particular, who stand out as some of the best linemen in college football: Torrence and Mitchell. Those two have both earned a grade above 80.0 as a pass and run blocker this season — something only 13 other FBS offensive linemen have accomplished through Week 10.
Mitchell has garnered the attention of numerous NFL scouts for his strong collegiate career. He earned 81.9 and 84.3 PFF grades in 2019 and 2020 starting at tackle for the Cajuns, and he has since taken the next step forward to become an elite offensive lineman. Mitchell is currently the highest-graded offensive lineman in all of college football (94.6).
Torrence was thrown into the fire as a three-star true freshman back in 2019 after an injury to the previous starter during Louisiana's season-opener, and he has since established himself as one of the top interior offensive linemen in college football. The 6-foot-5, 332-pound guard — who was actually 420 pounds in the eighth grade — earned PFF grades of 72.8 and 74.7 in 2019 and 2020. Now, he owns an 89.0 PFF grade entering Week 11 of his junior year — second-best among FBS guards. Georgia reportedly made a late push to bring in Torrence as a member of the team's 2019 recruiting class, but he opted to join the Ragin' Cajuns.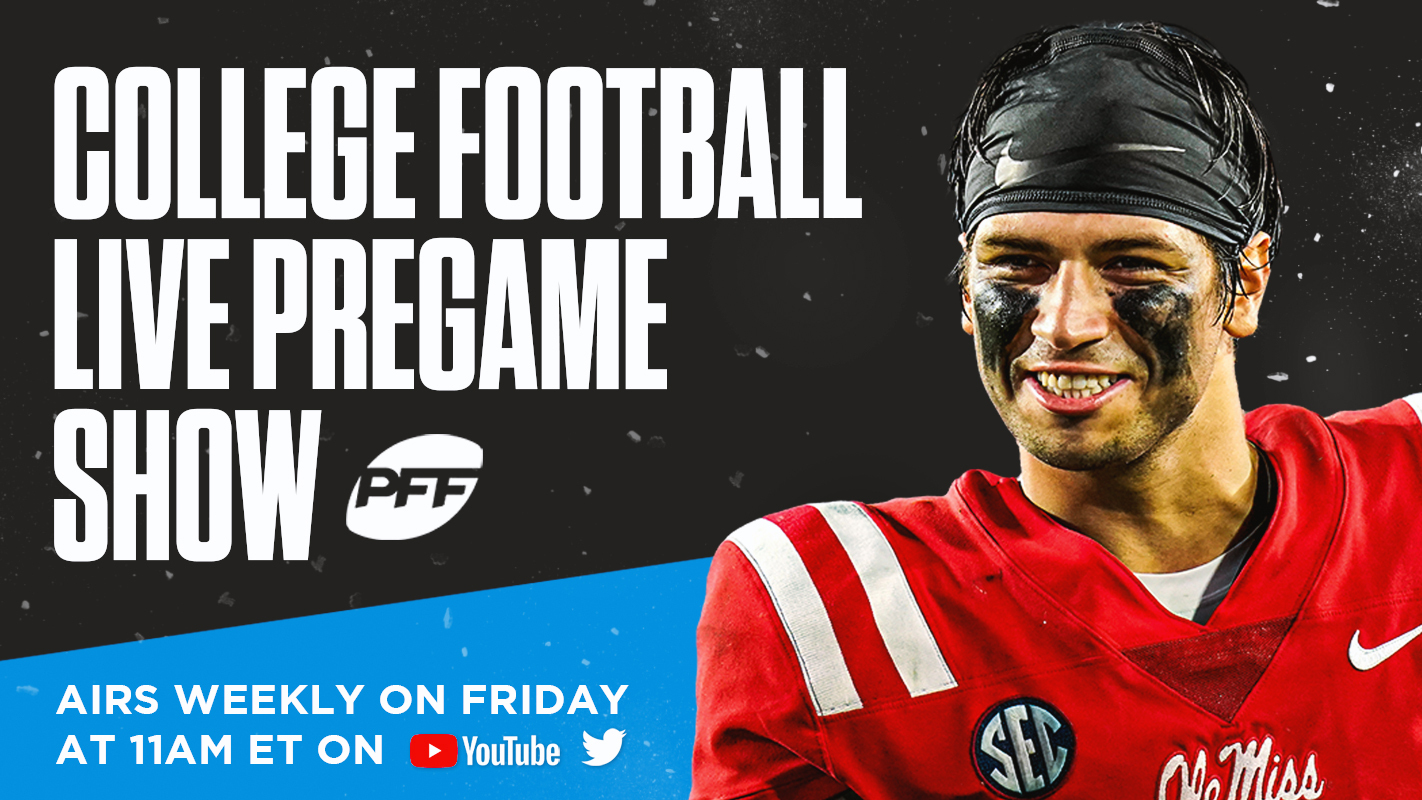 Other key contributors: T Matt Goncalves (64.9, 197 snaps), G Blake Zubovic (75.1, 148 snaps)
Playing in an offense where offensive linemen are often isolated on true pass sets and have to block for longer durations (3.19 seconds on average) isn't easy for the big men down in the trenches. This group, however, has handled it with ease in 2021. No Power Five team has been utilized on a higher rate of true pass sets this season than the Panthers and yet, their offensive line has still been one of the five highest-graded pass-blocking units in the Power Five. They've allowed only three combined sacks and hits within three seconds off the snap this season, which is the third-fewest among all FBS teams.
Kentucky's strong offensive line has remained during the Wildcats' transition to a pro-style approach. The Wildcats offensive line has combined for a grade north of 78.0 in both run- and pass-blocking this season — something only three other groups in the Power Five can say they have. Kinnard and Fortner have been Kentucky's two standout performers this season, which isn't much of surprise.
Kinnard has always been known for his dominance as a run-blocker after posting 89.1 and 91.9 grades in that facet in 2019 and 2020, but the 6-foot-5, 345-pound tackle needed to show some progress in pass protection this season. He has done just that, as he is the only player to rank top 10 in both run- and pass-blocking among Power Five tackles.
Fortner was one of the SEC's top guards in 2019 and 2020, but he was moved to center for the 2021 season to replace Drake Jackson. The transition has gone well, as Fortner is currently one of the five highest-graded centers in the entire Power Five.
Other key contributors: G Curtis Dunlap Jr. (54.8, 218 snaps), G Axel Ruschmeyer (92.0, 179 snaps)
Minnesota's offensive line features a lot of size — from the 6-foot-6, 335-pound Andries to the 6-foot-9, 380-pound Faalele. And those monsters have been mauling in the run game, racking up 39 total big-time blocks as a group this season — the third-most in the Power Five.
Schmitz is actually the leader of the group in that metric with 11 for the season (only NC State's Ikem Ekwonu and Iowa's Tyler Linderbaum have more in the Power Five), which has helped Schmitz earn the No. 2 PFF grade among all FBS centers.
Other key contributors: T Broderick Jones (67.5, 234 snaps)
Georgia has had it relatively easy from a pass protection perspective, as the offensive line has only seen a true pass set on nearly a quarter of their pass plays — a rate that is among the 20 lowest in the FBS. On those rare moments where they do use a true pass set, the Bulldogs' offensive line has risen to the occasion, allowing a 25.5% pressure rate on such dropbacks this season — the lowest in the Power Five by three percentage points.
Salyer has been the highlight of the group in pass-protection, recording an 85.3 grade in that facet while allowing just one total pressure on the year.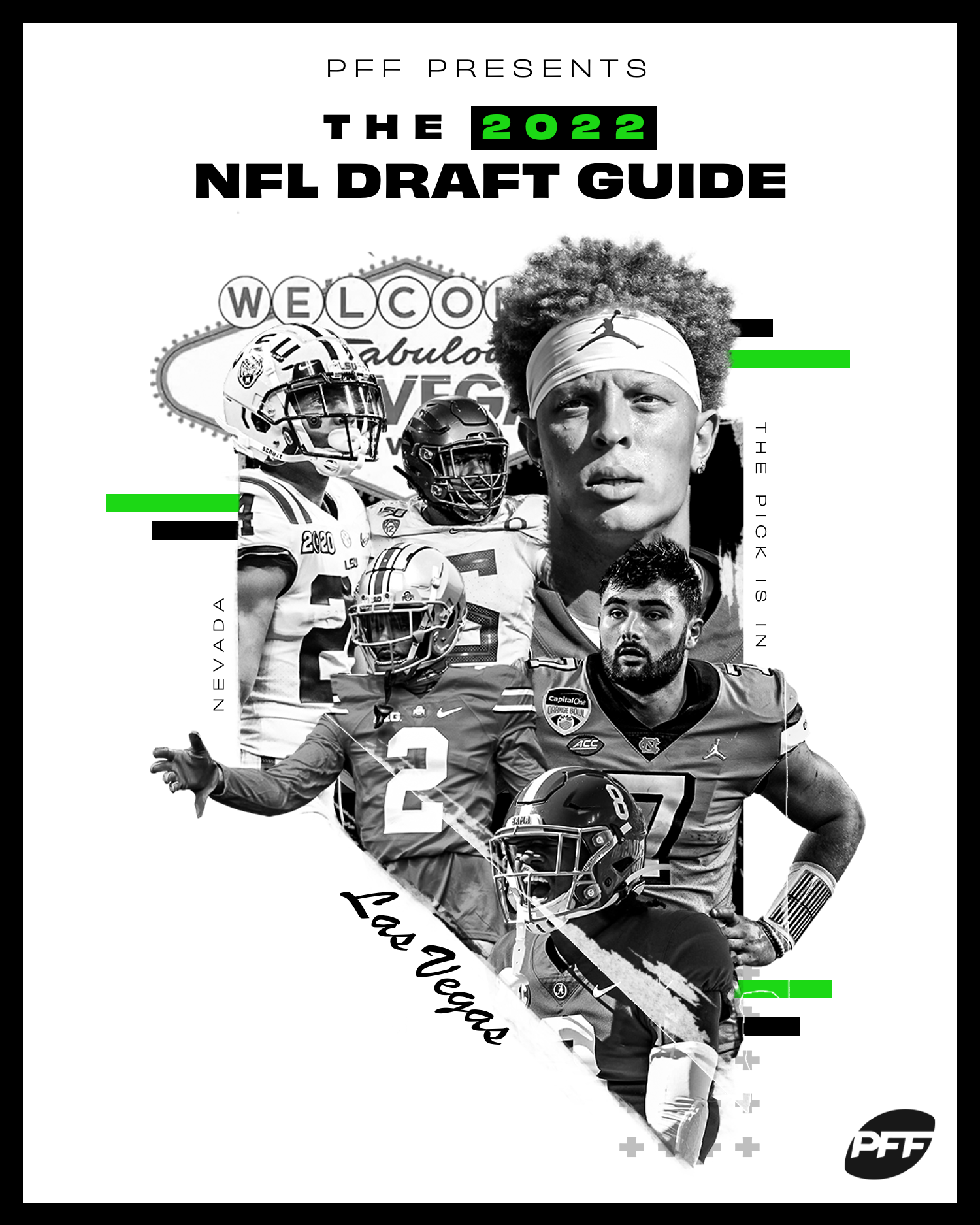 Other key contributors: C Robert Congel (63.2, 133 snaps), G Erik Swenson (78.5, 129 snaps)
Oklahoma claims a top-10 spot for the work its offensive line has done in pass-protection. The Sooners actually have the highest-graded offensive line in the Power Five on true pass sets this season. Harrison and Robinson have been the standout performers on such plays, ranking fifth and ninth respectively among all Power Five offensive linemen in true pass set grade. Those two have given the Sooners the highest-graded tackle tandem in the FBS ahead of Week 11.
There were some questions about Western Kentucky's ability to maintain a top-three pass-block grade as a team nationally in 2021 because it had to replace its entire interior offensive line. The Hilltoppers, however, did just that, as their offensive line ranks second in the FBS with a 91.7 pass-block grade. They have a large workload in this Air Raid offense, and they've welcomed it. Western Kentucky has allowed the lowest pressure rate in all of college football this season (10.5%).
Other key contributors: C/G/T Ty Clary (76.4, 372 snaps)
Arkansas' offensive line was pegged as the No. 5 unit in the SEC prior to the season, and they have exceeded that above-average ranking through Week 10 of the 2021 season. The Razorbacks' unit is among the 10 highest-graded groups in the FBS, holding its own regardless of the play call.
Stromberg, in particular, has been the bright spot among this group. The 2019 three-star recruit was pegged as a prime breakout candidate for the 2021 season given his promising starting debut season in 2020. It's safe to say he has taken that step forward, as he is one of the 10 highest-graded centers in the Power Five and has racked up the fourth-most big-time blocks among the group (10).