We've all seen the debates about which college football program rightfully gets to adopt the title of "DBU" or "WRU." If you're reading this article, the chances are that you've probably offered your two cents in one of those debates on social media or with your friends.
It may have started with those two positions, but college football fans have since been trying to find out which school deserves the title for other positions, too.
Click here for more PFF tools:
Rankings & Projections | WR/CB Matchup Chart | NFL & NCAA Betting Dashboards | NFL Player Props tool | NFL & NCAA Power Rankings
---
There are plenty of good candidates for the linebacker position, and there is likely no "right" answer. But you can't get far into the conversation without mentioning the linebacker factory that head coach Paul Chryst and defensive coordinator Jim Leonhard are running in Madison, Wisconsin.
Joe Schobert, Marcus Trotter, Vince Biegel, Ryan Connelly, T.J. Edwards, Chris Orr, Jack Cichy — these are a few players who have paved the path for what is now one of the strongest position group fraternities in college football. Many of those players, and others before them, not only found success at the college level but made an impact n the NFL, too.
The players above played out their time in Madison and moved on, but as with any great family line, others have since taken their place. And this year, that presence is being filled by two players in particular: senior Jack Sanborn and junior Leo Chenal.
Chenal and Sanborn make up arguably the best linebacker duo in college football. Through 11 weeks, both players rank among the 10 highest-graded linebackers in the FBS, and they've combined for a colossal 105 solo tackles, 25 tackles for loss or no gain and 90 defensive stops.
But rather than puffing their chests and laying claim to the title of "LBU," they have a different nickname that they privately and proudly go by: Death Row.
"It's just what we called the inside linebackers," Jack Sanborn said in an exclusive interview with PFF. "We view ourselves as the heart of the defense and a big part of it because we've got to be the voices.
"It's that pride and that standard that we have in the inside linebacker room, the standard of greatness that we have here. It's an exclusive club. Even if you're an inside linebacker, you've got to earn the name and earn the right to say it. It's something that we all take pride in."
Highest graded FBS linebackers through Week 11 (min. 250 snaps)
| | | | | |
| --- | --- | --- | --- | --- |
| Rank | Name | Team | Snaps | PFF grade |
| 1 | Leo Chenal | Wisconsin | 439 | 92.0 |
| 2 | Nakobe Dean | Georgia | 419 | 91.8 |
| 3 | Devin Lloyd | Utah | 610 | 90.7 |
| 4 | Chad Muma | Wyoming | 679 | 90.4 |
| 5 | Troy Brown | Central Michigan | 359 | 88.3 |
| 6 | Jack Sanborn | Wisconsin | 510 | 88.1 |
| 7 | Ivan Pace Jr. | Miami (OH.) | 630 | 87.2 |
| 8 | D'Marco Jackson | App State | 590 | 85.9 |
| 9 | Malcolm Rodriguez | Oklahoma State | 584 | 85.8 |
| 10 | Eli Neal | Marshall | 589 | 81.2 |
Sanborn told PFF that he thought the nickname started when he was an underclassman. He gave credit to former linebacker Chris Orr for the name, and he's carried it on since Orr's departure.
As Sanborn said, it is a title that carries a lot of pride. And when he said you have to earn being in Death Row, he meant it. It's a fact Chenal knows all too well.
"It's like a rite of passage. You've got to earn it," Chenal said. "Coming in as a freshman, I didn't really know what was going on, and I hear these guys breaking it down. You're not allowed to say death row until you earn it. The other guys just got to say inside linebackers.
So I was like, 'Death Row!' Then it all got quiet around me, and I'm looking around, and they're all just like, what are you doing? You've got to catch a body … make a big play to be able to earn it."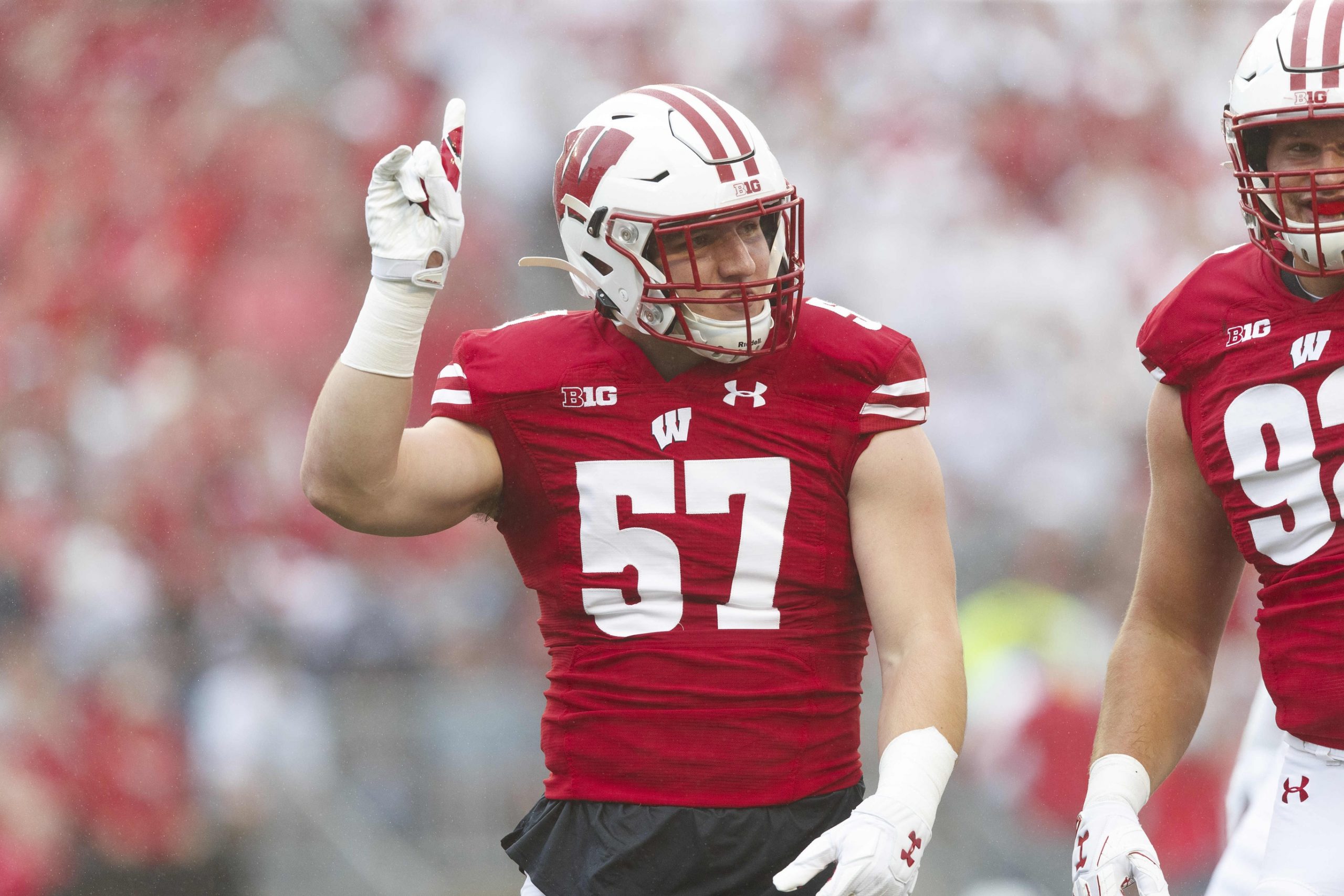 After hearing Chenal tell the story of how his teammates denied him when he tried to say it the first time, I had to ask if there was a specific moment when they welcomed him into the Death Row family line of Wisconsin inside linebackers. After all, Orr had said years before that you had to "catch a body or make a big play" to earn your wings.
For Chenal, there was that one moment.
"I know the moment. I know the exact moment," Sanborn said with a laugh. "It was spring ball. Leo's first spring ball. We had these drills that we would always do, and it was just basically competition drills, and they were always just fun. They'd be like one running back and a linebacker, and there was a goal line and you've got to stop him. They'd always put the main card up, so you know going into the practice that when you get to that period of the day, it's almost like a UFC event.
"Leo would always get paired up against his brother (Badgers fullback John Chenal). And I remember it was late in spring ball, and we flipped it around so the defensive players were running the ball and the offensive players were tackling. It was Leo versus his brother, and I don't know if it was the main event or if it was the co-main event or something, but we were like, 'hey, if you run over your brother right here, you can be on Death Row. You got it.' Leo said nothing more, and he did it."
Leo Chenal: PFF grades and rank by facet
| | | |
| --- | --- | --- |
| PFF grade | | Rank |
| Overall grade | 92.0 | 1st of 385 |
| Run-defense grade | 94.3 | 1st of 385 |
| Tackling grade | 87.4 | 14th of 385 |
| Pass-rush grade | 92.4 | 1st of 385 |
| Coverage grade | 64.1 | 143rd of 385 |
Since that day, Chenal has grown into a cornerstone of Death Row and this Badgers defense. Not only is his 92.0 overall grade the highest mark in the FBS among linebackers with at least 250 snaps, but his 94.3 run-defense grade and 92.4 pass-rush grade are also nation-leading marks for his position. His 49 defensive stops not only lead Wisconsin; they lead all linebackers in the Big Ten.
It's been an ideal upward trajectory for Chenal in his three years as a contributor at Wisconsin, going from a 72.4 overall grade in 2019 to an 82.2 grade last season to an elite mark over 90.0 in 2021.
As for Sanborn, he's been strong and steady for two years now, grading above 80.0 overall, in run defense and as a pass-rusher as a junior in 2020 before earning 80.0-plus grades almost across the board in 2021.
Jack Sanborn: PFF grades and rank by facet
| | | |
| --- | --- | --- |
| PFF grade | | Rank |
| Overall grade | 88.1 | 7th of 385 |
| Run-defense grade | 85.2 | 7th of 385 |
| Tackling grade | 73.9 | 9th of 385 |
| Pass-rush grade | 81.8 | 22nd of 385 |
| Coverage grade | 67.7 | 100th of 385 |
When it comes to being at the heart of a Jim Leonhard defense, both Sanborn and Chenal credit the way Leonhard approaches his defensive coordinator role, the way he empowers his players to play their best.
"I think the one thing that pops out is that it's fun," Sanborn said. "[Leonhard's] a genius, and he's rightfully regarded as one of the best college football minds in the sport right now. With that, it's kind of a relaxed feeling within the defense, like just coming in and working every day because he makes it fun. … He puts us in a great position to go out there, play loose, play free, and it shows. At the same time, he has a standard for us, and that standard's high. Everyone within the defense holds that same standard, and every day we're just working toward it."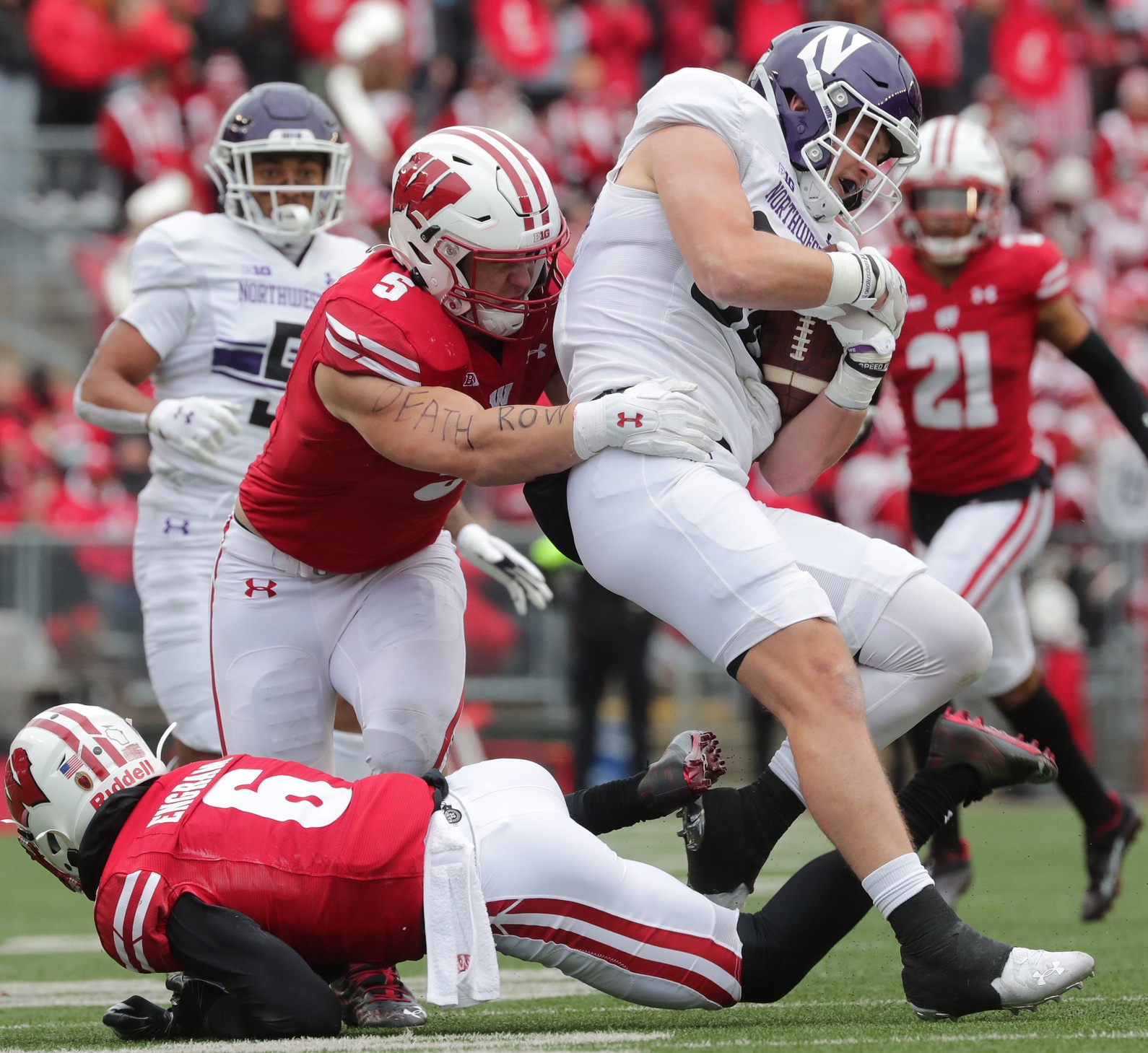 "He definitely plays to each individual's strengths," Chenal said. "He knows our strengths, he knows our weaknesses, and he'll add in a few details on a single play that this guy does well. So we'll put him here, and we'll activate this guy or drop this guy into coverage in a certain spot. So, he definitely does well in that regard."
Through experience and many years in the system, Sanborn and Chenal have developed difference-making instincts. Not only do they know where they need to be, but they also know where others around them need to be. Of course, that goes into playing fast, as they mentioned. But it also leads to creativity beyond the regular structure of the defense. That, too, has led to big payoffs.
"[In the Wake Forest game] I went up and asked [Leonhard], 'I know I'm supposed to blitz, but I'm not gonna make it. He's getting rid of the ball so quick, and he's throwing them right behind us,' Sanborn said. "I was like 'I just wanna drop back,' and he was like, 'yeah, do that. Get the interception,' and then it turned out.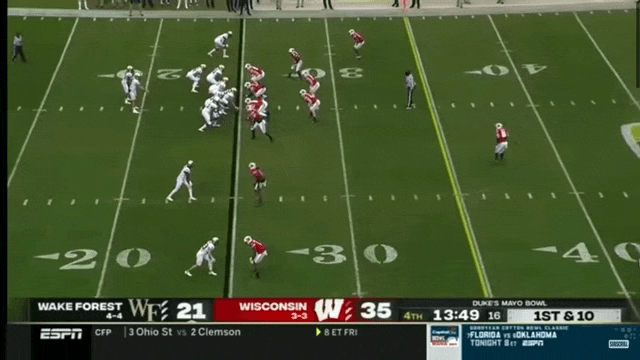 "One of the things we talk about on the defense, especially in our room, is that playing in our defensive system, we have so much freedom where we're able to use our instincts to get to the ball. We understand our job, but then it's also about getting to the ball and using that, and coach Bostad always talks about it. He's like, 'hey if you wanna do something out of structure, do it. You just better hope you make it happen.'
"But coach Leonhard, coach Bostad, I think they have enough trust in us and everyone on the defense that they'll let us play free and let us go out there and make plays that might be out of structure, but it's all part of the whole plan."
"We always talk about not being like a robot out there," Chenal said. "They'll never mark us down to just taking space or feeling things out and trusting our gut. A lot of times, they say, 'if you're gonna take it — take a chance — you gotta make it.'"
Wisconsin's season did not start the way Sanborn, Chenal and the rest of the team wanted. As the preseason No. 12 team in the country, Wisconsin had Big Ten and potential College Football Playoff aspirations. They had to be licking their chops at their early schedule, too: A home game against Penn State was followed by an easy game against Eastern Michigan, a neutral-site matchup against Notre Dame and a home game versus Michigan. Big wins against those teams would have surely led to a climb in the rankings, putting the Badgers in the driver's seat.
That didn't happen. When the clock struck 0:00 in the Michigan game, the Badgers' record read 1-3. It's hard to come back from that. But Sanborn remembers what the message was right after that nightmare start.
"Go out there, beat Illinois," Sanborn said. "In college football, you gotta take every week by week, and we've seen teams get a big win and then stumble the following week. I think our mindset the entire year, and especially during this stretch we've had, has always been week by week and the next game is the most important one."
The Badgers are perfect since that particular loss. They're currently riding a six-game win streak, and though they aren't the favorites for the Big Ten title, they still have a shot. The biggest reason they do is that they didn't give up. They didn't hang their heads or feel sorry for themselves. They got back to work, and they came together — like all Wisconsin teams do.
"I feel like because people always say that it's not like that everywhere else, but here, it's normal," Sanborn said. "I think it starts with the people that are a part of this program, and it truly feels like a family atmosphere — especially this year in the inside linebacker room.
I think it starts with the people that are at the top of the program and then the people we bring in, everyone just wants to see each other be great and our team be great. That's what everyone's goal is, and as you go on, you have a little fun. You're with each other every day so you might as well enjoy it."
---
Related content for you:
College Football Defense Rankings: Top 10 units ahead of Week 12
via Anthony Treash
---
With two games left to play — hosting Nebraska and on the road at Minnesota — Wisconsin will have to finish strong. PFF's college football power rankings tool currently gives the Badgers just a 16% chance to win their conference. To do it, they'll need to be perfect. And to do that, they'll need to lean on each other.
As they do, they'll look to their leaders in the middle to be the glue; they'll look at Death Row. For that group, being the heartbeat is nothing new. For them, it's a big reason why they came to Wisconsin.
"I think it's almost the Wisconsin way," Sanborn said. "When you're part of the linebackers, you always want to see them succeed. And I think guys take great pride in that. A number of guys that I didn't even play with, like Leon Jacobs, when I see him I've got to say hi to him, I've got to talk to him and I'll talk to him a little bit.
"I remember two years ago when we were at Minnesota, I didn't even know Jack Cichy personally, but I obviously knew who he was. He was at the game, and before one of the series, he was on the sideline, and he said something to me like, 'let's go, Jack,' like hyping me up, and I was like 'holy shit, that's Jack Cichy.'
"Now he's here every day, and I get to talk to him all the time. It's that family environment. Guys like T.J. Edwards, Ryan Connelly, guys that were instrumental in my development, I can always know that they're just a text away."
There are a lot of great football programs around the country. With them comes a lot of great players, both former and current. But in PFF's database, there's only one team that boasts two top-10 inside linebackers. There's only one Death Row. There's only one Sanborn and Chenal.
And the legacy they're leaving isn't finished yet.