Let me take you back in time to Dec. 28, 2019, in Glendale, Arizona. Ohio State is up 13-0 and sitting on Clemson's 23-yard line midway through the second quarter in the College Football Playoff semifinal.
Quarterback Justin Fields has just eluded a couple of Clemson rushers to will his Buckeyes deeper into Tiger territory. The chance to go up three scores and effectively end the game while clinching a spot in the national championship was in the team's grasp.
The offense hurries up to the line of scrimmage and catches the Clemson defense out of position. Wide receiver K.J. Hill's seam route is open in the endzone, but Clemson cornerback Derion Kendrick makes a last-ditch effort to break up the pass. The score remains the same.
Ohio State churns out another first down before facing a second-and-15 on the Clemson 16-yard line. It's another chance to end the game with a perfectly timed screen pass against a Tiger blitz. Running back J.K. Dobbins leaks out with blockers in front of him and a clear path to pay dirt. He drops the ball. Ohio State ends up settling for a field goal — making it 16-0 instead of 20-0.
The score would be 16-7 the next time the Buckeyes got the ball back, with Clemson already turning the tide in the game. Those two plays could have changed the course of college football one year ago. The important thing here is that after this drive, Ohio State scored only one more touchdown. Staying close to the Buckeyes before the end of the half allowed Clemson defensive coordinator Brent Venables to change up his scheme, keep his team in the game and give Justin Fields the issues he is so widely criticized for.

Clemson started the game playing with four down defensive linemen and rotating strong to Cover 1 or Cover 3. Fields understood what was going on presnap and could quickly process the situation to deliver timely and accurate balls.
The Buckeyes' first-half expected points added (EPA) per play mark of .06 was the highest Clemson had allowed in an opening 30 minutes to that point in the season. It was the first time anyone had gained positive EPA per play in a first half that season against the Tigers.
Venables had toyed with the idea of a moving parts "total defense" approach earlier in the 2019 season but seemed to have moved away from it down the stretch. In the first half, the Buckeyes saw a much more static Clemson defense, especially on early downs.
Allowing 16 points in a quarter and a half was too much for Venables. He switched to his three-down, three-safety look and had his team confuse Justin Fields for the rest of the game — to the tune of three interceptions, three sacks and only one score.
Fields could not deal with all of Clemson's post-snap movement. A quarterback who would already sometimes wish primary receivers open rather than going through his reads could not last against such a unique defense.
So here we are, one year later, in the exact same position. Justin Fields versus Brent Venables' defense yet again for a chance to play in the national championship game. Fields has played great this season — against lesser competition — but unfortunately, the struggles he felt against Clemson in the second half reared their ugly head once again this year.
Against Indiana and Northwestern, arguably the only two good defenses Ohio State played this year, Fields did not look good. Against Penn State, Rutgers, Michigan State and Nebraska, he earned a 93.9 overall grade. Elite level. Against Indiana and Northwestern? 73.5.
Those are two of the top 15 defenses in college football this season. Northwestern sits in its two-high shell and then rotates into a few different zone coverages. Indiana is funkier with its coverage rotations and nickel blitzes. They both caught Fields holding on to the football or throwing into coverage.
On plays we chart without a safety rotation, Fields boasts a 93.0 passing grade with 39 big-time throws to only 12 turnover worthy plays over his Ohio State career. Against plays with a safety rotation, the grade dips to 84.9 — a fair dropoff.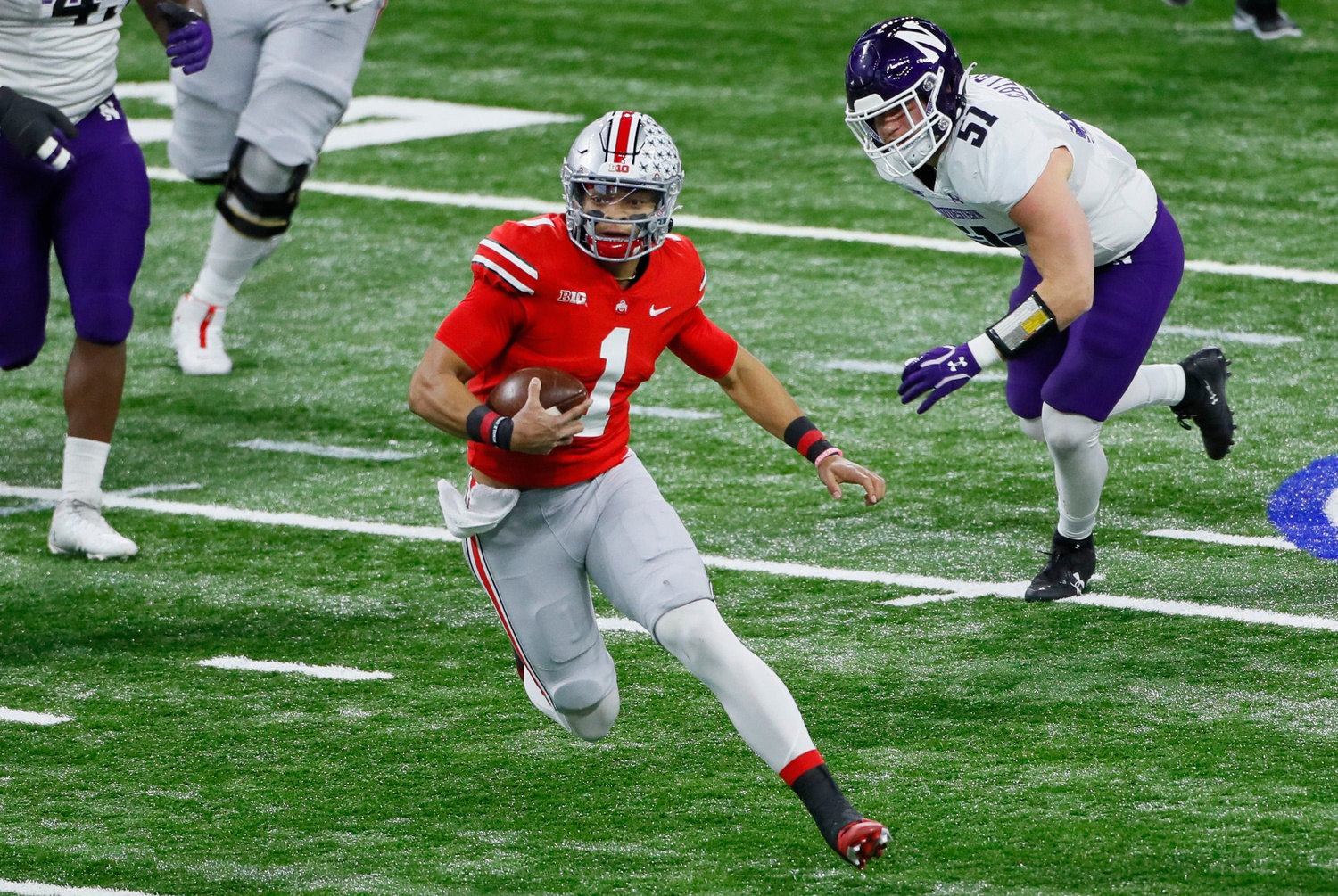 Clemson can give Fields trouble once more by moving around and creating confusion in a post-snap world. With that said, Venables is again running more of a four-down defensive front and not the three-down, three-high safety looks he was into for parts of last season. Fewer dynamic players in the Clemson secondary has probably tempered Venables' expectations of being able to handle all the sorts of movement he would like. Still, this is the top defense in college football. But it is ripe for the picking in one specific area.
It seems as though Venables trusts his cornerbacks a lot this season. Kendrick, Sheridan Jones, Andrew Booth Jr. and Mario Goodrich can all play man coverage on the outside. Venables has not been helping his cornerbacks in isolated situations. Against trips formations, with a receiver isolated to the backside of the formation, Clemson will push its help to the trips side.
This could come in a couple of different forms. They will either play Cover 1 or Cover 3 with a strong safety rotation or stay in a two-high look with the weakside safety "poaching" the trips side.
Regardless, there is a one-on-one matchup to the backside. Clemson can do this because it doesn't have to play against stud X receivers often. In the 2020 National Championship game, Clemson was exposed whenever it tried to single cover Ja'Marr Chase. But there were no Ja'Marr Chases playing this season in the ACC. Why allocate any extra resources to the backside when one of the five-star cornerbacks can shut it down by himself?
Ohio State has those receivers. Garrett Wilson and Chris Olave are special talents who account for 66% of all targets by Buckeyes players this year, even without Olave playing in the Big Ten title game. Either receiver can win in one-on-one situations on the backside of trips. Except, curiously, this is not what Ohio State wants to do.
The Buckeyes line up with an isolated receiver on about 40% of their passing snaps — a fairly high rate. They have thrown to that isolated receiver only six times in 89 plays. Six! It's just not part of their offense. Even simply lining up Wilson or Olave there is not part of their offense. Be my guest to find more when one example of either of those two players being the isolated receiver in trips.
Obviously, the offense, as it has been created by Ryan Day, works. But in a game where all stones need to be uncovered, forcing Clemson's hand by playing Olave on the backside might be important. Clemson can load up to the field side of the formation and get enough eyes on Olave and Wilson when they are lined up there. The Ohio State duo will make their catches from those positions, but it doesn't stress Clemson because it's already how the team likes to defend opponents. They can still be as funky as they'd like.
It makes it harder to rotate and show Fields different looks post-snap when you have to keep two guys on the weak side. Now, Olave will play on the weak side of the formation if there is a tight end to that side, as well. This gives you a pseudo-isolated look because the tight end isn't a receiving threat but not quite the true isolated look that could give Clemson problems.
This is going to be the cat-and-mouse game in the Superdome for the College Football Playoff semifinal: Can Ohio State, via formation, keep Clemson a little more basic than it would want to be, or will Venables be able to come with all the dogs he has and make Fields' life miserable again?