After the seventh week of action, we take another look at who's in line for the Heisman in our weekly Heisman Watch.

1. Joe Burrow, QB, LSU
From last week: no change
The leader in the clubhouse stays the leader after a dominant performance against the Florida Gators. In a matchup against his toughest defense to date, Burrow threw as many touchdown passes as he did incompletions against the vaunted Gators secondary. He's now the nation's highest-graded quarterback by some margin and the nation's top quarterback on throws targeted at least 10 yards downfield. He's making big-time throws at ease and is very clearly the Heisman frontrunner through seven weeks of action.
2. Chase Young, Edge, Ohio State
From last week: no change
With the Buckeyes off this week, nothing changes our mind on Young who is still the best defensive player in all of football. We look back to what we said last week as OSU gets ready for Northwestern on Friday night:
If there's a defensive player as of late to have a shot at the Heisman, it truly is Young, as he's been absolutely dominant through six weeks of action for the Buckeyes. By large sum, the Buckeyes are the best team in the country, and the best player on the field resides on their defense in Young. He's contributed 29 total pressures, including nine sacks, two QB hits and 18 QB hurries — but it's how he's done it that is truly remarkable. It doesn't matter whether he's rushing from the left of the right side of the defensive line, he's just as dominant, gaining 17 pressures from the left and 12 from the right. Additionally, he leads the country by winning 36.9% of his pass-rushing snaps this year, beating 19 more defenders than his stat sheet says. If he keeps this up, we'll see him win some hardware in New York.
3. Jalen Hurts, QB, Oklahoma
From last week: no change
The Oklahoma quarterback had arguably his roughest outing to date with some errant throws and some questionable decisions, yet the Sooners got the victory and Hurts got a Heisman moment that fans will see over and over again later this fall. To evade a pass-rusher, Hurts swapped the ball back and forth from his throwing arm to his left hand and back to complete a third-down pass. Sure, they didn't get the subsequent first down on the drive but this is a moment that showcases the level of play that Hurts is playing at against arguably their 'toughest test' to date as well, against Texas in their annual rivalry game.
4. Tua Tagovailoa, QB, Alabama
From last week: no change
Tua is closing the gap on him and Hurts with another dominant performance. He's receiving a lot of help from his receivers but his yards after the catch numbers have gone down over the past few weeks as he's trusting his arm more on downfield shots. He's terrific to all levels of the field and threw for four touchdowns on a Texas A&M secondary that had allowed all of five passing touchdowns prior. He's hitting his stride and his potential Heisman moments are mounting as he prepares for the rest of their SEC slate.
5. Jonathan Taylor, RB, Wisconsin
From last week: no change
It's hard to argue Taylor's spot outside the top five but behind the aforementioned quarterbacks, it's tough to get him much higher. That's not saying he hasn't been brilliant this season and if any running back has a shot at the Heisman, it's Taylor. He's the country's highest-graded running back and is ripping off big runs like they're no big thing. He's gained a national-best 50 rushing conversions (14 touchdowns + 36 first downs) and has forced 39 missed tackles while gaining 514 yards after contact. He's the nation's best running back and the only back with a legitimate shot at the Heisman through seven weeks.
6. Justin Fields, QB, Ohio State
From last week: no change
The Buckeyes are off and there's no changing where Fields ranks because of it. He's a talented dual-threat quarterback worthy of being in the discussion of best dual-threat quarterback in the country, but of those quarterbacks in that discussion, he's the best passer downfield among them (Khalil Tate, Jalen Hurts, Nathan Rourke, etc.).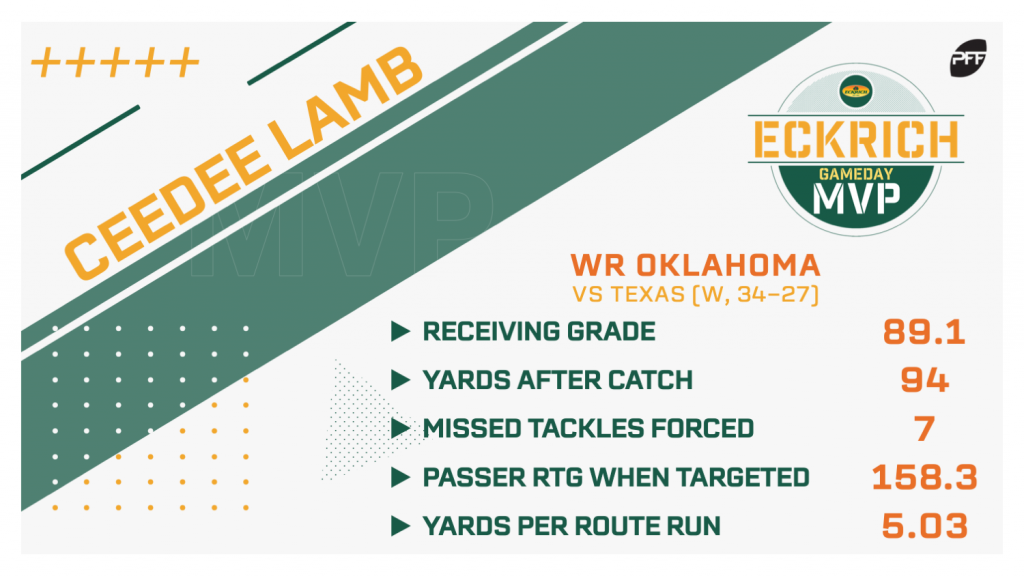 7. Ceedee Lamb, WR, Oklahoma
From last week: +4
You don't put up your second three-touchdown outing in one of the nation's most prolific offenses and not get recognized here. That's exactly what Lamb did and that's exactly why Lamb finds his way here. He single-handedly demolished the Texas secondary to the tune of seven missed tackles forced and now has 10 touchdowns on the season after scoring three against Texas alone. He hauled in 10 receptions for 171 yards including 94 after the catch as he's demonstrated his all-around ability of separation from his defensive back, hands at the catch point, speed to burn and shiftiness after the fact that makes him a highly sought after potential draft prospect and terrific college football player.
8. Chuba Hubbard, RB, Oklahoma State
From last week: no change
Hubbard still leads the country in rushing yards by over 200 yards even after a week off. He's gaining yards at a big clip, averaging 6.7 yards per attempt while seeing 3.48 yards after contact per carry. He's a talented running back and would need a few more 200-yard performances or four-touchdown games to gain on Jonathan Taylor with the way JT is running the ball. Hubbard is the second-best running back in the country at this time and at no discredit to him, is second only to the best back we've seen in some time at the college level.
9. J.K. Dobbins, RB, Ohio State
From last week: +1
Dobbins is climbing this week after a few players dropped out of the Heisman top 10 with losses and bad overall game grades. Dobbins joins his Buckeye teammates and as they prepare for Northwestern on Friday night, we look at what we said last week about the back:
Dobbins trails only Taylor in terms of yards per attempt among running backs with at least 100 carries, averaging 7.1 yards per attempt and gaining 826 yards on 116 carries through six games. He's rattled off just six touchdowns on the ground but has 34 additional first-down carries and is gaining 4.44 yards after contact on the ground per attempt. He's well on his way to a career year in every major rushing category, which would be just another 1,000-plus yard season, 40-plus missed tackles forced and nearly 1,000 yards after contact. Not bad for a guy who's the third member of the Buckeyes on this list.
10. Trevor Lawrence, QB, Clemson
From last week: +5
Absolutely deserving of his spot on this list after three consecutive game grades back to the levels we're used to seeing from Lawrence, the preseason leader in the Heisman race has clawed his way back into the top 10. He made quick work of the Seminoles in Week 7, throwing for three touchdowns on just 177 yards as he had several short fields to work with due to their defensive prowess. He connected on several shots over the middle of the field in a dynamic display of his poise and presence in the pocket. If he keeps this level of play rolling that we've seen the past three outings, look out ACC, look out country, look out New York.