If there are two groups of players that define the SEC heading into 2016, it would be pass rushers — with numerous future NFL talents putting pressure on opposing quarterbacks — and running backs. The running back position is having a bit of a renaissance in college football right now, and some of the very best can be found within the SEC.
Despite Heisman Trophy-winning Derrick Henry leaving for the NFL the group remains strong, and with that in mind, here are the top five returning running backs in the conference:
Leonard Fournette, LSU
Before coming undone against Alabama, in the game which saw Derrick Henry seize momentum in the race for the Heisman trophy, Leonard Fournette looked like the best player in the nation and seemed to be on a run to winning the trophy himself. He regained his form later in the season, and ultimately deserves his billing as one of the top contenders to lift the bronze statue at the end of the 2016 season.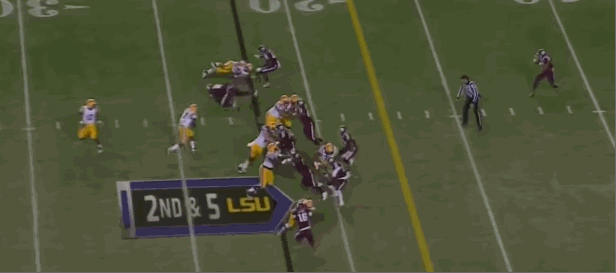 He forced 85 missed tackles as a runner in 2015, after forcing 31 as a freshman, and increased his rate of forcing them from once every 6.1 carries, to once every 3.5 carries in 2015. Considering he forced as many as he did last season, he doesn't need to force them much more often to be in with a chance of forcing 100 missed tackles as a runner this coming season.
Nick Chubb, Georgia
There are question marks about whether or not he'll be ready for the start of the season, and as with all serious knee injuries there will be some uncertainty until he gets back out onto the field, makes a cut and takes a hit. He impressed before his injury in 2015, forcing 23 missed tackles from 92 carries, but it was actually the 2014 season where he first showed just how special a player he can be.
Replacing an injured Todd Gurley, Chubb forced 63 missed tackles on 219 carries, rushing for 1,550 yards and scoring 14 touchdowns. He's not just an oustanding runner though, catching 22 of the 25 catchable passes thrown his way and scoring three touchdowns as a receiver over the past two seasons. If he's fully healthy, he can challenge Fournette to be the best running back, both in the SEC and in the nation.
Jalen Hurd, Tennessee
If Fournette and Chubb are out in front, Jalen Hurd isn't too far away from being able to contend himself, showing big improvement from 2014 to 2015. His overall grade improved from +10.1 to +13.4, his rushing grade improved from +6.7 to +11.6 and his receiving grade improved from +0.6 to +4.6. Showing considerably improvement in those three areas, Hurd is coming off an impressive sophomore season.
With the exception of a poor game against the -3.4 performance against the Missouri Tigers, a game in which he struggled as a blocker and fumbled, Hurd was excellent on his way to a 4.7 yards per carry average throughout the 2015 season. Forcing 65 missed tackles on 275 carries, his 68.1 elusive rating score was the third best among retuning running backs heading into the 2016 season.
Alvin Kamara, Tennessee
We hear all about Jalen Hurd, and for good reason, but just like Derrick Henry and Kenyan Drake at Alabama last year, there's much more to this Tennessee backfield than Hurd alone. While Hurd is the better runner, Alvin Kamara is the better all round player, with a skill set that lends him well to being a third down back..
He graded well as a runner, averaging 6.6 yards per carry and forcing 28 missed tackles from 106 carries and scoring seven touchdowns, but it was as a receiver where he really stood out. He forced 13 missed tackles from 35 receptions, racking up 296 receiving yards and scoring a further three touchdowns. He impressed in pass protection too, allowing just three hurries from 45 pass blocking attempts.
Sony Michael, Georgia
Like Tennessee, there is more to the Georgia backfield that just the top player, and like Nick Chubb did when Todd Gurley went down hurt in 2014, Sony Michael stepped up to fill the void in 2015 when Chubb got hurt. He graded well as a freshman, both as a runner and a receiver, despite finding opportunities obviously limited with the talents of Gurley and Chubb in front of him.
He wasn't quite as dynamic as either of those too, forcing 48 missed tackles on 219 carries, but he does keep the ball moving, averaging 3.3 of his 5.3 yards per carry after contact, something that's not easy to do in a conference as strong defensively as the SEC is. He's likely to be called upon to split the load, or potentially even carry it, early in the season as Nick Chubb comes back from injury, and he's shown himself good enough for that role with his play so far.