Not all defensive linemen are created equally, and that is starting to show in how we talk about these players. Simply calling someone a "defensive lineman" can get you funny looks from your peers. The narrative has shifted into at least splitting them into the "edge rusher" or "defensive interior" category. At PFF, we can go a step further and look at precisely where each player lined up on every snap.
College football is going to be stock full of some elite talent on the defensive line in 2020. We've picked out our favorites at each base defensive lineman position. We're going to build the best defensive line possible. It's going to be so good that in this one instance, pass rush > coverage. From swim moves to counters to bull rushes, these are the players you need on your team.
Subscribe to PFF's EDGE or ELITE subscriptions to get access to the following tools, charts, etc. 
– All Premium Article Content
– Fantasy Football Rankings & Projections
– Fantasy Football Draft Guide, Cheat Sheets & Advanced Stats
– Fantasy Football Mock Draft Tool (DraftMaster)
– Fantasy Football Strength of Schedule Matrix
– NFL Player Grades
– NFL Premium Stats
Positions on the defensive line are called "techniques." A player lining up directly over the offensive center is called a "0" technique. The number increases as you move away from the center.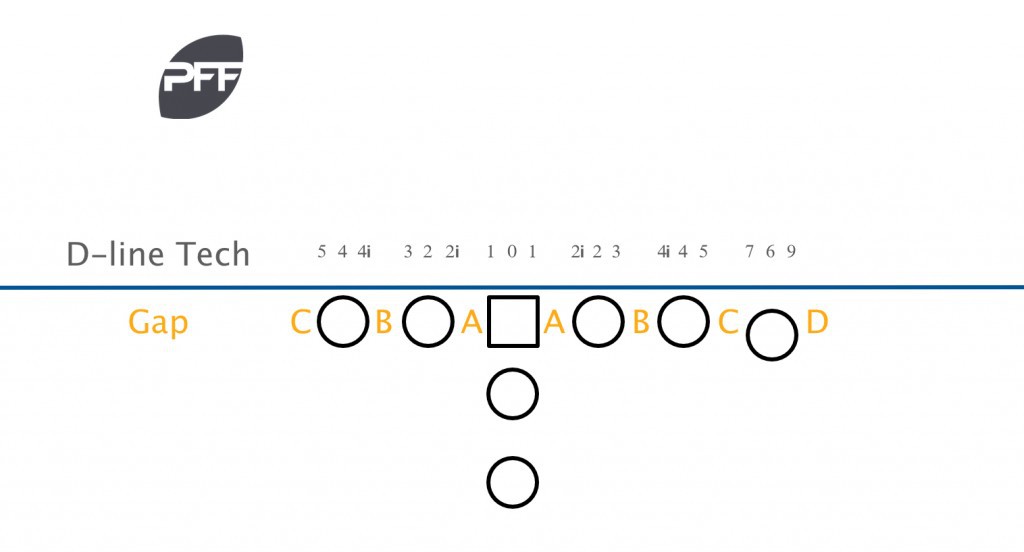 The players we designate as edge rushers are those who generally line up outside the offensive tackles. The two players we've picked are Miami's Quincy Roche and Duke's Chris Rumph.
Roche, who makes his way to Coral Gables from Temple, wore the cumbersome No. 90 in his first two games last season. After 13 pressures and a sack against Bucknell and Maryland, Roche realized he had to come through with a more sleek look. From that point forward, he dropped the zero and played the rest of the year as No. 9. A wise move. All he did from that point forward was total 13 sacks. No big deal.
Overall, when we just look at players lined up as a 5-technique or higher, Roche was only bested in PFF grade by Chase Young. He's one of three returning edge rushers with a 90-plus pass rush grade, as he finished last year at 92.7. He did most of his work from the right side, lining up as a right-sided edge rusher on 364 snaps compared to 201 from the left side. From his dominant side, he beat the man in front of him 22.7% of time and created a pressure 37 times on only 198 pass-rushing snaps.
Like all elite edge men, he threatens tackles right off the bat with tremendous quickness. There are reps where he'll beat his man with speed, dip his shoulder and round the corner. That's attack plan No. 1. If he can't do that, he has great hand usage to attack the offensive player before the opposite can happen. He has a few different swipe or wipe moves that keep the tackle off balance before still beating him to the outside.
This forces tackles to jump up to try to meet him before he gets a head of steam. They'll try to lock him up with a good punch. However, Roche's hands are too good and he has a nice counter move, also using his hands, to catch tackles off balance.
Let's look at these two sacks against Cincinnati: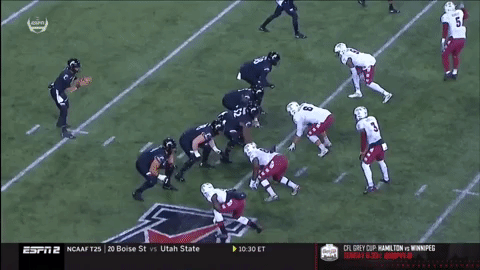 The tackle tries to jump set but Roche is so quick with his own hands that he's able to swipe across and knock the tackle's hands off him. The tackle has way too much forward lean to recover and Quincy has gone bye-bye.
Later in the game, he caught the tackle with an inside counter move.
Afraid of his speed, once again, the tackle tries to cut off the angle from Roche. No worries, the talented edge rusher plants his foot in the ground and uses the tackle's shoulder as a springboard to launch himself inside. With his left hand, he clubs the tackle and then brings his body back to the inside with a swim or arm-over move.
Now at Miami and playing alongside Gregory Rousseau, Roche could cement himself as the top edge rusher taken off the board in next year's NFL Draft.
Rushing from the left side on our fantasy football defensive line is Duke's Chris Rumph. You'd be hard pressed to find a more technically proficient player in all of college football. Just behind Roche in terms of pass rushing grade, Rumph is a lightning-quick devastator with pockets full of different moves. He posted a 90.5 pass-rushing grade from the edge techniques.
Subscribe to PFF Edge to continue reading
Already have a subscription? Sign In