In the third digital edition of PFF: The Magazine (available for download here), Pro Football Focus analyst Steve Palazzolo declares 2016 the "Year of the Running Quarterback" and highlights the impact the top running quarterbacks are having around the nation. This is a follow-up to that piece.
As an avid appreciator of the passing game, it's been a difficult process wrapping my head around quarterbacks who may lack polish as passers but still impact the game as runners.
For years, triple-option teams didn't even disguise their intentions to win solely on the ground and that was easy to accept as a 10-pass game was seen as "pass-happy" and it was an accepted practice to see the quarterback run the ball 20-plus times. From an evaluation standpoint, triple-option quarterbacks are generally closer to running backs than quarterbacks anyway, so their work in the run game was always more important than their passing acumen.
However, spread offenses have taken the option game to a new level in the last 10 years or so, and there are legitimate run-pass threats littered all across the nation. From an NFL draft evaluation standpoint, the passing game remains the most important part of any quarterback's game, regardless of their impact in college. A player like Tim Tebow at Florida was always fighting an uphill battle in his transition to NFL as he's never been great passer from a timing and accuracy standpoint, but his impact on Florida's offense in college was a great as any quarterback in college football history. Tebow came into college 10 years ago (where has the time gone?), and while he was more anomaly than norm at that time, just 10 years later we see run-first quarterbacks affecting the landscape of college football more than ever.
And that brings me back to my crux as an evaluator. When looking for the next great NFL quarterbacks, the focus is on timing, accuracy, and pocket presence — all of the most important traits at the next level. However, when looking for the next precision passer, it's easy to overlook just how dangerous true dual-threat quarterbacks have been in college. So let's take the evaluator hat off for moment and highlight the running quarterback. It may not always look aesthetically pleasing in the pass game, but legitimate dual-threat quarterbacks are making a bigger impact every season as coaches tap into their varied skillsets.
Winning the numbers advantage in the designed running game
The running game comes down to simple mathematics. Once the ball is handed off, 11 players on defense are deployed to stop 10 players on offense, everyone has a gap to play, and in theory, there should be an extra man available to tackle the ball-carrier. The running quarterback has changed the math in defensive football as he essentially evens up the game and the threat to run the ball makes it 11-on-11, negating the defense's advantage. Coaches have found creative ways to use this in their favor, having quarterbacks "option" off unblocked defenders, "blocking" them out of the play without actually using a blocker. This is old hat by now as offenses have taken this concept to new levels every season with new ways to option off different players, combining it with misdirection and motion, or adding in "run-pass options" which are running plays that have the ability to become a pass based on how one or two players react to the run action at the snap. Oh, and then coaches decided to add an up-tempo element to all of these concepts, essentially making defensive players react to all of these moving parts quicker and while fatigued.
When you add all of this up, it's very difficult to play defense in college football today and because it's so difficult, it no longer takes a precision passing game to move the ball down the field. Just having a quarterback that can challenge the defense as a runner creates open rushing lanes for running backs and wide-open passing lanes for quarterbacks as the defense simply tries to keep up with the multiple options presented on any given play.
A look at the quarterbacks with the most yards on designed runs among Power-5 and AAC teams, while eliminating triple-option teams for the purposes of this study.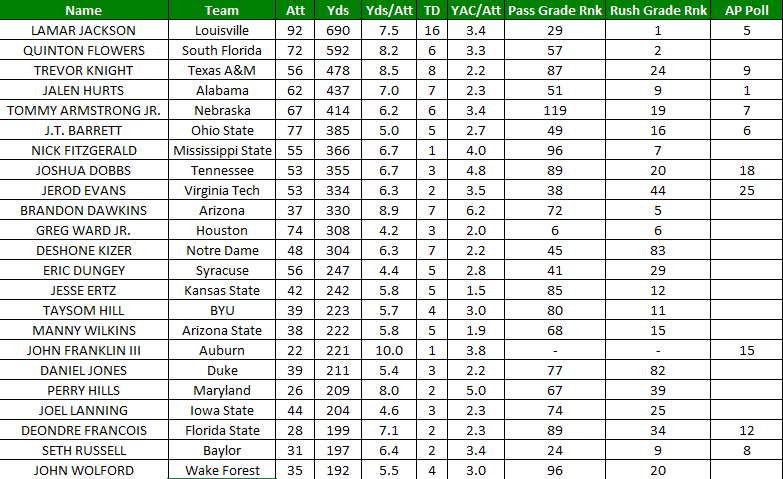 The first thing that stands out about the chart is the number of quarterbacks leading top-25 teams. Of the top six rushers, five are leading teams that reside in the top 10 of the AP Poll and seven of the top nine are on top-25 teams. The other relevant part of the list is the ranking by passing grade of all of the top runners. Only Louisville's Lamar Jackson ranks as a top-30 passer among the top 10 runners in the nation and only Houston's Greg Ward, Jr. joins him in the top 30 if expanding to the top 20 rushers in the nation. Yet those quarterbacks are still leading potent offenses based around their ability to run the ball, and in many cases, their passing stats look great due to the number of easy throws created within the system, even if the passing grade that accounts for timing, accuracy, and decision-making doesn't match those stats.
Lamar Jackson has been on another planet as a runner, but he misses more than his fair share of throws every week. Trevor Knight's running ability has sparked the Texas A&M offense, yet he makes a lot of poor decisions with the ball in the passing game. Jalen Hurts has transformed the Alabama offense with his work in the run game, yet he leaves a lot of open plays on the table as a passer. It's a consistent theme with a number of run-first quarterbacks, and while we may focus on their passing ability from an evaluation standpoint, when it comes to college football, they can more than make up for inaccuracy as passers by creating within the structure of the offense in the run game.
The run game does not slump
The trump card for the quarterback in the designed running game is that it should be there every week. Other than opposing defenses having a great game plan to contain the run, there is no slumping for a running quarterback. For all quarterbacks, there are some days in which they're off their game, either throwing inaccurately or not reading the field as clearly and for teams that depend heavily on the passing game, those games are difficult to win. But quarterbacks who can win with their legs can offset those poor passing games by making plays on the ground where the mathematics and easy reads will never go into a slump. There have been numerous examples of this throughout the season:
J.T. Barrett, Ohio State, Week 6 vs. Indiana. A 9-for-21, 93-yard performance did little to wow Heisman voters and his 58.9 passing grade was not much better, however Barrett made up for a poor day as a passer by rushing for 122 yards on 22 designed runs while posting an 88.1 rushing grade. Ohio State scored 38 points on the day.
Jalen Hurts, Alabama, Week 8 vs. Texas A&M. Just last week, Hurts posted the worst passing grade of his young career at 53.6, but his 85.8 rushing grade covered his tracks as he ran 17 times for 103 yards and a touchdown between designed runs and scrambles to lead Alabama to the 33-14 win.
Trevor Knight, Texas A&M, Week 5 vs. South Carolina. Knight's 50.6 passing grade was no match for his 86.6 grade on the ground as his worst passing performance of the season was offset by 76 yards on 10 carries and a score in the designed running game as Texas A&M went on to win 24-13.
Tommy Armstrong, Nebraska, Week 3 vs. Oregon. Armstrong has not been sharp as a passer this season, and he wasn't sharp with his 59.7 passing grade against Oregon. However, he posted a season-best 91.7 grade on the ground while rushing for 11 times for 98 yards and a score in the designed run game to lead Nebraska to the 35-32 win
The examples are endless as quarterbacks can turn a down day in the pass game into an efficient one in the running game, and that's why so many top teams are turning to a true dual-threat quarterback. The margin for error has increased greatly as runners will challenge a defense at all levels of the field in order to create a more efficient run and pass game.
Final word
So here I am, appreciating the running quarterback. Next time you miss a wide open receiver on a deep crossing route, I'll be waiting for you to make up for it with a 10-yard option keeper on the next play. Overthrows that hit the band leader will no longer draw my ire because there's a QB counter play right around the corner that will pick up the first down and offset the inefficient passing attack.
While I'll still search far and wide for the next great pocket-passing NFL prospect, I'll appreciate the dual-threat ability that keeps defenses off balance and turns that 8-for-20 passing performance into an explosive offensive output with 100 yards on the ground. Your running ability makes up for a less than aesthetically-pleasing passing attack and there's plenty of value in creating yards within the flow of the designed running game, and that's why the top 10 teams are littered with run-first quarterbacks. And, that's why 2016 is hereby known as the "Year of the Running Quarterback"