With SEC media days upon us this week, it's a good time to remind ourselves of all the talent in the SEC this year. Eight players from the SEC were drafted in the first round of the NFL draft this spring, but that conference certainly isn't suddenly void of talent.
In fact, there's an argument to be made that there are many players in the SEC that are actually better than the eight players who left for the NFL in the first round of the draft. So with that in mind, here's the best returning player on every team in the SEC this year:
Alabama: Jonathan Allen, DE
Allen is one of the best interior defenders in the nation, excelling both as a pass rusher and in run defense. Playing just 401 snaps a year ago, he still managed to register 13 sacks, six hits and 17 hurries, and produced a run defense grade of +15.9. With A'Shawn Robinson leaving for the NFL, Allen should see even more of the field, and make an even bigger impact, in 2016.
Arkansas: Deatrich Wise Jr., DE
He doesn't get the credit he deserves, probably because of just how good the top pass rushers in the conference are, but Wise Jr. is a very good pass rusher in his own right. Registering 43 total pressures, including 10 sacks, on 250 pass rushing snaps a year ago. Heading into his senior season, he has the potential to challenge the top pass rushers in the conference.
Auburn: Carl Lawson, DE
Lawson has had his injury issues, missing both the full 2014 season, and also half of the 2015 season. A hip injury is what slowed him down during the 2015 season, but he bookended the year with two huge performances in the season opener against Louisville and in the bowl game against Memphis. He needs to improve on his consistency, and getting healthy will help with that, but the +5.1 pass rushing grade, with two sacks, a hit and a hurry performance, and the +4.3, one sack and eight hurry performance give an insight into how good he can be if he can stay healthy, and that's something that Auburn fans should be very excited about.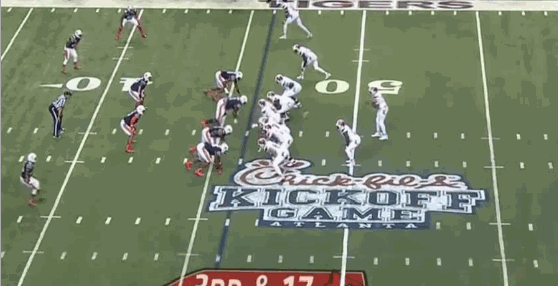 Florida: Jalen Tabor, CB
The Florida Gators saw cornerback Vernon Hargreaves drafted in the first round by the Tampa Bay Buccaneers, but there's every chance that Jalen Tabor will prove to be the better player in the long run. Following up a +10.7 coverage grade in 2014, he was even better in 2015. Grading at +12.7 in coverage, he picked off four passes and broke up 12 more from the 58 passes thrown into his coverage last year.
Georgia: Nick Chubb, HB
He's coming off a very serious injury, but at his best Nick Chubb can contend with Leonard Fournette to be the best running back, and most dynamic offensive threat in the SEC. Before his injury in 2015, Chubb had forced 23 missed tackles on 92 carries, racking up 744 yards and scoring seven touchdowns. The concern is whether or not he makes it back for the first game of the season, and how he reacts to being back on the field again, but at his best Chubb is one of the best players in the nation.
Kentucky: Jon Toth, C
The Wildcats might not have the most talented roster in the SEC, but they do have one of the best offensive linemen in the conference. Impressive as a run blocker, screen blocker and in pass protection, Toth had graded positively in each of the past two seasons. In 2015 he allowed a sack, three hits and four hurries, and at +4.9 he had the best pass blocking grade among returning centers in the SEC.
LSU: Leonard Fournette, HB
For much of the 2015 season it looked liked LSU's Fournette was going to run away with the Heisman Trophy. Then came the disappointing Alabama game, which turned the tide in the favor of Alabama running back Derrick Henry. Still, Fournette had the highest rushing grade among all running backs in college football in 2015, forcing 85 missed tackles on 300 carries. He improved from 2014 to 2015, and if he can show a similar improvement in 2016 there's a genuine chance that he might force 100 missed tackles as a runner, an achievement that would be quite incredible.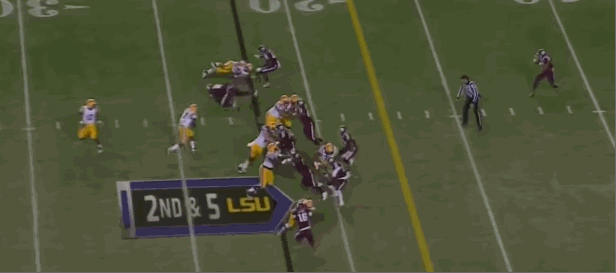 Mississippi State: Nick Fitzgerald, QB
This is a bold claim, given that he played just 70 snaps a year ago, but given the rest of the talent on the team, the flashes we've seen from Fitzgerald show that he could be developing into a very good quarterback. He was outstanding throwing the ball downfield, completing all five of the passes travelling at least 20 yards through the air he attempted, for 199 yards and three touchdowns, grading at +4.0 on those throws. It's on a very limited sample size, but the early indications for Fitzgerald are very good.
Missouri: Charles Harris, DE
We've seen a lot of talented pass rushers for the Missouri Tigers in recent years, but Harris has the potential to be the best of the bunch. With seven sacks, 14 hits and 33 hurries, Harris had the ninth-best pass rushing grade among 4-3 defensive ends in college last year at +30.1. He graded fairly well against the run too at +11.9, but it's as a pass rusher where he truly shines. If he can improve again in 2016, he can overtake the best pass rushers in the conference.
Ole Miss: Chad Kelly, QB
Kelly had some early season Heisman hype of his own, with some big time performances early in the year. His season got derailed in the middle of the year, with some poor performances before righting the ship and closing out the season playing very well again. An impressive downfield passer, Kelly completed 35 of the 68 passes of 20 yards or more downfield he attempted, for 1,218 yards and 16 touchdowns.
South Carolina: Darius English
Linebacker Skai Moore would be the player here, but he is out for the season — a big loss for a South Carolina defense already limited in overall talent. Defensive end Darius English is an interesting player to watch this coming season though. He saw his snaps reduce in 2015, playing just 36.5 percent of the Gamecocks defensive snaps compared with 47.1 percent in 2014 and was much more productive for it. As a pass rusher he racked up six sacks, three hits and 12 hurries on 133 pass-rushing snaps last year, grading positively as a pass rusher in all but one of the final seven games of the year
Tennessee: Derek Barnett, DE
The second-highest-graded edge defender in college in 2015, Barnett is coming off an impressive sophomore season that saw him rack up 10 sacks, 10 hits and 42 hurries. More than doubling his 2014 grade, he maintained his impressive run defense grade, but saw big improvement as a pass rusher. At this point, it's very close between he and fellow SEC defensive end Myles Garrett when it comes to the best defensive player in the nation.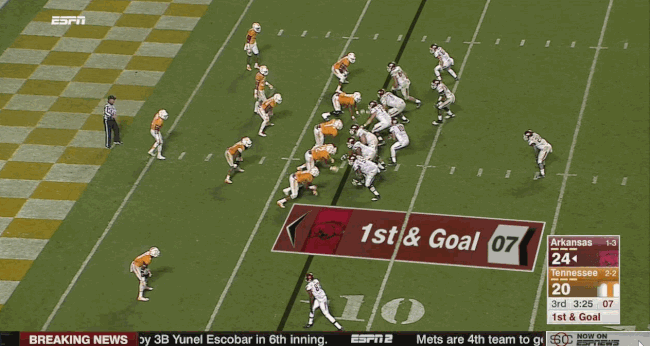 Texas A&M: Myles Garrett, DE
While Barnett just edged Garrett in 2015, he did it on almost 100 extra snaps, and Garrett has a far better grade over the past two seasons. Grading at +102.7 over the past two seasons, he has been as consistent as he has dominant. Racking up 11 sacks, 11 hits and 24 hurries, his pass rush grade of +42.4 was the fourth best among all edge defenders in 2015.
Vanderbilt: Zach Cunningham, LB
Quietly up there with the best linebackers in the nation, Zach Cunningham was a standout against the run last year. He graded positively in all but four games last year, with his best game coming in the form of a +9.9 grade performance that saw him register 14 tackles, with nine of them resulting in a defensive stop. He can improve in coverage, where he still graded positively at +3.7, but in the very least he should impress against the run in 2016.