There are just a few weeks left in the 2020 college football regular season. And just like the cliché that is spouted at every graduation: what a wild and strange trip it has been.
The conference championships will be played later this month, the College Football Playoff will be set and the finalists for all the major awards will be announced. And we here at PFF felt as though we should give you, the people, an update on where we currently stand in our award races.
Below, you will find our current favorites for every major award in college football. It's not a definitive list of finalists for this year, just the favorites where we stand right now heading into Week 14.
Please note that these are in alphabetical order and that this has no direct association with the awards themselves. This is to show who we think should be in the running for each major award based on 2020 performance.
There is no bigger award in all of sports. The Heisman Trophy has become a quarterback's award to win (sorry DeVonta Smith and Jaret Patterson), and this year, there are quite a few in the running. Entering the season, Lawrence and Fields were expected to be among the favorites for this prestigious award, but the other three truly have come out of nowhere.
We got our first real glimpse of Jones when he was thrown into the starting role following Tua Tagovailoa's gruesome hip injury in 2019. He performed well enough, but he still failed to reach the level of play Tua had established.
Jones recorded a 78.7 PFF grade last season, and the fact he had a higher grade under pressure than from a clean pocket gave us reason to worry. However, he has defied all odds in 2020; not only is he remarkably better than he was in 2019, but he is surpassing the standard that Tua had set. Armed with pinpoint accuracy and a slew of devastating wide receivers, Jones has earned a 94.5 PFF grade this season, with his lowest-graded game being 79.4. That'd be a great game for most quarterbacks in college football.
Florida quarterback Kyle Trask joins Jones as one of the big surprises of the season. Trask struggled to a disappointing 66.4 passing grade after replacing the injured Feleipe Franks in 2019. The accuracy was there, but the decision-making was far from good. But this year, Trask has done a complete 180.
The Florida quarterback did look a bit like his 2019 self in his first three games, with two of those ending in sub-70.0 PFF grades, but he has been on fire in his last five outings. Trask has posted a 93.7 passing grade since Week 9, displaying tremendous ball placement deep downfield and looking far more comfortable out there than he was in 2019.
And last but certainly not least, BYU's Zach Wilson is on pace to shatter the PFF College record for the best single-season passing grade ever recorded by a quarterback. Wilson's grade of 95.1 is over 22 grading points higher than his mark in 2019. The schedule has been weak, but Wilson is doing exactly what he should be doing against this cupcake competition: dominating them. Whether he is inside or outside of structure, Wilson is carving up the opposition.
There is a favorite as of now, but any one of these five can snatch the award in the coming weeks.
COACH OF THE YEAR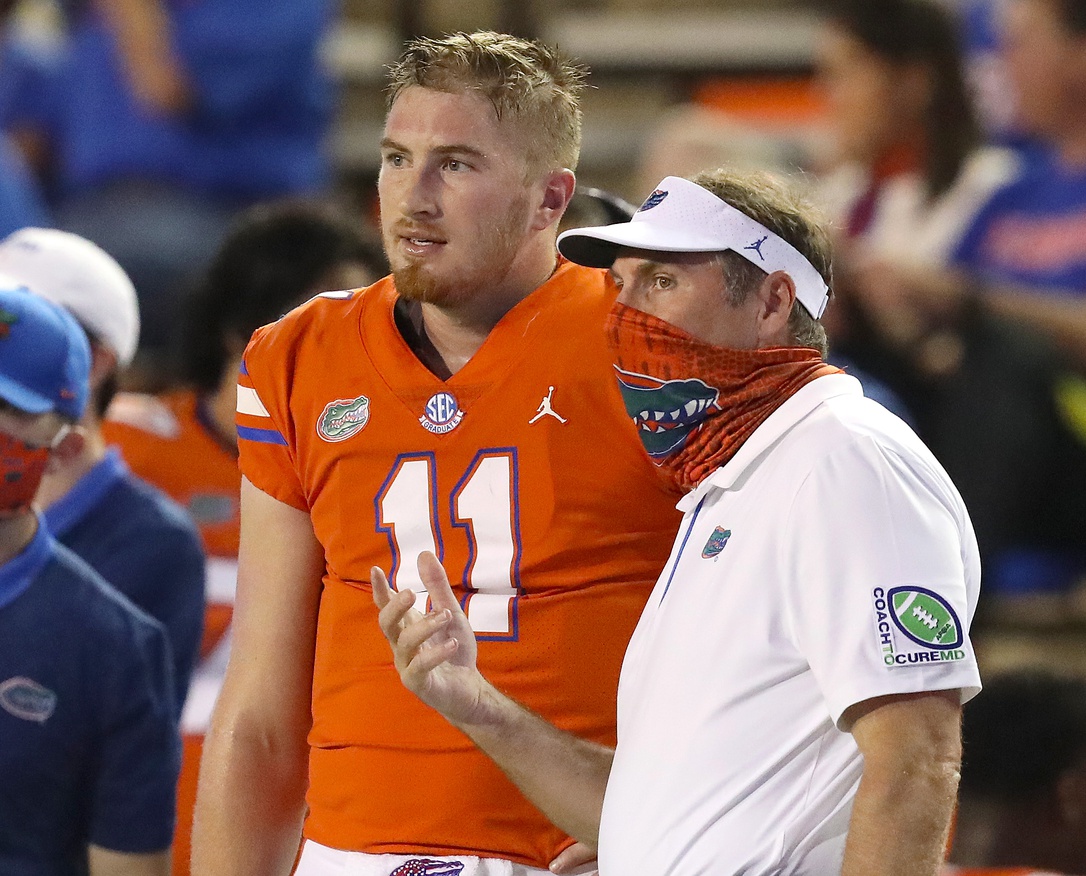 Outside of the Heisman, this is arguably the most competitive award on the list.
Tom Allen has transformed the Indiana football program for the better. The Hoosiers were once the easy W on the Big Ten powerhouses' schedule, but this year they truly look like the second-best team in the conference behind the Ohio State Buckeyes.
Allen brought this team to a top-10 ranking in the AP poll at one point this season — the first time IU had ranked inside the top 10 since 1967. He and defensive coordinator Kane Wommack have developed a creative and deceptive defense with a diverse set of coverages and a high blitz rate. And it's clearly working, as Indiana leads the FBS in turnovers forced since their season began.
While Kyle Trask has led this Florida offense to immense success in recent weeks, head coach Dan Mullen deserves just as much recognition. Yes, Trask is making impressive throws downfield now, but Mullen's system could not have been better. He is scheming open throws and giving his receivers room to make plays after the catch. A few weeks ago, my colleague Seth Galina outlined a prime example of this. The combination of Mullen — A.K.A. The QB Guru — the supporting cast and Trask has gifted Florida the second-most-efficient passing offense in the Power 5.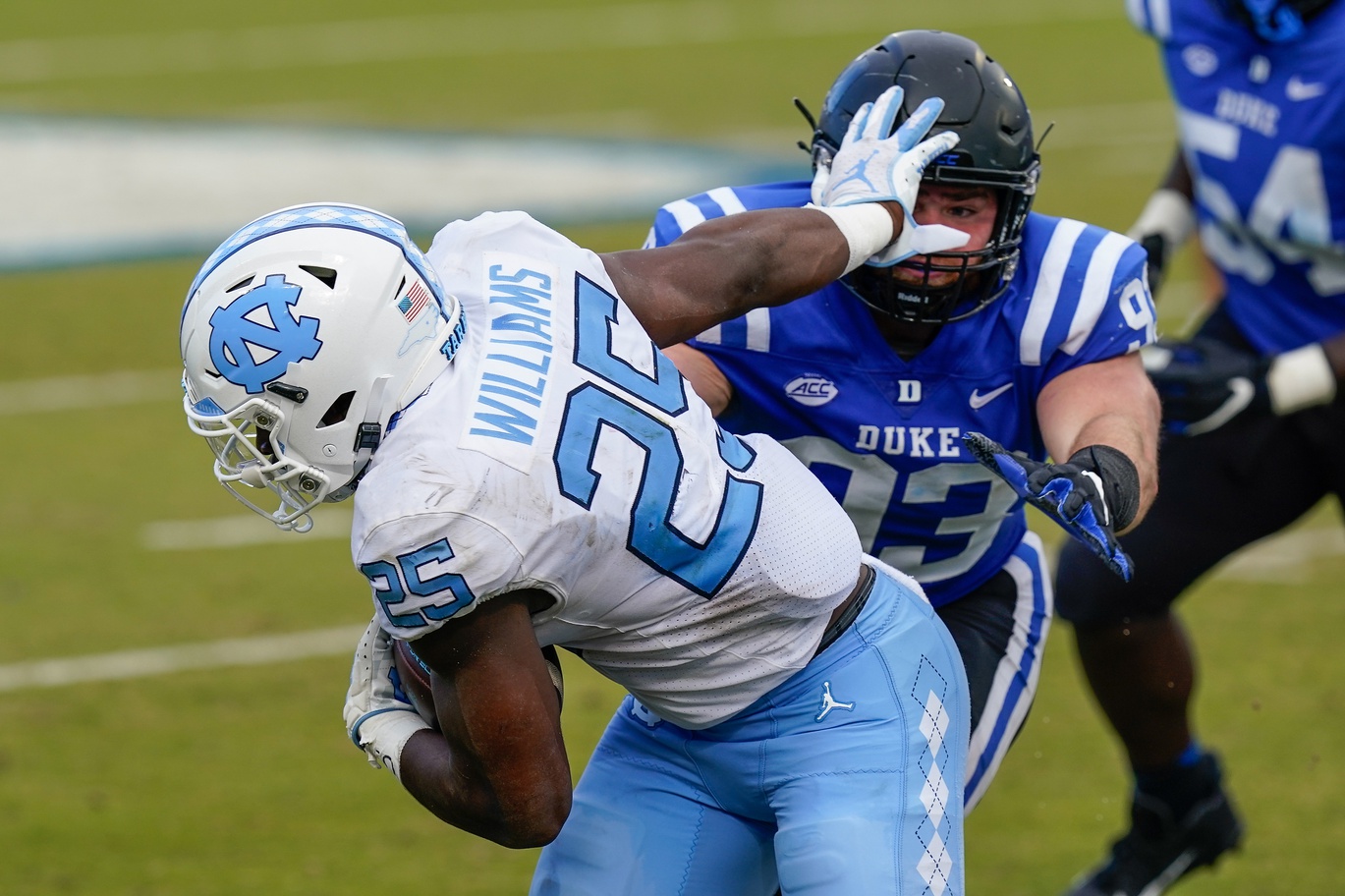 Patterson is the one to watch on this list. He has played only four games this season and already has numbers that many backs would wish for over the course of an entire normal season. Since Buffalo kicked off their season back in Week 10, Patterson has been the highest-graded ball carrier in the FBS at 90.2. He's averaging over 5.0 yards after contact per attempt and has six 30-plus-yard touchdown runs. Only three other FBS running backs have more than six 30-plus-yard gains in total this season.
Also, UNC having two of the favorites for the Doak Walker Award is bananas. The duo of Williams and Carter rank first and third, respectively, in the FBS in the percentage of runs that have gone for 10 or more yards.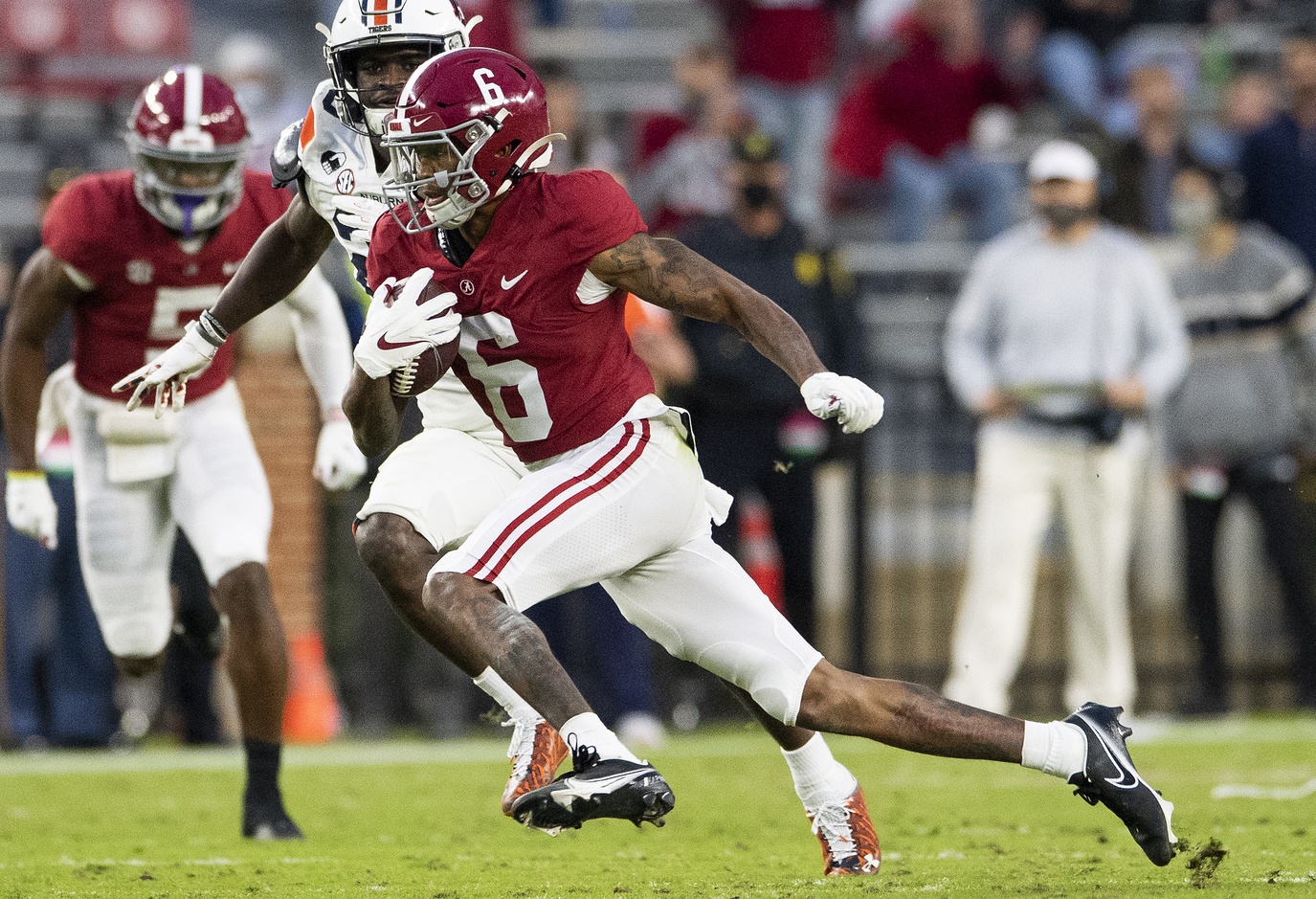 A tight end has never won the Biletnikoff Award, which has been presented to the most outstanding receiver in every season since 1994. This year, there's a chance that could all change, given the way Kyle Pitts has been performing.
Pitts has earned a 96.0 receiving grade this season. Not only does that lead all receivers this season, but that is on pace to break the PFF College record by a tight end by 3.5 grading points.
Pitts has lined up out wide some this season, and he has smoked some cornerbacks on those plays. He has run 31 routes at outside receiver in 2020 and has caught nine of his 12 targets for 119 yards and five touchdowns.
While Pitts is on pace to break the tight end receiving grade record, Alabama's DeVonta Smith is on pace to do the same at wide receiver. He currently owns a 94.3 receiving grade for the season, a full grading point higher than the previous Power 5 record set by Amari Cooper in 2014.
Smith is a must-watch this weekend, as he will go toe-to-toe with one of the most talented defensive backs in the country, Derek Stingley Jr. Smith came away with over 200 receiving yards against Stingley last year. The LSU true sophomore will be looking for revenge this weekend.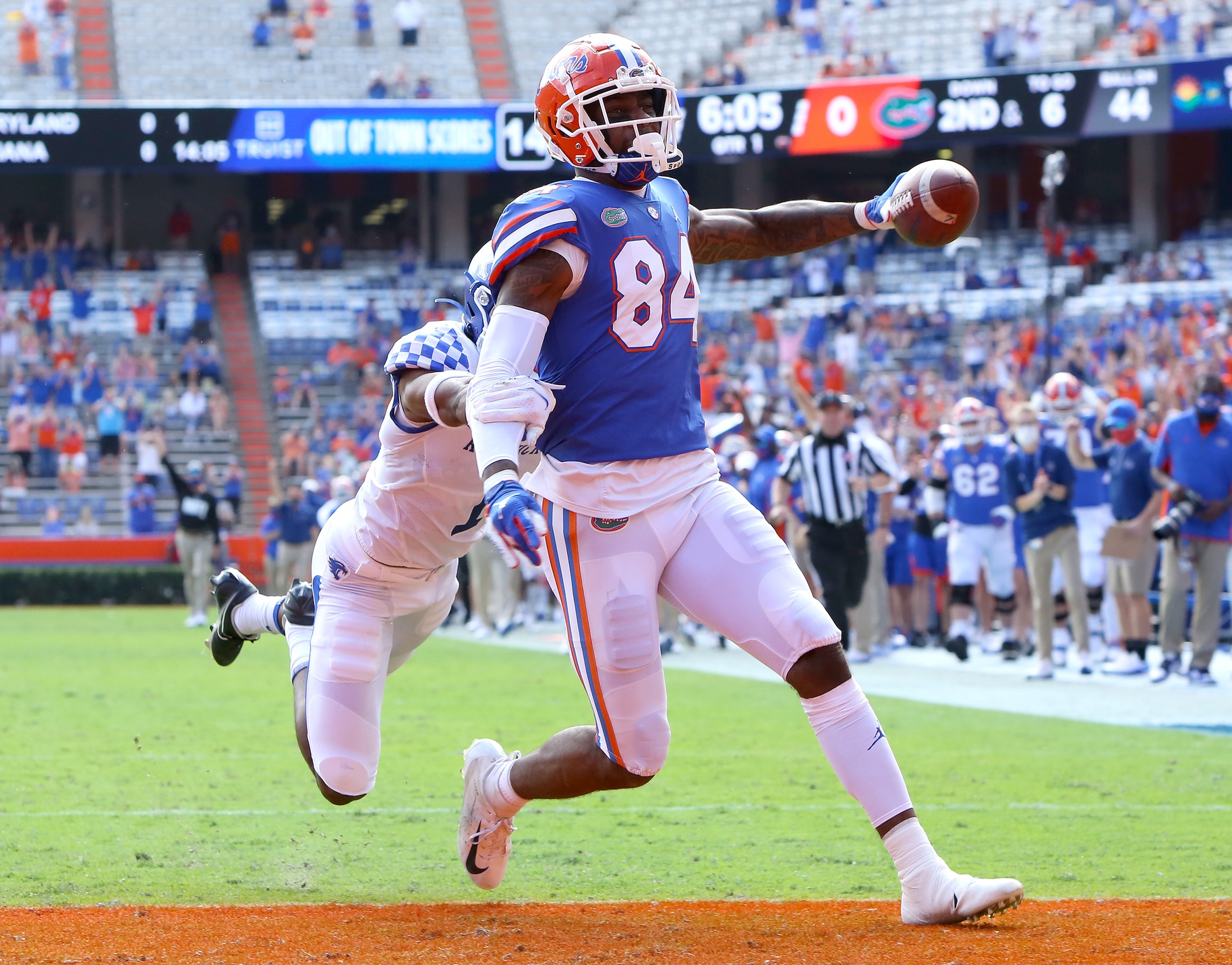 Let's be honest here; we all know who the favorite is. We all know who is going to win the award. As outlined above, Pitts is performing at a historically good level. While these other tight ends have been great this season, none come close to that 96.0 PFF grade. The Florida tight end has all but locked up the John Mackey Award for 2020.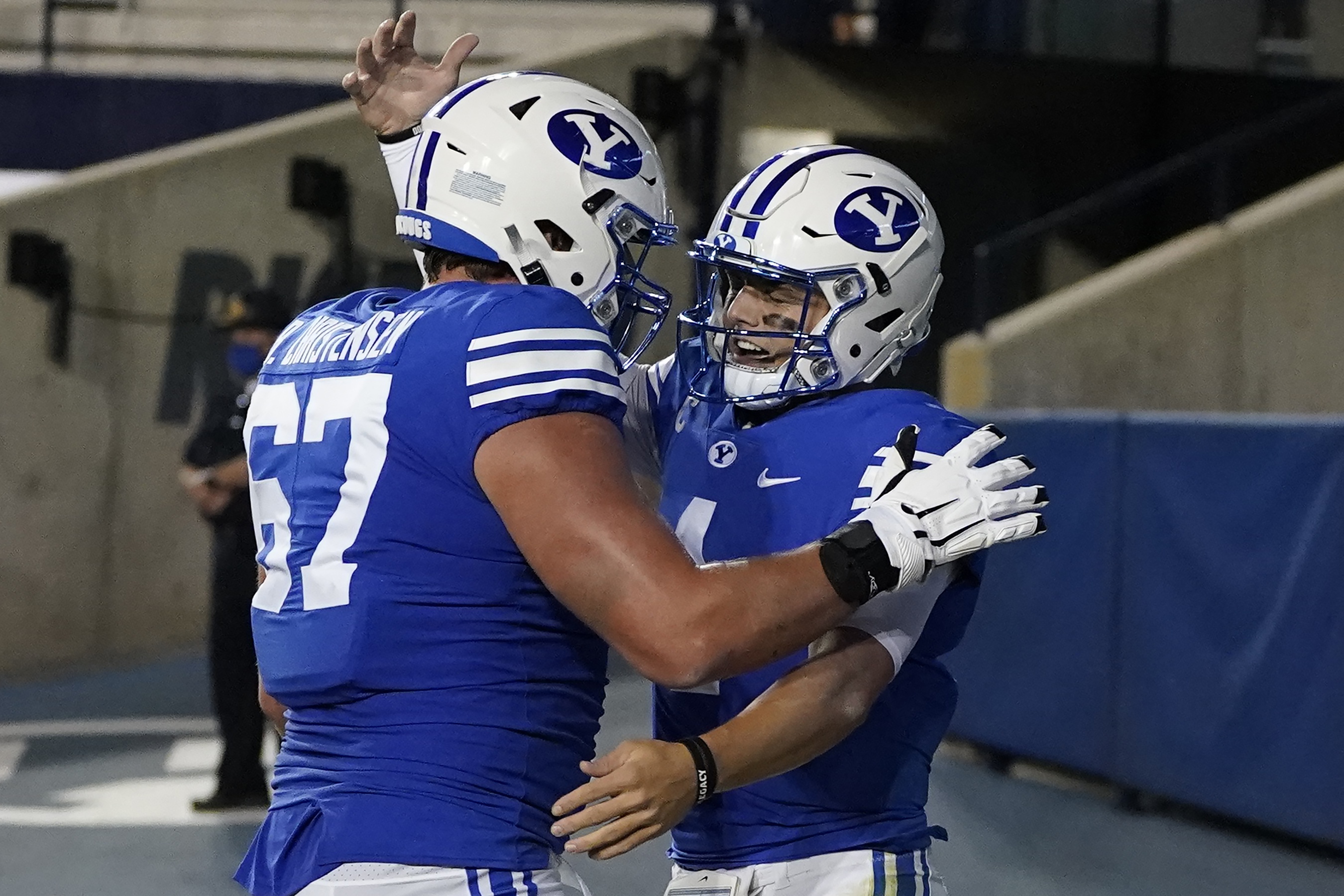 The Outland is one of the more interesting awards in sports, as it dumps all interior linemen — offensive and defensive — into one bucket for comparison. But while there haven't been a whole lot of standout players on the interior defensive line this season, there certainly has on the offensive line.
Christensen and Darrisaw have a shot at breaking the PFF College record for the highest single-season PFF grade by a tackle that was set by Penei Sewell in 2019 at 95.8. The two are the highest-graded players down in the trenches at 96.2 and 95.6, respectively, and it's not particularly close.
Christensen has been nearly perfect in pass protection, with two pressures allowed on 293 pass-block snaps this season. Meanwhile, Darrisaw has been a people-mover in the run game. He has destroyed his competition on zone runs with a Power 5-leading 95.3 grade on such plays.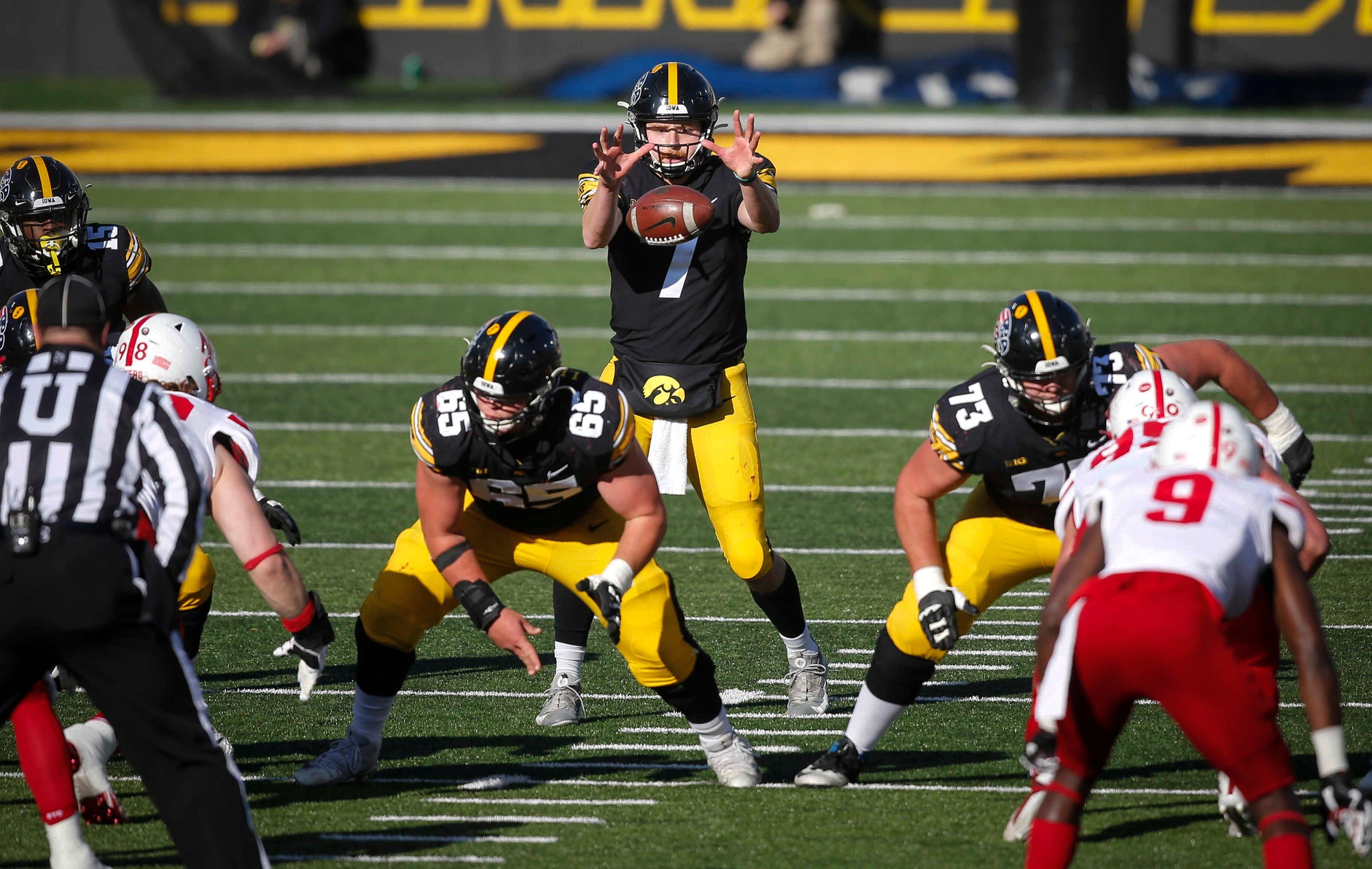 These five are very likely to be the five finalists at the end of the year, given the gap between these five and the next best centers in the country.
Linderbaum has been the top dog among all centers so far this season, with a 91.6 PFF grade. This isn't a big surprise to see, considering what he did in 2019, the first season of his career at the position. After coming to Iowa as a defensive lineman, he flipped to the offensive side of the ball and proceeded to be the fifth-highest-grade center in the FBS in 2019.
The Iowa center has taken his play to new heights in Year 2. He has a grade above 85.0 as both a pass- and run-blocker, something no other center has done this season. Linderbaum has allowed zero sacks, zero hits and just one hurry on 215 pass-block snaps in 2020. It doesn't get much better than that.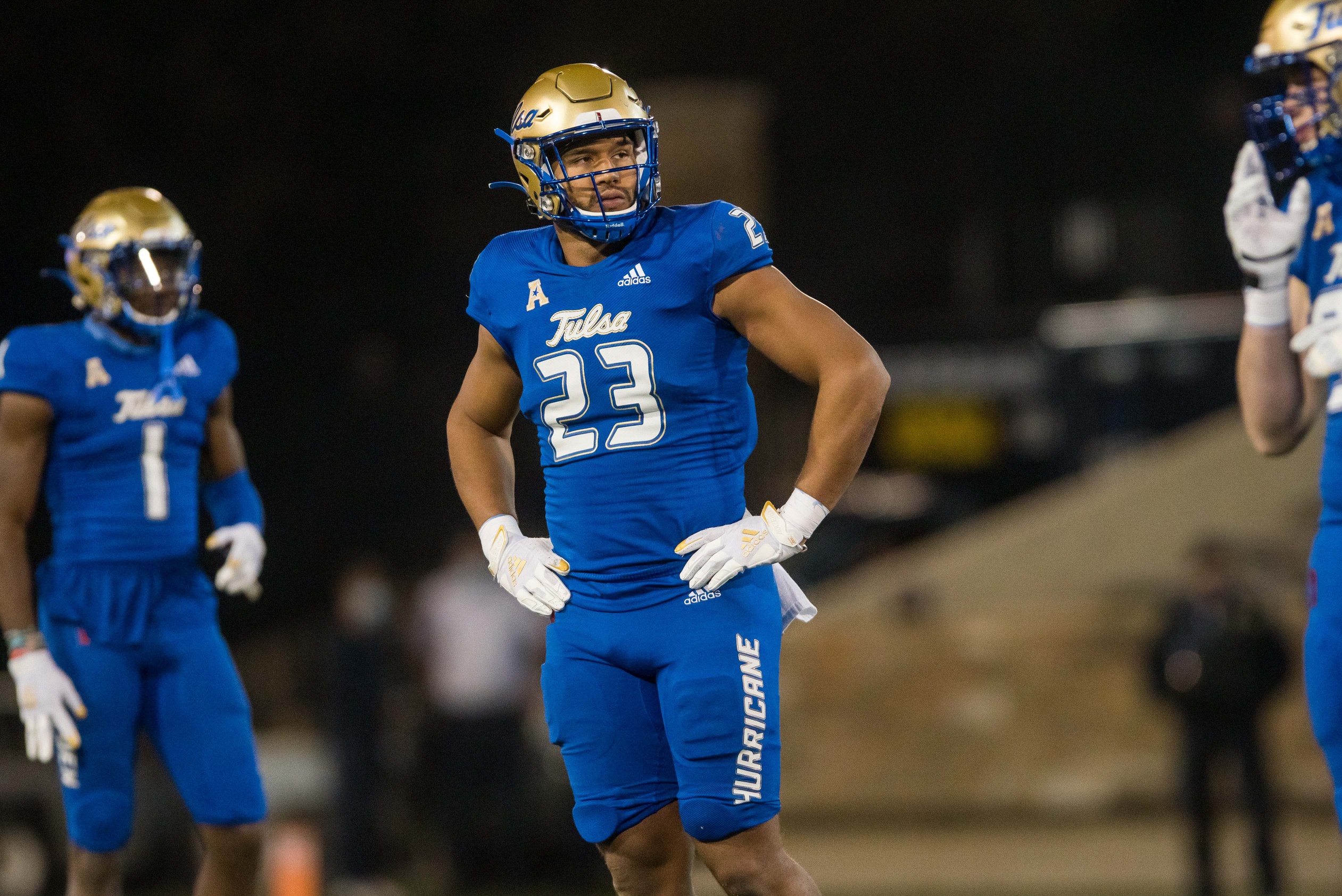 Folks, if you haven't heard of Tulsa's Zaven Collins before, write the name down. This guy is very good at football. Collins was a standout performer as a redshirt freshman and sophomore in 2018 and 2019, earning PFF grades of 71.7 and 77.9, but this year he has taken his play to the next level. He currently leads all off-ball linebackers in PFF grade at 91.7. That has been buoyed by his standout coverage ability; Collins has notched four interceptions en route to a 93.3 coverage grade.
Jeremiah Owusu-Koramoah isn't like the rest of the off-ball linebackers on this list because of the role he plays in Notre Dame's defense. He has logged quite a few coverage snaps covering the slot this season — the fourth-most among LBs, to be exact, with 144 — yet he has performed exceptionally well. JOK has actually made as many plays on the ball as first downs allowed in the slot (three).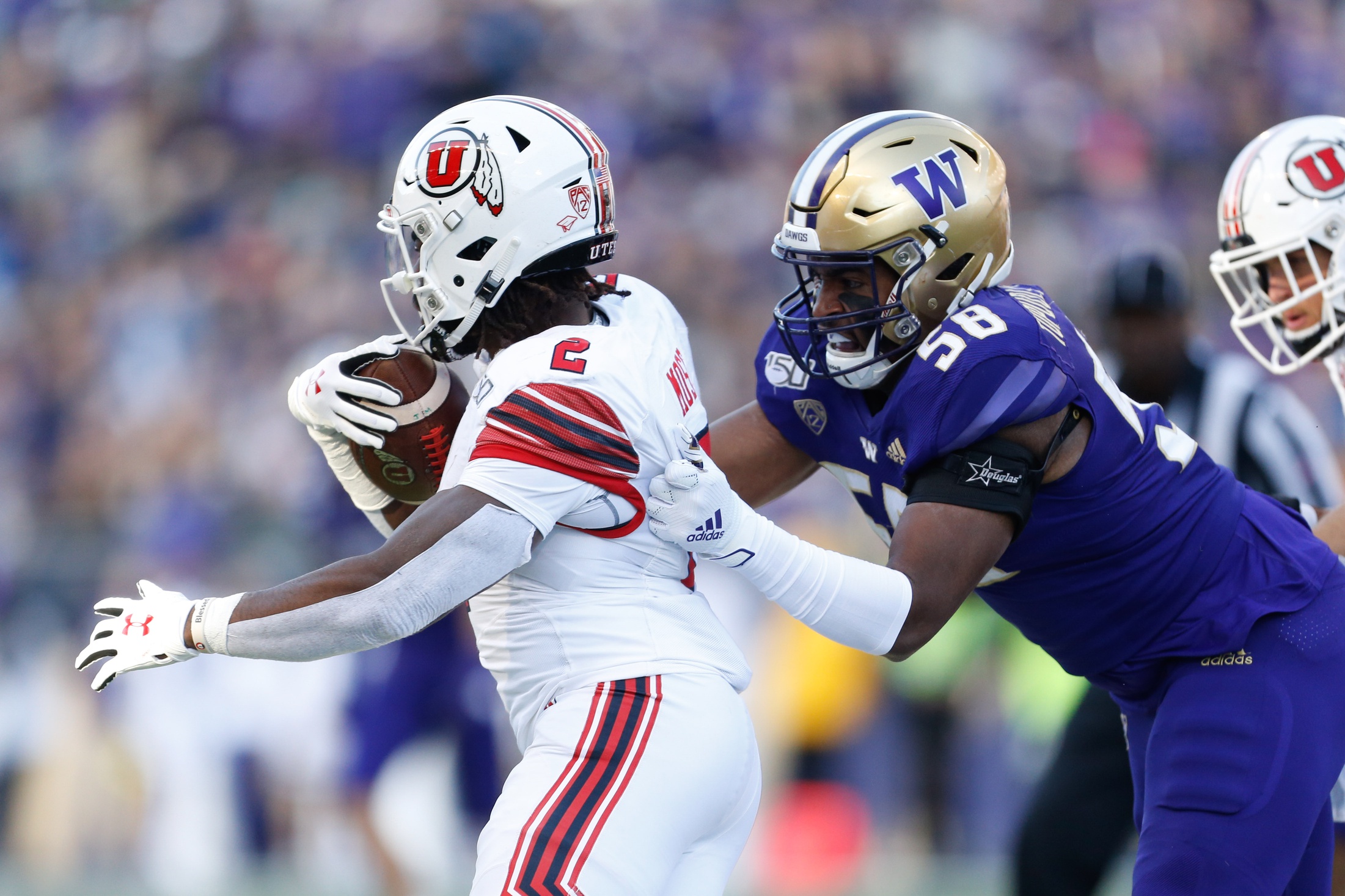 Weaver looked like he might become one of college football's premier pass-rushers back in 2018 when he recorded an 83.1 PFF grade in his second year as a starter, but a torn ACL in fall camp ended the chance for him to do that in 2019. He returned fully healthy this year, though, and he's gotten himself right back on track. Weaver has posted a 90.0 pass-rush grade so far this season to go along with a Power 5-high 48 pressures.
Perhaps the most interesting name on this list is Zion Tupuola-Fetui, who has been nearly unblockable in his three appearances this season. Tupuola-Fetui had played just 162 career snaps entering 2020, with little to no production to speak of. That's been far from the case this season. He leads all Power 5 edge rushers in pass-rush grade (91.6) since the Huskies season began in Week 11.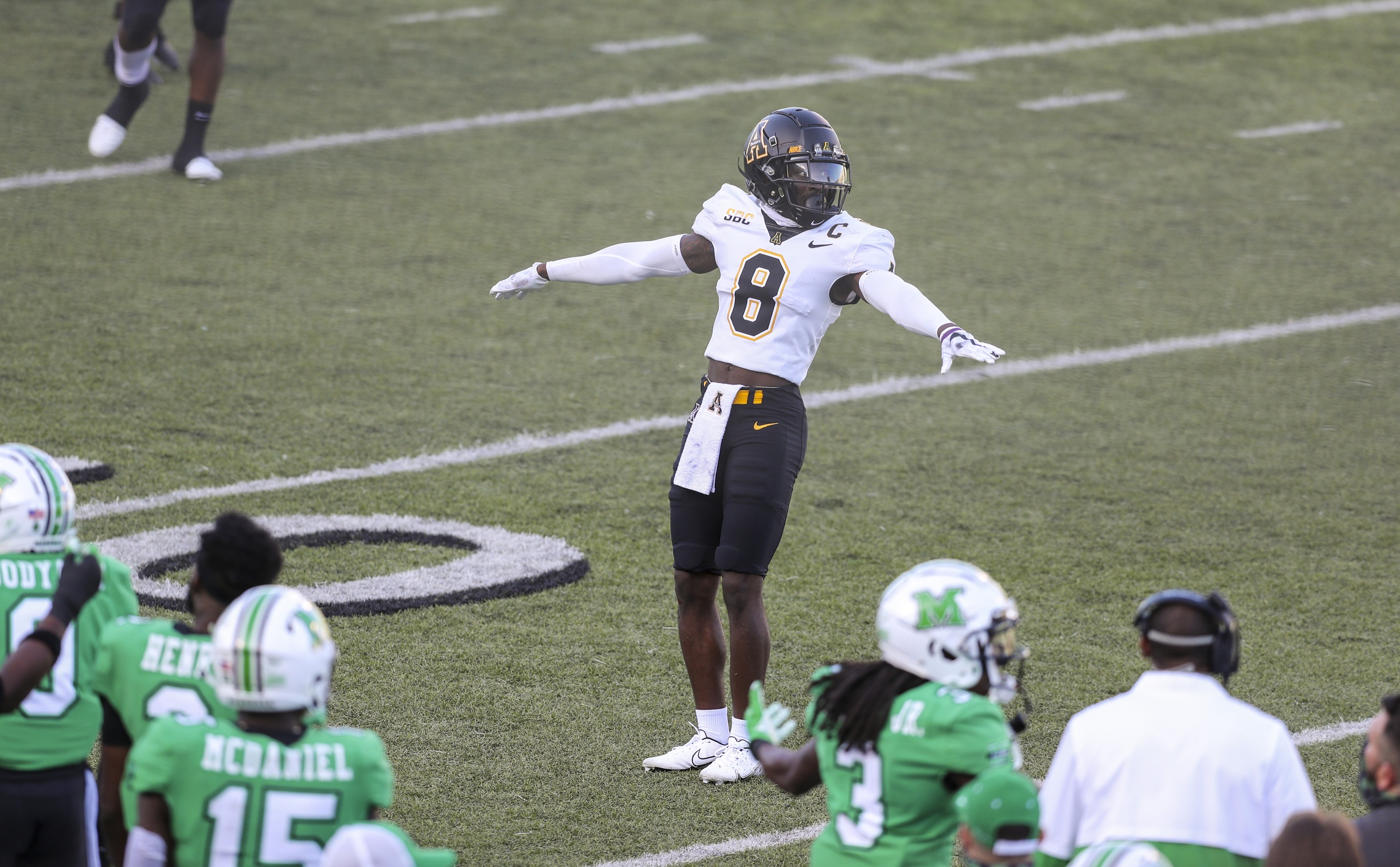 There were far too many standout defensive backs this season to limit the PFF Thorpe Award favorites to just five or six names.
West Virginia Mountaineer Tykee Smith has thrust himself into the conversation with his top-tier slot play. He has played over 200 coverage snaps in the slot this year and rarely gets beaten. In fact, Smith has allowed just 90 yards in the slot; he is yet to allow a single explosive play of 15-plus yards. On top of that, he leads the FBS in passing stops from the slot with 10.
Washington's Elijah Molden has been just as good as Smith at defending the slot in three games this season. Molden was the second-highest-graded defensive back in the slot last season, and so far in 2020, he's claimed the no. 1 spot. In three games, Molden has made as many plays on the ball as first downs allowed in the slot (three) while recording five passing stops.
Jean-Charles of App State is one of the few Group of 5 defensive backs in the Thorpe race. He's not going to lose very often at the catch point, and his numbers back that up. Jean-Charles has actually broken up as many passes as total catches allowed (14) in nine starts, leading to a 34% catch rate allowed on the year. In his last seven games, in particular, the App State CB has allowed a total of 53 yards. I don't care what conference you play in; those are stupid numbers for an outside corner.
Speaking of stingy cornerbacks, Oklahoma State's Rodarius Williams has been just that. He has allowed six yards or less in six of his eight starts, with more forced incompletions (eight) than first downs allowed (six).