A locked-in college football schedule with no sudden changes. Tailgates with friends and family. Stadiums packed to the brim. Students storming the streets after a major upset win. It's all coming soon — the college football landscape is returning to normal.
The 2021 college football season kicks off in just under two months, and what better way to prepare than by running through PFF's preseason awards. The 600-page PFF College Football Magazine and PFF Preseason All-America Team dropped on Monday, and 10 all-conference teams will be hitting PFF.com throughout the week.
Below is the PFF 2021 Preseason All-Conference USA Team. The side below was selected with the help of PFF grades and advanced statistics, which are now available to PFF's CFB Premium Stats+ Subscribers.
QUARTERBACK
A good chunk of Aune's dropbacks last season came via play-action concepts, and most of those ended in shots downfield. In fact, he recorded the third-highest play-action pass rate in the FBS at 58.8%, and his average depth of target on those was 16.0 yards downfield. He executed the offense at a high level, finishing sixth in the FBS in passing grade (92.2) and second in big-time throw rate (14.9%) on play-action passes. That's precisely North Texas' path to success in 2021.
Second-Team: Grant Wells, Marshall
Third-Team: Bailey Zappe, Western Kentucky
Honorable Mention: Tyler Johnston III, UAB
RUNNING BACK
After watching Frank Gore Sr. put together a 16-year NFL career, we now get to see his son dominate in the collegiate ranks. Gore Jr. finished with the 18th-best rushing grade in the FBS (86.8) as a true freshman last year. The 5-foot-8, 165-pound back regularly shook defenders, recording the eighth-most broken tackles per attempt in the FBS (0.33). If Gore can improve upon his 84 snaps on the receiving front, an area where he only flashed last season, then he'll be making waves.
Second-Team: DeAndre Torrey, North Texas
Third-Team: Malcolm Davidson, FAU
Honorable Mention: James Charles, FAU
McBride is one to keep an eye on for the 2021 season after posting a 93.8 rushing grade on 47 carries as a true freshman in 2020. He broke a tackle on 21 of those and turned 11 into a gain of 10 or more yards.
Second-Team: Sincere McCormick, UTSA
Third-Team: Oscar Adaway III, North Texas
Honorable Mention: Knowledge McDaniel, Marshall
WIDE RECEIVER
Tucker isn't consistent on a game-to-game basis, but he has yet to disappoint. He's been the third-highest-graded receiver in the C-USA since becoming a starter in 2018 and has the third-most receptions of 15-plus yards among that group with 48. Expect his inconsistent yet effective play to continue this fall.
Second-Team: Joshua Cephus, UTSA
Third-Team: Smoke Harris, Louisiana Tech
Honorable Mention: Jerreth Sterns, Western Kentucky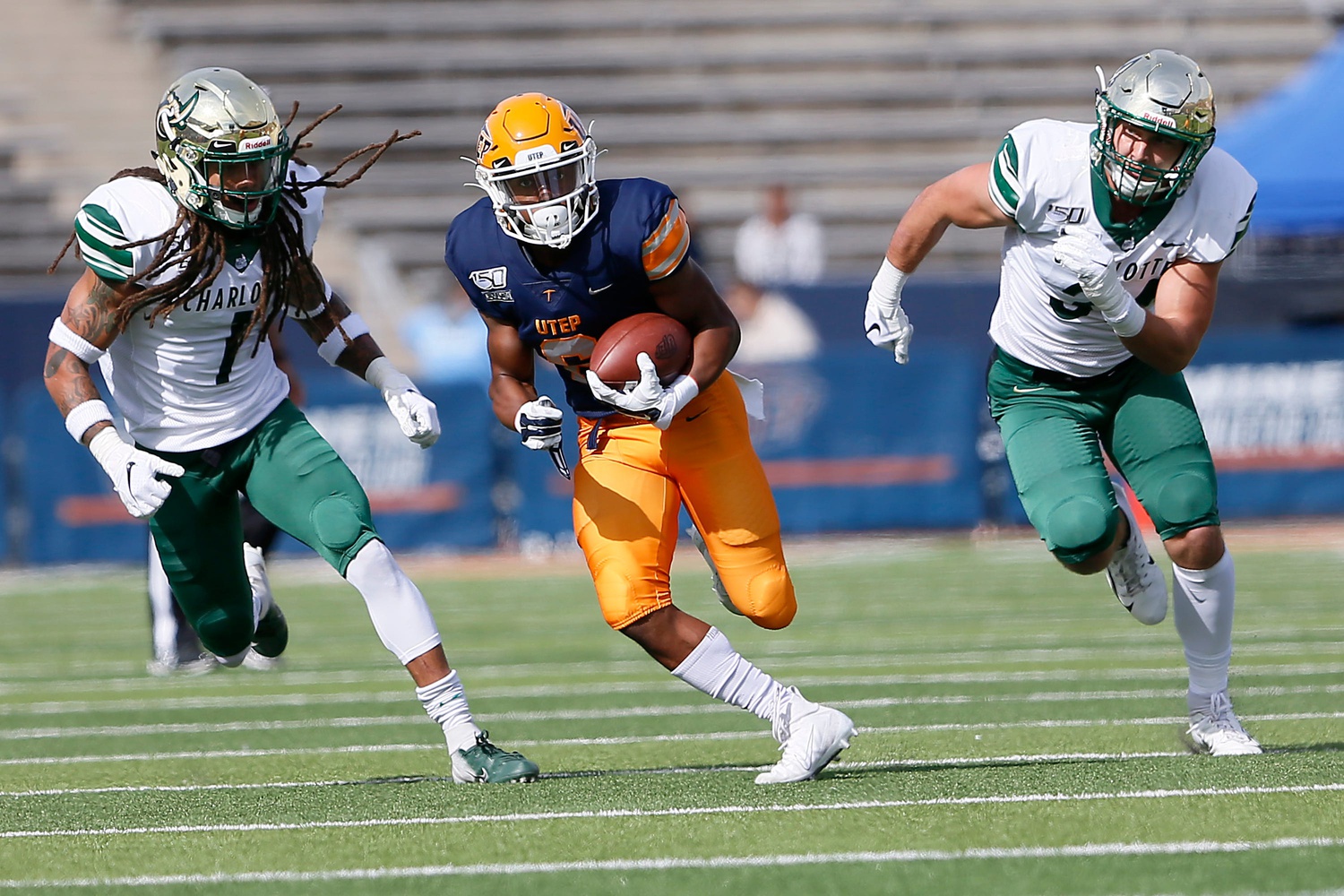 Cowing's ball skills have to get better in 2021. He owns a 16.3% drop rate and 30.4% contested-catch rate for his career. Either way, he'll be a quality deep threat for the Miners, just as he has been as an underclassman. He is tied for the 10th-most deep receptions in the FBS since 2019 with 18.
Second-Team: Zakhari Franklin, UTSA
Third-Team: Corey Gammage, Marshall
Honorable Mention: Deonte Simpson, North Texas
Garrett has proven he can play in the slot or on the outside at a high level over the last two seasons, and he has also proven to be one of the most reliable targets in the conference. He has the second-lowest drop rate in C-USA since 2019 (2.3%) as well as the highest contested catch rate (61.9%). Each of those marks also ranks among the five best in the FBS over that span.
Second-Team: Yusuf Ali, Middle Tennessee
Third-Team: Jarrin Pierce, Middle Tennessee
Honorable Mention: Jake Bailey, Rice
TIGHT END
The Panthers have a prime breakout candidate on their hands in Rivaldo Fairweather. He came to FIU as a three-star recruit who just started playing football as a junior in high school. Hall only ran eight routes in his first three games as a true freshman but far exceeded expectations, finishing the year with a 90.8 receiving grade and 3.44 yards per route run. The 6-foot-4, 233- pound tight end has the ideal blend of size, strength and all-around athleticism, and he didn't look out of place as a route runner. He looks like the real deal.
Second-Team: Xavier Gaines, Marshall
Third-Team: Jordan Myers, Rice
Honorable Mention: Hayden Pittman, UAB
OFFENSIVE TACKLE
Spencer is the best pass-protecting tackle in the conference and among the best in the Group of Five. He actually leads all Group of Five tackles in pass-block grade over the last two seasons. Even when filtering to those important true pass sets, he still holds the top spot.
Second-Team: Lyndell Houston Jr., FIU
Third-Team: Sidney Wells, UAB
Honorable Mention: BJ Etienne, FAU
Ulmer's run-blocking prowess paved the way to a first-team spot. He posted the highest positively graded run block rate of any tackle in the conference last season en route to an 89.6 run-block grade that ranked 13th among all FBS tackles.
Second-Team: Mason Brooks, Western Kentucky
Third-Team: Tarik Adams, Marshall
Honorable Mention: Spencer Burford, UTSA
INTERIOR OFFENSIVE LINE
Salguero patiently waited four years before registering his first career start in 2020, and he clearly made the most of that opportunity. He earned a respectable 68.6 PFF grade that ranked ninth among Group of Five centers.
Second-Team: Nick Weber, FAU
Third-Team: Andrew Smith Jr., UAB
Honorable Mention: Manase Mose, North Texas
Mollette has been a mainstay on the Herd's line since 2017. He has played over 1,305 pass-block snaps in his career, and he has still yet to allow a sack. This last year, Mollette didn't even allow a single pressure and finished with a 90.5 pass-block grade. With his former teammate Cain Madden now with Notre Dame, Mollette becomes the clear-cut best guard in the conference.
Second-Team: Jakoby Jones, UAB
Third-Team: Boe Wilson, Western Kentucky
Honorable Mention: Bobby DeHaro, UTEP
After a strong year in pass-protection in 2019 that featured a goose egg in the sacks and hits allowed column, Mote was an even cleaner performer in that facet in 2020. He recorded an 82.0 pass-block grade and the second-lowest pressure rate on true pass sets in the conference. If he can be a more in-control player in the run game, then he can really take that next step forward in the Group of Five ranks.
Second-Team: Kevin Davis, UTSA
Third-Team: Abraham Delfin, Louisiana Tech
Honorable Mention: Sione Finau, FIU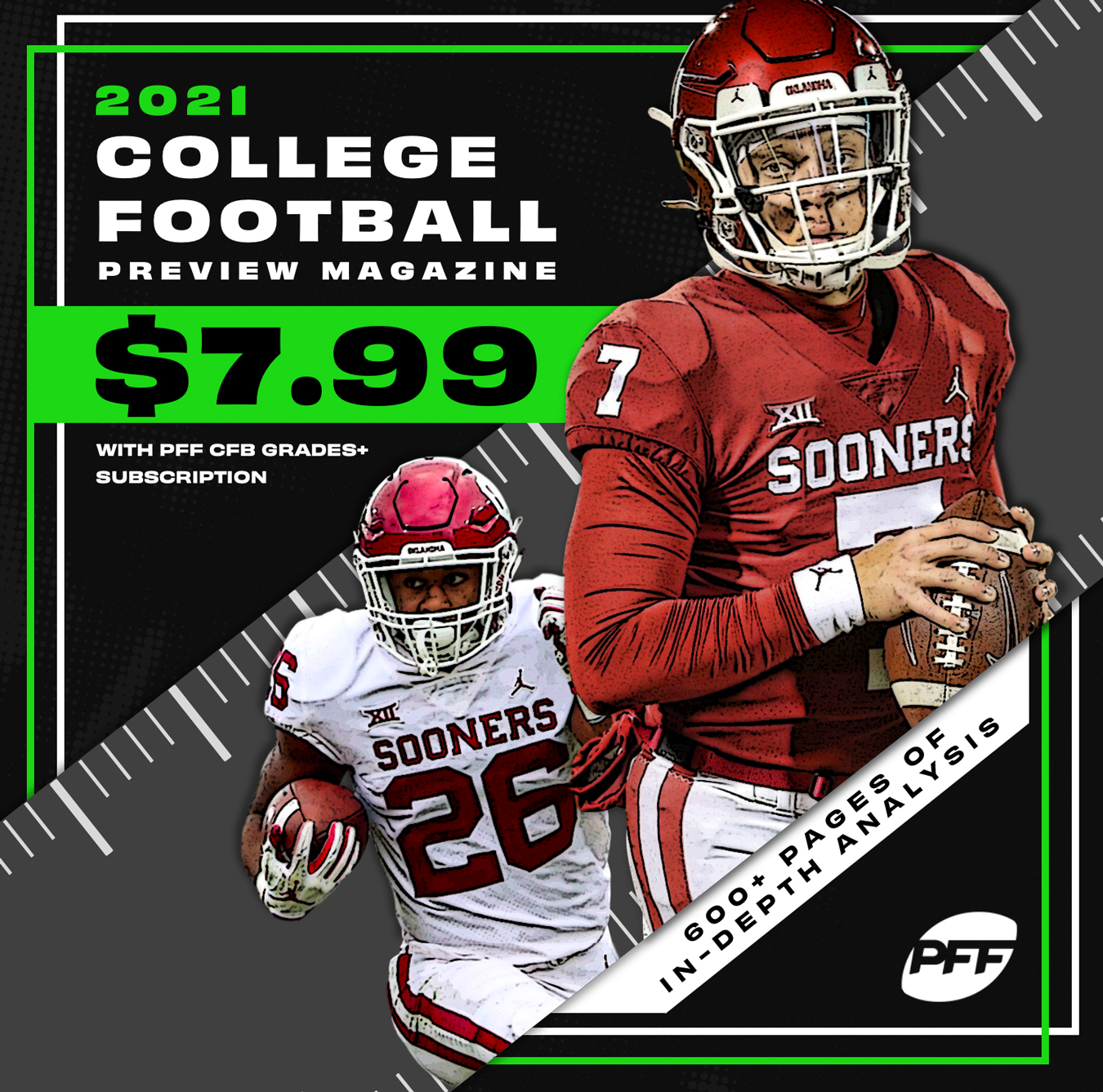 INTERIOR DEFENSIVE LINE
Stewart is in the conversation for best interior defensive linemen in the entire Group of Five. He had a rough first two games at nose tackle with UTEP in 2020 after transferring in from JUCO but was kicked over to defensive tackle in his third outing and was excellent the rest of the way. Over his last six games, Stewart was the highest-graded player at the position in college football with a 92.7 mark.
Second-Team: Jamare Edwards, Marshall
Third-Team: Jaylen Joyner, FAU
Honorable Mention: De'Braylon Carroll, Rice
Turner is back for his seventh season in the collegiate ranks (yes, his seventh), and he is fixing to be one of the most forceful interior defensive linemen once again in the Group of Five. Last year was his first with UAB after transferring in from South Alabama, and he earned a 91.2 run-defense grade and 77.2 pass-rush grade for the season. His positively graded run play rate was the third-highest in college football while his pass-rush win rate was 12th. Opposing offensive lines are going to have their hands full from trying to stop this well-oiled machine from making plays in 2021.
Second-Team: Dion Novil, North Texas
Third-Team: Evan Anderson, FAU
Honorable Mention: Antonio Moultrie, UAB
EDGE
Wright is a candidate to follow in his former teammate Jordan Smith's shoes and become one of the few elite Group of Five edge rushers in 2021. The 6-foot-7, 260-pound edge defender has the pop in his hands, length and routinely good rush plan that makes him a lot to handle for C-USA offensive linemen. In his two years on the field for the Blazers, Wright has recorded an 82.9 pass-rush grade and 18% pass-rush win rate.
Second-Team: Lorenzo Dantzler, UTSA
Third-Team: Trey Schuman, Rice
Honorable Mention: Marcus Haynes, Old Dominion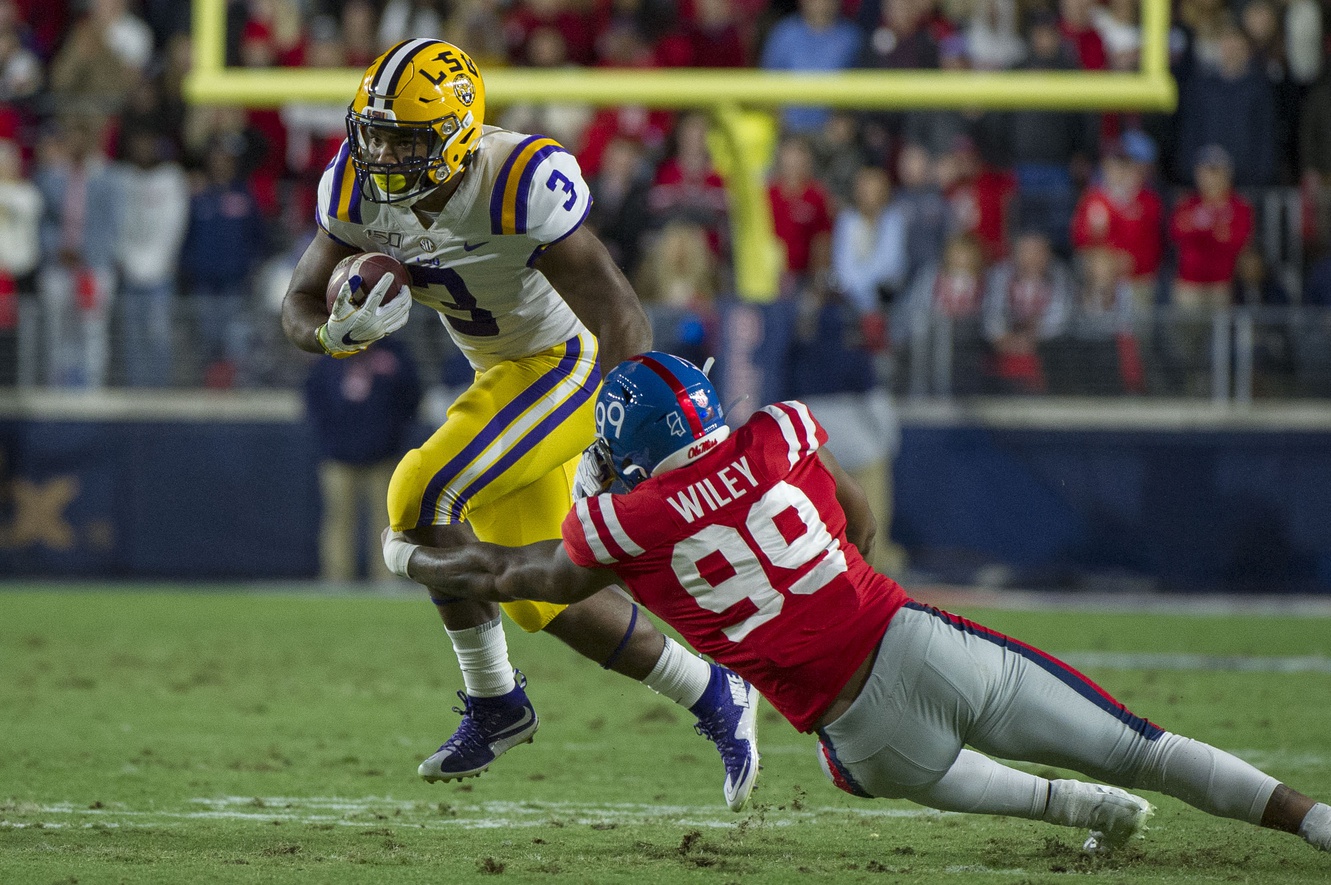 Wiley was a four-star recruit in 2016 who spent his first four years in college at Ole Miss. he struggled when playing on the interior his first few years but was moved to outside linebacker in 2019 on a limited basis and flashed some skills as a pass-rusher. He put it all together as a starter for UTSA in 2020. He's an explosive athlete who dominated on a regular basis with an 84.3 pass-rush grade and 19.2% pressure rate. The latter was the fifth-best in the FBS.
Second-Team: Praise Amaewhule, UTEP
Third-Team: Jordan Ferguson, Middle Tennessee
Honorable Mention: Terence Cherry, Southern Miss
LINEBACKER
Leroy was ineligible for the 2020 season but is set to return for 2021, which means FAU has a legitimate Butkus candidate on the roster. In 2019, Leroy produced a 74.0-plus grade in every facet (run defense, pass rush, coverage and tackling), something only four other FBS off-ball linebackers accomplished. That led to an overall PFF grade of 87.3, eighth in the FBS.
Second-Team: Ezekiel Barnett, Louisiana Tech
Third-Team: Eli Neal, Marshall
Honorable Mention: Kristopher Moll, UAB
It only took Beauplan one year of playing FBS-level football after transferring in from JUCO to make his name known as one of the top off-ball linebackers in a conference that is loaded at the position. He finished the 2020 season as the lone Group of Five linebacker to earn a grade north of 80.0 as both a run and coverage defender.
Second-Team: Santrell Latham, Southern Miss
Third-Team: Tyrice Knight, UTEP
Honorable Mention: Racheem Boothe, Southern Miss
CORNERBACK
Riley has only played a hair over 204 coverage snaps in his collegiate career, but he has put the clamps on his opponent when he's been out on the gridiron. He has allowed a 34.5% catch rate across 29 targets and seven first downs while making five plays on the ball. Riley, who is also a member of the Middle Tennessee track team, is a tough man to beat deep and has held his own in man-to-man coverage thus far. He is a prime breakout candidate for the Blue Raiders this fall.
Second-Team: Tariq Woolen, UTSA
Third-Team: Steven Gilmore, Marshall
Honorable Mention: Jamal Anderson, FIU
Mungin won't let his 5-foot-9, 160-pound frame get in the way of him doing his job at a quality level. Last year – his first season consistently on the field — Mungin saw 40 targets thrown his way, and he allowed only 15 to be caught en route to a 37.5% catch rate and 73.2 coverage grade. 
Second-Team: Ken Robinson, UTSA
Third-Team: TD Marshall, UAB
Honorable Mention: Josh Turner, FIU
SAFETY
Johnson went back to spending a majority of his time in the slot in 2020 and had the best year of his career. He was the eighth-highest-graded slot defender in the FBS last season. One thing that remained the same was his elite tackling — he has owned one of the 15 lowest missed tackle rates among FBS safeties in each of the last three years, with only 11 misses on 204 attempts over that span. His time in the slot should increase this fall, so expect another big year from the former walk-on.
Second-Team: Antwon Kincade, Western Kentucky
Third-Team: Rashad Wisdom, UTSA
Honorable Mention: Will Boler, UAB
UAB returns one of the rising young talents of the Group of Five in safety Damon Miller. He was thrust into a starting job last season and showed no learning curve whatsoever, earning an 87.0 coverage grade that ranked fifth at the position in the FBS.
Second-Team: Brandon Drayton, Marshall
Third-Team: Gregory Grate Jr., Middle Tennessee
Honorable Mention: Richard Dames, FIU
FLEX D
Turner has been one of the best coverage defenders in the slot over the last couple of years. In fact, his slot coverage grade is the highest among that group in that span. It doesn't matter if it's college or pro – slot corners are among the most important and undervalued players in the game of football, and having one of the best at the position is a massive asset to the defense. Because of Turner, safety Damon Miller and outside corner TD Marshall, this UAB secondary is right there behind Marshall for the best in the conference.
Second-Team: Jordan Helm, FAU
Third-Team: Dorian Hall, FIU
Honorable Mention: Rishard Dames, FIU
KICKER
First-Team: Brayden Narveson, Western Kentucky
Second-Team: Hunter Duplessis, UTSA
Third-Team: Matt Quinn, UAB
Honorable Mention: Jacob Barnes, Louisiana Tech
PUNTER
First-Team: Kyle Greenwell, UAB
Second-Team: Lucas Dean, UTSA
Third-Team: John Haggerty III, Western Kentucky
Honorable Mention: Matt Hayball, FAU
KICK RETURNER
First-Team: Blake Watson, Old Dominion
Second-Team: Johnny Ford, FAU
Third-Team: Lexington Joseph, FIU
Honorable Mention: Cameron Harrell, Southern Miss
PUNT RETURNER
First-Team: Smoke Harris, Louisiana Tech
Second-Team: Talik Keaton, Marshall
Third-Team: Bryce Singleton, FIU
Honorable Mention: Jake Bailey, Rice