A locked-in college football schedule with no sudden changes. Tailgates with friends and family. Stadiums packed to the brim. Students storming the streets after a major upset win. It's all coming soon — the college football landscape is returning to normal.
The 2021 college football season kicks off in just under two months, and what better way to prepare than by running through PFF's preseason awards. The 600-page PFF College Football Magazine and PFF Preseason All-America Team dropped on Monday, and 10 all-conference teams will be hitting PFF.com throughout the week.
Below is the PFF 2021 Preseason All-Big 12 Team. The side below was selected with the help of PFF grades and advanced statistics, which are now available to PFF's CFB Premium Stats+ Subscribers.
QUARTERBACK
Rattler took over the OU starting job as a redshirt freshman last season, hoping to continue Oklahoma's run of dominance at the quarterback position under head coach Lincoln Riley. The 6-foot-1, 205-pound signal-caller lived up to expectations, earning a 92.5 mark that not only ranked fourth in the FBS but was also the best grade PFF has ever given to a true or redshirt freshman quarterback.
Rattler has a little bit of Texas Tech Patrick Mahomes in him, both stylistically and situationally. He has an ultra-quick, effortless release to pair with jaw-dropping arm talent and elite playmaking ability outside of structure. The Oklahoma quarterback produced a 91.3 passing grade and a 69.7% accurate-pass rate when creating off structure in 2020, both of which led all FBS passers. That passing grade beat out Joe Burrow for the best grade ever earned by a Power Five quarterback.
Rattler is the best player returning to college football and should be the favorite for the Heisman Trophy when the 2021 college football season kicks off on Aug. 28.
Second-Team: Brock Purdy, Iowa State
Third-Team: Jarret Doege, West Virginia
Honorable Mention: Skylar Thompson, Kansas State
RUNNING BACK
The 5-foot-5 running back made it known from the get-go that he would end up in the conversation for the best dual-threat back in the country. Only Vaughn and North Carolina's Michael Carter earned grades above 85.0 as both a runner and receiver in 2020. The Kansas State back can take defenders' souls in the open field with his blend of quickness and agility.
Second-Team: Breece Hall, Iowa State
Third-Team: Zach Evans, TCU
Honorable Mention: SaRodorick Thompson, Texas Tech
Brooks opted out of the 2020 season due to COVID-19 concerns, but he will be back for the 2021 campaign — very good news for the Sooners. Brooks was the third-highest-graded ball carrier in the FBS from 2018 to 2019 and established himself as one of the top breakaway threats at the position. No FBS running back churned out 10 or more yards on a higher rate of carries over that period than Brooks (23.4%). He doesn't have electrifying speed, but he is elusive and fights through contact as well as anyone.
Second-Team: Bijan Robinson, Texas
Third-Team: Roschon Johnson, Texas
Honorable Mention: Trestan Ebner, Baylor
WIDE RECEIVER
Mims wasn't the first, second or even third option in the Oklahoma offense this past year. The true freshman ranked fourth on his team in total routes run but was by far the most productive Sooner and one of the most productive receivers in the FBS. His 89.1 receiving grade and 4.07 yards per route run both ranked among the 10 best marks at the position in 2020.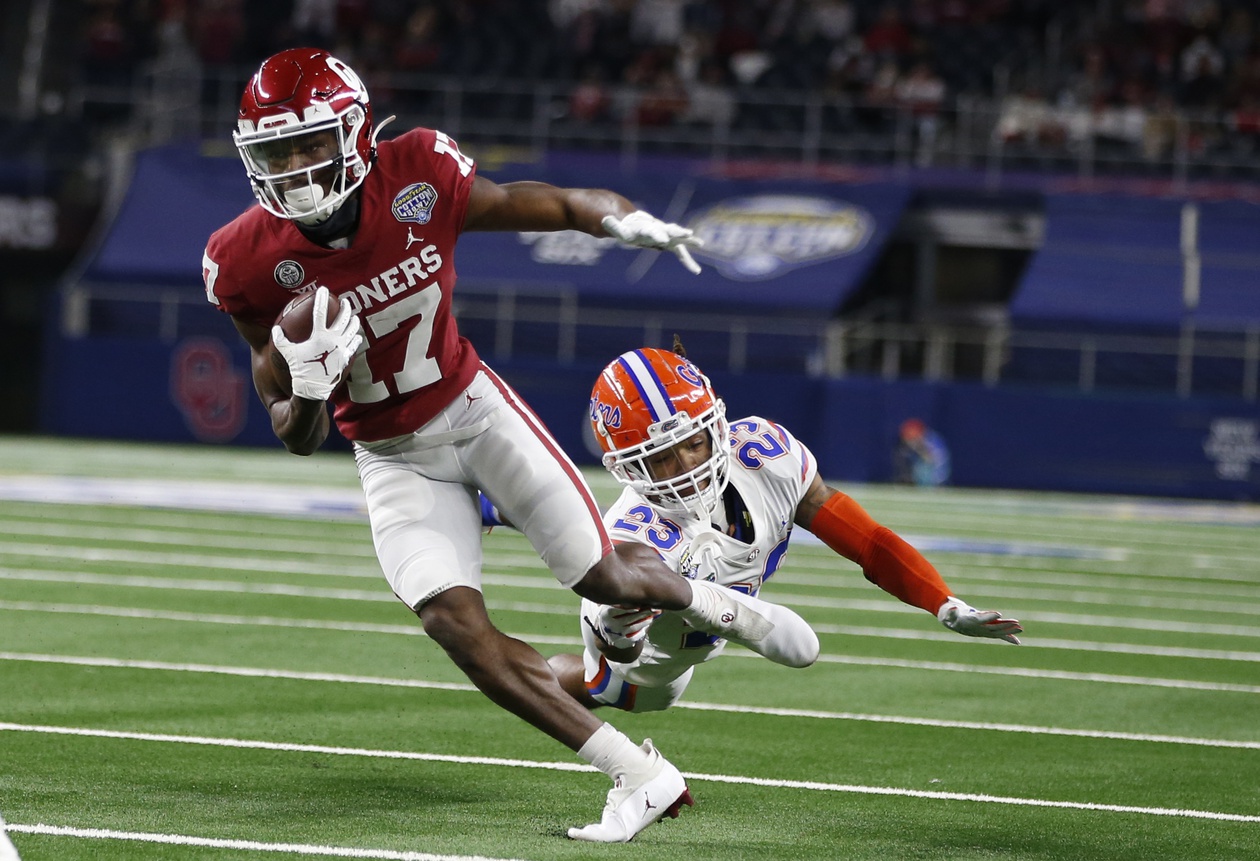 The 5-foot-11 and 177-pound receiver showed quality body adjustment and speed while routinely getting open downfield. Despite seeing only 49 targets, Mims was able to bring down 11 deep receptions in 2020 (tied for the fourth-most in the Power Five). His stock is on the rise for 2021.
Second-Team: Xavier Hutchinson, Iowa State
Third-Team: R.J. Sneed, Baylor
Honorable Mention: Joshua Moore, Texas
If Spielman can play up to the level he did at Nebraska, he will finish the season as one of the nation's best receivers. But that's still a big if at this point. Spielman was the most valuable Cornhusker on the offensive side of the ball in 2017, 2018 and 2019. His receiving grade in those three years collectively ranked 16th among Power Five wide receivers, while his 65 receptions of 15-plus yards ranked fifth behind now-NFL receivers Tyler Johnson, Denzel Mims, CeeDee Lamb and Jerry Jeudy. Spielman is a dynamic weapon in the slot, too, evidenced by his 37 broken tackles on 174 career slot receptions and 7.3 yards after the catch per slot reception.
Spielman, the son of Minnesota Vikings GM Rick Spielman, transferred to TCU before the 2020 season but ran only 49 routes across three games due to a season-ending injury. He's entering a pivotal sixth year for his career and will play a key role for the Horned Frogs in 2021.
Second-Team: Winston Wright, West Virginia
Third-Team: Jadon Haselwood, Oklahoma
Honorable Mention: Jordan Whittington, Texas
Johnston is a lanky wide receiver at 6-foot-4 and 193 pounds, but he plays stronger than expected. He is also a rare all-around athlete for his size. He ran 214 routes in his 2020 freshman campaign and closed out the year with two astounding performances. Against Oklahoma State and Louisiana Tech, Johnston produced a 91.1 receiving grade and five receptions that resulted in a 15-plus-yard gain. 
With his size and athleticism combo, the long strider is a monster to defend on go balls, and he is also tough to bring down after the catch. He hauled in five go routes for 267 yards in 2020 and broke 16 tackles on 22 receptions while averaging 8.9 yards after the catch per reception.
Second-Team: Erik Ezukanma, Texas Tech
Third-Team: Theo Wease, Oklahoma
Honorable Mention: Tay Martin, Oklahoma State
TIGHT END
There's no question that Kolar's work as an in-line blocker has been the weak link in his game so far, but I'd rather have a top-tier receiving tight end than college football's best blocker at the position. And Kolar has made short work of moving up the receiving ranks over the last two seasons, as his PFF receiving grade over that span ranks second to only Kyle Pitts among FBS tight ends. Over those two years, Kolar's receiving grade in the slot or out wide actually surpasses Pitts' for the best in the FBS.
Second-Team: Austin Stogner, Oklahoma
Third-Team: Jeremiah Hall, Oklahoma
Honorable Mention: Chase Allen, Iowa State
OFFENSIVE TACKLE
Swenson anchors one of the best offensive lines in college football and coming off a year in which he ranked behind only Teven Jenkins and Samuel Cosmi — two second-round talents  — in PFF grade among Big 12 tackles. Swenson got off to a rough start in 2020 but was a crisp pass-protector over his last nine outings. From Week 5 on, he led all Power Five tackles in pass-block grade.
Second-Team: T.J. Storment, Texas Tech
Third-Team: Connor Galvin, Baylor
Honorable Mention: Sean Foster, Iowa State
Kerstetter broke out in a big way in 2019. Playing primarily at right tackle that year, he posted the third-best pass-block grade among FBS tackles at 91.6. He kicked inside to center in 2020, and his grade dipped to 77.2 as a result. The good news is that he is expected to move back to right tackle for 2021.
Second-Team: Anton Harrison, Oklahoma
Third-Team: Obinna Eze, TCU
Honorable Mention: Cooper Beebe, Kansas State
INTERIOR OFFENSIVE LINE
Deaton's pass-blocking grade rocketed from 54.8 in 2019 to 77.3 in 2020. Technical improvement was a key driver in that rise, but he also cleared up the issues he had snapping the football, cutting the number of bad snaps threefold.
Second-Team: Steve Avila, TCU
Third-Team: Mike Novitsky, Kansas
Honorable Mention: Danny Godlevske, Oklahoma State
Woodard was nothing short of exceptional in his first year as a starter, posting top-10 grades as both a run-blocker and pass-protector, leading to a 76.6 PFF grade that ranked fifth among the Power Five's right guards. He's in contention for that top spot in 2021.
Second-Team: Marquis Hayes, Oklahoma
Third-Team: Josh Sills, Oklahoma State
Honorable Mention: Doug Nester, West Virginia
Robinson enters the 2021 season with the hope of continuing the hot streak he was enjoying at the back end of the 2020 campaign. Over his last eight games, Robinson produced an astounding 92.8 pass-block grade that led all FBS guards by two grading points. He logged 282 pass-block snaps in that span yet allowed just three total pressures. Like Hunter Woodard of Oklahoma State, he'll be in the top guard conversation this fall.
Second-Team: Junior Angilau, Texas
Third-Team: Jacob Gall, Baylor
Honorable Mention: Derek Schweiger, Iowa State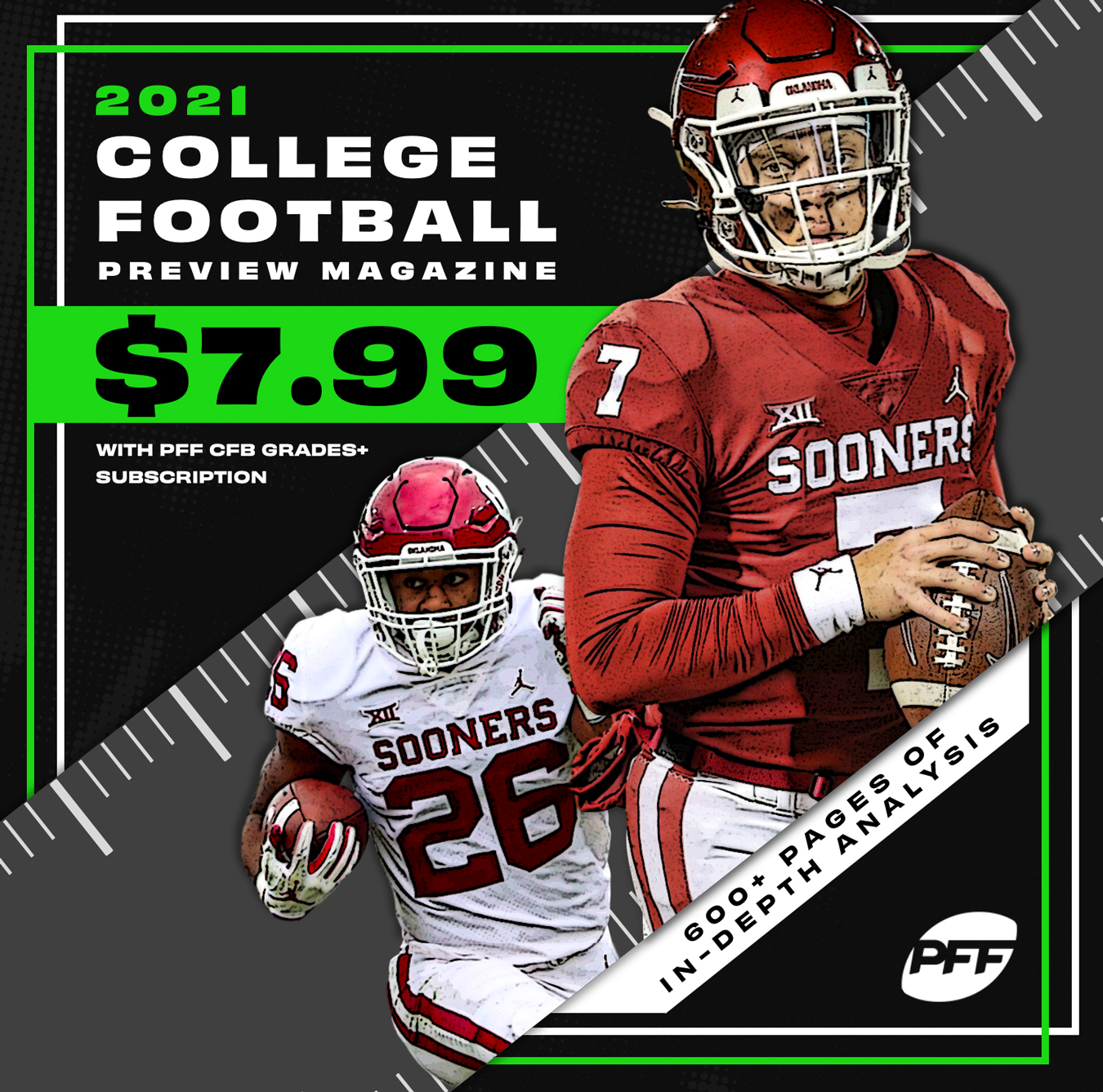 INTERIOR DEFENSIVE LINE
Stills emerged as a mauler in the run game last year and was undoubtedly the best interior defensive lineman in the Big 12. His 90.2 run-defense grade ranked second to Alim McNeill (formerly of NC State, now with the Detroit Lions) for the best in the Power Five. He came away with 15 tackles for loss or no gain — four more than anyone else in the Power Five. And he was one of three interior defensive linemen to finish with top-10 marks in negatively and positively graded play rate against the run. 
Second-Team: T'Vondre Sweat, Texas
Third-Team: Perrion Winfrey, Oklahoma
Honorable Mention: Corey Bethley, TCU
Redmond opted out of the 2020 season, but he is back in Norman for 2021. The 2018 four-star recruit enjoyed a breakout year in 2019, notching an 83.3 grade versus the run and a 76.3 grade as a pass-rusher. When isolating his pass-rush performance to just true pass rushes (i.e., removing the three-man rushes, play action, screens, etc.), his grade spiked to the 90th percentile among interior defensive linemen. Redmond notched a 27% win rate on true pass rushes, which was the sixth-highest mark among Power Five interior defensive linemen.
Second-Team: Keondre Coburn, Texas
Third-Team: Eli Huggins, Kansas State
Honorable Mention: Kenny Turnier, TCU
EDGE
Bonitto might be the most underrated player in college football. The rush-end led all FBS edge defenders in pass-rush grade (93.6), pass-rush win rate (28%) and pressure rate generated (25.7%) in 2020. Among all Power Five edge defenders since we began grading college seven years ago, Bonitto ranks in the top five in all three metrics.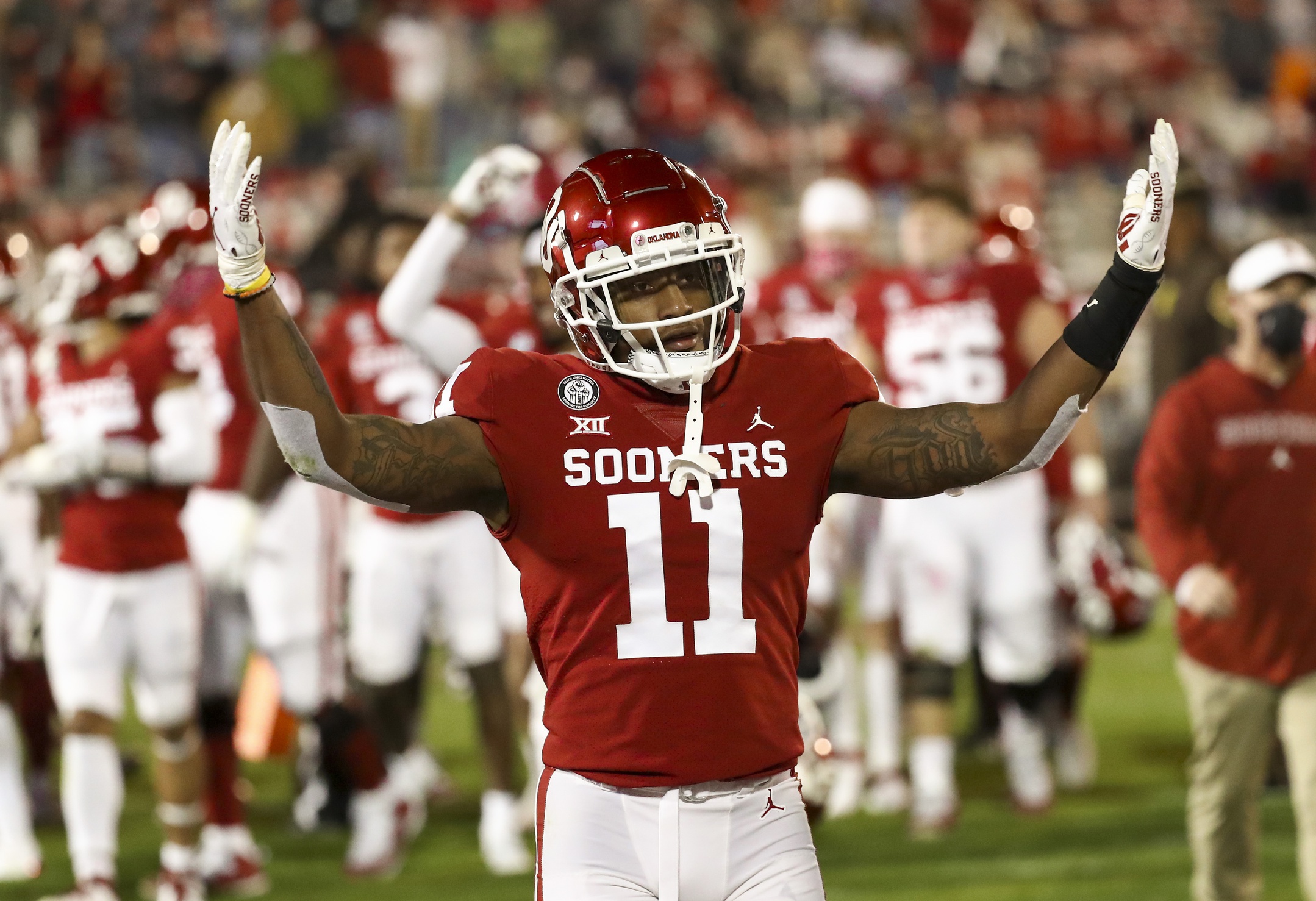 His explosiveness and athleticism caused headaches for every offensive tackle he faced, and no lineman succeeded in shutting him down in 2020. His lowest win rate in a single game this past year sat at 17.6% — a pretty solid day for most FBS edge rushers.
Second-Team: Will McDonald, Iowa State
Third-Team: Khari Coleman, TCU
Honorable Mention: Eyioma Uwazurike, Iowa State
Thomas primarily lined up at defensive tackle last season, but he was far more dominant playing defensive end. The 6-foot-5, 267-pound Sooner recorded a 21.9% pressure rate when playing on the edge, third-best at the position in the FBS.
Second-Team: Ochuan Mathis, TCU
Third-Team: Bronson Massie, Kansas State
Honorable Mention: Moro Ojomo, Texas
LINEBACKER
Pitre took on a big role as a true freshman in 2017 but put forth a mediocre performance. He himself said it was tough to acclimate to Power Five ball in a complex system. In Year 2, his playing time dipped before a shoulder injury caused him to redshirt in 2019. 
Pitre came back at full strength in 2020 and was one of the most explosive and productive players at the position. He posted a grade above 80.0 against the run, as a pass-rusher and when dropping into coverage, paving the way for a top-five PFF overall grade among Power Five off-ball linebackers. 
Second-Team: Josh Chandler-Semedo, West Virginia
Third-Team: Terrel Bernard, Baylor
Honorable Mention: Jake Hummel, Iowa State
Rose has ranked among the best linebackers in the Big 12 in each of his three years starting for the Cyclones, earning grades of 78.1 (sixth), 75.8 (second) and 78.4 (second). Last year, he showed his best play against the run, where he took on blocks with ease and recorded a 91.6 run-defense grade that tied for best in the FBS.
The shine starts to fade when we look at his work in coverage, as he was often caught out of position last year, leading to a 50th-percentile coverage grade among Big 12 off-ball linebackers. The positive is that he snagged five picks in 2020 and trailed only Garret Wallow (TCU) and Kenneth Murray (Oklahoma) for the best coverage grade in the conference in 2019, so a bounceback in one of the most volatile facets of play is not out of the question.
Second-Team: Malcolm Rodriguez, Oklahoma State
Third-Team: Colin Schooler, Texas Tech
Honorable Mention: DeMarvion Overshown, Texas
CORNERBACK
After playing fewer than 100 snaps as a three-star true freshman in 2019, Hodges-Tomlinson struggled to a 45.4 coverage grade in TCU's 2020 opener. But after shaking off the rust, the sophomore went on to post an FBS-high 90.6 coverage grade while allowing just 12 catches on 45 targets. He also came away with 14 pass breakups.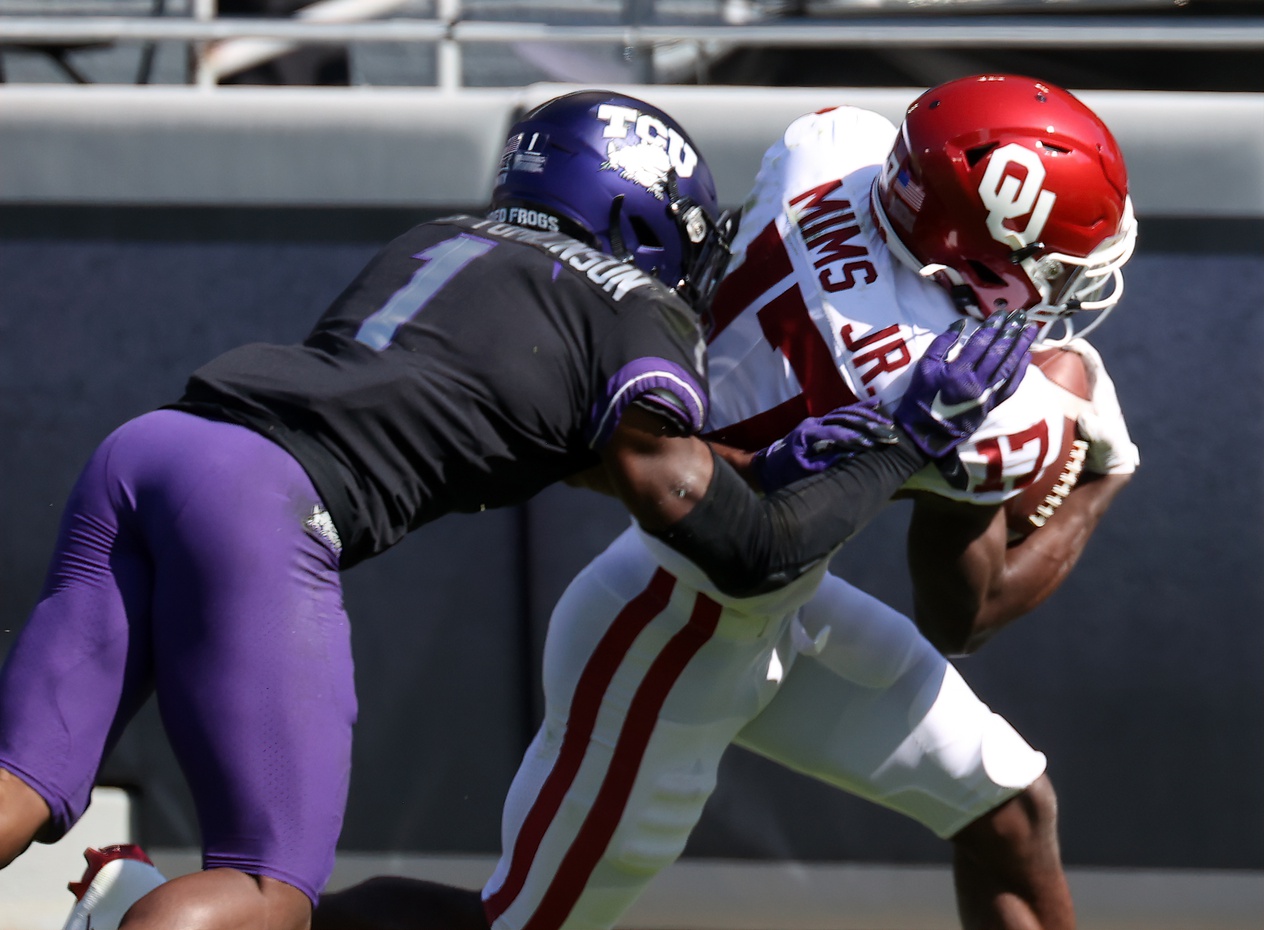 Armed with a mirror ability that is as good as it gets at the position, the TCU cornerback played the ball exceptionally well at the catch point. He forced tight coverage on over 57% of his targets in 2020, the highest rate among Power Five cornerbacks. Don't underestimate this 5-foot-9, 177-pound corner — he's going to play far more physically than his size suggests.
Second-Team: Noah Daniels, TCU
Third-Team: Justin Gardner, Kansas State
Honorable Mention: Nicktroy Fortune, West Virginia
We didn't hear Texada's name called much last year, which is a terrific sign for an outside cornerback. He locked down his side of the field for most of the season, allowing under 35 yards in coverage in eight of his nine starts.
The last outing of his season was pretty rough, as he allowed seven catches for 124 yards and a couple of touchdowns, but up until that point, there were few bones to pick with his play. Texada allowed just 10 catches for 89 yards and no touchdowns before that final game. Those numbers border on shutdown status.
The Baylor product is on the smaller end of the position at 5-foot-10, 188 pounds, but he makes up for it with his great all-around athleticism. He's going to challenge TCU's Tre'Vius Hodges-Tomlinson for best cornerback in the Big 12 in 2021.
Second-Team: Jarrick Bernard-Converse, Oklahoma State
Third-Team: Tayvonn Kyle, Iowa State
Honorable Mention: D'Shawn Jamison, Texas
SAFETY
Sterling first took on a starting job in the 2019 season and immediately made his name known as one of the top cover safeties in the country. Since then, he ranks fourth among all FBS safeties in coverage grade and has racked up 14 combined pass breakups and interceptions over that span, seventh at the position in the FBS.
Second-Team: Kolby Harvell-Peel, Oklahoma State
Third-Team: Greg Eisworth, Iowa State
Honorable Mention: Kerry Martin Jr., West Virginia
Addae didn't receive a single FBS offer after high school and prep school. He spent the first three years of his collegiate career at the FCS level with New Hampshire before transferring to West Virginia before the 2019 season.
The safety earned a starting spot for the Mountaineers in 2020 after sitting out in 2019 due to transfer restrictions and far exceeded expectations, finishing the year with a top-10 PFF grade (79.1) among all Power Five safeties.
Addae plays with fantastic balance and has the hips you want on the back end. He also hits hard for a man who is 5- foot-11 and 189 pounds. He missed only five of 61 attempts for the year for an 8.2% missed tackle rate that tied for the best figure among all Big 12 safeties. West Virginia's secondary may not be one of the FBS' best anymore, but Addae will lead this group to success in 2021.
Second-Team: Sean Mahone, West Virginia
Third-Team: Isheem Young, Iowa State
Honorable Mention: Marquis Waters, Texas Tech
FLEX D
A 2018 three-star recruit, Boye-Doe logged just 11 snaps in his first two years on campus. He ultimately earned a starting job for the 2020 season and went on to allow 15 or fewer yards in five of his eight starts. His 79.4 coverage grade ranked fifth in the Big 12, and he looked as though he'd been starting for years. He allowed five first downs into his coverage, which is fewer than the total plays he made on the ball (six).
Boye-Doe is slightly on the slender side at 165 pounds, but that was seldom an issue during his 2020 breakout campaign. Keep an eye on this one — I expect him to be a top-three corner in the Big 12 this season.
Second-Team: T.J. Carter, TCU
Third-Team: Anthony Johnson, Iowa State
Honorable Mention: D.J. Graham, Oklahoma
KICKER
First-Team: Gabe Brkic, Oklahoma
Second-Team: Austin Mcnamara, Texas Tech
Third-Team: Trestan Ebner, Baylor
Honorable Mention: Phillip Brooks, Kansas State
PUNTER
First-Team: Alex Hale, Oklahoma State
Second-Team: Ryan Bujcevski, Texas
Third-Team: D'Shawn Jamison, Texas
Honorable Mention: Derius Davis, TCU
KICK RETURNER
First-Team: Cameron Dicker, Texas
Second-Team: Reeves Mundschau, Oklahoma
Third-Team: Malik Knowles, Kansas State
Honorable Mention: Marvin Mims, Oklahoma
PUNT RETURNER
First-Team: John Mayers, Baylor
Second-Team: Jordy Sandy, TCU
Third-Team: Winston Wright, West Virginia
Honorable Mention: JD Spielman, TCU