We are halfway through the 2016 college football season, and while we have spent a lot of time discussing the nation's top players and Heisman candidates, it's a good time to identify the players deserving of a little more attention.
Our PFF analysts dug into our grades and stats to identify the most underrated players in every conference so far this year:
SEC
— Gordon McGuinness 
1. Dalvin Tomlinson, DT, Alabama
We hear plenty about the top defensive players on the Alabama roster in guys like Jonathan Allen, Tim Williams and Marlon Humphrey, but defensive tackle Dalvin Tomlinson is having a very impressive year too. It starts with his work against the run, where his 12 tackles resulting in a defensive stop on 133 snaps against the run give him a run stop percentage of 9.0 percent, seventh among defensive tackles in the SEC. He's not just a run stopper though, and his one sack, two hits and 18 hurries give him a pass rushing productivity of 7.3, ninth-best at his position in the conference.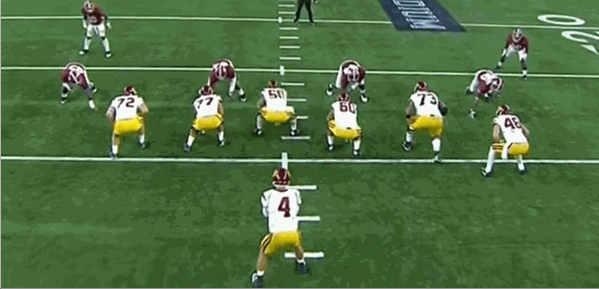 2. Austin Allen, QB, Arkansas
Quarterbacks are rarely underrated, but not enough people are talking about the Arkansas signal caller and how good he has been this season. The highest-graded quarterback in the SEC, he has excelled when kept clean, and held up pretty well under pressure too. Without pressure, Allen has completed 76.2 percent of his passes, good for the third-best mark in the nation, and best in the SEC. When pressure has gotten there, he is still completing 40.6 percent of his passes, which is a significant drop, but still ranks sixth in the SEC.
3. Jared Cornelius, WR, Arkansas
We spend a lot of time talking about how good the SEC is defensively, but Arkansas boast the nation's top slot receiver right now, even if it's not something that is widely known. Jared Cornelius has produced 19 receptions for 379 yards from 109 routes run from the slot. That gives him an average of 3.48 yards per route run from the slot, the best mark in the nation. He has also shown a safe pair of hands, and has dropped just two of the 68 catchable passes thrown his way over the past three seasons.
4. Roquan Smith, LB, Georgia
Another SEC defender who is overshadowed by having a couple of superstars at the position, Alabama's Reuben Foster and Vanderbilt's Zach Cunningham, seeing most of the attention, but Georgia's Roquan Smith has really impressed this year. The sophomore flashed with seven defensive stops on just 78 snaps as a freshman, and has shown himself deserving of the bigger role he has played this year, with 16 tackles resulting in a defensive stop from 301 snaps on the field.
5. Aarion Penton, CB, Missouri
Lost in a conference that includes standouts in Alabama's Marlon Humphrey and Florida's Jalen Tabor, Missouri's Aarion Penton has the highest coverage grade of any cornerback in the SEC, and third-best mark in the nation. So far this year he has allowed just 17 receptions from 41 passes thrown into his coverage, and has come away with three interceptions and an additional five pass breakups. He has allowed just 41.5 percent of the passes thrown into his coverage to be caught, the lowest percentage of any cornerback who has been targeted at least 25 times in coverage.
Big Ten
— Josh Liskiewitz 
1. Tariq Cole, LT, Rutgers
When your school loses back-to-back games by a combined score of 136-0 (even when you didn't play in one of them due to injury), it's easy to get lost in the mix. However, Rutgers LT Tariq Cole has had a strong season despite the rest of his team's struggles and deserves to be recognize as the Big Ten's best blind side protector.
His specialty is pass protection, where other than one poor showing against Iowa and Anthony Nelson, he has given up just one pressure in six games. His 82.6 overall grade is the best in the conference, and 11th-best nationally, and he also owns the Big Ten's top pass- and run-blocking grades.
2. Jordan Roos, RG, Purdue
Sometimes the light just clicks in a struggling player's head and he appears to come out of nowhere to surpass his own supposed potential. That's exactly the case for Purdue RG Jordan Roos, whose overall grade last year ranked him 289th among all guards in FBS but this year ranks third nationally (86.8). He's turned things around with a balance of strong run and pass blocking, as his grades in each category are among the top ten in the country. He finally gave up his first sack of the season this week to Nebraska, and has only yielded two hits in seven games.
3. Anthony Nelson, DE, Iowa
When thinking about Big Ten edge players, the conversation immediately turns to names like Illinois' Duwuane Smoot, Michigan's Wisconsin's Vince Biegel and Ohio State's Nick Bosa and Sam Hubbard. While all of them are special talents in their own right, it's time Iowa's Anthony Nelson got some appreciation. Nelson is second among Big Ten edge talents both in terms of overall grade (83.8) and pass rush grade (83.9). His 37 total pressures is tops in the conference, third among Power-5 players. 
4. Channing Stribling, CB, Michigan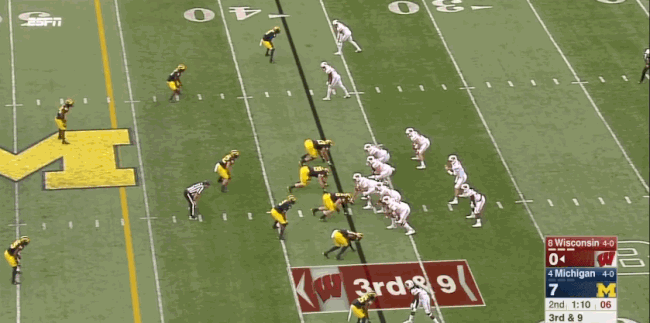 Channing Stribling has been every bit the shutdown corner Jourdan Lewis has been for Michigan the past two seasons, but only now is he starting to get his due press. Last year he gave up more than two receptions just once all season, and this year he has yielded just nine catches on 30 targets, giving up no touchdowns while coming down with three interceptions and five pass breakups. Opposing QBs have a QB rating of 4.7 when throwing to his area, which is the lowest in the country by a considerable margin among corners that have been targeted at least 30 times (Houston's Howard Wilson has a QB rating against of 28.4).
5. Steven Richardson, DT, Minnesota
Steven Richardson started his season with a statement game against Oregon State in Week 1, as he posted a 91.6 overall grade thanks to four total pressures and a run defense grade of 93.9. His strong year has continued, as his 87.7 overall grade ranks ninth among all defensive interior players. He has already matched his career high totals in solo tackles (13) and defensive stops (15), and is just two pressures away from matching his 2014 total of 23, which took him another 149 snaps to accomplish.
Big 12
— Bryson Vesnaver 
1. Jordan Willis, ED, Kansas State
While Jordan Willis may be more well-known than some of the other players on this list, he doesn't seem to get the credit he deserves as one of the best edge defenders in all of college football. Currently Willis grades at 90.1 overall, which is the fourth-highest among edge defenders. He's the only edge defender with a run defense grade above 90 (90.3). He ranks in the top 20 in both total pressures and total run stops. Willis is the best player on a loaded Kansas State front seven and deserves to be recognized as a top-level player in college football.
2. Skyler Howard, QB, West Virginia
Many people rightfully point to West Virginia's defense as the reason for their undefeated start to the season. But quarterback Skyler Howard has played a huge role as well. His adjusted completion percentage has risen from 65.0 percent in 2015 to 75.0 percent this season, which ranks 18th in the country. His accuracy under pressure has risen too, up to 64.5 percent which also ranks 18th in the nation. He may not have the skills of Baker Mayfield or Patrick Mahomes, but his 76.6 overall grade shows that he's a good player who is under-appreciated for his efforts to keep the Mountaineer unbeaten.
3. Kyle Hicks, RB, TCU
Hicks is another guy that people who follow the Big 12 likely know, but doesn't seem to get enough credit around the country. Hicks is one of the better all-around backs in the country right now. Hicks has forced 35 missed tackles on 129 touches this season, leading to an elusive rating of 74.3 that ranks 16th in the country among RBs with at least 100 touches. His 30 receptions 325 yards receiving both rank in the top six for RBs.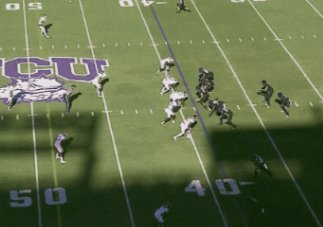 4. Patrick Levels, CB, Baylor
Levels gets overlooked often because of the position he plays. He's a nickel corner by name, but lines up everywhere from outside linebacker to corner. He's the perfect hybrid player because he can do it all. He's a solid run defender; his nine run stops rank in the top 20 for corners. As a pass-rusher, he has two sacks, three hits and five hurries that contribute to his 73.3 pass rush grade, highest among corners in the NCAA. He's no slouch in coverage either. He actually leads the NCAA in yards allowed per coverage snap at 0.06. In 114 coverage snaps, Levels has been targeted just 11 times and allowed a paltry five catches for seven yards.
5. Dorance Armstrong Jr., ED, Kansas
Armstrong Jr. is a guy that likely nobody outside of Kansas and definitely outside of the Big 12 is really talking about, but he's been an elite pass-rusher this season. His pass rush grade of 84.9 ties for 15th in the country, and that would surely be higher not including his first two games where he struggled. Since then he's had eight sacks, five hits and 18 hurries in just five games. Over that span, his pass rushing productivity of 16.8 ranks third in the country, and his 31 total pressures are tied for second-most.
Pac-12
— Jordan Plocher 
1. Garett Bolles, T, Utah
Bolles is a JUCO transfer who has been moving people against their will in the run game since he started playing for the Utes. The 6-foot-5, 300-pound Bolles is currently our highest-graded run blocking tackle in all of FBS with an 86.5 run blocking grade. Bolles created huge holes to help running back Joe Williams set a Utah single-game rushing record with 332 yards against UCLA. Bolles has also been an effective pass protector and has only allowed two sacks, one hit and nine hurries on 267 pass-blocking snaps.
2. Cody O'Connell, G, Washington State
O'Connell has been using his massive 6-foot-8, 335-pound frame to protect Luke Falk and create big holes in a resurgent Cougars ground attack. O'Connell is currently the nation's leading run blocker from the guard position with an 88.3 run blocking grade. Often college linemen excel in one particular area but O'Connell has also been a highly effective pass blocker and has only allowed 1 sack, 1 hit, 3 hurries on 381 pass blocking snaps and his 90.0 pass blocking grade ranks No. 2 in FBS.
3. Greg Gaines, DI, Washington
It's easy to get lost among all of Washington's talented defensive tackles but Gaines has emerged as the most productive of the bunch. Gaines is very difficult for offensive linemen to move off of the line of scrimmage and his run stop percentage of 11.9 ranks No. 7 in the Power-5 (No.1 in Pac-12). Gaines isn't just a run stopper though as evidenced by his 9.3 pass rush productivity rating which ranks No. 16 in Power-5 (No. 4 in Pac-12).
4. Ahkello Witherspoon, CB, Colorado
The Buffaloes secondary is loaded with talented players like Chidobe Awuzie and Tedric Thompson so Ahkello Witherspoon can tend to be the forgotten man but he shouldn't be overlooked. Witherspoon is a 6-foot-3 cornerback that quarterbacks have regretted targeting. Opposing quarterbacks have a 46.8 QB rating when throwing into Witherspoon's coverage this season, a mark good enough to rank No. 21 in the Power-5. Witherspoon has only allowed 15 catches through eight games this season.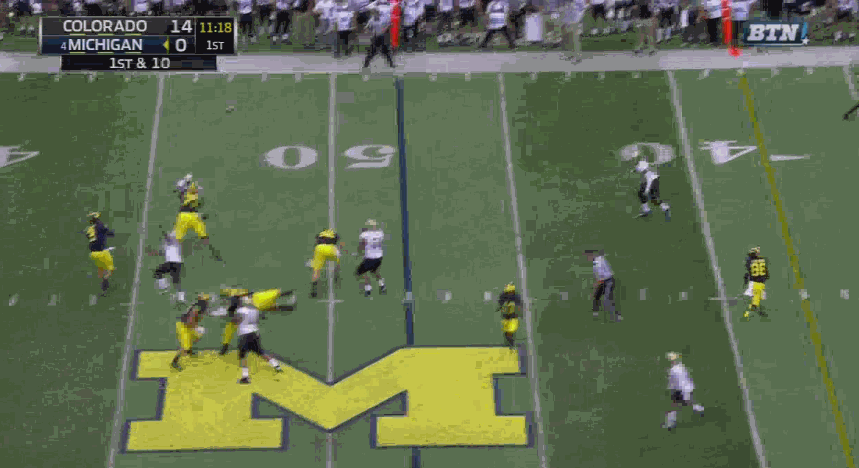 5. Hercules Mata'afa, DI, Washington State
Mata'afa is a brawler who routinely beats much bigger blockers across from him. Mata'afa only weighs 255 pounds but his 10.7 run stop percentage ranks No. 16 among Power-5 DTs. Mata'afa is also a tremendously disruptive pass rusher and his 10.4 pass rushing productivity rating ranks No. 4 in FBS. Mata'afa's proven ability to hold up in the interior of the defensive line will be very attractive to NFL teams who might view him as an edge player they can possibly move inside in sub packages.
ACC
— John Breitenbach 
1. Nate Peterman, QB, Pittsburgh
Two of the top quarterbacks in the nation ply their trade in the ACC, but Deshaun Watson and Mitch Trubisky are not alone atop our rankings. Working out of a pro-style offense, Nate Peterman has been highly efficient this year. Through seven games, he has thrown only two interceptions to 12 touchdowns, registering a quarterback rating of 106.4 thus far. The gaudy numbers aren't there, but NFL evaluators will surely be intrigued by Peterman's combination of reliability, size and arm strength.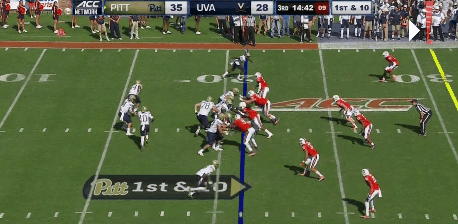 2. Antonio Simmons, DE, Georgia Tech
The Yellow Jackets' defensive lineman must take an absolute beating in practice facing the triple option. Defensive end Antonio Simmons likely relishes the contest, given his penchant for physicality. Simmons has only one sack this year, but has managed a further six sacks and 12 hurries from just 109 snaps. Living in the backfield comes naturally to Simmons, who has also five tackles at, or behind, the line of scrimmage this season.
3. Ejuan Price, ED, Pittsburgh
Price contrasts stylistically with Simmons. His game is built more on speed, athleticism and explosion. He is a pass-rusher first of foremost, as illustrated by the 11 sacks, nine hits and 17 hurries he's managed this year. Price is the best pure edge rusher in the conference, his ability to run the arc unmatched amongst his peers. The Pitt Panther has not failed to register a knockdown once this season, highlighting his consistency.
4. MJ Stewart, CB, North Carolina
After a rocky start to the year, the Tarheels' star corner is warming up. At his hottest, Stewart is a true shutdown corner. His quick feet, instincts, physicality and versatility are a joy to behold. In coverage, Stewart has allowed only 15 catches from 31 targets for 135 yards and three pass deflections. A couple of weeks back against Miami, he gave up only one catch on five targets for negative nine yards! Stewart's performances in coverage alone would be sufficient for a spot on this list, but he also provides the added bonus of a top ten run defending grade, eliminating runs on the edge from the slot position.
5. Jadar Johnson, S, Clemson
Has anyone checked if Clemson have developed cloning technology for their safeties? There is certainly a conveyor belt of talent emerging at the position for the Tigers. After Jayron Kearse and TJ Green were drafted early in April, Jadar Johnson looks likely to follow suit. The senior thrives at centre field, where he can use his range to make plays on the ball. On his 25 targets this year, Johnson has given up only 11 catches on 25 targets for 164 yards, one touchdown, three picks and three pass deflections (39.8 QB rating). With seven total picks the past three years, Johnson's playmaking is sure to attract interest this offseason.
Group of Five
— Zoltan Buday 
1. Trey Hendrickson, ED, Florida Atlantic
While there are numerous dominant edge rushers in the nation, no one has graded better than Florida Atlantic's Trey Hendrickson. Hendrickson rushed the passer 186 times and is ranked second among all edge defenders with 46 total pressures, while he is tied for the most quarterback hurries with 35. His pass rushing productivity score of 19.2 is by far the highest in the nation among 4-3 defensive ends, ahead of the likes of Derek Barnett (14.2) and Myles Garrett (13.6).
2. Gerald Everett, TE, South Alabama
There are not a lot of great pass catching tight ends in college football right now, but the best one may be playing in the Sun Belt. Although, he might not be as dominant in run blocking as some other players, South Alabama's Gerald Everett makes up for it in the passing game. Everett has the size and speed to become a serious matchup problem for defensive coordinators. Furthermore, the Jaguars tight end is extremely dangerous after with the ball in his hands as he averages 10.0 yards after catch and has forced 17 missed tackles on 34 receptions.
3. Taylor Moton, RT, Western Michigan
Moton is anchoring one of the best run blocking offensive lines in the nation as the unit is a big reason why Western Michigan is still undefeated after eight games. The Broncos' right tackle is our seventh-highest graded offensive tackle college football with a grade of 83.2. Besides some dominant run blocking, Moton has excelled in pass protection too as he has yet to give up a sack.
4. Larry Ogunjobi, DI, Charlotte
Charlotte's Ogunjobi might be the most underrated player in the entire nation. Despite playing most of his snaps as a nose tackle or 1-tech, Ogunjobi was able to record 19 total pressures, including four sacks, on 252 pass rushing snaps and has a pass-rushing grade of 80.6. However, what really differentiates the 49er's game from the others is his work against the run. Ogunjobi leads all interior defenders with a run stop percentage of 17.1 percent and 32 defensive stops. Also, he is tied with Houston's Ed Oliver for the highest run defense grade with 90.2.
5. Najee Murray, CB, Kent State
Since he has only one interception so far, Murray has been flying under the radar. However, when we look at his numbers we see that he has been the most effective cornerback in coverage this season. Not only has he not allowed a touchdown so far, Murray broke up eight passes, the third-most in the nation. In addition, he's allowing only 0.53 yards per cover snap, tied for the 11th-lowest out of 214 qualifying cornerbacks. His best game came against Buffalo when – although he allowed 78 yards in coverage – he broke up five passes.