With eight catches on 14 targets for 158 yards, Northwestern WR Austin Carr burst onto the national scene with his monster game against the Buckeyes last Saturday, but the fact of the matter is he's been producing all season. He has at least five catches in all eight games this year (58 total), and has racked up 849 yards and nine touchdowns. He now holds an overall grade of 89.9, which gives him the highest grade of any receiver in the country.
While the question of who is the best all-around receiver in the country is certainly up for debate and doesn't stop with overall grades, in terms of receivers that operate primarily out of the slot (as Carr does), Carr has a very compelling argument for being considered the best.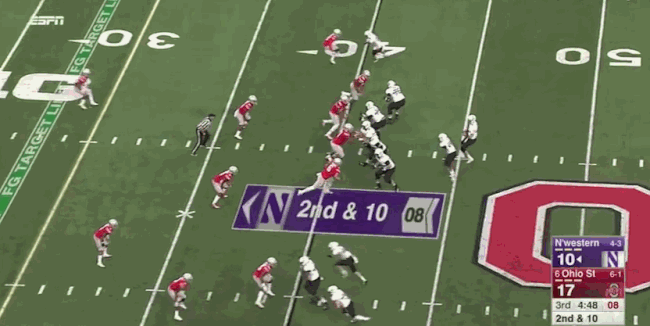 Here are three advanced stats beyond just his overall grade that suggest Carr is the top slot receiver in college football:
QB Clayton Thorson has a QB rating of 128.0 when throwing to Carr
Looking at the whole of his numbers, Clayton Thorson has been essentially an average QB for the Wildcats. He's completing just 57.3 percent of his passes for 1899 yards, has 15 touchdowns and six interceptions and has an overall QB rating of 86.0, which ranks eighth in the Big Ten. However, look at his performance just when throwing to Carr and its clear how much the receiver means to the Northwestern offense. Carr accounts for about 45 percent of Thorson's yards, 60 percent of his passing touchdowns and a 128.0 QB rating when targeted. Among Big Ten receivers with at least 40 targets, only Michigan's Speight-to-Darboh connection produces a higher rating (133.1).
Carr's 3.27 yards per route run ranks second nationally among slot receivers
Carr has run 260 of his 269 pass routes from the slot, and leads all slot receivers in the country by being targeted on 33.5 percent of his routes (87 total slot targets), his 58 receptions ranks seventh and his nine scores puts him tied for third. The truest measurement of wide receiver production is our yards per route run metric, which essentially breaks down a receiver's productivity into a per-snap basis. His 3.27 yards per route run are second only to Western Kentucky's Nicholas Norris, but Norris has seven drops to 55 receptions while Carr has just three.

Carr and Thorson are connecting on 69.6 percent of throws 10+ yards downfield
Looking at our receptions by directions charts is a great way to paint a picture of where a receiver is producing. Many college receivers see a lot of their production start behind the line of scrimmage on screens or on quick slants, meaning easier, high percentage throws for the QB.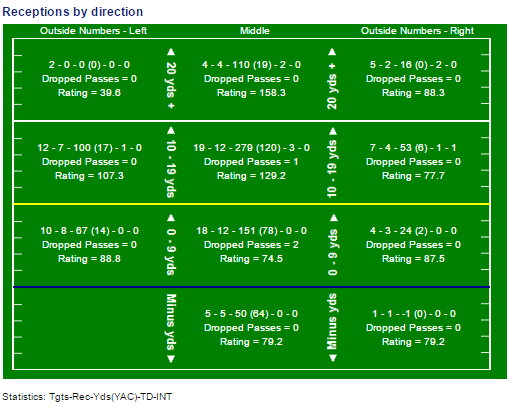 While Carr does have some production on underneath, his numbers on intermediate and deep routes is staggering, in particular to the middle of the field. On intermediate and deep shots (throws at least 10 yards through the air from the line of scrimmage) between the numbers, he has caught 16 of 23 targets for 389 yards and five of his nine touchdowns. This includes going four-for-four on deep shots (throws at least 20 yards through the air) for 110 yards and two scores. By comparison, East Carolina's Zay Jones leads the country in targets (158) and receptions (114) and does a large amount of his work in the slot, but in that middle zone on throws at least 10 yards from the line of scrimmage he has caught just 12 of 20 targets with no touchdowns, and just 19 yards after the catch compared to Carr's 139.