College is all about progression, whether it's in a sport, life or academics. 
On the football side of things, there are times when players step in and produce at a high level one season only to decline the next. It happens every all the time. The cause of this can be due to a variety of factors, including playing through injury, a change in the system/role or just having the yips. 
Some bounce back, some don't.
Below are 12 players in college football who will be eyeing a 2021 bounce-back campaign after showing a notable decline.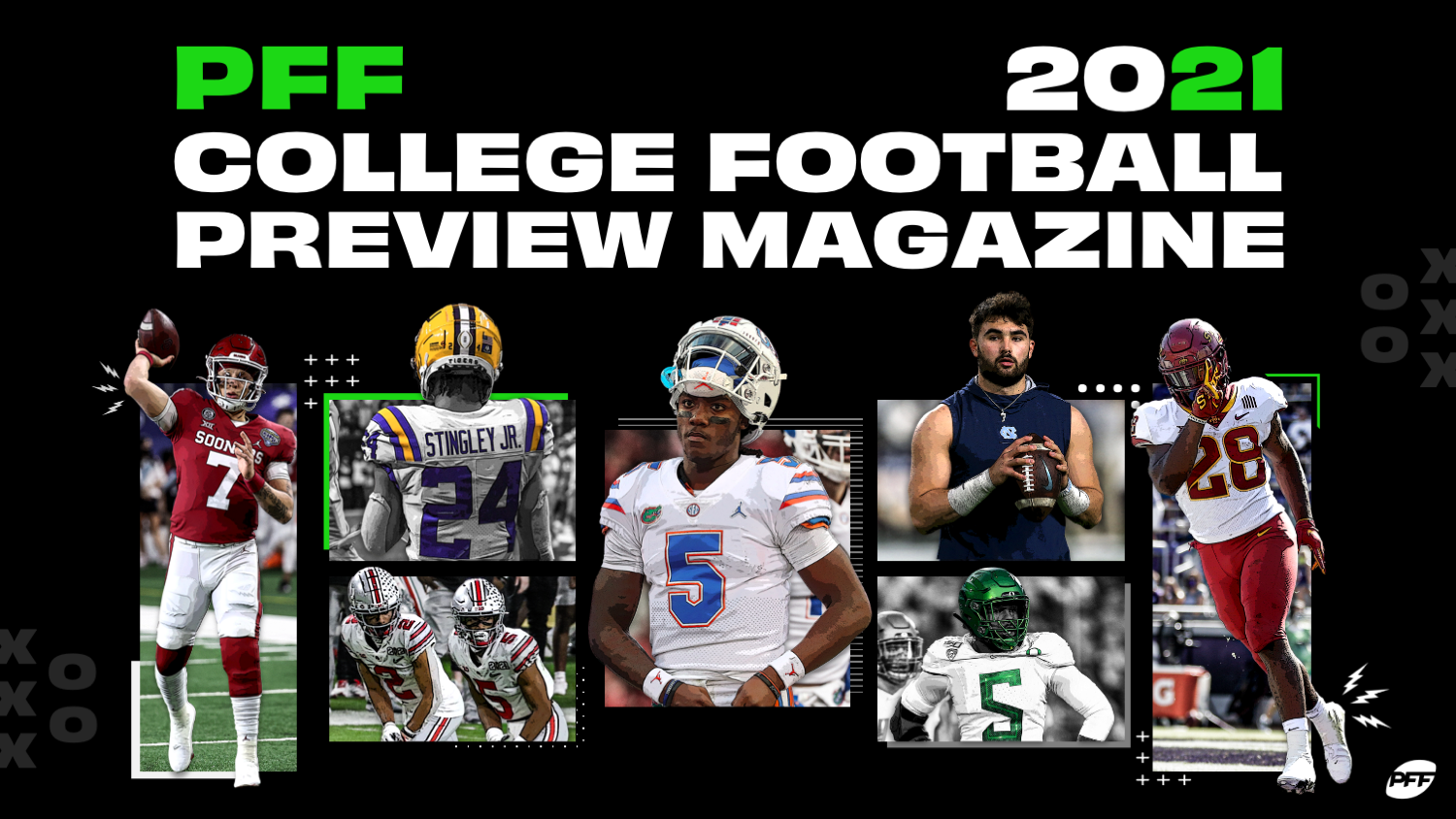 Purdy's grading profile is truly unique. He looked like the next up-and-coming star quarterback as a true freshman in 2018, when he finished with an 88.0 passing grade. But he proceeded to take steps back in the next few seasons, as his passing grade fell to 82.2 in 2019 and 74.2 in 2020. 
His strengths and weaknesses remained the same throughout. He played well in rhythm but too often tried to force things when under pressure. Despite that good, not great, passing grade last season, Purdy ranked fourth in the FBS in negatively graded throw rate when in rhythm — behind Zach Wilson, Mac Jones and Justin Fields. At the same time, though, he ranked eighth-to-last in turnover-worthy play rate when under pressure. Having a gamer mentality is a plus, but Purdy has to know his limits in 2021. 
Brewer is a bit of an enigma. After earning a 90.0 passing grade in 2018, he dropped to 75.7 in 2019 and 57.2 in 2020. The backbone of his early success was aided by a healthy dosage of play-action and RPOs, but that went away in 2020 under the new regime at Baylor. The good news is that he's headed to an ecosystem that should better play to his strengths, and he now has a far better set of receivers in his arsenal. Tight end Brant Kuithe and wide receivers Britain Covey and Jaylen Dixon are all dynamic weapons, each with at least one 75.0-plus graded season at the college level. Brewer needs some help from those around him, but he can produce at an average level for the Utes.
The 2020 version of Gunnell was wildly different from the 2019 iteration. He took 185 dropbacks across eight games for Arizona in 2019 and displayed pinpoint accuracy en route to an 85.4 passing grade. However, Gunnell attempted only 93 passes across four games in 2020 due to an injury in his third game of the season but still racked up seven turnover-worthy plays. He subsequently transferred to Memphis following the 2020 campaign. He specifically joined the Tigers to push the ball downfield, as that's not something he was given the green light to do at Arizona.
Rambo was one of the most disappointing performers in 2020. He looked like a shoo-in to be Oklahoma quarterback Spencer Rattler's new favorite target, but that was far from the case. Rambo's receiving grade plummeted from 73.7 in 2019 to 57.9 in 2020. He is now set to take the field with quarterback D'Eriq King at Miami and will again try to form an elite QB-WR connection.
Rambo was a big-play threat for the Sooners back in 2019, which is precisely what Rhett Lashlee's offense needs. He ranked third in the Big 12 that year in the percentage of targets to result in a 15-plus-yard gain (28.6%).
Parchment comes over from Kansas, where he endured plenty of poor quarterback play. He made the most of a bad situation in 2019, but the same can't be said for 2020, as his PFF grade tanked from 68.3 to 54.6 in seven outings. That's not to say Parchment didn't struggle some on his own, specifically with drops, but Kansas' quarterback situation was as bad as it gets.
Despite his 95th-percentile separation rate among FBS wide receivers since 2019 — whether it was schemed or due to good route running — Parchment produced a catchable target rate that sits at just the 19th percentile. He can offer value deep downfield and win those 50-50 targets, but they need to be accurate. Florida State quarterback McKenzie Milton can provide that. Parchment is better than his college data suggests, and he should be in for a career year in 2021.
Hendershot was almost deemed one of the top tight ends in college football after his 2019 campaign. That year, he was a big-time vertical threat and a weapon underneath for the Hoosiers. Hendershot tied for fourth among all FBS tight ends in vertical route receptions with 11, and he also led the entire FBS in yards after the catch (263) and broken tackles (11) on underneath concepts. Then in 2020, the 6-foot-4 and 250-pound tight end was an entirely different player. His receiving grade dropped to 53.4, his yards per route run average was less than a third of what it was in 2019 (0.59), and he dropped 21% of his catchable targets.
Kramer endured an unfortunate 2020 campaign, seeing just one start before quarantining for a couple of weeks due to COVID-19 protocol. He came back and was extremely rusty in his next two games against Rutgers and Nebraska. And when he finally started to find his footing, he suffered an ankle injury and missed the Illini's last performance. In the two years prior to that, Kramer showed enough to prove he is one of the top centers in the game.
In 2018 and 2019 combined, he had the third-best true pass set blocking grade among Power Five centers. His performance in the run game was shaky in 2018 — his second year starting — but he grew immensely in that facet in 2019. Kramer maintained his blocks exceptionally well on the move, putting defenders on the ground like clockwork. His 14 big-time run-blocks were the most we have ever recorded by a Power Five center in the PFF College era.
Durden plays with a high motor and has unbelievable quicks for a 6-foot-5, 315-pound man. His technique is far from refined, but that didn't matter in 2019, as he was making plays for his old program, Florida State. That year, Durden produced an 81.7 pass-rushing grade, a 17% win rate and 45 pressures. All of those were top-10 marks among Power Five interior defensive linemen. In the run game, it was a little bit more errant. Durden ranked dead last among the same group in total negative grades while ranking in the top 10 in positives. In 2020, it was all a mess. Durden was limited due to injury and not his normal self when on the field. He recorded a 52.7 PFF grade on 207 snaps. 
Miller got his first start in 2019 and shined as an impact player in the passing game all season. His 79.4 coverage grade and 84.3 pass-rush grade were both top-15 marks among Power Five off-ball linebackers. In 2020, he gave up bigger plays and was inconsistent defending the run, to say the least. He earned three single-game run-defense grades above 85.0 but also five below 45.0. Miller also saw double-digit declines in pass-rush and coverage grades.
Harvell-Peel was one of the biggest breakout safeties in 2019, as he recorded an 89.5 coverage grade that ranked seventh in the FBS. However, he looked like a vastly different player in 2020, as that coverage grade tanked 30 points to 59.5. He saw an uptick in coverage snaps in the slot, which is where he faltered the most. The decline may be scary, and he may not be the best tackler, but Harvell-Peel possesses top-notch coverage ability.
Blankenship was on cloud nine through his first two and a half years in college. He earned an 80.1 PFF grade from the start of his true freshman year (2017) through Week 8 of 2019, but that great run was disrupted by a broken leg. Then the rehab process was significantly impacted by the COVID-19 pandemic. He only had a few practices before the 2020 season due to recovery and quarantining various times, which clearly impacted his performance, resulting in a poor 42.0 grade. Blankenship is an explosive athlete and capable of being one of the top safeties in the country. He'll be vying to claim that moniker this fall now that his health is back in order.
Weatherford was only able to play in a few games in last year's shortened season, but he made a lot of uncharacteristic mistakes. He allowed as many yards and touchdowns in coverage as he did in 2019 despite playing just shy of 20% of the coverage snaps. Weatherford was a true playmaker on the backend in 2019, and he was a clean player overall in coverage. The Miami RedHawk broke up eight passes en route to an 85.2 coverage grade that year. In his three games played in 2020, that fell to 48.9.