The Florida Gators survived a late scare against the Miami Hurricanes, primarily thanks for a ferocious pass-rush, but the victory came with more questions than answers when it comes to their full-season outlook, especially with regards to the play of quarterback Feleipe Franks.

Franks play was one of the biggest concerns for the Gators coming into the season, with the junior signal-caller coming off a campaign that featured plenty of ups and downs in 2018. His performance against Florida State in the regular-season finale a year ago left plenty of optimism, but any excitement has made way for worry after a poor performance against another one of their in-state rivals.
He went 17-for-27 with a pair of touchdowns and interceptions on the day, but those stats only tell half the story and are heavily buoyed by wide receiver Kadarius Toney's long catch and run on a screen. Making three people miss on his way to the end zone on 1st-and-10 with 7:52 left in the opening quarter, Toney accounted for 66 of Franks' yardage on the night on that play alone. That was a theme for the game, with 169 of his 254 yards coming by his receivers after the catch.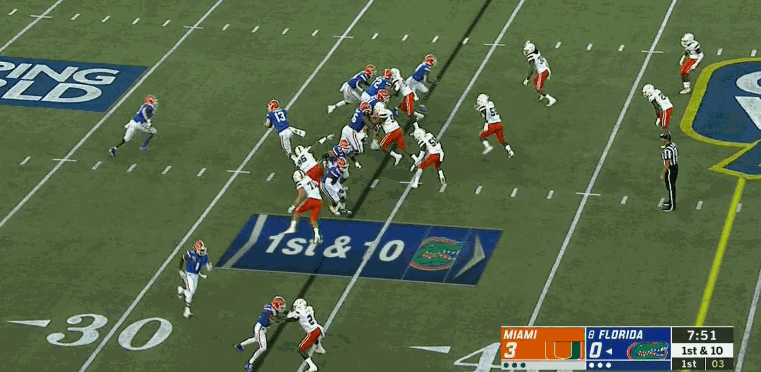 Then there were the mistakes. Highlighted by a terrible decision that led to an interception on 1st-and-10 with 4:30 left in the game with cornerback Romeo Finley taking advantage of an underthrown pass to give Miami the ball back late in the fourth quarter of a one-score game. The throw wasn't helped by pressure, with his right tackle being pushed into him, but he has to know when not to force that throw, especially in your own territory late in a game where you only have a four-point lead.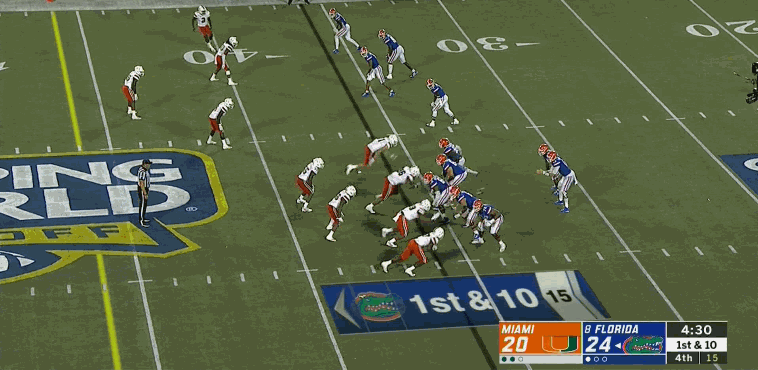 That throw was a perfect example of how much Franks struggled under pressure, going just 5-for-11 with a touchdown and two interceptions from the 14 dropbacks where the Hurricanes got to him. That being said, you can't put it all down to the pressure he faced and the previous mention of how many of his passing yards came after that catch dampens his 12-of-16 for 155 yards and a touchdown stat line when kept free from pressure. Franks attempted eight throws 10-plus yards or further downfield, completing four for 110 yards and two interceptions. Those stats are helped by his best throw of the game, and outside of that, he offered little on throws downfield. That throw came on 1st-and-10 with 9:48 left in the fourth quarter, hitting wide receiver Josh Hammond deep downfield for a 65-yard gain.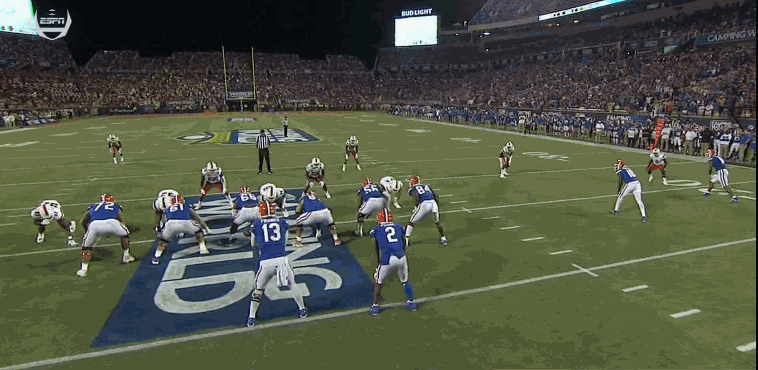 Franks will have better performances than this. In fact, it wouldn't be a crazy assumption to say that he might not have a worse outing than this all year. However, we've now seen evidence that he hasn't taken a step forward from a year ago and if he's going to be prone to some shaky performances, Florida won't be able to survive in the SEC. It very nearly cost them in this game, so it makes sense for them to try to adapt offensively.
One way they can do that is to get the ball into the hands of Toney more. He forced three missed tackles on his lone target of the night and forced another on one of his three carries on the ground. He did lose six yards by giving up ground on a jet sweep, but the big play potential far outweighs the bad when it comes to Toney. He is a threat to take the ball to the house every time he touches the ball and has now forced 26 missed tackles on 80 touches on offense in his college career. 
Florida has next weekend off before the Tennessee-Martin Skyhawks come to town on September 7, so they have some time to get things sorted, but Franks' struggles have the potential to break Florida's season if they let them, starting with the trip to take on Kentucky on September 14. Franks has to get better and more consistent in a hurry, and Florida needs to maximize touches for their top playmaker and big-play threat.